How to Paint Polka Dots on the Wall
Welcome to the whimsical world of polka dots! If you're looking to add a touch of playfulness and artistic flair to your walls, painting polka dots is the perfect way to do it. Whether you're decorating a nursery, sprucing up a bedroom, or adding a pop of color to a living space, polka dots can instantly transform a plain wall into a vibrant and visually captivating masterpiece.
But how do you go about painting polka dots on the wall? Don't worry, we've got you covered. In this guide, we'll take you through a step-by-step process that will help you plan, prepare, and execute your polka dot design with precision and creativity.
From choosing the right color scheme and dot size to mastering the art of dot placement and achieving clean lines, you'll discover all the tips, techniques, and tools you need to create stunning polka dot patterns. We'll also explore alternative methods and add-ons that can take your design to the next level.
So, roll up your sleeves, grab your paintbrushes, and let's dive into the wonderful world of polka dots on the wall. Get ready to unleash your inner artist and transform your space into a whimsical and eye-catching haven. Let's get started!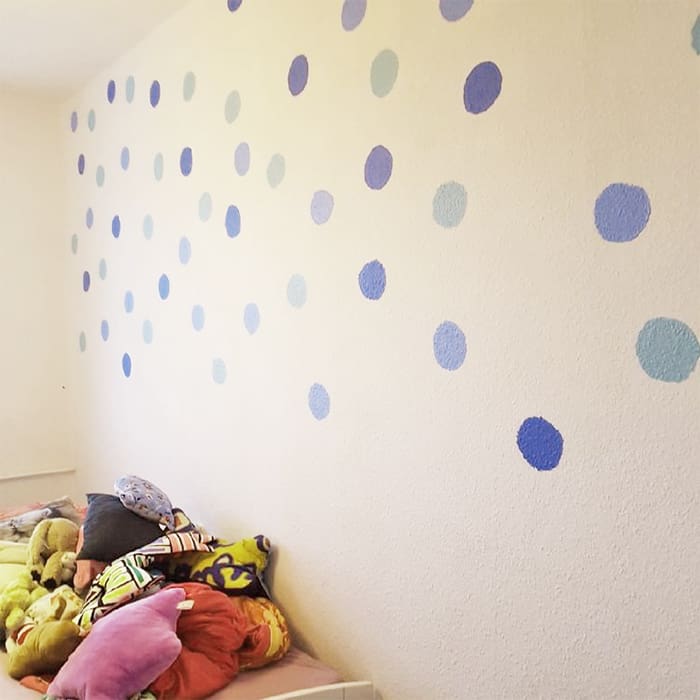 Gathering the Necessary Supplies
Before you embark on your polka dot painting journey, it's essential to gather all the supplies you'll need. Having everything prepared and within reach will streamline the process and ensure a smooth painting experience.
| Essential Supplies | Optional Supplies |
| --- | --- |
| Paint | Pencil |
| Paintbrushes | Eraser |
| Painter's tape | Stencil |
| Measuring tape | Sponge applicator |
| Level | Paint tray |
Pro Tip: Consider using quality paint and brushes for better results and durability.
Preparing the Wall: A Canvas Ready for Dots
To achieve a flawless finish and ensure the longevity of your polka dot design, it's crucial to prepare the wall properly. Follow these steps to create an ideal canvas for your artistic endeavors.
Assessing the Wall Condition: Begin by examining the wall's surface. Ensure it is clean, smooth, and dry. Remove any loose paint, dirt, or dust using a soft cloth or sponge.
Repairing Imperfections: Inspect the wall for cracks, holes, or other imperfections. Fill these areas with spackling compound or wall putty, and use a putty knife to level the surface. Allow it to dry thoroughly, and then sand it lightly for a seamless result.
Cleaning the Wall: Before you start painting, wipe down the entire wall with a mild soap and water solution. This step will remove any remaining debris and create a pristine surface for the paint to adhere to.
Pro Tip: Consider applying a coat of primer to the wall before painting. This will enhance paint adhesion and provide a more uniform base for your polka dots.
Choosing the Right Color Scheme: Dots that Pop
The color scheme you select for your polka dots will greatly influence the overall aesthetic impact of your design. To create a harmonious and visually appealing composition, keep the following considerations in mind.
Existing Color Palette: Take note of the room's existing color scheme, including furniture, decor, and flooring. Choose colors for your polka dots that complement or contrast with these elements, depending on the desired effect.
Contrasting or Complementary Options: Polka dots offer an excellent opportunity to play with contrasting or complementary colors. For example, vibrant dots on a neutral background can create a striking visual contrast, while pastel dots on a light-colored wall can provide a softer and more soothing ambiance.
Size and Density of Polka Dots: Decide on the size and density of your polka dots based on the room's size and your personal preference. Larger dots can make a bold statement, while smaller dots may offer a more delicate and intricate appearance.
Pro Tip: Consider creating a color sample board by painting swatches of your chosen colors on a piece of cardboard or foam board. This will help you visualize how the colors will look together and make it easier to finalize your color scheme.
Planning the Dot Layout: Precision in Polka
Now that you have your color scheme in mind, it's time to plan the layout of your polka dots. By carefully measuring and marking the wall, you'll ensure a balanced and visually pleasing arrangement. Let's dive into the steps involved in planning your dot layout.
Measuring and Marking: Start by determining the size and spacing of your polka dots. Using a measuring tape, mark the positions where the center of each dot will be. To achieve symmetry, consider dividing the wall into a grid or using a predetermined pattern. You can also experiment with random placement for a more playful and whimsical look.
Size and Spacing: The size and spacing of your polka dots will depend on your chosen design aesthetic. Consider the scale of the room and the overall effect you want to achieve. For larger dots, leave more space between each dot, while smaller dots can be placed closer together.
Mock-up or Sketch: Before diving into the actual painting, it's helpful to create a mock-up or sketch of your design. This allows you to visualize how the dots will look on the wall and make any necessary adjustments. You can use a pencil and paper or even digital design tools to create a representation of your planned layout.
Pro Tip: If you're uncertain about freehand dot placement, consider using stencils or templates to ensure precise and consistent dots throughout your design.
Applying Painter's Tape for Straight Lines
To achieve clean and crisp edges for your polka dots, utilizing painter's tape is a crucial step. This will help prevent paint bleed and ensure that your dots maintain their desired shape. Let's explore the process of applying painter's tape for straight lines.
Measuring Tape and Level: Begin by measuring and marking the positions of your dots on the wall. Use a measuring tape and a level to ensure accuracy and straight lines. The level will help you maintain a consistent horizontal or vertical alignment for your dots.
Applying Painter's Tape: Once you have marked the positions of your dots, cut pieces of painter's tape slightly longer than the diameter of your dots. Carefully apply the tape along the marked lines, following the curvature of the dots. Press the tape firmly onto the wall, ensuring it adheres well and leaves no gaps.
Preventing Paint Bleed: To prevent paint from bleeding under the tape, run a small putty knife or credit card along the edge of the tape, sealing it tightly to the wall. This will create a barrier that minimizes the chances of paint seeping through.
Pro Tip: Apply a base coat of the background color over the edges of the painter's tape to further seal it. This will help create even cleaner lines once you remove the tape.
Painting the Polka Dots: Bringing Your Design to Life
With the preparation and planning complete, it's time to paint the polka dots on your wall. This is where your creativity can truly shine. Follow these steps to achieve beautifully painted polka dots.
Preparing the Paint: Start by stirring your chosen paint color thoroughly to ensure an even consistency. Pour a small amount of paint into a paint tray, making it easier to load your brush.
Choosing the Brush Size: Select a brush size appropriate for the desired dot size. A round brush or foam brush can work well for creating circular dots. Consider using a smaller brush for smaller dots and a larger brush for larger dots.
Applying the Paint: Dip the brush into the paint, ensuring the bristles are evenly coated but not overloaded. Begin by painting the dots from the center, working outward in a circular motion. Apply light pressure to achieve a consistent dot shape and size. Fill in each dot completely and evenly
Dot Placement: Start at one end of the wall and work your way across, row by row, or follow the predetermined pattern you established during the planning stage. Use a steady hand and maintain a consistent pressure as you apply the paint. Take your time and focus on each dot individually to ensure precision.
Multiple Coats: Depending on the opacity of your chosen paint and the desired color intensity, you may need to apply multiple coats. Allow each coat to dry completely before applying the next layer. This will help achieve a vibrant and professional-looking finish.
Pattern Breakers: To add visual interest and variety to your polka dot design, consider incorporating pattern breakers. These can be larger or differently shaped dots strategically placed within your design. Pattern breakers break the repetition and add an element of surprise and uniqueness to your wall.
Pro Tip: If you're using multiple colors for your polka dots, clean your brush thoroughly between color changes to avoid unintentional color blending.
Removing the Painter's Tape: Revealing Polka Dot Perfection
After the paint has dried, it's time to remove the painter's tape and unveil your perfectly formed polka dots. Follow these steps for a clean and flawless reveal.
Drying Time: Allow the paint to dry completely before removing the painter's tape. Refer to the manufacturer's instructions on the paint can for recommended drying times.
45-Degree Angle: Starting from one end, gently pull the painter's tape off the wall at a 45-degree angle. This will help prevent any paint from peeling or lifting off with the tape.
Touch-Up: Inspect the edges of the dots and the overall design. If you notice any imperfections or areas where the paint may have bled, use a small brush and the background color to touch up those areas. This final step will ensure clean and crisp polka dots.
Pro Tip: If any paint has seeped under the tape and left a small border around the dots, you can use a fine-tip brush or a cotton swab dipped in the background color to clean up the edges.
Adding Variations and Accents: Unleashing Your Creativity
Now that you've successfully painted your polka dots, it's time to explore additional variations and accents to make your design truly stand out. Let your creativity soar with these ideas:
Different Dot Sizes: Experiment with various dot sizes to create visual interest and depth. Combining small and large dots can add a playful and dynamic element to your design.
Color Patterns: Explore different color patterns and combinations to create unique effects. Alternating colors, creating gradients, or even using monochromatic schemes can all add intrigue and personality to your polka dot design.
Shadows and Outlines: For a more artistic approach, consider adding shadows or outlines to your polka dots. This can be done by using a slightly darker shade of the dot color or by adding a thin line around each dot to create a sense of depth.
Pro Tip: To create shadows, mix a small amount of black or a darker shade of your dot color into the base color. Use a fine brush to paint a semi-circle or crescent shape on one side of each dot to mimic a shadow effect.
Alternative Techniques and Tools: Beyond the Basics
While the traditional method of hand-painting polka dots is the most common, there are alternative techniques and tools you can explore to achieve different effects or streamline the process. Here are a few ideas to consider:
Stencils: Using stencils can simplify dot placement and ensure consistent shapes and sizes. Stencils are available in various patterns and sizes, allowing you to create intricate designs without the need
for freehand painting. Simply secure the stencil to the wall and apply paint through the cutout areas for precise and uniform dots.
Sponge Applicators: If you're aiming for a softer and more textured look, consider using sponge applicators instead of brushes. Dip a sponge into the paint and gently dab it onto the wall to create a stippled effect. This technique works well for achieving a playful and whimsical appearance.
Patterned Rollers: Patterned paint rollers are an excellent option if you want to cover larger areas with polka dots quickly. These rollers come with raised dot patterns, allowing you to roll them directly onto the wall to create a repetitive dot design. Experiment with different roller patterns to find one that suits your style.
Decals and Wall Stickers: For a temporary or easily removable option, you can use polka dot decals or wall stickers. These pre-made adhesive designs come in various sizes, colors, and patterns. Simply peel off the backing and stick them onto the wall according to your desired layout.
Pro Tip: When using alternative techniques or tools, always follow the manufacturer's instructions and test them on a small section of the wall before applying them to the entire surface.
Maintenance and Care: Preserving Your Polka Dot Masterpiece
Congratulations on completing your polka dot wall! To ensure its longevity and keep it looking fresh, follow these maintenance and care tips:
Regular Dusting: Dust the surface of the painted wall regularly using a soft, dry cloth or a feather duster. This will help prevent dirt and dust from accumulating on the dots and maintain their vibrant appearance.
Avoid Harsh Cleaning Agents: When cleaning the wall, avoid using harsh chemicals or abrasive cleaners. Instead, opt for a mild soap and water solution or a gentle all-purpose cleaner. Apply the solution to a soft cloth or sponge and gently wipe the painted surface.
Touch-Ups and Repairs: Over time, your polka dot design may experience wear and tear. To keep it looking its best, periodically inspect the dots for any chips, scratches, or fading. Touch up any damaged areas using the original paint color to maintain the overall integrity of the design.
Protect the Wall: If possible, avoid placing furniture or objects against the painted wall that could cause damage or scuff marks. Use furniture pads or protective bumpers to prevent accidental bumps and scratches.
Pro Tip: Keep a small amount of the original paint in a tightly sealed container for future touch-ups.
Conclusion: Your Polka Dot Wonderland
Painting polka dots on your wall is a creative and enjoyable way to add personality and charm to your space. With careful planning, precise execution, and a touch of artistic flair, you can transform any room into a polka dot wonderland. Remember to gather the necessary supplies, prepare the wall diligently, and choose a color scheme that complements your space. Take your time with dot placement, utilize painter's tape for clean lines, and embrace variations and accents to make your design truly unique. Enjoy the process and step back to admire your vibrant and playful creation. Happy dot painting!