The Different Types Of Airbrushes And Their Usage
Airbrushes – those remarkable instruments that blend artistry with precision and craftsmanship. These ingenious tools have transcended industries and hobbies, from automotive design to intricate canvas creations. In our quest to unravel the intricate tapestry of airbrushes, we begin with a definitive understanding.
At its core, an airbrush is a handheld device that sprays paint or other fluids with exceptional control. These marvels of engineering and design have revolutionized how we apply colors, coatings, and intricate details to surfaces. They have found their place in the arsenals of artists, hobbyists, and professionals alike, enabling them to transform visions into reality.
But why is it essential to comprehend the world of airbrushes? The answer lies in the diverse array of options and attributes they offer. Not all airbrushes are created equal, and selecting the right one can be a game-changer in your creative or industrial pursuits. Whether you're aiming for fine lines in a masterpiece or flawless finishes on an automobile, choosing the ideal airbrush can make all the difference. So, let's begin our journey into this intricate world, where precision meets artistry, and creativity knows no bounds.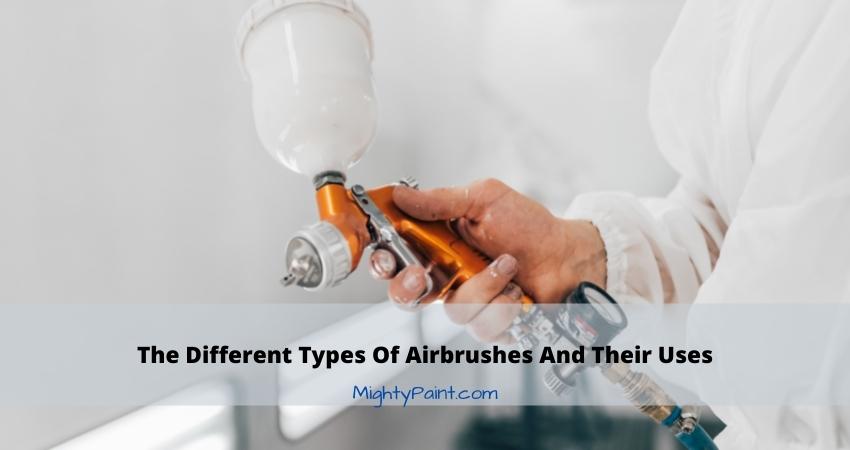 Types of Airbrushes: A Comprehensive Overview
Let's kick things off by taking a panoramic view of the diverse airbrush landscape. Imagine stepping into an art supply store, and before you are an array of airbrushes, each beckoning with unique capabilities. It's like entering an artist's wonderland!
In the table below, we'll set the stage by introducing the primary types of airbrushes. But, remember, this is just the tip of the airbrush iceberg:
| Type of Airbrush | Overview |
| --- | --- |
| Single-Action | Simple, reliable, and easy to use for beginners. |
| Dual-Action | Offers precise control over airflow and paint volume. |
| Gravity Feed | Gravity-assisted paint flow for finer details. |
| Siphon Feed | Ideal for high-volume tasks with a bottom-fed design. |
| Side-Feed | Combines versatility with a side-mounted paint cup. |
| Internal Mix | Blends paint and air internally for finer atomization. |
| External Mix | Mixes paint and air externally, suitable for thick paint. |
| Continuous Flow | Constant air and paint flow for consistent results. |
| Trigger Action | Controlled by a trigger for precise operation. |
| Button Action | Deploys paint via a button for convenience. |
Now, let's delve deeper into these intriguing categories.
Single-Action vs. Dual-Action Airbrushes: What's the Difference?
Single-Action Airbrushes: Simplicity Meets Reliability
Single-action airbrushes are like the trusty old car you've had for years. They are straightforward, reliable, and easy to use, making them an excellent choice for beginners. With these airbrushes, you control only the airflow, while the paint flow remains constant. This simplicity can be an advantage, especially when you're getting started.
However, the trade-off is limited control over paint volume, which can be a drawback for intricate work. These airbrushes shine in tasks where you need consistent coverage, such as base-coating models or spraying backgrounds in artwork.
But wait, there's more to discover:
Attributes of Single-Action Airbrushes:
Ease of Use: Their simplicity makes them beginner-friendly.
Reliability: They have fewer moving parts, reducing the risk of malfunctions.
Popularity: Single-action airbrushes are favored by hobbyists and for specific applications.
Now, let's turn our attention to the dual-action airbrushes.
Dual-Action Airbrushes: Precision at Your Fingertips
Dual-action airbrushes, on the other hand, are like sports cars with manual transmissions. They offer a higher level of control and precision. With these airbrushes, you manipulate both the airflow and paint volume using a single trigger. This enables you to create fine lines, gradations, and subtle shading with finesse.
These airbrushes are the choice of professional artists and craftsmen who demand pinpoint accuracy in their work. But don't be intimidated; even beginners can master them with practice.
Attributes of Dual-Action Airbrushes:
Precision: Unmatched control over airflow and paint volume.
Versatility: Suitable for a wide range of applications, from detailed artwork to automotive work.
Popularity: Widely used in professional settings and among experienced airbrush artists.
Gravity Feed Airbrushes: Features and Benefits
Now, let's shift our gaze to gravity feed airbrushes, a category prized for its finesse and precision.
The Magic of Gravity Feed
Imagine a tiny paint cup sitting on top of your airbrush, defying gravity. That's the essence of gravity feed airbrushes. They work by allowing paint to flow naturally into the airbrush, thanks to gravity's gentle assistance. This design results in several noteworthy attributes:
Attributes of Gravity Feed Airbrushes:
Fine Detail: The gravity-assisted flow enables precise, detailed work.
Paint Efficiency: Minimal wastage as you can use every drop of paint.
Low Pressure: Suitable for delicate surfaces and lower air pressure settings.
Gravity feed airbrushes are the go-to choice for artists who crave fine lines, smooth gradients, and intricate details. Whether you're a miniature painter, nail artist, or graphic designer, these airbrushes offer exceptional control.
But, hold your curiosity for a moment; siphon feed airbrushes are next in line.
Siphon Feed Airbrushes: Understanding Their Unique Characteristics
Siphon feed airbrushes bring their own set of attributes to the table, often catering to tasks that require higher paint volumes. This type employs a different mechanism to deliver paint to the nozzle, offering distinct advantages.
Embracing the Siphon Effect
Picture a paint reservoir situated beneath your airbrush. Siphon feed airbrushes work by creating a siphon effect, drawing paint up into the airflow. This design is particularly beneficial when you need to cover larger areas or work with thicker paints. Here are some attributes to consider:
Attributes of Siphon Feed Airbrushes:
High Volume: Perfect for tasks that demand a significant amount of paint.
Versatility: Suitable for both fine details and broad coverage.
Quick Color Changes: Easy to switch between different colors.
Siphon feed airbrushes find their niche in applications like mural painting, custom automotive work, and large-scale model painting. They provide the necessary firepower for these tasks without compromising on precision.
Side-Feed Airbrushes: A Versatile Option for Artists
As we venture further into the realm of airbrushes, we encounter side-feed airbrushes, which bring versatility to the forefront.
The Side-Feed Advantage
Imagine an airbrush with a paint cup conveniently mounted on its side. Side-feed airbrushes offer flexibility and a unique set of attributes, making them a favorite among artists with varied needs.
Attributes of Side-Feed Airbrushes:
Versatility: Suitable for various applications, from fine art to automotive graphics.
Easy Access: Convenient paint cup placement allows quick color changes.
Balance: The side-mounted cup can provide better balance during use.
These airbrushes cater to artists who enjoy exploring different styles and techniques within a single project. Whether you're transitioning from intricate details to broader strokes, side-feed airbrushes adapt with ease.
But, don't make your decision just yet; there's more to discover in the airbrush universe.
Internal Mix vs. External Mix Airbrushes: Which One to Choose?
Now, let's dive into the inner workings of airbrushes and explore the difference between internal mix and external mix models.
Internal Mix Airbrushes: Fine Atomization for Precision
Internal mix airbrushes are akin to fine-tuned instruments in an orchestra. They excel at blending paint and air internally, resulting in ultra-fine atomization. This attribute is pivotal for achieving smooth gradients and subtle shading in artwork.
Attributes of Internal Mix Airbrushes:
Fine Atomization: Ideal for intricate details and smooth transitions.
Precision: Precise control over the paint-air mixture for nuanced work.
Versatility: Suitable for a wide range of applications, from illustrations to scale modeling.
Internal mix airbrushes are cherished by artists who prioritize fine detail and realism in their work. Whether you're replicating skin tones in portraits or adding weathering effects to scale models, these airbrushes are your trusted companions.
Now, let's take a turn and explore external mix airbrushes, which offer a different set of attributes.
External Mix Airbrushes: Handling Thicker Paints with Ease
External mix airbrushes are the heavy lifters of the airbrush world. They mix paint and air externally, making them suitable for thicker paints and coatings. This design offers several advantages for specific applications.
Attributes of External Mix Airbrushes:
Thicker Paints: Excel at handling materials with higher viscosity.
Versatility: Suitable for tasks that involve priming, varnishing, and base-coating.
Efficiency: Reduced clogging, especially when working with dense pigments.
External mix airbrushes find their calling in industries like automotive painting, where priming and base-coating require a steady hand and reliable equipment. They thrive in scenarios where precision meets resilience.
Action Mechanisms in Airbrushes: Pushing the Limits of Creativity
Now that we've explored the intricacies of airbrush types, it's time to unravel the fascinating world of action mechanisms. These mechanisms play a pivotal role in how you control and operate your airbrush.
Continuous Flow: Consistency in Every Stroke
Continuous flow airbrushes are designed for artists who require a constant and uninterrupted flow of paint and air. Imagine it as a smooth, unbroken melody in your creative symphony.
Attributes of Continuous Flow Airbrushes:
Consistency: Uniform paint and air flow for even coverage.
Efficiency: Ideal for tasks that demand a continuous spray pattern.
Popularity: Widely used in industries like automotive detailing.
These airbrushes are the preferred choice when consistency is paramount, such as when covering large surfaces or achieving uniform color application.
Now, let's shift our focus to trigger action airbrushes, where control takes center stage.
Trigger Action: Precision at Your Fingertips
Trigger action airbrushes are all about precision control. They allow you to adjust paint flow with exquisite finesse, like a virtuoso musician manipulating the pitch of each note.
Attributes of Trigger Action Airbrushes:
Precision: Fine-tune paint flow using a responsive trigger.
Versatility: Suitable for tasks that demand intricate detailing and shading.
Control: Precision control for artists seeking perfection.
Artists and illustrators who need to create intricate artwork, achieve fine lines, and execute subtle shading prefer trigger action airbrushes. The responsive trigger empowers you to navigate between strokes with grace and accuracy.
But, before you decide, let's explore button action airbrushes, an alternative with its own distinctive attributes.
Button Action: Convenience at Your Fingertips
Button action airbrushes simplify the painting process with their convenient design. Instead of a trigger, they feature a button that controls paint flow, offering a unique set of attributes.
Attributes of Button Action Airbrushes:
Convenience: Easy to use, making them beginner-friendly.
Suitability: Ideal for beginners and hobbyists exploring airbrushing.
Ease of Learning: Simplified control for those new to airbrush art.
Button action airbrushes provide a hassle-free introduction to airbrushing, making them an excellent choice for beginners and hobbyists who want to explore this art form without a steep learning curve.
Airbrush Needle and Nozzle Sizes: Precision Matters
As we venture deeper into the world of airbrushes, it's essential to understand the significance of needle and nozzle sizes. These attributes directly impact the precision and versatility of your airbrush.
Needle and Nozzle Sizes Unveiled
Imagine the needle and nozzle of your airbrush as the conductor's baton in an orchestra, directing the flow and texture of your artwork. Let's delve into their attributes and how they influence your creative process.
Attributes of Needle and Nozzle Sizes:
Precision: Smaller sizes offer finer lines and details.
Versatility: Larger sizes are suitable for broader strokes and coverage.
Compatibility: Choose sizes that match your preferred painting style.
Selecting the right needle and nozzle sizes is like choosing the right brush for a canvas; it's pivotal to achieving your desired results. Consider the type of work you do and the level of detail you aim to achieve when making your choice.
Popular Brands and Models: A Closer Look
Now that we've journeyed through the intricate world of airbrush types and attributes, it's time to explore the popular brands and models that stand out in the market.
Brands That Command Respect
In the realm of airbrushes, certain brands have earned a reputation for excellence. These brands have consistently delivered quality, innovation, and reliability to artists and craftsmen worldwide.
Attributes of Popular Airbrush Brands:
Quality: Brands known for producing durable and reliable airbrushes.
Innovation: Continuous improvement and introduction of new features.
Reputation: Positive reviews and a loyal customer base.
Some renowned names in the industry include Iwata, Badger, Paasche, and Harder & Steenbeck. Exploring these brands can lead you to the perfect airbrush model that suits your needs.
Choosing the Right Airbrush for Your Needs: A Practical Guide
With a wealth of knowledge about airbrush types, attributes, and popular brands, you're now equipped to make an informed decision. But how do you choose the perfect airbrush that aligns with your specific requirements?
Deciphering Your Airbrush Needs
Selecting the right airbrush is a crucial decision that depends on various factors. To simplify the process, let's break it down into a practical guide:
Determine Your Application: Are you into fine art, automotive painting, or modeling? Your application will guide your choice.
Skill Level: Are you a beginner, an intermediate user, or a seasoned pro? Some airbrushes are more forgiving for beginners, while others cater to experts.
Budget Considerations: What's your budget? Airbrushes come in a wide price range, so there's an option for every budget.
Ergonomics and Comfort: Consider the comfort of using the airbrush for extended periods. Ergonomic design can make a significant difference.
Maintenance: Some airbrushes require more maintenance than others. Factor in the time and effort you're willing to invest in upkeep.
By addressing these factors, you'll be able to narrow down your choices and select an airbrush that aligns perfectly with your needs and preferences.
Maintaining and Cleaning Your Airbrush: Extending its Lifespan
Once you've chosen your ideal airbrush, it's crucial to maintain and clean it properly to ensure its longevity and performance. Neglecting maintenance can lead to clogs, reduced precision, and even damage. Let's delve into the essential steps.
The Art of Airbrush Maintenance
Proper maintenance involves regular cleaning and care, ensuring your airbrush remains a reliable companion for years to come. Here's a breakdown of the essential maintenance steps:
Thorough Cleaning: Disassemble your airbrush and clean all parts with an appropriate cleaning solution, ensuring no dried paint residue remains.
Needle and Nozzle Care: Handle the needle and nozzle with care, as they are delicate components. Inspect and clean them regularly to prevent clogs.
Lubrication: Apply a suitable lubricant to moving parts to keep them operating smoothly.
Storage: Store your airbrush in a protective case to prevent dust and damage.
Regular Checks: Perform routine checks for any signs of wear or damage, addressing issues promptly.
Use Proper Cleaning Tools: Invest in quality cleaning tools designed for airbrush maintenance.
By following these maintenance practices, you'll ensure your airbrush remains in top-notch condition, providing consistent results and longevity.
Conclusion
In this comprehensive guide, we've embarked on a journey through the intricate world of airbrushes. We've explored various types, dissected their attributes, and delved into action mechanisms. We've also examined the importance of needle and nozzle sizes, popular brands, and maintenance.
With this knowledge in your arsenal, you're now well-prepared to make an informed choice when selecting an airbrush that aligns with your creative aspirations. Whether you're an artist seeking precision, a craftsman requiring versatility, or a hobbyist exploring this exciting medium, the world of airbrushes offers a canvas of possibilities waiting to be painted.
Remember, the world of airbrushing is an art form in itself. Your airbrush is not just a tool; it's an extension of your creativity. So, choose wisely, maintain diligently, and let your imagination take flight through the artistry of airbrushing.