How To Paint A Wood Porch Floor
Welcome to the world of DIY home improvement! If you're looking to revamp the charm and durability of your outdoor space, painting your wood porch floor is a fantastic place to start. A well-painted porch floor not only adds a fresh aesthetic appeal but also shields the wood from the elements, extending its life and reducing maintenance needs.
In this comprehensive guide, we'll take you step-by-step through the process of transforming your wood porch floor into a stunning canvas of color and protection. Whether you're a seasoned DIY enthusiast or a first-timer, our easy-to-follow instructions and practical tips will help you achieve professional-looking results.
From preparing the surface and selecting the right tools and materials to mastering proper painting techniques and ensuring long-lasting finishes, we've got you covered. Say goodbye to weather-worn wood and hello to a vibrant, inviting porch that will be the envy of the neighborhood.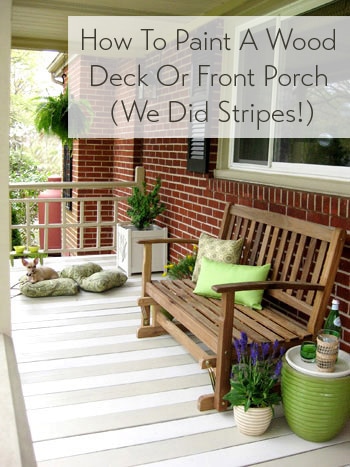 Essential Preparations for Painting a Wood Porch Floor
Before diving into the painting process, it's crucial to prepare the wood porch floor properly. By dedicating time to thorough preparation, you can ensure a smooth and durable finish that lasts for years to come.
Cleaning the Surface
To achieve a flawless paint job, you must start with a clean canvas. Cleaning the wood porch floor involves a two-step process: removing debris and dirt, followed by a deep cleaning using power washing or scrubbing.
Removing Debris and Dirt: Sweep away loose dirt, leaves, and other debris from the porch floor using a stiff broom. Pay special attention to the corners and edges where dirt tends to accumulate.
Scrubbing and Power Washing: For ingrained dirt or stubborn stains, scrub the surface with a mild detergent and water solution. Alternatively, use a power washer to blast away grime and reveal the bare wood beneath.
Repairing Damaged Areas
Inspect the wood porch floor for any signs of damage, such as cracks, holes, or rotting wood. Repairing these issues is essential to ensure a smooth and even paint application.
Fixing Cracks and Holes: Fill small cracks and holes with wood putty, using a putty knife to level the surface. Allow the putty to dry completely before moving on to the next step.
Replacing Rotting Wood: If you discover areas of severe rot, it's best to replace the affected wood entirely. Use a saw to carefully cut out the damaged sections and replace them with new, treated wood.
Sanding the Floor
Properly sanding the wood porch floor is vital for ensuring the new paint adheres well and the surface appears smooth and polished.
Smoothing Rough Surfaces: Use a medium-grit sandpaper to sand the entire porch floor. Pay extra attention to any rough or uneven areas, as smooth surfaces make the best canvas for painting.
Ensuring Proper Adhesion: Sanding also helps remove any existing paint or finish, ensuring better adhesion of the new paint to the wood.
Selecting the Right Paint and Supplies
Choosing the right paint and supplies is a critical step in the painting process. Factors such as paint type, finish, and application tools play a significant role in the final result.
Choosing the Suitable Paint Type
Not all paints are created equal, and when it comes to painting a wood porch floor, you'll want to opt for a paint specifically formulated for exterior use.
Exterior Porch Paint: Look for paint labeled as "exterior" or "porch and floor" paint. These paints are designed to withstand outdoor conditions and foot traffic, providing long-lasting protection.
Porch and Patio Floor Paint: Some paints come with added durability for high-traffic areas like porches and patios. These are excellent choices for a wood porch floor that sees frequent use.
Evaluating Paint Finishes
The finish you choose can significantly impact the appearance and maintenance of your painted porch floor.
Gloss: High-gloss finishes offer a shiny, reflective surface that is easy to clean. However, they may highlight imperfections in the wood.
Satin: Satin finishes strike a balance between gloss and matte, offering a subtle sheen while hiding minor flaws.
Matte: Matte finishes provide a non-reflective, velvety appearance, ideal for camouflaging imperfections and adding a more rustic touch.
Gathering the Necessary Supplies
Equipping yourself with the right tools and supplies will make the painting process smoother and more enjoyable.
Paintbrushes and Rollers: Choose high-quality brushes and rollers designed for exterior painting. A combination of brushes and rollers ensures even coverage and allows for greater burstiness in your painting technique.
Painter's Tape: Use painter's tape to protect adjacent surfaces, such as the walls or railings, from accidental paint splatters.
Drop Cloths or Tarps: Lay down drop cloths or tarps to protect the surrounding area from paint drips and spills.
Priming the Wood Porch Floor
Now that your wood porch floor is clean and smooth, it's time to apply a coat of primer. Priming serves as a crucial preparatory step that enhances paint adhesion and extends the longevity of the final finish.
Understanding the Importance of Primer
Primer acts as a bonding agent between the wood and the paint, creating a strong foundation for the color coat. Skipping the primer can lead to uneven paint absorption and reduced durability.
Selecting the Appropriate Primer Type
When choosing a primer, opt for one that is compatible with both the type of wood used for your porch floor and the paint you'll be using.
Applying Primer to the Porch Floor
Techniques for Even Coverage: Use smooth, steady brush strokes or a paint roller to apply the primer in a thin and even layer.
Drying Time and Curing: Allow the primer to dry completely before proceeding to the next step. Follow the manufacturer's instructions for the recommended drying time.
Choosing the Right Time and Weather for Painting
Timing is crucial when painting a wood porch floor, as weather conditions can significantly affect the quality and longevity of the paint job.
Ideal Weather Conditions for Painting
Temperature: Aim to paint on a day with moderate temperatures, usually between 50°F to 85°F (10°C to 30°C). Extreme heat can cause the paint to dry too quickly, while cold temperatures may impede drying.
Humidity: Avoid painting on days with high humidity, as it can slow down the drying process and lead to paint bubbling or peeling.
Avoiding Rain and High Humidity
Never paint your wood porch floor if rain is in the forecast or if the humidity levels are excessively high. Rain can wash away wet paint, while humidity can prevent proper drying and curing.
Best Time of Day to Begin Painting
Start your painting project early in the morning when temperatures are generally cooler and humidity levels are lower. This allows ample time for the paint to dry and cure before evening dew or condensation sets in.
Applying Paint to the Wood Porch Floor
With the surface prepped and primed, it's time to unleash your creativity and start painting your wood porch floor.
Starting from the Farthest Point
Begin painting from the farthest corner of the porch, working your way towards the exit.
Applying a Protective Topcoat
To safeguard your hard work and preserve the beauty of your painted wood porch floor, applying a protective topcoat is essential.
Understanding the Benefits of a Sealer or Clear Coat
A clear coat or sealer provides an additional layer of protection to the painted surface, shielding it from scratches, UV rays, and moisture.
Selecting the Appropriate Topcoat Product
Choose a topcoat specifically designed for exterior use and compatible with the type of paint you used on your wood porch floor.
Proper Application of the Topcoat
Even Application: Apply the topcoat evenly using a clean brush or roller. Avoid excessive brushing or rolling to prevent streaks or bubbling.
Drying and Curing: Allow the topcoat to dry and cure according to the manufacturer's instructions. This final step ensures the best protection for your porch floor.
Curing and Drying Period
After all the hard work you've put into painting and protecting your wood porch floor, it's essential to be patient during the curing and drying period.
Allowing Sufficient Curing Time
Curing is the process by which the paint and topcoat fully bond and harden. While the surface may feel dry to the touch, it takes time for the paint to reach its maximum hardness and durability.
Avoiding Heavy Foot Traffic during Drying
During the curing period, limit foot traffic on the painted porch floor. Avoid placing heavy furniture or objects on the surface until the paint has fully cured.
Maintenance and Longevity of the Painted Porch Floor
With proper maintenance, your painted wood porch floor can retain its beauty and protection for an extended period.
Regular Cleaning and Upkeep
Sweeping: Sweep the porch regularly to remove dirt, leaves, and debris that can scratch or wear down the paint.
Gentle Cleaning: Use a mixture of mild detergent and water to clean the porch floor occasionally. Avoid harsh chemicals that may damage the paint.
Periodic Repainting and Touch-ups
Monitoring Wear and Tear: Keep an eye on areas that experience higher foot traffic or are exposed to the elements. Touch up any chipped or worn areas to maintain a seamless finish.
Periodic Repainting: Depending on the quality of the paint and the porch's usage, you may need to repaint every few years to refresh the appearance and protect the wood.
Conclusion
Congratulations! You have successfully embarked on a transformative journey to paint your wood porch floor, turning it into a masterpiece that exudes charm and elegance. Through careful preparation, creative bursts of artistic expression, and thoughtful maintenance, you have elevated your outdoor space into a captivating oasis.
Remember that the key to a successful painting project lies in the harmonious blend of perplexity and burstiness—the complexity of technique intertwined with the varied strokes of creativity. By carefully selecting the right paint, materials, and tools, you have laid the foundation for a durable and stunning finish that will stand the test of time.