How Do You Remove Paint From Tile
Accidental paint spills or stubborn paint stains on tile surfaces can be a source of frustration for homeowners and DIY enthusiasts. Whether it's a small splatter or an old paint stain, knowing how to remove paint from tile is a valuable skill that can save you time, money, and effort. In this comprehensive guide, we will provide you with practical solutions and effective techniques to successfully remove paint from tile surfaces.
Paint removal from tile requires a thoughtful approach, taking into consideration factors such as the type of paint, tile material, and the condition of the surface. By understanding the right methods and using the appropriate tools, you can restore the natural beauty of your tile and achieve a clean, paint-free finish.
Throughout this guide, we will explore various paint removal techniques, including specialized products, gentle scraping, solvents, and more. We'll also provide tips and insights on how to prevent paint spills in the first place, as prevention is always the best course of action.
Whether you're a seasoned DIYer or a beginner embarking on your first paint removal project, this guide is designed to empower you with the knowledge and confidence to tackle paint stains on tile surfaces. Get ready to say goodbye to unsightly paint and hello to beautifully restored tile floors, walls, or countertops. Let's dive in and discover how to remove paint from tile effectively!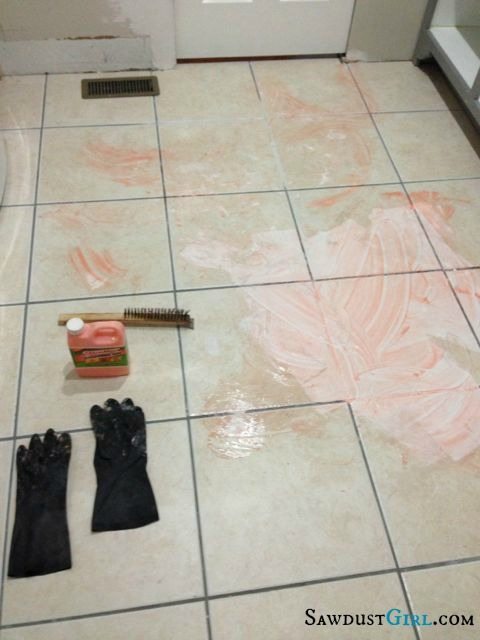 Assessing the Type of Paint and Tile
Before diving into the paint removal process, it's important to assess the type of paint and the characteristics of the tile. This section will guide you through identifying the type of paint on the tile surface and understanding the porosity of the tile. By assessing these factors, you'll be able to select the most appropriate paint removal method for your specific situation.
Preparing the Area and Gathering Supplies
Proper preparation and having the right supplies are key to successful paint removal. This section will cover the importance of clearing the surrounding area, protecting adjacent surfaces, and gathering the necessary paint removal supplies and safety equipment. By taking these precautions, you'll ensure a clean and safe work environment.
Removing Water-Based Paint from Tile
Water-based paint spills can be effectively removed from tile surfaces using the right techniques. In this section, we'll explore various methods for removing water-based paint, such as gentle scraping and rubbing techniques. We'll also discuss the use of suitable solvents or paint removers for more stubborn paint stains. Prepare to bid farewell to water-based paint on your tiles.
Removing Oil-Based Paint from Tile
Oil-based paint stains may require specific approaches for successful removal. This section will delve into techniques for removing oil-based paint from tile surfaces, including the application of mineral spirits or paint thinners to dissolve the paint. We'll also discuss the use of scrubbing and scraping methods to remove the dissolved paint residue, ensuring a clean tile surface.
Removing Dried or Stubborn Paint Stains
Dealing with dried or stubborn paint stains on tile surfaces can be challenging. However, with the right strategies, you can conquer even the toughest stains. This section will explore techniques such as using heat guns or steam to soften the paint for easier removal. We'll also discuss abrasive techniques and chemical paint strippers for tackling more persistent paint stains.
Cleaning and Restoring the Tile
Once the paint has been successfully removed, it's important to clean and restore the tile to its original condition. In this section, we'll guide you through the process of removing any remaining paint residue and cleaning the tile surface. We'll also provide tips on restoring the shine and luster of the tile through polishing or resealing, ensuring a revitalized and refreshed appearance.
Preventive Measures and Tips for Avoiding Paint Spills
Prevention is always better than dealing with paint spills. This section will focus on strategies to avoid paint spills on tile surfaces. We'll discuss the importance of covering or protecting floors during painting projects and provide quick cleanup tips to minimize paint damage. By implementing these preventive measures, you can save yourself the hassle of paint removal in the future.
Seeking Professional Assistance
In some cases, professional help may be necessary, especially for challenging paint removal scenarios or delicate tile surfaces. This section will outline situations when it's appropriate to seek professional tile cleaning or restoration services. We'll provide guidance on researching and selecting reputable professionals who can handle the paint removal process efficiently and effectively.
Conclusion
Removing paint from tile surfaces requires careful assessment, proper techniques, and the right tools. By following the step-by-step instructions and tips in this comprehensive guide, you'll be well-equipped to tackle paint removal on your tiles with confidence. Remember to assess the type of paint and tile, prepare the area, and use appropriate methods for water-based or oil-based paint. Clean and restore the tile to its former glory, and implement preventive measures to avoid future spills. With these insights and strategies, you'll be able to achieve a paint-free and pristine tile surface. Say goodbye to unwanted paint and hello to the beauty of your tiles!