How To Paint Brake Rotors
Revitalizing the aesthetics of your vehicle while protecting its brake rotors from rust and corrosion can be achieved through a simple yet transformative process: painting the brake rotors. Brake rotors play a vital role in a vehicle's braking system, but they can also make a bold statement when given a personalized touch. Whether you want to add a pop of color or create a striking contrast, painting your brake rotors can enhance the visual appeal of your vehicle while providing a layer of protection.
In this comprehensive guide, we will take you through the step-by-step process of painting brake rotors, ensuring that you achieve optimal results. From gathering the necessary tools and materials to preparing the surface, applying the paint, and conducting a test drive, we will cover every aspect of the painting process. We will also provide valuable tips on maintenance and safety considerations to ensure long-lasting performance and safe driving.
Join us as we explore the world of brake rotor painting, empowering you with the knowledge and confidence to transform your vehicle's appearance while preserving the functionality of this critical component. Get ready to unleash your creativity and give your vehicle a unique and eye-catching look with painted brake rotors.
How to Paint Brake Rotors | THE PROPER WAY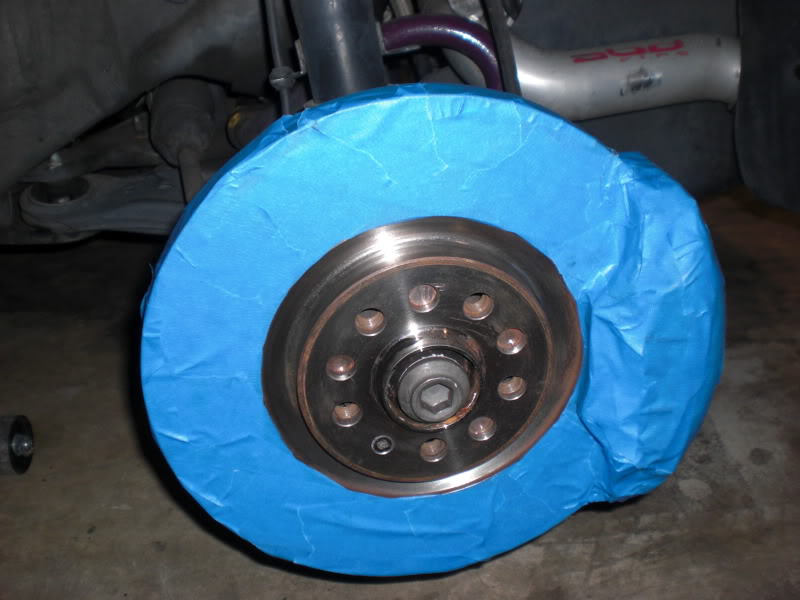 Why Paint Brake Rotors?
Have you ever wanted to give your vehicle a personalized touch or make a bold statement with its appearance? Painting your brake rotors can be a fantastic way to achieve just that. Let's explore the various benefits and purposes of painting brake rotors:
Enhancing the Visual Appearance
Aesthetics are an essential aspect of vehicle ownership for many enthusiasts. By painting your brake rotors, you can add a touch of uniqueness and customization to your vehicle's overall look. Imagine how a sleek set of painted rotors can complement your vehicle's color scheme or create a striking contrast to make it stand out on the road.
Protecting Against Rust and Corrosion
Brake rotors are subjected to harsh conditions, including exposure to moisture, road salt, and other corrosive elements. Over time, this can lead to rust and deterioration, negatively impacting their performance and appearance. By painting your brake rotors with appropriate high-temperature paint, you can create a protective barrier against rust and corrosion, prolonging their lifespan.
Painting your brake rotors not only offers aesthetic benefits but also serves as a practical solution to preserve their functionality and prevent potential damage.
Preparing for Brake Rotor Painting
Before diving into the process of painting brake rotors, it is essential to gather the necessary tools and materials to ensure a smooth and successful project. Let's take a look at the items you will need:
Tools and Materials
Brake rotor cleaner or degreaser
Sandpaper or abrasive pad
Brake caliper paint kit (with high-temperature paint)
Painter's tape or masking tape
Clean cloth or shop towels
Safety equipment (gloves, goggles, respirator)
Once you have collected all the required tools and materials, you can proceed with the preparation phase.
Jacking Up the Vehicle and Removing the Wheels
To access the brake rotors easily, you will need to lift the vehicle off the ground using a jack. Ensure you follow proper safety procedures and consult your vehicle's manual for the correct jacking points. Once the vehicle is securely elevated, remove the wheels to gain direct access to the brake rotors.
Cleaning the Brake Rotors Thoroughly
Before painting the brake rotors, it is crucial to clean them thoroughly to remove any dirt, debris, or brake dust. A clean surface will allow the paint to adhere better and ensure a smooth finish. Start by using a brake rotor cleaner or degreaser, applying it generously and scrubbing the rotors with a brush. Rinse them thoroughly with clean water and dry them using a clean cloth or shop towels.
Surface Preparation
With your brake rotors clean and accessible, it's time to prepare the surface for painting. This step involves inspecting the rotors for any signs of damage or wear, addressing any issues that may affect their performance, and creating an ideal surface for paint adhesion.
Inspecting the Brake Rotors
Carefully examine each brake rotor for signs of cracking, warping, or excessive wear. If you notice any significant damage, it is recommended to replace the rotors instead of painting them. Painting damaged rotors can compromise their structural integrity and lead to brake system failure. Ensure that the brake rotors are in good condition before proceeding.
Sanding the Rotor Surface
To create a smooth and clean surface for the paint to adhere to, you will need to sand the brake rotors. Start by using sandpaper or an abrasive pad with a medium grit (around 180-220) and sand the rotor surface in a circular motion. This process will help remove any existing paint, rust, or imperfections. Continue sanding until you achieve a uniform and smooth surface across all the rotors.
Cleaning the Rotor Again
After sanding the rotors, it is essential to clean them once again to remove any sanding residue or particles. Use a brake rotor cleaner or degreaser and a clean cloth to wipe down each rotor thoroughly. This step ensures that the surface is free from any contaminants that could affect the paint adhesion and final finish.
Masking and Protecting Adjacent Areas
Before applying paint to the brake rotors, it is crucial to protect adjacent areas such as brake calipers, brake pads, and other nearby components. This step will prevent paint overspray or accidental contact with unwanted areas. Additionally, ensure that you are working in a well-ventilated area and keep any flammable materials away from your workspace.
Using Painter's Tape or Masking Tape
Utilize painter's tape or masking tape to cover the brake calipers, brake pads, and any other parts that should not be painted. Take your time to ensure that the tape is applied securely, creating a tight seal to prevent any paint from reaching these protected areas.
Applying Brake Caliper Paint
With the necessary preparations complete, it's time to apply the brake caliper paint to the surface of the rotors. Follow these steps for optimal results:
Shaking the Paint Can or Mixing the Paint Components
Before applying the paint, shake the can thoroughly to ensure the paint is well-mixed. If you are using a brake caliper paint kit with separate components, follow the manufacturer's instructions to mix them properly. Mixing the paint thoroughly will ensure consistent color and quality.
Applying a Thin and Even Coat of Paint
Hold the paint can or brush at a distance from the rotor surface and apply a thin and even coat of paint. Start from the center of the rotor and work your way outward in steady and controlled motions. Avoid applying the paint too thickly, as it can lead to drips, uneven application, or extended drying times. Apply multiple thin coats if needed, allowing each coat to dry before applying the next.
Allowing the Paint to Dry
After applying the paint, follow the manufacturer's instructions regarding drying time. It is crucial to allow the paint to dry completely before moving on to the next step. This ensures that the paint adheres properly and prevents smudging or damage during the curing process.
Repeating the Process (if necessary)
Depending on the desired color intensity or coverage, you may need to repeat the painting process to achieve the desired results. Apply additional coats of paint, allowing each coat to dry thoroughly, until you are satisfied with the appearance of the painted brake rotors.
Curing and Final Steps
After the paint has dried, it is essential to cure the painted brake rotors to enhance their durability and resistance to high temperatures. Follow these final steps to complete the process:
Curing the Painted Brake Rotors
Consult the instructions provided by the paint manufacturer for the recommended curing time. This step is crucial to ensure that the paint fully bonds to the surface of the brake rotors, providing long-lasting protection and preventing premature peeling or chipping. Follow the recommended curing time diligently to achieve optimal results.
Reinstalling the Wheels and Lowering the Vehicle
Once the paint has cured, it's time to reinstall the wheels onto the vehicle. Carefully align the wheel studs with the corresponding holes in the rotors, and tighten the lug nuts securely. After ensuring all the wheels are properly installed, use a jack to lower the vehicle back to the ground.
Conducting a Test Drive
Before hitting the road, it is crucial to conduct a test drive to ensure that the brakes and painted rotors are functioning correctly. Start with slow and gradual braking to allow the pads to settle onto the painted rotors. Pay attention to any unusual noises or vibrations and ensure that the braking performance remains consistent. If you notice any issues, consult a professional mechanic to address them promptly.
Regular Maintenance and Cleaning Tips for Painted Brake Rotors
To keep your painted brake rotors looking their best and maintain their functionality, follow these maintenance tips:
Regularly clean the brake rotors using a brake rotor cleaner or degreaser to remove brake dust, dirt, and grime.
Avoid using abrasive cleaners or harsh chemicals that can damage the painted surface.
Apply a protective sealant or wax specifically designed for painted surfaces to further enhance their durability and appearance.
Regularly inspect the painted brake rotors for any signs of damage, chipping, or peeling. Address any issues promptly to prevent further deterioration.
By incorporating these maintenance practices into your routine, you can ensure that your painted brake rotors remain in top condition for an extended period.
Safety Considerations
Throughout the process of painting brake rotors, it is essential to prioritize your safety. Here are some safety considerations to keep in mind:
Wear appropriate safety gear, including gloves, goggles, and a respirator, to protect yourself from paint fumes, chemicals, and debris.
Work in a well-ventilated area or use a fan to improve air circulation and reduce the concentration of fumes.
Avoid inhalation or direct skin contact with the paint or any cleaning chemicals.
Dispose of used materials, such as sandpaper or rags, according to local regulations and guidelines.
Remember, properly functioning brakes are crucial for safe driving. If you have any doubts or concerns about the process, consider seeking assistance from a professional mechanic or automotive paint specialist.
Conclusion
Painting brake rotors offers a fantastic opportunity to enhance your vehicle's appearance while providing protection against rust and corrosion. By following the step-by-step instructions outlined in this comprehensive guide, you can confidently embark on your brake rotor painting project. Remember to prioritize safety, prepare the surface diligently, and choose high-quality paint that is suitable for high-temperature applications. With proper maintenance, your painted brake rotors will not only look impressive but also contribute to the overall performance and longevity of your vehicle's braking system.