How Much To Paint A Truck Bed
If you're looking to give your truck bed a fresh new look or protect it from the elements, painting it can be a fantastic solution. However, before diving into the project, it's important to consider the cost implications. Understanding how much it will cost to paint a truck bed can help you plan your budget accordingly and make informed decisions.
Painting a truck bed involves more than just selecting a color and applying the paint. Several factors come into play, including the size of the truck bed, the condition of the surface, the type of paint and finish desired, and whether you choose to tackle the project yourself or hire a professional.
In this article, we will explore the various aspects that influence the cost of painting a truck bed. We will discuss the process of truck bed painting, factors that impact the expenses involved, and provide insights into estimating the cost based on different considerations. Whether you're considering a DIY approach or seeking professional services, understanding the cost dynamics will help you determine the most suitable path for your needs.
By the end of this article, you will have a clear understanding of the factors to consider and the average cost range associated with painting a truck bed. Armed with this knowledge, you can proceed with your truck bed painting project confidently, knowing what to expect and how to budget effectively.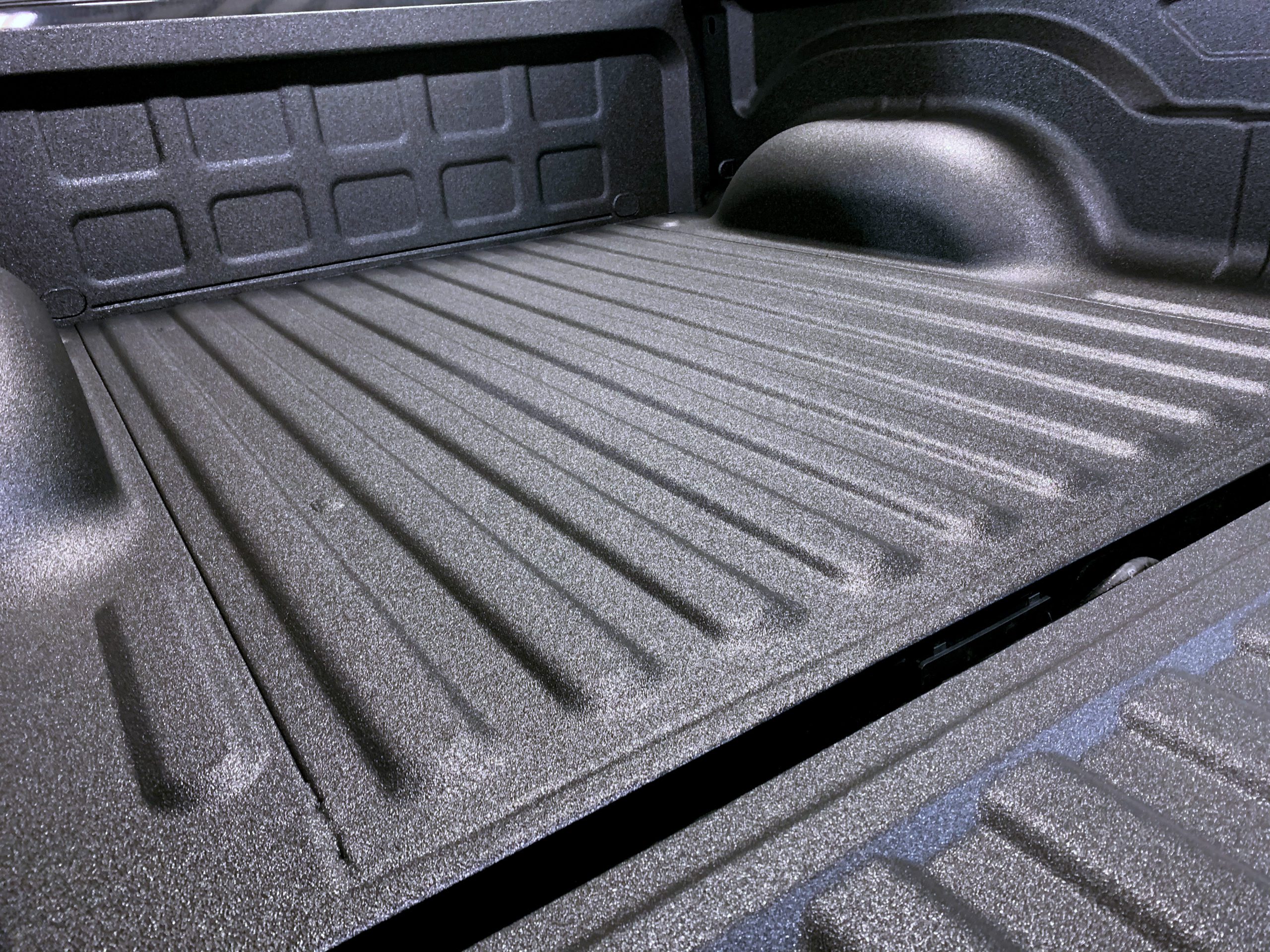 Understanding Truck Bed Painting
Before diving into the cost considerations, let's first explore what painting a truck bed entails and the different types of paints and finishes available.
Truck bed painting involves several key steps, including surface preparation, priming, applying paint, and applying a protective clear coat. The surface preparation involves cleaning, sanding, and potentially repairing any dents or damages. Priming ensures proper adhesion and improves the durability of the paint job. The type of paint and finish you choose depends on your preferences and the level of protection you desire.
There are different types of paints suitable for truck beds, such as acrylic enamel, urethane, and epoxy-based paints. Each type offers unique properties in terms of durability, chemical resistance, and UV protection. Finishes can range from glossy to matte, providing different aesthetics and levels of sheen.
Factors Influencing the Cost of Painting a Truck Bed
Several factors come into play when determining the cost of painting a truck bed. Understanding these factors can help you estimate the expenses and make informed decisions.
Truck Bed Size and Surface Area
The size of your truck bed plays a significant role in determining the cost of painting. Larger truck beds require more paint, materials, and labor, which can increase the overall cost. Additionally, if your truck bed has complex shapes or contours, it may require additional time and effort to achieve a quality finish.
Truck Bed Material and Condition
The material of your truck bed can impact the cost of painting. Different materials, such as steel, aluminum, or composite, may require specific preparation and paint application techniques. Additionally, the condition of your truck bed, including any existing paint or damages, may require additional work and affect the overall cost.
Prep Work and Surface Preparation
Proper surface preparation is crucial for a successful and long-lasting paint job. The extent of prep work required, such as cleaning, sanding, or repairing surface imperfections, can impact the cost. Neglecting proper preparation can result in poor paint adhesion and premature paint failure.
Paint Type and Quality
The type and quality of paint you choose can influence the cost. Higher quality paints typically come at a higher price point but offer better durability, color retention, and protection. It's important to consider your budget and the specific needs of your truck bed when selecting the paint type and quality.
Labor Costs and Professional Services
If you decide to hire a professional to paint your truck bed, labor costs will be a significant factor. Labor charges can vary depending on the experience of the painter, location, and the complexity of the job. Keep in mind that hiring professionals may ensure a higher quality finish but comes with additional expenses.
Estimating the Cost to Paint a Truck Bed
Estimating the cost of painting a truck bed involves considering the aforementioned factors and gathering specific information. While it's challenging to provide an exact cost without assessing your unique requirements, we can provide you with a general cost range.
The average cost to paint a truck bed can range from $300 to $1,500 or more. This range includes materials, labor, and the specific factors influencing the cost. To get a more accurate estimate, it's advisable to obtain quotes from multiple painters or professional services in your area. They can assess the condition of your truck bed, discuss your preferences, and provide a detailed cost breakdown.
When requesting estimates, be sure to inquire about the specific services included, such as surface preparation, priming, number of paint coats, and the type of clear coat used. Remember that higher quality paints and professional services may come at a higher cost but can result in a superior and longer-lasting finish.
It's important to note that the cost estimates provided are general guidelines and can vary depending on various factors. Local labor rates, regional price differences, and the level of customization or additional services required can all affect the final cost.
DIY vs. Professional Truck Bed Painting
One crucial decision to make is whether to tackle the truck bed painting project yourself or hire a professional. Let's explore the pros and cons of each approach.
Pros of DIY Truck Bed Painting
Cost Savings: Undertaking the project yourself can save you money on labor costs.
Sense of Accomplishment: Completing the project on your own can be a rewarding experience.
Flexibility and Control: You have the freedom to choose the paint type, finish, and customize the project to your preferences.
Cons of DIY Truck Bed Painting
Skill and Experience: Achieving a professional-quality finish requires skill and experience in surface preparation, paint application, and troubleshooting.
Time and Effort: DIY painting can be time-consuming, especially if you're unfamiliar with the process or working on complex surfaces.
Equipment and Tools: You may need to invest in specific tools, equipment, and safety gear, which can add to the overall cost.
Benefits of Hiring a Professional for Truck Bed Painting
Expertise and Skill: Professional painters have the necessary skills and experience to deliver a high-quality finish.
Time Efficiency: Professionals can complete the project efficiently, saving you time and effort.
Professional Equipment: Painters have access to specialized tools, equipment, and products to ensure a superior result.
Warranty and Guarantees: Reputable professionals often provide warranties or guarantees on their workmanship, giving you peace of mind.
Cost Comparison: DIY vs. Professional Services
When comparing costs, consider not only the monetary aspect but also the value of your time and the desired quality of the finish. While DIY painting may be cheaper initially, it can result in additional expenses if mistakes are made or if the finish doesn't meet your expectations. Hiring a professional may come at a higher cost, but you're more likely to achieve a durable and professional-looking outcome.
Ultimately, the decision between DIY and professional painting depends on your skill level, time availability, budget, and desired outcome. Assess your capabilities and consider seeking professional assistance if you're unsure about tackling the project on your own.
Tips for Saving Money on Truck Bed Painting
If you're looking to minimize costs while still achieving a quality paint job for your truck bed, consider the following tips:
Proper Surface Preparation
Invest time and effort in thorough surface preparation. Clean the truck bed thoroughly, remove any rust or existing paint, and ensure the surface is smooth and free from imperfections. This will help the paint adhere properly and reduce the likelihood of future issues.
Choosing the Right Paint and Tools
Select high-quality paint and appropriate tools for the job. While cheaper paints may seem appealing initially, they may lack durability and require more frequent touch-ups or repainting in the long run. Invest in quality tools that will aid in achieving a smooth and professional finish.
Comparing Multiple Quotes and Estimates
Obtain quotes from different painters or professional services in your area. Compare the costs, services included, and reviews from previous customers. Ensure the quotes are detailed and transparent, outlining all the necessary steps and materials involved.
Negotiating with Painters
Don't be afraid to negotiate with painters or professional services. Discuss your budget and specific requirements, and see if there is room for adjustments or discounts. Some painters may be open to offering a more competitive price, especially if you're flexible with scheduling or if you're requesting multiple services.
Taking Advantage of Seasonal Promotions or Discounts
Keep an eye out for seasonal promotions or discounts offered by painters or professional services. During slower periods, they may provide special offers or discounted rates to attract customers. By timing your truck bed painting project strategically, you may be able to take advantage of these cost-saving opportunities.
Maintaining a Painted Truck Bed
Once your truck bed is painted, proper maintenance is crucial to preserve its appearance and protect the paintwork. Consider the following maintenance practices:
Regular Cleaning and Maintenance
Regularly clean your truck bed to remove dirt, debris, and any chemicals or substances that may cause damage to the paint. Use a gentle cleanser or automotive-specific soap, along with a soft sponge or cloth, to avoid scratching the surface. Avoid abrasive cleaning tools or harsh chemicals that may strip away the protective clear coat.
Protective Coatings and Sealants
Consider applying a protective coating or sealant to your painted truck bed. These products can provide an additional layer of protection against scratches, UV rays, and chemical exposure. Follow the manufacturer's instructions for application and reapplication intervals to ensure optimal performance.
Addressing Paint Damage or Scratches
If your painted truck bed sustains any damage or scratches, address them promptly to prevent further deterioration. Touch up the affected areas with matching paint or seek professional assistance for more extensive repairs. Regularly inspect your truck bed for signs of wear and address any issues early on to maintain the integrity of the paintwork.
Conclusion
Painting your truck bed can be a worthwhile investment, providing both aesthetic appeal and protection. By understanding the factors that influence the cost of painting a truck bed, estimating the expenses involved, and considering the pros and cons of DIY versus professional services, you can make an informed decision that aligns with your budget and desired outcome.
Remember to prioritize proper surface preparation, choose quality paints and tools, and explore cost-saving opportunities. Once your truck bed is painted, maintain it through regular cleaning, applying protective coatings, and addressing any damage promptly. With these considerations in mind, you can enjoy a beautifully painted truck bed that enhances the overall appearance and value of your vehicle.