How to Paint Cardboard to Look Like Wood
Are you searching for a creative way to transform ordinary cardboard into a stunning masterpiece that resembles the warmth and beauty of wood? Look no further! Painting cardboard to look like wood is a fascinating technique that allows you to add a touch of natural elegance to your projects without breaking the bank. Whether you're a seasoned artist or a DIY enthusiast, this guide will take you through the step-by-step process of achieving a realistic wood-like finish on cardboard.
Imagine the possibilities! With a few simple tools and a splash of creativity, you can create faux wood wall panels, prop replicas, home decor items, and even art installations that will leave everyone in awe. By understanding the characteristics of different wood types and carefully selecting the right supplies, you'll be able to replicate the textures, colors, and grain patterns that make wood so captivating.
In this comprehensive guide, we'll explore everything you need to know to paint cardboard to look like wood. From selecting the right type of cardboard and preparing the surface to creating intricate wood grain patterns and adding finishing touches, we'll walk you through each step of the process. Get ready to unlock your creativity and embark on a journey of turning ordinary cardboard into extraordinary works of art. Let's dive in and discover the wonders of painting cardboard to look like wood!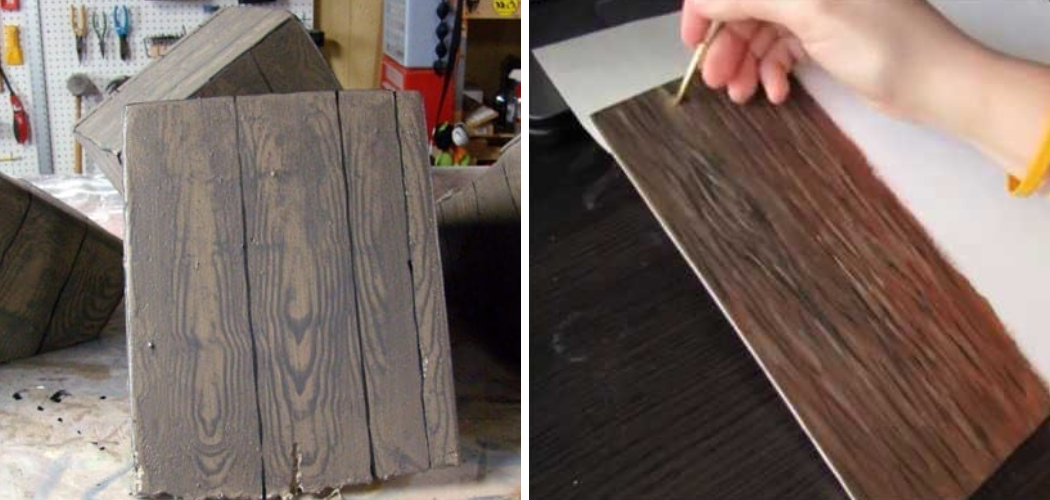 Understanding the Characteristics of Wood
Before we dive into the painting process, let's familiarize ourselves with the unique characteristics of wood. Wood comes in various types, each with distinct textures, colors, and grain patterns. By understanding these attributes, we can replicate them on cardboard more effectively.
Different wood species, such as oak, pine, or mahogany, possess specific grain patterns that contribute to their visual appeal. Some have prominent, bold grains, while others exhibit more subtle patterns. Take the time to study different wood types to determine the specific attributes you want to emulate on your painted cardboard.
Selecting the Right Cardboard
To achieve a convincing wood effect, selecting the right type of cardboard is crucial. Not all cardboard is created equal, and certain varieties lend themselves better to painting techniques. Look for sturdy, high-quality cardboard with a smooth surface. This type of cardboard will provide a solid foundation for your painting project.
Before painting, it's essential to prepare the cardboard surface properly. Begin by ensuring it is clean and free from any dust or debris. Wipe it down with a damp cloth or use a mild cleaning solution if necessary. Next, lightly sand the surface to remove any imperfections or roughness. This step will help the paint adhere better and create a smoother final result.
Gathering the Necessary Supplies
Before you embark on your cardboard painting adventure, gather all the necessary supplies to ensure a smooth and enjoyable process. Here are some items you will need:
| Supplies | Description |
| --- | --- |
| Paint | Acrylic paints work well for this technique. Choose colors that closely resemble the wood tones you desire. |
| Brushes | Assortment of brushes in various sizes for different painting techniques. |
| Faux Wood Graining Tool | This specialized tool helps create realistic wood grain patterns. |
| Sandpaper | Different grits of sandpaper for surface preparation and distressing effects. |
| Primer | A suitable primer that adheres well to cardboard and provides a base coat for your paint. |
| Clear Protective Coat | A sealant or varnish to protect your finished cardboard surface. |
Ensure you have all the necessary supplies before you start your painting project. This will help you maintain a smooth workflow and avoid any interruptions.
Preparing the Cardboard Surface
To achieve a professional-looking wood finish, it's important to properly prepare the cardboard surface. Follow these steps to ensure a smooth painting process:
Cleaning the Cardboard: Begin by wiping down the cardboard surface with a damp cloth to remove any dust or debris. This step ensures that your paint adheres smoothly to the surface.
Sanding the Surface: Using sandpaper with a medium grit, gently sand the cardboard surface. This step helps to remove any rough patches or imperfections, creating a smoother canvas for painting.
Applying Primer: Apply a thin, even layer of primer to the sanded cardboard surface. The primer serves as a base coat that enhances paint adhesion and provides a smooth foundation for the subsequent layers of paint.
Allow the primer to dry completely before proceeding to the next steps. This will ensure that the subsequent layers of paint adhere properly and create a realistic wood effect.
Creating a Base Color Layer
The base color layer sets the foundation for your wood effect and determines the overall tone of the finished product. Follow these steps to create an effective base color layer:
Choosing the Base Color: Select a base color that closely resembles the wood type you want to emulate. For example, if you're aiming for a light oak finish, choose a light tan or beige color. If you're going for a rich mahogany, opt for a deep reddish-brown shade.
Applying the Base Coat: Using a brush or roller, apply an even layer of the chosen base color to the primed cardboard surface. Work in long, smooth strokes to ensure an even application. Allow the base coat to dry completely before moving on to the next steps.
The base color layer forms the background of your wood effect and provides a solid starting point for adding the intricate wood grain patterns.
Adding Wood Grain Patterns
The wood grain patterns are what truly bring the illusion of wood to your painted cardboard. There are various techniques you can use to create realistic wood grain effects. Let's explore a couple of them:
Faux Wood Graining Tool: A faux wood graining tool is a specialized tool designed to create realistic wood grain patterns. Start by applying a thin layer of a contrasting paint color over your dry base coat. Then, using the graining tool, drag it across the surface while twisting and turning to create the desired wood grain effect.
Hand-Painting Wood Grain: If you prefer a more customized approach, you can hand-paint the wood grain using fine brushes. Study reference images of real wood grain patterns to get a sense of the direction and texture. Start with a darker shade of paint and add thin, controlled lines to mimic the natural grain.
Experiment with different techniques and colors to achieve the desired wood grain effect. Remember, practice makes perfect, so don't be discouraged if your first attempts don't turn out exactly as you envisioned.
Enhancing Realism with Staining and Aging Effects
To add depth and realism to your painted cardboard, consider incorporating staining and aging effects. These techniques can help mimic the natural wear and tear that occurs over time on real wood surfaces. Here's how you can achieve these effects:
Wood Staining: Apply a wood stain in a color that complements your base coat to deepen the overall color and add richness. Start with a small amount of stain and gradually build up the desired intensity, ensuring an even application.
Aging Techniques: To create a weathered or distressed wood look, you can employ various aging techniques. Dry brushing is one method where you lightly dip a dry brush into a darker paint color and remove most of it before applying it in quick, gentle strokes. Another technique is using sandpaper or a scraper to selectively remove paint layers, revealing the base color beneath.
These staining and aging effects add authenticity to your painted cardboard and make it more visually engaging.
Adding Details and Texture
To further enhance the realism of your wood-like finish, consider adding details and texture. This step allows you to incorporate elements such as knots, cracks, and other wood features. Here's how you can achieve this:
Painting Wood Features: Use a fine brush and a darker shade of paint to carefully paint knots, grain lines, and other distinctive features found in real wood. Study reference images to understand the placement and shape of these details.
Texture Techniques: For a more tactile experience, you can explore texture techniques to mimic the feel of wood. You can use products like texture paste or create your own by mixing sand or sawdust with paint. Apply these textured mixtures strategically to areas where wood texture is prominent, such as knots or rough patches.
Adding these details and textures elevates your painted cardboard to a whole new level, capturing the essence of real wood.
Sealing and Protecting the Finished Surface
Once you're satisfied with your painted cardboard's wood-like appearance, it's essential to seal and protect the finished surface. A clear protective coat will not only preserve the longevity of your artwork but also enhance its visual appeal. Follow these steps for effective sealing:
Choosing a Sealant: Select a clear sealant or varnish suitable for cardboard surfaces. Ensure that it's compatible with the paint used and provides the desired level of protection and sheen.
Applying the Sealant: Using a clean brush or roller, apply a thin, even layer of the chosen sealant over the entire painted surface. Work carefully to avoid streaks or bubbles. Allow the sealant to dry completely as per the manufacturer's instructions.
The sealant acts as a protective barrier, shielding your painted cardboard from moisture, dirt, and UV damage.
Incorporating Additional Elements
To take your painted cardboard project to the next level, consider incorporating additional elements that enhance the wood effect. Here are a few ideas to inspire your creativity:
Hardware: Attach decorative hardware pieces such as hinges, handles, or drawer pulls to mimic the appearance of wooden furniture or structures.
Varnish or Wax: Apply a thin layer of varnish or wax specifically designed for wood to add shine and depth to your painted surface. This step further enhances the wood-like illusion.
Mixed Media: Combine painted cardboard with other materials like fabric, metal, or natural elements to create unique mixed media artworks that incorporate the wood-like finish.
Let your imagination run wild and explore various possibilities for incorporating painted cardboard into your artistic endeavors.
Troubleshooting and Tips
While painting cardboard to look like wood is a rewarding and enjoyable process, it can sometimes present challenges. Here are some common issues you may encounter and tips to overcome them:
Uneven Paint Application: To avoid uneven paint application, ensure you apply thin, even coats of paint. Allow each layer to dry before adding the next. If you notice any imperfections, lightly sand the area and apply additional paint as needed.
Paint Smudging or Blending: If you experience smudging or blending of paint colors, make sure each layer is fully dry before applying the next. Additionally, use separate brushes or clean them thoroughly between color changes to prevent color contamination.
Experiment and Practice: Don't be afraid to experiment with different techniques, colors, and wood grain patterns. Practice on spare pieces of cardboard before working on your main project to refine your skills and achieve the desired results.
Remember, creativity knows no bounds, so embrace the process and enjoy the journey of transforming cardboard into wood-like masterpieces.
Inspiration and Ideas for Using Painted Cardboard
Now that you've mastered the art of painting cardboard to resemble wood, let's explore some inspiring ideas and applications for your newfound skill:
Home Decor: Use painted cardboard to create faux wood wall panels, decorative boxes, or even unique artwork to adorn your living space.
Prop Building: Painted cardboard can be a valuable asset in prop building for theater productions, film sets, or cosplay creations. Build realistic-looking furniture, weapons, or architectural elements using your wood-like finishes.
Art Installations: Incorporate painted cardboard into large-scale art installations or sculptures, combining the texture and warmth of wood with the versatility of cardboard.
Craft Projects: Utilize painted cardboard in various craft projects like jewelry holders, photo frames, or decorative ornaments, infusing a touch of natural charm into your handmade creations.
Allow your imagination to guide you, and don't hesitate to explore unconventional uses for your painted cardboard creations.
Conclusion
Painting cardboard to look like wood opens up a world of creative possibilities. With the right techniques, supplies, and a dash of artistic flair, you can transform humble cardboard into stunning pieces that capture the essence of real wood. Remember to experiment, practice, and enjoy the process. Whether you're a seasoned artist or a DIY enthusiast, this technique allows you to add a touch of natural elegance to your projects. So, grab your brushes, embrace the challenge, and let your creativity shine!
Unlock Your Creativity Today!