How to Paint Weathered Wood
Weathered wood carries a unique charm and character, adding a rustic touch to any outdoor space. However, the effects of time and exposure to the elements can take a toll, causing the wood to lose its luster and succumb to damage. Fortunately, painting weathered wood provides a practical solution to restore its beauty while offering protection against further deterioration.
In this comprehensive guide, we will explore the step-by-step process of painting weathered wood, ensuring that you achieve a professional and long-lasting finish. From assessing the condition of the wood to selecting the right paint and employing proper techniques, we will delve into every aspect of the painting journey.
Before diving into the actual painting process, it's crucial to assess the condition of the weathered wood, identifying any underlying issues and preparing it for a fresh coat of paint. We will discuss the importance of inspecting the wood for damage, cleaning its surface, and removing loose paint or flaking wood.
Choosing the right paint is paramount to ensure durability and visual appeal. We will delve into various paint types suitable for weathered wood, including exterior-grade paints and semi-transparent stains that preserve the wood's natural beauty. Additionally, we will explore techniques for proper paint application, sealing and finishing options, and tips for maintaining and preserving the painted wood.
By following this comprehensive guide, you will be equipped with the knowledge and skills to transform weathered wood into stunning, rejuvenated surfaces that enhance the overall aesthetic of your outdoor spaces. Let's embark on this painting journey together and breathe new life into your weathered wood!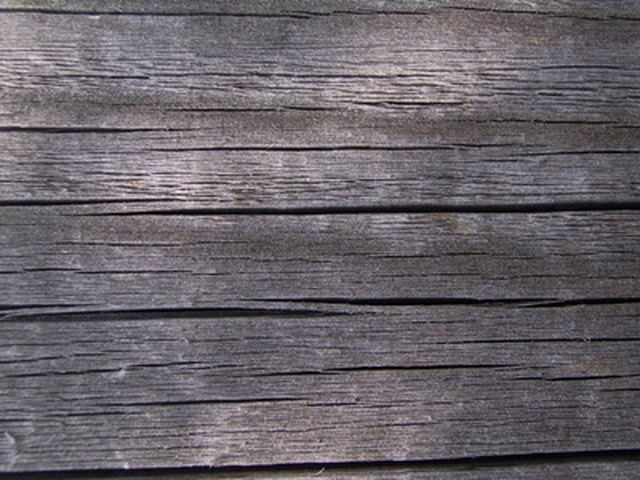 Assessing the Condition of Weathered Wood
Before embarking on a painting project, it's essential to assess the condition of the weathered wood. This step helps identify any underlying issues and ensures that the paint adheres properly. Let's explore the key aspects of assessing weathered wood.
Identifying Weathered Wood
Not all wood that appears weathered is suitable for painting. Some wood may be severely damaged, requiring repairs or replacement instead. Inspect the wood closely for signs of weathering, such as gray or faded color, surface cracks, or splintering. Confirm that the wood is structurally sound and suitable for painting.
Inspecting the Wood for Damage
Thoroughly inspect the weathered wood for any signs of damage, such as rot, insect infestation, or water penetration. Pay special attention to areas near joints, corners, or previous repairs. If significant damage is present, consider addressing it before proceeding with painting. Repairing or replacing damaged sections will ensure a solid foundation for the paint.
Cleaning the Wood Surface
Cleaning the wood surface is crucial to remove dirt, debris, mold, and mildew that might have accumulated over time. Use a mild detergent or a specialized wood cleaner and scrub the surface gently with a soft brush. Rinse thoroughly and allow the wood to dry completely before proceeding to the next steps. Clean wood provides a better surface for paint adhesion.
Preparing Weathered Wood for Painting
Proper preparation is key to achieving a long-lasting and visually pleasing paint finish on weathered wood. This section will guide you through the necessary steps to prepare the wood before applying paint.
Gathering the Necessary Tools and Materials
Before you begin, gather the tools and materials required for the preparation and painting process. Here's a list of commonly used items:
| Tools | Materials |
| --- | --- |
| Sandpaper | Wood primer |
| Putty knife | Exterior paint |
| Paint scraper | Wood filler |
| Cleaning brush or cloth | Painter's tape |
| Safety goggles | Drop cloths or plastic sheeting |
Having all the necessary tools and materials readily available will save time and ensure a smooth workflow.
Removing Loose Paint and Flaking Wood
Start by removing any loose or flaking paint from the weathered wood. A paint scraper or putty knife can be handy for this task. Gently scrape off the loose paint, taking care not to damage the wood surface. Remove all loose debris to create a clean and stable base for the new paint.
Sanding the Wood Surface
Sanding helps smoothen the wood surface and improves paint adhesion. Use medium-grit sandpaper to sand the entire wood surface, following the grain. Pay extra attention to rough or uneven areas. Sanding not only enhances the appearance but also allows the primer and paint to adhere better to the wood.
Filling Cracks and Holes
Inspect the wood surface for any cracks, holes, or gaps. Fill them with an appropriate wood filler using a putty knife. Smooth out the filler to create a seamless surface. Allow the filler to dry completely before moving on to the next step. Filling cracks and holes ensures a uniform and professional-looking paint finish.
Applying Wood Primer
Wood primer acts as a foundation for the paint and improves its adhesion to the wood surface. Apply a coat of wood primer using a brush or a roller, following the manufacturer's instructions. Priming helps seal the wood and prevents any stains or tannins from bleeding through the paint. Allow the primer to dry completely before proceeding to the painting stage.
Choosing the Right Paint for Weathered Wood
Selecting the right paint is crucial for achieving a durable and visually appealing finish on weathered wood. Consider the following factors when choosing the paint for your project.
Understanding Paint Types
Different paint types offer various benefits and finishes. The two primary types suitable for weathered wood are latex/acrylic-based paints and oil-based paints. Latex/acrylic-based paints are more commonly used for their durability, ease of application, and quick drying time. Oil-based paints, while less common nowadays, provide excellent adhesion and durability, especially for certain wood types and surfaces.
Selecting Exterior Paints for Durability
Since weathered wood is typically exposed to outdoor elements, it's crucial to choose exterior-grade paints. These paints are specially formulated to withstand UV rays, moisture, temperature changes, and other weather conditions. Look for paints labeled as "exterior" or "outdoor" to ensure long-lasting results.
Considering Semi-Transparent Stains for a Natural Look
If you prefer to maintain the natural beauty and texture of the wood while protecting it, semi-transparent stains can be an excellent option. These stains allow the wood grain to show through while providing a protective coating. They come in various tints and shades, allowing you to enhance the wood's appearance while preserving its weathered charm.
Opting for High-Quality Paint Brands
Investing in high-quality paint brands can significantly impact the longevity and overall finish of your painted weathered wood. Quality paints often have better adhesion, coverage, and resistance to fading or cracking. Research reputable paint brands known for their durability and performance, and choose products designed specifically for exterior use.
Exploring Color Options
When it comes to choosing the color for your painted weathered wood, the options are virtually endless. Consider the overall aesthetic of your space, the architectural style, and personal preferences. Some people prefer traditional colors like whites, grays, or browns, while others opt for bolder hues to make a statement. Collect paint swatches or samples and test them on a small area of the wood to ensure you're happy with the color choice.
Painting Techniques for Weathered Wood
Now that you have prepared the weathered wood and chosen the right paint, it's time to apply it using proper techniques. This section will guide you through the steps to achieve a professional-looking paint finish on your weathered wood.
Protecting the Surrounding Areas
Before you begin painting, it's essential to protect the surrounding areas from accidental paint splatters or spills. Cover nearby plants, furniture, and any surfaces you don't want to be painted with drop cloths or plastic sheeting. Use painter's tape to mask off edges or borders for clean lines.
Applying the First Coat of Paint
Start by applying the first coat of paint to the weathered wood. Begin at one end and work your way across the surface, following the wood grain. Use a brush or a roller, depending on the size of the area and personal preference. Apply the paint evenly, ensuring complete coverage. Avoid applying too much paint to prevent drips or runs.
Utilizing Proper Brushing and Rolling Techniques
Proper brushing and rolling techniques contribute to a smooth and uniform paint finish. When using a brush, hold it at a slight angle and apply even pressure. Stroke in the direction of the wood grain for a seamless look. For larger areas, a paint rollercan be used for faster and more efficient coverage. Roll the paint onto the wood surface using smooth and overlapping strokes.
Managing Drips and Runs
While painting, it's common to encounter drips or runs of excess paint. To prevent these issues, periodically inspect the surface for any buildup or pooling of paint. If you notice any drips or runs, gently smooth them out with a brush or roller before they dry. This will help maintain a consistent and professional finish.
Allowing Sufficient Drying Time
Proper drying time is crucial between coats of paint to ensure optimal adhesion and durability. Follow the manufacturer's instructions regarding the drying time for the specific paint you're using. Allow the first coat to dry completely before applying subsequent coats. Rushing the process may result in poor paint adhesion and compromised finish.
Applying Subsequent Coats of Paint
Depending on the desired coverage and finish, you may need to apply multiple coats of paint. After the first coat has dried, assess the coverage and determine if additional coats are necessary. Apply subsequent coats following the same techniques as the first coat. Multiple coats of paint enhance the longevity and appearance of the painted weathered wood.
Sealing and Finishing Weathered Wood
Once you have achieved the desired paint coverage, it's important to seal and finish the painted weathered wood. This step adds an extra layer of protection and enhances the longevity of the paint.
Applying a Clear Protective Finish
A clear protective finish acts as a barrier, protecting the paint from weather elements, UV rays, and general wear and tear. It also adds a sheen or gloss to the surface, depending on the desired look. Choose a clear finish specifically formulated for exterior use and follow the manufacturer's instructions for application.
Considering Weather-Resistant Coatings
In particularly harsh climates or areas prone to extreme weather conditions, you may consider using a weather-resistant coating for added protection. These coatings are designed to withstand intense sunlight, heavy rainfall, and temperature fluctuations. They provide an extra layer of defense against premature paint deterioration.
Enhancing Wood's Natural Beauty with Stains
If you prefer a more natural look for your weathered wood, you can enhance its beauty with wood stains. Stains penetrate the wood grain, highlighting its texture and color variations. Choose a stain that complements the painted surface or opt for a transparent stain to preserve the weathered wood's original appearance.
Choosing Matte, Satin, or Gloss Finishes
When selecting the finish for your painted weathered wood, consider the desired aesthetic and level of sheen. Matte finishes offer a non-reflective appearance and are great for hiding imperfections. Satin finishes provide a subtle sheen, while gloss finishes offer a higher level of shine. Choose the finish that best suits your personal preference and complements the overall design.
Maintaining and Preserving Painted Weathered Wood
To ensure the longevity of your painted weathered wood, it's essential to establish a maintenance routine. Proper care and regular inspections will help preserve the paint finish and keep the wood looking its best.
Cleaning and Washing Painted Surfaces
Regularly clean the painted surfaces to remove dirt, dust, and other debris. Use a mild detergent mixed with water and a soft brush or cloth. Gently scrub the painted wood, then rinse thoroughly with clean water. Avoid using harsh abrasives or chemicals that could damage the paint or wood surface.
Performing Regular Inspections
Periodically inspect the painted weathered wood for any signs of damage, peeling, or discoloration. Catching these issues early allows for timely repairs and maintenance. Check for any areas that may require touch-ups or reapplication of paint. Regular inspections help maintain the integrity and appearance of the painted wood.
Touching up Damaged Areas
Over time, painted weathered wood may experience wear and tear or minor damage. When you notice any chips, scratches, or areas with compromised paint, promptly address them. Sand the damaged area lightly, clean it, and apply a small amount of paint to touch up the affected spot. Feather the new paint into the existing painted surface for a seamless blend.
Conducting Periodic Repainting
Eventually, even well-maintained painted weathered wood may require repainting. The frequency of repainting depends on factors such as climate, exposure, and the quality of the initial paint job. Periodically evaluate the condition of the paint and wood, and when necessary, plan for repainting to maintain the wood's appearance and protection.
Tips and Best Practices for Painting Weathered Wood
To ensure a successful painting project and achieve the best results, consider the following tips and best practices:
Working in Suitable Weather Conditions: Choose a time to paint when the weather conditions are optimal. Avoid painting in extreme temperatures, high humidity, or when rain is expected. Ideal conditions allow the paint to dry and cure properly.
Using the Correct Tools and Brushes: Invest in high-quality brushes, rollers, and other painting tools. Quality tools make a noticeable difference in the application and overall finish of the paint.
Following Proper Safety Precautions: Wear safety goggles, gloves, and protective clothing when handling paint and using tools. Work in a well-ventilated area to avoid inhalation of fumes.
Removing and Disposing of Lead-Based Paint Safely: If you're working on older weathered wood with lead-based paint, take necessary precautions to safely remove and dispose of it. Follow local regulations and guidelines for handling lead-based paint.
Remember, painting weathered wood requires patience, attention to detail, and proper techniques. By following the steps outlined in this comprehensive guide, you can transform your weathered wood surfaces into stunning features that enhance the beauty of your outdoor spaces.
Conclusion
Painting weathered wood is an excellent way to revitalize its appearance and protect it from further deterioration. Assessing the condition of the wood, proper preparation, choosing the right paint, and applying it with the correct techniques are key to achieving a long-lasting and visually appealing finish. With the information provided in this comprehensive guide, you are now equipped to embark on your own weathered wood painting project. Embrace the opportunity to unleash your creativity and bring new life to your weathered wood surfaces. Happy painting!