How to Paint an Ocean Sunset
Witnessing the awe-inspiring beauty of an ocean sunset is a breathtaking experience that captivates our senses and stirs our emotions. The vibrant hues of oranges, pinks, and purples dancing across the sky, the serene waters reflecting the warm glow of the setting sun, and the tranquil ambiance that envelops the scene—it's a sight that begs to be captured and immortalized. And what better way to preserve the essence of an ocean sunset than through the art of painting?
In this guide, we will embark on an artistic journey to explore the intricacies of painting an ocean sunset. We will delve into the techniques, materials, and color palettes that allow us to translate the magnificence of this natural phenomenon onto canvas. From selecting the right paints and brushes to mastering the art of blending and capturing the subtle details, we will unlock the secrets to creating a captivating ocean sunset painting.
Whether you're a seasoned artist or a beginner with a passion for painting, this guide will equip you with the knowledge and tools to embark on your own artistic adventure. So, join us as we dive into the world of painting and discover the magic of bringing an ocean sunset to life on the blank canvas before you.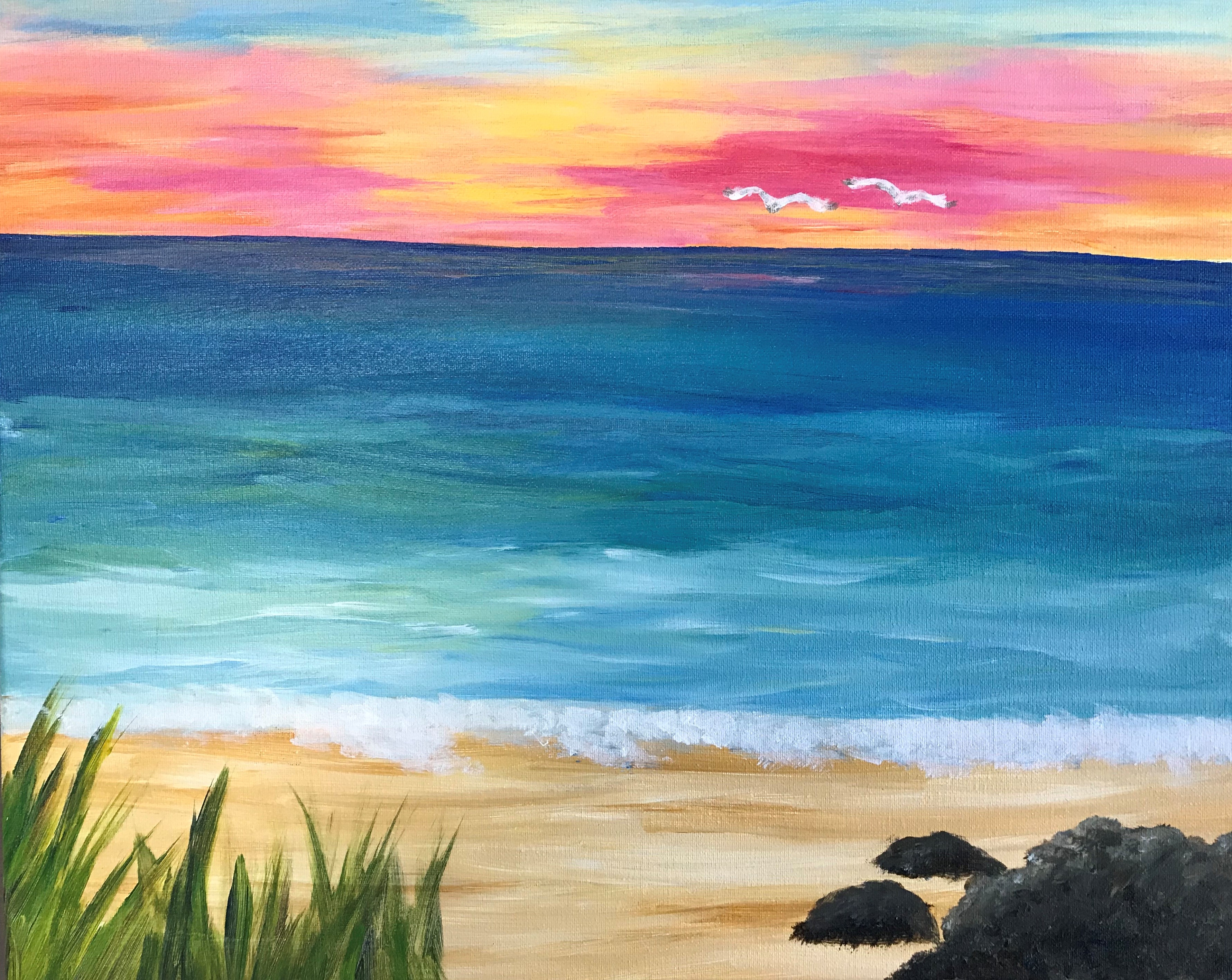 Materials and Tools
Before we begin, let's gather the necessary materials and tools for our painting adventure. Having the right supplies will ensure that you can effectively translate your vision onto the canvas. Here are the essential items you'll need:
Selecting the Right Paints
Choosing the appropriate type of paint is crucial to achieve the desired effects in your ocean sunset painting. Let's explore some popular paint options and their characteristics:
| Paint Type | Features |
| --- | --- |
| Acrylic | Vibrant colors, quick-drying, versatile |
| Oil | Blendable, textured finish, slow drying |
| Watercolor | Transparent, ethereal effects, delicate |
Consider the qualities you desire in your painting and select the paint type that best suits your artistic vision.
Choosing the Appropriate Brushes
Having the right brushes is essential for achieving the desired brushstrokes and details in your ocean sunset painting. Here are some brush options to consider:
| Brush Type | Function |
| --- | --- |
| Wide and Flat | Broad strokes, blending colors |
| Round | Details, fine lines |
Different brushes offer varying levels of control and precision. Depending on the effect you want to achieve, choose the appropriate brushes that will aid you in bringing your ocean sunset to life.
Additional Materials
In addition to paints and brushes, there are a few more materials that will come in handy during the painting process:
Canvas or Painting Surface: Select a canvas or painting surface that suits your preferred size and texture.
Palette: Use a palette for mixing colors and creating new shades.
Palette Knife: This tool is excellent for creating texture and blending colors.
Easel or Support: Consider using an easel or support to hold your canvas in place while you paint.
Having these additional materials will enhance your painting experience and provide you with the necessary tools for creating a stunning ocean sunset masterpiece.
Preparing the Canvas
Preparing the canvas sets the foundation for your painting. Properly priming the canvas and sketching the composition will help you achieve a smooth and well-balanced artwork.
Priming the Canvas
Before you start painting, it's essential to prime your canvas to create a smooth surface for better paint adhesion. Here's how you can prepare your canvas:
Applying Gesso: Apply a layer of gesso evenly across the canvas using a brush or a palette knife. Gesso acts as a primer, sealing the canvas and providing a smooth base for the paint.
Sanding the Canvas: Once the gesso is dry, lightly sand the surface with fine-grit sandpaper to ensure an even texture.
A properly primed canvas will allow your paints to glide smoothly, enabling you to achieve the desired effects in your ocean sunset painting.
Sketching the Composition
Sketching the composition on the canvas helps you establish the positioning of elements and create a well-balanced artwork. Follow these steps to sketch the composition:
Outlining the Horizon Line and Main Elements: Using a pencil, lightly draw a horizon line across the canvas to define the separation between the sky and water. Sketch the main elements, such as the sun, clouds, androcks, in their approximate positions.
Balancing the Composition with the Rule of Thirds: Divide your canvas into a 3×3 grid using imaginary lines. Position the key elements of your sunset along these lines or at their intersections. This technique creates balance and visual interest in your composition.
Taking the time to properly prepare your canvas and sketch the composition will set the stage for a successful and visually appealing ocean sunset painting.
Choosing the Color Palette
The color palette plays a crucial role in capturing the essence of an ocean sunset. By selecting the right hues and incorporating complementary colors, you can evoke the breathtaking beauty of this natural phenomenon.
Selecting the Right Hues for the Sunset
When it comes to painting an ocean sunset, warm colors dominate the sky, creating a stunning display of reds, oranges, and yellows. To capture the essence of a sunset, consider incorporating these warm hues into your palette.
Incorporating Complementary Colors for Contrast and Depth
To create contrast and add depth to your painting, consider incorporating complementary colors in strategic areas. Complementary colors are those that are opposite each other on the color wheel. In the context of an ocean sunset, blues and oranges make an excellent complementary pair. Adding touches of violet or pink can also provide variation and visual interest.
Experiment with different combinations of warm and cool colors to achieve the desired atmosphere and mood in your ocean sunset painting.
Painting the Sky
The sky is a prominent element in an ocean sunset painting, setting the tone and mood for the entire artwork. Let's explore how to effectively capture the colors and textures of a captivating sunset sky.
Establishing the Horizon Line
The horizon line serves as a reference point and helps define the separation between the sky and the ocean. Follow these steps to establish a well-placed horizon line:
Placing the Horizon at the Desired Position: Decide where you want the horizon line to be on your canvas. Consider the rule of thirds and the overall composition of your painting.
Using a Straight Edge or Painter's Tape for Precision: To create a straight and precise horizon line, use a ruler or painter's tape. This will ensure a professional-looking result.
By establishing a well-positioned horizon line, you create a solid foundation for the rest of your ocean sunset painting.
Blending the Colors
Blending the colors in the sky is essential to create a smooth transition and capture the vibrant hues of a sunset. Follow these steps to achieve a seamless blend:
Starting with the Lightest Colors at the Horizon: Begin by applying the lightest colors, such as yellows or pale oranges, at the horizon line. Use a wide brush or a soft sponge to create broad strokes.
Gradually Layering Darker Colors Towards the Top: As you move upwards in the sky, gradually introduce darker shades of oranges and reds. Use a blending brush or gently blend the colors with a clean, dry brush to create a smooth gradient.
Remember to observe reference photos or real-life sunsets to capture the specific color transitions and nuances in the sky.
Adding Cloud Formations
Clouds add texture and interest to the sky, giving your ocean sunset painting a realistic touch. Here's how you can paint clouds:
Using White Paint to Create Fluffy Clouds: Load a round brush with white paint and create fluffy cloud formations by applying gentle, circular strokes. Vary the size and shape of the clouds to make them look more natural.
Blending the Edges for a Natural Appearance: Soften the edges of the clouds by blending them with a clean, dry brush or a soft sponge. This will create a seamless integration between the clouds and the sky.
Cloud formations can greatly enhance the visual impact of your ocean sunsetpainting, adding depth and dimension to the sky. Experiment with different cloud shapes and arrangements to find the perfect balance for your composition.
Creating the Ocean
The ocean is a captivating element in an ocean sunset painting, reflecting the colors of the sky and adding movement to the composition. Let's explore how to effectively portray the beauty of the ocean in your artwork.
Painting the Water's Reflection
To capture the reflective nature of the ocean, you'll need to paint the water's surface in a way that mimics its appearance. Follow these steps to create a realistic water reflection:
Using Horizontal Brushstrokes to Mimic the Water's Surface: Load your brush with the colors used in the sky and apply horizontal brushstrokes to represent the water's surface. Vary the pressure and direction of your strokes to create movement and texture.
Incorporating the Colors of the Sky for a Cohesive Look: Blend the colors of the water with the colors used in the sky to establish a visual connection between the two elements. This will create a cohesive and harmonious representation of the ocean.
By paying attention to the texture and coloration of the water, you can evoke a sense of tranquility and realism in your ocean sunset painting.
Adding Movement and Texture
The ocean is constantly in motion, and capturing this movement adds dynamism to your painting. Follow these steps to depict the movement and texture of the ocean:
Using Vertical Brushstrokes to Represent Waves: Load your brush with shades of blue or green and apply vertical brushstrokes to represent the waves. Vary the length and intensity of the strokes to create a sense of movement and energy.
Adding Highlights and Shadows to Enhance Depth: To add depth and dimension to the water, incorporate highlights and shadows. Use lighter shades for areas where the light hits the waves and darker tones for the shadowed areas. Blend these colors gently to create a seamless transition.
By capturing the movement and texture of the ocean, you can infuse your painting with a sense of liveliness and realism.
Detailing the Sunset
Detailing the sunset itself is a crucial step in capturing the awe-inspiring beauty of an ocean sunset. By focusing on the sun and enhancing the colors and atmosphere of the sky, you can bring your painting to life.
Adding the Sun
The sun is the focal point of an ocean sunset painting, radiating warmth and light. Here's how you can depict the sun in your artwork:
Painting a Glowing Circle with Yellows and Oranges: Use a brush loaded with vibrant yellows and oranges to paint a circular shape representing the sun. Apply the paint with light, circular strokes to create a glowing effect.
Gradually Blending the Colors Outward for a Radiant Effect: From the center of the sun, gradually blend the colors outward, creating a gradient that mimics the sun's radiant glow. Use a blending brush or a clean, dry brush to achieve a smooth transition.
By skillfully depicting the sun, you can capture its mesmerizing presence and the focal point of the ocean sunset.
Enhancing the Sky's Colors and Atmosphere
The sky's colors and atmosphere greatly contribute to the overall impact of your ocean sunset painting. Here are some techniques to enhance these elements:
Adding Warm Highlights around the Sun: Use lighter shades of yellows and oranges to add warm highlights around the sun. This will emphasize its brightness and create a captivating glow.
Introducing Subtle Variations in Color for a Realistic Look: To mimic the subtle shifts in color that occur during a sunset, incorporate slight variations within the sky. Introduce hints of pinks, purples, or even blues to add depthand complexity to the sky. Blend these colors gently to maintain a soft and realistic appearance.
By paying attention to the details and atmosphere of the sunset, you can create a captivating and immersive ocean sunset painting.
Refining the Composition
As you progress with your painting, it's important to step back and assess the overall composition. Making adjustments and refining certain elements will ensure a well-balanced and visually pleasing artwork.
Adding Foreground Elements
To enhance the composition and create a sense of depth, consider adding foreground elements to your ocean sunset painting. Here are some ideas:
Including Silhouettes of Rocks, Boats, or Palm Trees: Paint silhouettes of rocks, boats, or palm trees in the foreground to add interest and visual balance. These elements can serve as anchor points and guide the viewer's eye through the painting.
Adding carefully placed foreground elements will create a sense of perspective and make your ocean sunset painting more engaging.
Adjusting Colors and Values
To further refine your painting, you may need to make adjustments to the colors and values. Here's what you can do:
Deepening Shadows and Adding Highlights: Take a closer look at your painting and identify areas where shadows can be deepened to create more contrast. Similarly, add highlights to areas that catch the light, such as the tops of waves or cloud edges. This will enhance the three-dimensionality of your artwork.
Creating Depth through Atmospheric Perspective: Use the technique of atmospheric perspective to create depth in your painting. As objects recede into the distance, their colors become lighter and less saturated. Apply this principle to elements like rocks or distant land to give a sense of depth and distance.
By making these adjustments, you can refine the composition, enhance the visual impact, and create a more polished ocean sunset painting.
Final Touches
As you near the completion of your ocean sunset painting, there are a few final touches you can add to make it truly shine.
Adding Details and Texture
To add interest and realism to your artwork, consider incorporating small details and texture. Here are some ideas:
Incorporating Small Details like Birds or Seashells: Paint small details such as birds soaring in the sky or seashells scattered along the beach. These elements add a sense of life and narrative to your painting.
Using a Palette Knife for Texture in the Sky or Water: Experiment with a palette knife to add texture to the sky or water. You can create small waves, ripples, or cloud formations using the knife. This technique adds depth and visual interest to your painting.
The final details and texture will elevate your ocean sunset painting, making it more visually captivating and immersive.
Sign and Varnish the Painting
The last step is to sign your artwork and apply a protective varnish. Follow these guidelines:
Signing the Artwork and Adding Finishing Touches: Sign your painting with your preferred signature style. Take a moment to assess if any final touches or adjustments are needed before proceeding.
Applying a Protective Varnish to Preserve the Painting: Once your painting is completely dry, apply a protective varnish according to the instructions provided. Varnishing will preserve the colors and integrity of your artwork for years to come.
By signing your painting and applying a protective varnish, you ensure the longevity and preservation of your beautiful ocean sunset masterpiece.
Tips for Painting an Ocean Sunset
As you embark on your journey to paint an ocean sunset, here are some tips to keep in mind:
Study Reference Photos or Observe Real Sunsets: To capture accurate colors, lighting, and atmosphere, study reference photos or spend time observing real ocean sunsets. This will inform your artistic choices and help you create a realisticrepresentation.
Experiment with Different Brush Techniques: Don't be afraid to explore various brush techniques to create texture, movement, and unique effects in your painting. Play with brushstrokes, splattering, or palette knife techniques to add visual interest.
Start with Lighter Colors and Gradually Build Up: When layering colors, start with lighter shades and gradually build up to darker tones. This approach allows you to control the intensity of the colors and achieve a more realistic representation of the sunset.
Use a Limited Color Palette: Limiting your color palette to a few key hues can create harmony and unity in your painting. Experiment with different combinations of warm and cool colors to evoke the desired mood and atmosphere.
Take Breaks and Step Back to Assess: It's important to take breaks during the painting process. Step back and assess your artwork from a distance to ensure the composition, colors, and overall impact are working harmoniously.
Practice Blending and Layering Techniques: Blending and layering colors are essential skills for creating smooth transitions and achieving depth in your painting. Practice these techniques to master the art of blending colors seamlessly.
Incorporate Your Artistic Style and Interpretation: While it's important to learn from techniques and references, don't be afraid to infuse your own artistic style and interpretation into your ocean sunset painting. Let your creativity shine through.
Embrace Mistakes as Learning Opportunities: Mistakes are a natural part of the artistic process. Embrace them as learning opportunities and don't be discouraged. Sometimes, unexpected outcomes can lead to beautiful discoveries.
Allow Sufficient Drying Time Between Layers: To prevent unintended color mixing or smudging, ensure each layer of paint is completely dry before applying the next. Patience is key to achieving the desired results.
Experiment with Different Mediums or Mixed Media Techniques: Don't be afraid to explore different mediums or mixed media techniques to add interest and variety to your artwork. Incorporate elements like texture paste, collage, or metallic accents to make your painting unique and captivating.
By keeping these tips in mind, you can enhance your painting skills and create stunning ocean sunset artworks that reflect your artistic vision.
Inspiration and Further Exploration
To further fuel your creativity and deepen your understanding of painting ocean sunsets, here are some avenues for inspiration and further exploration:
Explore the Works of Renowned Artists: Study the works of renowned artists who have specialized in painting ocean sunsets. Analyze their techniques, color choices, and brushwork to gain insights and inspiration for your own artwork.
Visit Art Galleries or Exhibitions: Visit local art galleries or exhibitions featuring landscape or seascape paintings. Observing different art styles and techniques can broaden your artistic horizons and inspire new ideas.
Join Painting Communities or Workshops: Engage with other artists by joining painting communities or attending workshops. Collaborating with fellow painters, sharing experiences, and learning from one another can accelerate your artistic growth.
Experiment with Different Time Periods or Locations: Explore painting ocean sunsets in different time periods or locations, such as tropical sunsets, coastal scenes, or even historical settings. This exploration allows you to expand your creative repertoire and adds diversity to your artwork.
Challenge Yourself with Different Weather Conditions or Moods: Push your artistic boundaries by painting ocean sunsets with various weather conditions or moods. Try capturing stormy skies, serene evenings, or dramatic cloud formations. This experimentation will add versatility and depth to your body of work.
Conclusion
Painting an ocean sunset is a beautiful and rewarding artistic journey. By following the steps outlined in this guide, selecting the right materials, exploring color palettes, and paying attention todetail, you can create a captivating and realistic representation of the mesmerizing beauty of an ocean sunset. Remember to embrace your own artistic style, experiment with techniques, and allow your creativity to shine through. With practice and dedication, you'll be able to master the art of painting ocean sunsets and create stunning artworks that evoke a sense of tranquility, wonder, and awe. So, grab your brushes, let your imagination soar, and embark on your own artistic adventure to capture the magic of an ocean sunset on canvas. Happy painting!