How to Paint Watercolor Portrait
Unleash your artistic talent and immerse yourself in the enchanting world of watercolor portrait painting. With its delicate translucency and vibrant hues, watercolor is a medium that beautifully captures the essence and personality of your subjects. Whether you're a beginner or an experienced artist looking to explore new techniques, this guide will provide you with a comprehensive roadmap to create breathtaking watercolor portraits.
In this step-by-step tutorial, we will walk you through the process of painting a watercolor portrait from start to finish. From gathering the essential materials and setting up your workspace to selecting the perfect reference photo and creating a preliminary sketch, you'll learn the foundational skills necessary for a successful portrait. Dive into the world of watercolor techniques as we explore the art of color mixing, blending, and capturing the intricate details of facial features.
With practical tips, actionable examples, and a focus on both technical skill and artistic expression, this guide aims to empower you to create captivating watercolor portraits that convey emotion and capture the likeness of your subjects. Discover the joy of bringing portraits to life with watercolor and unlock the potential to create stunning, one-of-a-kind artworks that will leave a lasting impression. Let's embark on this creative journey together and explore the magical realm of watercolor portrait painting.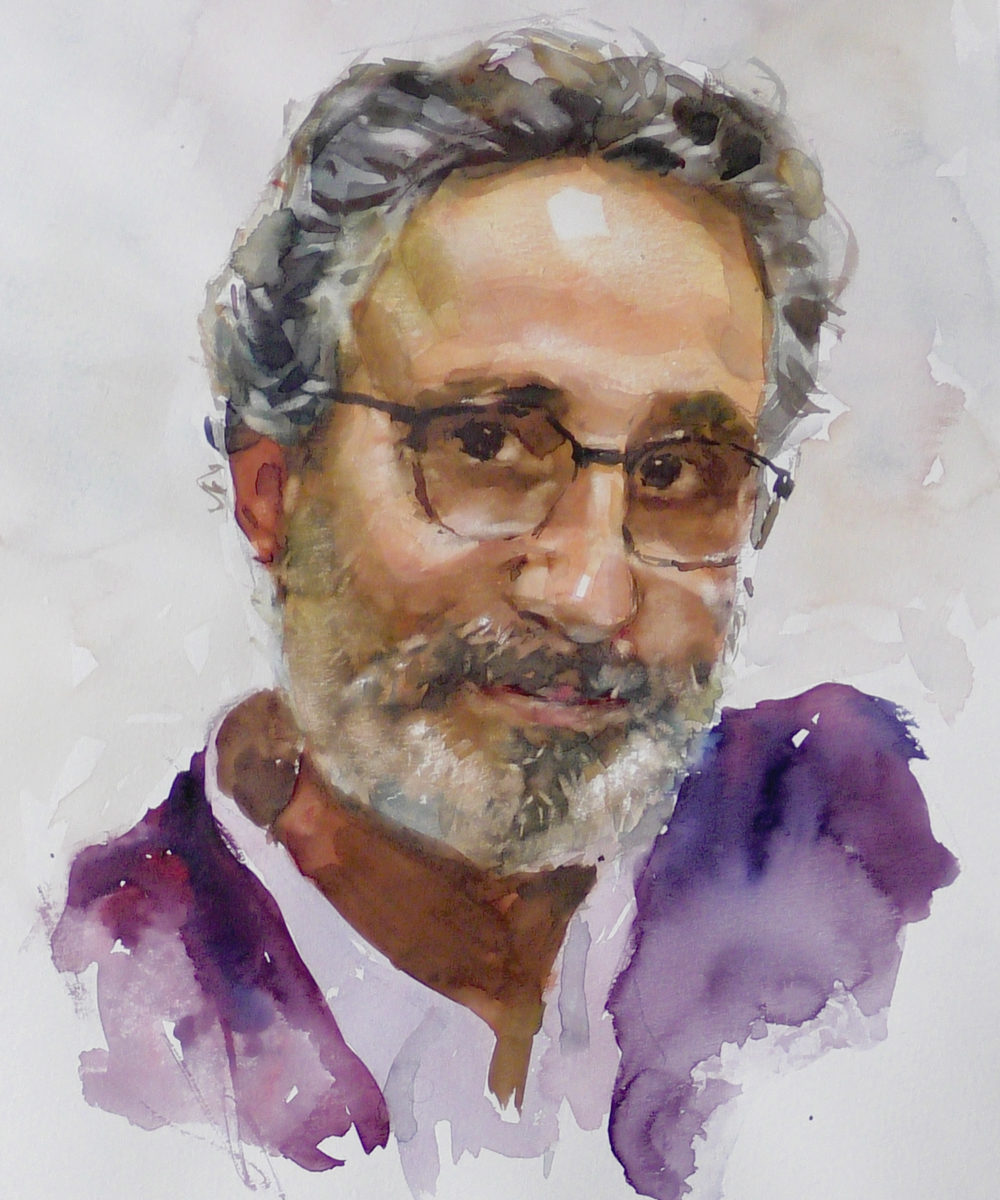 Gathering Materials and Setting Up
Before diving into the world of watercolor portrait painting, it's essential to gather the right materials and set up your workspace for optimal creativity. Let's explore what you'll need and how to create an inspiring painting environment.
What materials do you need for watercolor portrait painting?
| Materials | Description |
| --- | --- |
| Watercolor paints | High-quality paints in a variety of colors to bring life to your portraits. |
| Brushes | Different sizes and shapes suitable for various painting techniques and details. |
| Watercolor paper | Acid-free, heavyweight paper designed specifically for watercolor painting. |
| Palette | A flat surface or container to mix and blend your watercolor paints. |
| Water container | To clean your brushes and control the consistency of your paints. |
| Masking fluid (optional) | Used to preserve white areas and create highlights. |
| Drawing pencils and erasers | For sketching and making preliminary outlines. |
| Reference photos | High-resolution images of your subjects for inspiration and guidance. |
When selecting materials, opt for high-quality options that suit your style and preferences. Investing in good materials will enhance the overall painting experience and improve the quality of your portraits.
How should you set up your workspace for watercolor portrait painting?
Creating an inviting and functional workspace is crucial for a productive painting session. Here are some tips to set up your watercolor portrait painting area:
Lighting: Natural light is ideal for accurately perceiving colors and values. Position your workspace near a window or use a daylight lamp to ensure sufficient lighting.
Comfort: Arrange a clean and organized area with ample space to accommodate your painting supplies and reference materials. Consider using an adjustable easel or tilting table to avoid strain on your neck and back.
Proximity to water: Keep a water container nearby to dip your brushes and control the water-to-paint ratio easily. This convenience allows for seamless color mixing and brush cleaning.
By optimizing your workspace, you'll create an environment conducive to focus and creativity, enabling you to fully immerse yourself in the process of watercolor portrait painting.
Preparing for the Painting Process
Before applying paint to paper, careful preparation is essential to ensure accurate proportions and capture the likeness of your subject. Let's explore how to choose a reference photo and create a preliminary sketch.
How should you choose a reference photo for your watercolor portrait?
Selecting the right reference photo greatly influences the outcome of your watercolor portrait. Here are some considerations when choosing a reference photo:
Composition: Look for a well-composed photo that emphasizes your subject and provides an engaging visual arrangement. Consider the placement of the subject within the frame and the overall balance of the image.
Lighting: Opt for a photo with good lighting that showcases the subject's facial features clearly. Pay attention to the direction and intensity of light, as it affects the shadows and highlights on the face.
Facial expression: Choose a photo that captures the desired mood or expression of your subject. The emotions conveyed by the eyes, mouth, and overall posture play a significant role in the final portrait.
To create a unique portrait, you can also combine elements from multiple reference photos or add your personal touch to the composition.
How do you create a preliminary sketch for a watercolor portrait?
A preliminary sketch serves as a blueprint for your watercolor portrait, helping establish proportions and guide the painting process. Follow these steps to create a preliminary sketch:
Reference photo grid: Divide both the reference photo and the watercolor paper into a grid of equal squares. This technique helps accurately transfer proportions from the photo to your sketch.
Outline the basic shapes: Start by lightly sketching the main shapes of the face, such as the oval shape for the head, and then add simple lines for the eyes, nose, and mouth. Focus on capturing the overall placement and relationships between the features.
Refine the details: Gradually add more details to your sketch, paying attention to smaller facial features like eyebrows, lips, and ears. Take your time to achieve an accurate representation of your subject.
Remember, the preliminary sketch serves as a guide and can be adjusted as needed during the painting process. It's essential to keep your sketch light and easily erasable to avoid interfering with the watercolor paints.
Watercolor Techniques for Portraits
Watercolor offers a wide range of techniques to bring your portraits to life. Understanding and practicing these techniques will enhance the depth and realism of your watercolor portraits. Let's explore some fundamental watercolor techniques suitable for painting portraits.
What are the key watercolor techniques for painting portraits?
Watercolor techniques provide a diverse range of effects, textures, and styles. Here are some essential techniques to familiarize yourself with:
Wet-on-Wet: Applying wet paint onto a wet surface, creating soft and blended edges. This technique is ideal for smooth transitions and delicate washes.
Wet-on-Dry: Applying wet paint onto a dry surface, resulting in more defined edges and crisp details. This technique is useful for capturing fine lines and precise features.
Dry Brushing: Using a dry brush with minimal water and paint to create texture and add details. This technique is perfect for suggesting hair, fur, or other intricate textures.
Glazing: Applying translucent layers of paint over dry areas, building up depth and richness. Glazing allows you to create subtle changes in value and color.
Experimenting with these techniques and finding the right balance between wet and dry applications will give your watercolor portraits a dynamic and captivating appearance.
How should you mix and blend colors for a watercolor portrait?
Color mixing and blending are essential skills in watercolor portrait painting. Consider the following tips to achieve harmonious and realistic color combinations:
Limited color palette: Start with a limited range of colors that you can mix to create a broad spectrum. Focus on warm and cool variations of primary colors, such as red, blue, and yellow, along with earth tones like burnt sienna and raw umber.
Color theory: Familiarize yourself with color theory and the color wheel. Understanding complementary colors (opposites on the color wheel) and analogous colors (neighbors on the color wheel) will help you create harmonious color schemes.
Mixing skin tones: Experiment with different combinations of red, yellow, and blue to achieve natural-looking skin tones. Adjust the ratios of warm and cool colors to capture the unique characteristics of your subject's complexion.
Blending techniques: Use techniques like wet-on-wet and layering to achieve smooth color transitions and realistic blending. Gradually build up values by layering transparent washes, allowing each layer to dry before applying the next.
Remember to practice color mixing and blending on a separate sheet of paper before applying it to your portrait. This way, you can familiarize yourself with the colors and achieve the desired results.
Painting the Watercolor Portrait
With your materials gathered, workspace set up, reference photo selected, and preliminary sketch complete, it's time to embark on the painting process. In this section, we'll guide you through the steps to bring your watercolor portrait to life.
How do you start the painting process for a watercolor portrait?
Before diving into intricate details, it's crucial to establish a solid foundation for your portrait. Follow these steps to begin the painting process:
Focal point and composition: Identify the focal point of your portrait, typically the eyes or face, and determine the composition within the confines of your paper. Consider the rule of thirds or other compositional guidelines to create a visually appealing arrangement.
Blocking in basic shapes: Start by lightly applying washes of color to block in the basic shapes of the face and other prominent features. Focus on capturing the overall values and tonal variations without getting caught up in details at this stage.
Layering and building up values: Gradually build up the values by layering transparent washes of color. Start with lighter values and gradually introduce darker tones to establish depth and dimension. Allow each layer to dry before adding subsequent layers.
Preserving highlights: Use masking fluid or carefully paint around areas you want to keep as highlights. This technique helps maintain the luminosity and brightness of specific features such as catchlights in the eyes or reflective surfaces.
By focusing on the foundation and values early on, you create a strong base for your watercolor portrait, allowing the details to shine later in the process.
How do you approach different facial features in a watercolor portrait?
Each facial feature contributes to the uniqueness and character of a portrait. Let's delve into some tips and techniques for capturing different facial features in watercolor:
Painting Eyes:
The eyes are often considered the window to the soul and require careful attention. Consider the following tips:
Iris and pupil: Start with a light wash of color for the entire eye, then gradually darken the iris and add a small, dark pupil. Leave white spaces or use a lighter color to suggest reflections or highlights.
Eyelashes and eyebrows: Use a fine brush or a rigger brush to delicately paint individual lashes and eyebrow hairs. Vary the length and thickness to create a realistic effect.
Painting Nose:
The nose plays a significant role in defining the character and likeness of a portrait. Here are some pointers:
Basic shape and shadow: Start by blocking in the basic shape of the nose, then observe the subtle shadows and highlights. Gradually build up the values to capture the form and three-dimensionality.
Nostrils and bridge: Pay attention to the nostrils and the bridge of the nose. Use careful brushwork to suggest the subtle curves and contours.
Painting Mouth:
The mouth conveys emotions and adds expression to your portrait. Consider the following guidelines:
Lips: Begin by blocking in the basic shape of the lips with a light wash of color. Observe the shadows and highlights to add depth. Soften the edges of the lips to create a natural look.
Teeth and gums: Use a light wash of color for the teeth and gums, ensuring they appear realistic without excessive detailing. Suggest the individual teeth using subtle lines or highlights.
Painting Ears:
Ears might seem challenging, but with proper observation and technique, you can render them convincingly:
Basic structure: Begin by blocking in the basic structure of the ear, considering its curves and contours. Observe the relationship between the ear and the head to ensure accurate placement.
Shadows and details: Pay attention to the shadows within the ear, as they help define its three-dimensional form. Add delicate lines or washes to suggest the folds and texture.
By breaking down the approach to each facial feature, you can tackle them with confidence and create a portrait that captures the unique characteristics of your subject.
How should you handle skin tones and shading in a watercolor portrait?
Achieving realistic skin tones and shading is a crucial aspect of watercolor portrait painting. Follow these tips to master this challenging yet rewarding skill:
Observation and reference: Observe the subject's skin tone carefully, paying attention to the range of colors present. Refer to your reference photo and analyze the warm and cool tones, as well as the variations in shadows and highlights.
Layering and glazing: Build up the skin tones gradually by layering thin, transparent washes of color. Start with a light wash, then add subsequent layers to deepen the values and create smooth transitions.
Color temperature: Experiment with warm and cool colors to capture the variations in skin tone. Use warmer hues for areas exposed to light and cooler hues for areas in shadow.
Blending and softening edges: Utilize wet-on-wet techniques or a clean, damp brush to blend and soften the edges between different skin tones. This helps create a more natural and seamless transition between colors.
Texture and details: Add texture to the skin by using techniques such as dry brushing or lifting off paint with a damp brush or tissue. This can simulate pores, wrinkles, or subtle imperfections.
Remember, achieving realistic skin tones requires practice, observation, and experimentation. Embrace the process and allow yourself to learn and grow with each portrait you create.
Final Touches and Refinements
As your watercolor portrait nears completion, it's time to add the final touches and refine the details. These finishing touches can elevate your artwork and bring it to life. Let's explore some techniques to consider in this stage.
How do you add final details and refinements to a watercolor portrait?
The final details and refinements play a significant role in enhancing the realism and overall impact of your watercolor portrait. Consider the following techniques to add those finishing touches:
Fine lines and hair: Use a fine brush or a rigger brush to paint fine lines for hair, eyelashes, and other intricate details. Observe the direction, length, and thickness of the hair strands to create a natural and realistic effect.
Texture and clothing: Utilize techniques like dry brushing or spattering to create texture for clothing, fabric, or other elements in your portrait. This adds visual interest and depth.
Negative painting: Employ negative painting techniques to define shapes and bring out the subject. By painting around the subject, you can create a sense of depth and make the subject pop against the background.
Stepping back and evaluating: Take breaks during the painting process and step back to evaluate your work from a distance. This allows you to identify areas that may need adjustments or fine-tuning.
Throughout this stage, remember that less can often be more. Adding too many details can sometimes detract from the overall impact of the portrait. Exercise restraint and focus on enhancing the essential elements.
Preserving and Displaying Watercolor Portraits
Once you have completed your watercolor portrait, it's important to take steps to preserve and display your artwork properly. Proper preservation ensures the longevity of your masterpiece, while thoughtful display showcases your talent and allows others to appreciate your work. Let's explore some tips for preserving and displaying watercolor portraits.
How can you preserve a watercolor portrait once it's finished?
Preserving your watercolor portrait ensures its longevity and helps protect it from damage. Consider the following tips to preserve your artwork:
Archival materials: Use acid-free, archival-quality materials for framing and storing your watercolor portrait. Acid-free mats, backing boards, and mounting materials prevent the artwork from deteriorating over time.
UV protection: Display your watercolor portrait away from direct sunlight or harsh artificial lighting to prevent fading. Consider using UV-protective glass or acrylic glazing to shield the artwork from harmful ultraviolet rays.
Handling and storage: When handling your watercolor portrait, make sure your hands are clean and dry to avoid transferring oils or dirt onto the artwork. Store the painting in a cool, dry place, preferably in an acid-free portfolio or archival storage box.
Avoid moisture and humidity: Watercolor paintings are susceptible to moisture damage. Keep your artwork away from humid areas, such as bathrooms or basements, to prevent mold growth or warping of the paper.
By taking proper care and using archival materials, you can ensure that your watercolor portrait remains in excellent condition for years to come.
How can you display and showcase your watercolor portraits?
Displaying and showcasing your watercolor portraits allows others to appreciate your talent and brings your artwork to life. Consider the following options:
Framing: Select a high-quality frame that complements your watercolor portrait and the surrounding decor. Choose a mat color that enhances the painting and use archival mounting techniques to secure the artwork. Ensure the frame is sturdy and properly sized to prevent damage during display.
Hanging: Hang your framed watercolor portrait at eye level, ideally in a well-lit area where it can be appreciated. Use appropriate hanging hardware suitable for the weight of the frame and follow proper wall-mounting guidelines.
Portfolio or album: If you have multiple watercolor portraits, consider creating a portfolio or album to showcase your collection. Use acid-free sleeves or archival-quality mounting techniques to protect each artwork while allowing easy viewing.
Online gallery or website: Create an online presence to showcase your watercolor portraits. Build a website or utilize online platforms and social media to display your artwork, share your process, and connect with fellow artists and art enthusiasts.
Local exhibitions and art communities: Participate in local art exhibitions, galleries, or art communities to gain exposure and network with other artists. These opportunities provide a platform for you to display your watercolor portraits to a broader audience.
Remember, displaying your watercolor portraits not only allows others to appreciate your talent but also brings a sense of fulfillment and pride in your artistic achievements.
Conclusion
Congratulations! You have reached the end of this comprehensive guide on how to paint watercolor portraits. Throughout this journey, we explored the materials and setup needed, the importance of preparation, various watercolor techniques, and the process of painting a portrait step by step. We also delved into adding final touches and refinements, as well as preserving and displaying your finished artwork.
As with any artistic endeavor, remember that practice and experimentation are key. Embrace the journey of watercolor portrait painting, and let your creativity flow. With dedication and perseverance, you will continue to develop your skills and create stunning watercolor portraits that capture the essence and beauty of your subjects.
So, grab your brushes, immerse yourself in the world of watercolors, and embark on the exciting adventure of painting captivating watercolor portraits. Happy painting!