How To Remove Paint From A Bike Frame
Paint removal from a bike frame, an artful yet practical endeavor, represents the process of stripping away layers of old paint to rejuvenate your trusty bicycle. It's not merely a cosmetic upgrade but a fundamental preservation technique to ensure the longevity and structural integrity of your ride. In the world of bike enthusiasts and DIY aficionados, this process is a vital skill to possess.
Defining the Core Task: At its core, the task is straightforward – stripping away old paint. However, the real challenge lies in executing it effectively, preserving the frame's material, and achieving a flawless finish that breathes new life into your bike. This comprehensive guide distills the wisdom of bike restoration enthusiasts and professionals, offering a definitive approach to removing paint from bike frames. We'll explore the intricacies of each frame material – steel, aluminum, and carbon fiber – providing insights on techniques, tools, and safety measures. Whether you're a seasoned bike enthusiast or a novice looking to revive an old two-wheeler, this guide will equip you with the knowledge and skills to embark on your bike frame restoration journey. So, let's roll up our sleeves and uncover the art of bike frame restoration.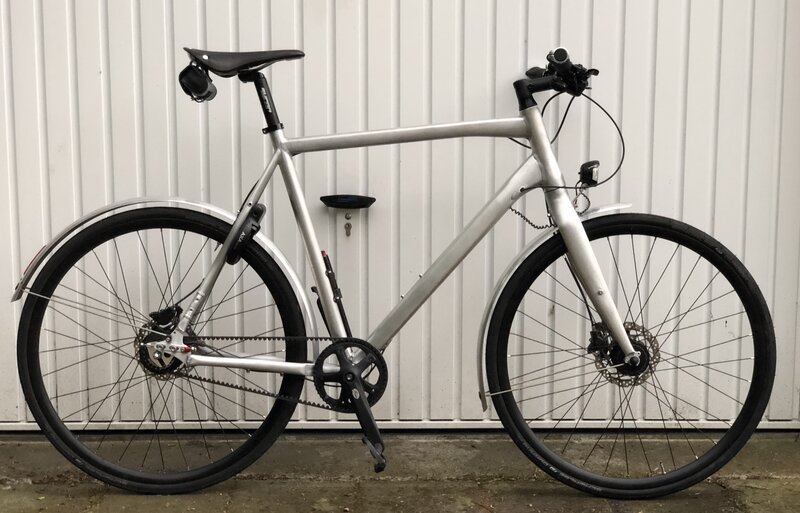 Assessing Your Bike Frame
Before you roll up your sleeves, take a moment to assess your bike frame's condition. Think of it as a diagnostic check-up. Here's what you should consider:
Frame Material: The type of frame you're dealing with matters significantly. Steel, aluminum, and carbon fiber frames each have their quirks when it comes to paint removal.
Paint Condition: Scrutinize the existing paint job. Is it peeling, chipped, or flaking? Understanding its condition will guide your removal approach.
Safety Precautions: Guarding Your Well-being
Safety should always be your top priority when working on any DIY project. Removing paint can expose you to chemicals and dust particles. Therefore, gear up properly:
| Safety Gear | Why It's Important |
| --- | --- |
| Gloves | Protect your hands from chemicals. |
| Goggles | Safeguard your eyes from splatters. |
| Respirator Mask | Prevent inhalation of harmful fumes. |
Additionally, ensure proper ventilation in your workspace to minimize health risks.
Gathering Tools and Materials
Now, let's assemble the tools and materials you'll need for this paint-stripping endeavor. Having the right equipment at hand will make the job more efficient:
| Tools & Materials | Purpose |
| --- | --- |
| Sandpaper (various grits) | To prepare the surface for paint removal. |
| Paint Stripper or Solvent | For chemical-based paint removal. |
| Brushes and Scrapers | To apply paint stripper and remove softened paint. |
| Rags and Towels | For cleaning and wiping away residue. |
| Safety Gear | As discussed earlier, for your protection. |
| Primer and Paint | For refinishing the frame once it's bare. |
Preparing the Work Area
Now that you have your tools ready, it's time to set up your workspace. Here are some essential considerations:
Ventilation: Ensure your workspace is well-ventilated to disperse fumes and maintain a comfortable working environment.
Protective Coverings: Cover nearby surfaces to prevent paint splatter or damage from any potential spills.
Lighting: Adequate lighting is key for precision. You don't want to miss any spots during paint removal.
Workspace Organization: Keep your tools and materials organized for easy access and a smoother workflow.
Removing Paint from a Steel Bike Frame
Steel frames are known for their durability but can be prone to rust if not treated properly. Let's explore the steps to remove paint from a steel bike frame:
Sanding Techniques: Begin with a medium-grit sandpaper to remove the top layer of paint. Gradually switch to finer grits for a smoother finish.
Using Chemical Paint Strippers: Apply the paint stripper as per the manufacturer's instructions. It will soften the paint, making it easier to scrape away.
Scraper Method: Use a scraper to gently remove the softened paint. Be patient and take your time, ensuring all paint layers are gone.
Rinse and Repeat: Once you've removed the paint, rinse the frame thoroughly to remove any residual chemicals. Repeat the process if necessary.
Removing Paint from an Aluminum Bike Frame
Aluminum frames are lightweight and durable. However, they require a different approach to paint removal:
Aluminum-Specific Sanding Tips: Aluminum is softer than steel, so use a light touch when sanding to avoid damaging the frame.
Suitable Paint Strippers: Choose paint strippers that are safe for aluminum surfaces to avoid corrosion.
Preventing Corrosion: After paint removal, it's essential to treat the aluminum to prevent corrosion. Consider applying a protective coating.
Removing Paint from a Carbon Fiber Bike Frame
Carbon fiber frames are the delicate thoroughbreds of the biking world. Here's how to handle them with care:
Gentle Sanding Techniques: Use ultra-fine sandpaper or even a buffing wheel for delicate paint removal.
Compatible Paint Strippers: Only use paint strippers explicitly designed for use on carbon fiber to avoid damage.
Minimizing Potential Damage: Be extra cautious when removing paint from carbon fiber. Any damage could compromise the frame's integrity.
Cleaning and Prepping the Bare Frame
With the paint successfully removed, it's time to clean and prepare the frame for its fresh coat. Follow these steps:
Removing Residue: Ensure there's no leftover paint, chemicals, or debris on the frame's surface. Use a clean rag or towel for this.
Smooth Surface: A smooth surface is essential for a flawless finish. Sand the frame lightly to prepare it for the primer and paint.
Refinishing Your Bike Frame
Now that your frame is bare and prepped, let's dive into the art of refinishing:
Priming the Frame: Apply a suitable primer to the frame. This creates a bond between the frame and the new paint.
Applying Paint or Finish: Choose your desired paint or finish and apply it evenly to the frame. Multiple thin coats are preferable to a single thick one.
Drying and Curing: Follow the manufacturer's instructions for drying and curing times. Patience is key for a durable finish.
Final Touches and Assembly
The last leg of your journey involves reassembling your bike components onto the freshly refinished frame. Here are some tips to ensure a smooth ride:
Inventory Check: Before assembly, take stock of all your bike parts. Ensure you haven't missed anything during the paint removal process.
Fitting and Functionality: Carefully fit each component back onto the frame, checking for proper alignment and functionality.
Test Ride: After assembly, take your bike for a test ride to ensure everything operates as it should.
Maintenance and Longevity
Your bike's new paint job is a thing of beauty, but maintaining it is crucial for longevity:
Regular Cleaning: Keep your bike clean and free from dirt and debris to prevent premature wear and tear.
Wax and Protect: Consider applying a protective wax or coating to preserve the finish and deter rust.
Inspect for Damage: Periodically inspect your frame for any signs of damage, such as chips or scratches, and address them promptly.
Conclusion: A Reborn Bicycle
Congratulations! You've successfully transformed your bike frame from drab to fab. Remember, the key to a stunning finish is patience and attention to detail. Whether you have a rugged steel frame, a sleek aluminum frame, or a delicate carbon fiber frame, you now have the know-how to give it a new lease on life. So, get pedaling and enjoy your revitalized two-wheeled companion!