In the realm of interior design and home aesthetics, a silent revolution has unfolded, redefining the way we interact with painted surfaces. Imagine a world where walls remain impervious to the chaos of everyday life—a world where fingerprints, splatters, and accidental spills are mere passing incidents, effortlessly erased with a swipe. This transformation is brought to life by the ingenious innovation known as washable paint.
At its heart lies a simple yet profound attribute: washability. This quality goes beyond the surface, delving into the chemistry that empowers paint to withstand the test of time and daily living. But washable paint isn't just about durability; it's a symphony of attributes that elevate both form and function. It's about creating spaces that exude beauty while accommodating the realities of family life, bustling environments, and artistic endeavors.
Join us on a journey through the world of washable paint—a journey that unravels its secrets, celebrates its advantages, and explores its myriad applications. From the science behind its washability to the artistry of color selection, from its ecological impact to its role in family-friendly spaces, let's uncover the captivating narrative of washable paint and how it's transforming the canvas of our lives.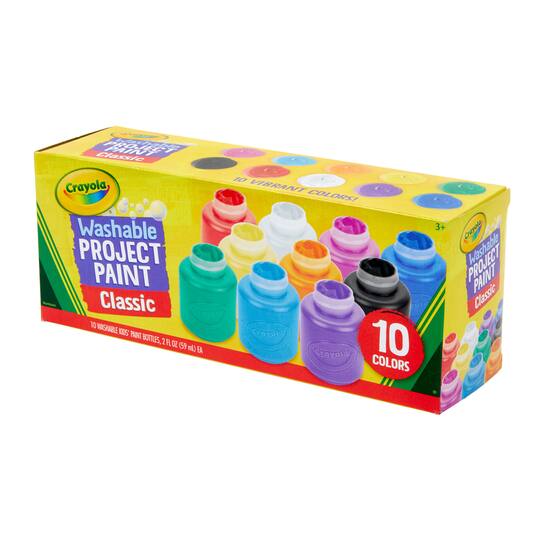 Understanding Washable Paint's Main Attribute
When we delve into the realm of washable paint, the term "washability" immediately takes center stage. But what exactly does it mean for paint to be washable? At its core, washability refers to a paint's ability to withstand cleaning without losing its color, sheen, or integrity. This is achieved through the incorporation of advanced formulations that are designed to repel dirt, stains, and marks, ensuring that your walls retain their pristine appearance for years to come.
But here's where the magic happens: beneath this seemingly simple attribute lies a labyrinth of innovative chemistry. Paint manufacturers blend various components, including specialized polymers and additives, to craft a protective shield around each pigment particle. This microscopic armor prevents stains from adhering tightly to the surface, allowing you to wipe away mishaps with ease.
Advantages of Washable Paint
Now that we've scratched the surface of washable paint's washability, let's dive deeper into the treasure trove of advantages it brings to the table.
Longevity and Durability
Imagine a world where the walls of your home could stand the test of time, resisting the wear and tear of daily life. With washable paint, this vision becomes a reality. Traditional paints often succumb to the stresses of living—fingerprints, scuffs, and marks that accumulate over the years. Washable paint, however, remains steadfast, repelling these intruders and maintaining its pristine appearance.
Cost-Effectiveness Over Time
While washable paint might have a slightly higher upfront cost compared to traditional options, its long-term cost-effectiveness becomes evident over the years. Think about it: traditional paints often demand frequent touch-ups and repainting to maintain their allure. Washable paint's resilience slashes these maintenance costs, making it a wise investment in the journey to a hassle-free, budget-conscious lifestyle.
Maintenance and Cleaning Made Easy
Picture this scenario: a toddler's artistic endeavors with crayons have left their mark on your living room wall. With traditional paint, this could translate into a time-consuming battle involving scrubbing, scraping, and perhaps a touch of frustration. Washable paint, on the other hand, transforms this ordeal into a mere inconvenience. A damp cloth is often all it takes to wipe away such artistic escapades, leaving your walls unscathed and your sanity intact.
Application Areas of Washable Paint
Washable paint's versatility extends far beyond residential spaces. It has found its home in various domains, catering to diverse needs with unwavering excellence.
Home Interiors: Walls, Ceilings, and More
The heart of washable paint's popularity lies in homes across the globe. From the busy kitchen to the serene bedroom, washable paint graces walls, ceilings, and even furniture. It becomes a silent guardian, defending against the accidental splatters, handprints, and minor mishaps that are an inevitable part of family life.
Educational Institutions: Schools and Daycares
Educational settings are a breeding ground for creativity and exploration, often accompanied by spills, scribbles, and smudges. Washable paint has become an essential tool in such environments. Teachers and caregivers can encourage children's artistic endeavors without worrying about the aftermath. Walls remain vibrant canvases that can be refreshed with ease, fostering an environment of creativity and learning.
Commercial Spaces: Offices, Restaurants, and Retail Stores
Beyond homes and schools, washable paint has permeated the commercial realm as well. In bustling offices, it adorns walls with professionalism while being prepared for the occasional coffee mishap during intense brainstorming sessions. Restaurants and retail stores also benefit, as washable paint ensures that the vibrant ambiance remains intact even in the face of spills and smudges from excited patrons.
Varieties of Washable Paint
As we journey further into the realm of washable paint, it's important to note that this innovation isn't a one-size-fits-all solution. Instead, it comes in a variety of formulations, each with its unique attributes and applications.
Latex-based Washable Paints
Latex-based washable paints have taken the interior design world by storm. Known for their flexibility and durability, they are water-based and boast a quick drying time. Their washable nature makes them ideal for high-traffic areas and spaces prone to moisture, such as bathrooms and kitchens.
Acrylic Washable Paints
Acrylic washable paints offer a harmonious blend of durability and color vibrancy. These water-based paints adhere well to a variety of surfaces, making them a versatile choice for both interior and exterior applications. Their ability to retain color integrity over time makes them a popular choice for homeowners and artists alike.
Oil-based Washable Paints
Oil-based washable paints hold their ground with unparalleled durability. They are known for their smooth finish and ability to resist stains and dirt effectively. While they require a longer drying time compared to water-based alternatives, their longevity and resistance to wear make them a favorite for high-traffic commercial spaces.
Watercolor Washable Paints
Watercolor washable paints offer a delightful twist to the traditional washable paint lineup. These translucent hues can be used to create stunning artistic expressions on walls or canvases. Their washability ensures that experimenting with various shades and techniques doesn't result in irreversible consequences.
Color Options and Pigmentation
As you explore the world of washable paint, you'll be delighted by the vast spectrum of colors available. From soothing neutrals to bold statements, washable paint caters to every palette preference. But it's not just about the visual appeal—pigmentation plays a crucial role in washable paint's performance.
Pigments are the magic ingredients that give paint its color. Quality pigments play a pivotal role in washable paint's longevity and resistance to fading. Imagine a red that stays vibrant even after multiple cleanings, or a white that remains pure despite years of exposure. These qualities are a testament to the meticulous selection of pigments that paint manufacturers integrate into their formulas.
Surface Compatibility
Washable paint's charm extends beyond color and composition—it's about the surfaces it adorns. But not all surfaces are created equal, and that's where understanding surface compatibility becomes paramount.
Suitable Surfaces for Washable Paint Application:
Drywall: Washable paint's versatility shines on drywall, where it adheres well and offers easy cleaning.
Wood: Wooden surfaces, such as furniture and trim, can also benefit from washable paint's protective shield.
Concrete: Whether it's indoor or outdoor concrete surfaces, washable paint provides a durable finish that can withstand cleaning.
Masonry: Washable paint complements masonry surfaces, making it a suitable choice for accent walls and exteriors.
Proper Surface Preparation for Optimal Results:
Before the brush even touches the surface, proper preparation is key. Washable paint performs best on clean, smooth surfaces. This might involve sanding rough patches, priming porous surfaces, and ensuring that the canvas is ready to embrace the paint's transformative touch.
Environmental Considerations
In an age where sustainability takes center stage, the environmental impact of our choices cannot be ignored. Washable paint steps up to the plate, offering options that align with eco-conscious values.
Low VOC (Volatile Organic Compounds) Formulations
VOCs are compounds emitted by certain paints that contribute to indoor air pollution and potential health risks. Washable paint manufacturers have responded to this concern by developing low VOC formulations. These paints emit fewer harmful chemicals into the air, ensuring that your living spaces remain not only beautiful but also healthy for you and your loved ones.
Eco-Friendly Options and Sustainability
For those who seek a paint choice that goes beyond low VOC, eco-friendly washable paints are the answer. These formulations often feature biodegradable components, minimal packaging waste, and responsible manufacturing processes. By opting for eco-friendly washable paint, you're making a statement that style and sustainability can indeed coexist.
Choosing the Right Washable Paint
The aisle of paint choices can be overwhelming, with a rainbow of hues and a multitude of formulations vying for your attention. So how do you navigate this sea of options and choose the perfect washable paint for your project?
Consideration of Specific Needs
Start by evaluating your space's unique requirements. Is it a high-traffic area prone to spills and smudges? Do you desire a particular color palette that aligns with your interior design vision? Understanding your needs will help you narrow down the characteristics you're looking for in washable paint.
Consultation with Paint Professionals
When in doubt, seek the wisdom of experts. Paint professionals at your local hardware or paint store can provide valuable insights. They can recommend the right washable paint based on your preferences, the surface you're working with, and your desired outcome.
Reading Labels and Product Specifications
Don't underestimate the power of reading labels and product specifications. Manufacturers often provide essential information about a paint's washability, durability, and compatibility on the packaging. This knowledge arms you with the information you need to make an informed decision.
Application Techniques
With the chosen washable paint in hand, it's time to transform your vision into reality. Application techniques play a significant role in ensuring that the final result is as stunning as you imagined.
Brushing, Rolling, and Spraying Methods
Brushing, rolling, and spraying are the primary methods for applying washable paint. Each technique has its advantages. Brushing offers precise control over details, rolling ensures even coverage on larger surfaces, and spraying provides a seamless finish. The key is to choose the technique that aligns with your skills and the nature of your project.
Achieving Smooth and Even Paint Coverage
One of the hallmarks of a professional paint job is the smooth and even coverage. To achieve this, follow these steps:
Prep the Surface: Ensure the surface is clean, dry, and properly primed.
Cut In: Use a brush to carefully paint along edges and corners.
Roller Magic: Use a roller for larger areas, applying even pressure for consistent coverage.
Multiple Coats: For optimal results, apply two or more coats of paint, allowing each coat to dry before adding the next.
Maintenance and Care
Once your masterpiece is complete, the journey doesn't end. Proper maintenance and care are essential to ensure that your washable paint continues to shine.
Cleaning Procedures for Washable Painted Surfaces
Cleaning washable painted surfaces is a breeze. All it takes is a soft cloth or sponge and mild soapy water. Gently wipe away smudges, fingerprints, or marks, taking care not to scrub aggressively. This simple routine can preserve your paint's appearance and keep your walls looking fresh.
Preventive Measures to Prolong Paint Life
While washable paint is designed to withstand the challenges of daily life, a few preventive measures can go a long way in prolonging its life:
Use Doormats: Place doormats at entrances to prevent dirt and debris from being tracked inside.
Avoid Direct Impact: Minimize the risk of scuffs by arranging furniture to avoid direct contact with walls.
Regular Dusting: Dust your walls periodically to prevent the accumulation of particles that can mar the paint's appearance.
Comparative Analysis: Washable vs. Traditional Paint
To truly grasp the marvel of washable paint, let's engage in a comparative analysis, pitting it against its traditional counterparts.
Stain and Mark Resistance
Washable paint takes the crown in this category. Its innovative composition repels stains, marks, and fingerprints, ensuring that your walls remain impeccable. Traditional paints, while charming in their own right, often fall short in the face of unexpected mishaps.
Ease of Cleaning
No contest here—washable paint reigns supreme. A quick wipe is often all it takes to restore its brilliance. Traditional paints may require more elbow grease and could potentially result in paint loss during vigorous scrubbing.
Lifespan and Repainting Frequency
Washable paint's durability translates into a longer lifespan and fewer repainting sessions. Traditional paints, while dependable, may necessitate more frequent touch-ups to maintain their allure.
DIY vs. Professional Application
The age-old question arises: should you embark on a do-it-yourself (DIY) painting journey or entrust the task to professional painters? Let's weigh the pros and cons of each approach.
Pros and Cons of DIY Painting
Pros:
Cost Savings: DIY painting can be budget-friendly, eliminating labor costs.
Personal Touch: Infuse your unique style and creativity into your space.
Sense of Accomplishment: Completing a DIY project can be incredibly fulfilling.
Cons:
Skill Requirement: Achieving professional-level results requires skill and practice.
Time-Consuming: DIY painting can be time-intensive, especially for larger areas.
Quality Concerns: Inexperienced painters may struggle with achieving a smooth finish.
When to Opt for Professional Painters
Pros:
Expertise: Professional painters bring expertise and finesse to the task.
Efficiency: They work efficiently, completing projects in a timely manner.
Quality Assurance: Professional painters deliver impeccable finishes and attention to detail.
Cons:
Cost: Hiring professional painters involves labor costs.
Scheduling: Coordinating schedules with painters may require flexibility.
Washable Paint: A Family-Friendly Choice
Now, imagine a bustling household with children who treat walls as canvases and pets that leave their mark in playful romps. In this dynamic environment, washable paint emerges as a true ally.
Ideal for Homes with Children and Pets
Washable paint transforms homes into havens for families with children and pets. Spills, accidents, and creative endeavors are no longer causes for concern. The walls themselves become a part of the adventure, ready to withstand the challenges of everyday life.
Minimizing the Impact of Accidental Spills and Marks
Accidents happen, whether it's a juice spill during breakfast or an exuberant puppy's pawprints. Washable paint turns these mishaps into mere anecdotes. A damp cloth is your secret weapon, ready to erase evidence of spills and marks, preserving the beauty of your living space.
Innovations in Washable Paint Technology
As technology advances, so does the realm of washable paint. Innovative breakthroughs are paving the way for paints that defy conventional limitations.
Nanotechnology for Enhanced Resistance
Nanotechnology has revolutionized washable paint, introducing microscopic particles that reinforce its stain resistance. These nanoparticles create an invisible shield, repelling dirt and liquids with unparalleled efficiency. The result? Walls that remain unblemished, regardless of the challenges they face.
Self-Cleaning and Self-Repairing Paints
Imagine a paint that not only resists stains but actively cleans itself. Self-cleaning paints are equipped with photocatalytic properties that break down dirt and pollutants when exposed to light. Additionally, the realm of self-repairing paints is emerging, where minor scratches and scuffs vanish over time, leaving your walls flawless.
Addressing Common Misconceptions
As we near the end of our journey through the world of washable paint, let's address a couple of common misconceptions that might cloud your understanding.
Washable Paint and Waterproofing
Washable paint's exceptional washability doesn't equate to waterproofing. While it can repel minor spills and stains, it's not designed to withstand prolonged exposure to water. For areas prone to moisture, such as bathrooms, it's advisable to combine washable paint with appropriate waterproofing measures.
Paint Sheen and its Role in Washability
The sheen of paint refers to its level of glossiness. While some believe that higher gloss translates to better washability, this isn't entirely accurate. Washable paint's attributes extend beyond sheen. While higher gloss levels can indeed offer increased resistance, many washable paints with varying sheens still excel in washability, proving that there's more to the story than meets the eye.
Conclusion
In a world where practicality and aesthetics intertwine, washable paint emerges as a true marvel. Its washability, longevity, and adaptability have transformed the way we approach interior design and maintenance. From homes to educational institutions, from commercial spaces to artistic endeavors, washable paint has earned its place as a revolutionary force.