How Do You Make Silver Paint
Silver paint holds a captivating allure with its shimmering and reflective qualities, making it a popular choice for a variety of artistic and decorative applications. Whether you want to add a touch of elegance to your artwork or transform everyday objects into stunning metallic accents, learning how to make silver paint opens up a world of creative possibilities. By understanding the properties of silver paint and mastering the art of crafting it yourself, you can achieve customized shades and textures that perfectly suit your artistic vision.
In this guide, we will take you through the step-by-step process of making silver paint from scratch. We will explore the essential materials and tools needed, delve into the intricacies of selecting the right metallic pigments and binders, and provide tips and techniques to help you achieve the desired effects. With practical examples, expert advice, and actionable instructions, you will gain the confidence to create your own high-quality silver paint that rivals commercial options.
Get ready to unlock your creativity and embark on a journey to master the art of making silver paint. Let's dive in and discover the secrets of this dazzling medium!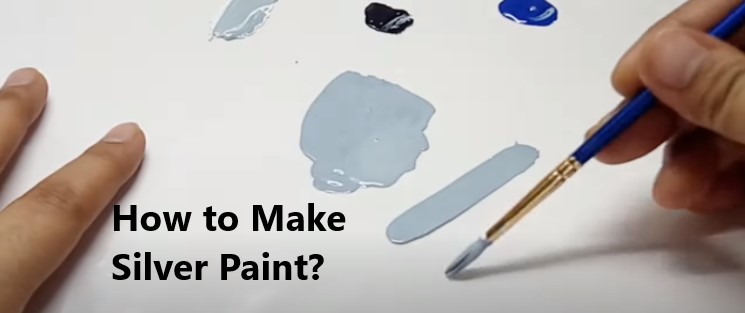 Understanding the Properties of Silver Paint
Silver paint is renowned for its unique properties, such as high reflectivity, metallic sheen, and versatility. These attributes make it a popular choice for various artistic and decorative purposes. Understanding the characteristics of silver paint will allow you to make informed decisions throughout the creation process.
To begin, silver paint is known for its exceptional reflectivity, which gives surfaces a bright and mirror-like appearance. It can enhance the visual appeal of objects, add depth to artwork, and create eye-catching accents. Additionally, silver paint offers versatility, as it can be applied to different surfaces, including canvas, wood, metal, and more.
Gathering the Necessary Materials and Tools
Before embarking on the journey of making silver paint, it's important to gather the essential materials and tools. Here's a list of what you'll need:
Materials:
Metallic pigment or silver powder
Binder or medium
Optional additives for texture or sheen
Tools:
Mixing containers
Stirring sticks or palette knives
Paintbrushes or applicators
Having these materials and tools ready will ensure a smooth and efficient process as you create your own silver paint.
Choosing the Right Metallic Pigment or Silver Powder
The choice of metallic pigment or silver powder is crucial in achieving the desired effect and appearance of your silver paint. Let's explore some options and considerations:
Types of metallic pigments available:
Aluminum-based pigments: These pigments consist of finely ground aluminum particles, which provide a brilliant silver appearance. They are commonly used in silver paints and offer excellent reflectivity.
Silver flake pigments: These pigments contain actual silver flakes, providing an authentic metallic shine. Silver flake pigments can create a more textured and dazzling silver finish.
When selecting metallic pigments, consider factors such as reflectivity, particle size, and texture. These attributes will determine the final appearance and visual impact of your silver paint.
Selecting the Appropriate Binder or Medium
A binder or medium is essential for creating a stable and workable silver paint. It acts as a vehicle for suspending the metallic pigment and helps bind it to the painting surface. Let's explore a couple of commonly used binders in DIY silver paint:
Acrylic medium: Acrylic medium is a versatile binder that works well with metallic pigments. It dries to a transparent or translucent finish, allowing the silver pigment to shine through while providing durability and flexibility.
Clear varnish or glaze: Clear varnish or glaze can also serve as a binder for silver paint. It provides a glossy and protective finish while enhancing the metallic sheen. Varnishes or glazes specifically designed for metallic paints are recommended.
When choosing a binder, consider factors such as transparency or opacity, drying time, and compatibility with metallic pigments. This will help you achieve the desired visual effect and ensure the longevity of your silver paint.
Mixing the Silver Paint
Now that you have your metallic pigment and binder, it's time to mix them together to create your silver paint. Follow these step-by-step instructions:
Measuring the appropriate quantities of metallic pigment and binder: Refer to the manufacturer's recommendations or experiment with different ratios to achieve the desired intensity and consistency of silver paint.
Step-by-step mixing process:

Start by pouring the measured quantity of binder into a mixing container.
Gradually add the metallic pigment to the binder, stirring continuously with a stirring stick or palette knife.
Ensure thorough mixing to disperse the pigment evenly throughout the binder, eliminating any lumps or clumps.
Continue stirring until the metallic pigment is fully incorporated and you achieve a smooth and consistent silver paint.

Optional: Adding texture or sheen-enhancing additives: If you prefer a textured or more pronounced metallic effect, you can incorporate optional additives. Experiment with materials such as mica flakes or metallic glitters to customize the texture and appearance of your silver paint.
Remember to mix your silver paint in a well-ventilated area and protect your work surface with a drop cloth or newspaper to avoid any potential mess.
Adjusting and Customizing the Silver Paint
Creating silver paint is an opportunity to unleash your creativity and explore different variations. Here are a few ways you can adjust and customize your silver paint:
Experiment with different metallic pigment-to-binder ratios: Altering the ratio of metallic pigment to binder can create varying intensities of silver paint. Increase the amount of metallic pigment for a bolder and more vibrant silver, or decrease it for a softer and more subtle effect.
Create variations in the silver paint color and intensity: You can experiment with different hues by adding a small amount of acrylic paint or tinting agent to your silver paint. This allows you to achieve unique shades of silver, such as cool silver, warm silver, or even tinted silver.
Add other pigments or tinting agents for unique effects: If you want to go beyond traditional silver, consider incorporating other pigments or tinting agents to create intriguing effects. For example, adding a touch of blue pigment can result in a cool silver with a hint of iridescence.
By embracing experimentation and customization, you can create silver paint that suits your artistic vision and adds a personal touch to your projects.
Testing and Evaluating the Silver Paint
Before using your freshly made silver paint on your final project, it's essential to conduct tests to evaluate its performance and appearance. Follow these steps:
Applying the paint to a test surface: Select a small test surface, such as a piece of paper or canvas, and apply your silver paint using a paintbrush or applicator. This will allow you to observe how the paint spreads, adheres, and dries.
Observing the drying time, texture, and appearance: Pay attention to the drying time of the paint and evaluate its texture and overall appearance. Observe the reflective properties, metallic sheen, and any desired textures or effects.
Making necessary adjustments: Based on your observations, you can make adjustments to the paint mixture if needed. Add more metallic pigment or binder to achieve the desired consistency, shine, or texture. Use this testing phase to fine-tune your silver paint and ensure it meets your expectations.
Taking the time to test and evaluate your silver paint will help you achieve the desired results when applying it to your chosen projects.
Tips for Application and Techniques
To achieve the best results with your silver paint, consider the following tips and techniques:
Preparing the painting surface: Ensure the surface is clean, dry, and properly primed before applying the silver paint. This will enhance adhesion and promote a smooth and even application.
Applying the silver paint evenly: Use a high-quality paintbrush or applicator to apply the silver paint in even strokes. Pay attention to maintaining consistent coverage and avoid excessive buildup or streaks.
Creating different finishes and effects: Explore different techniques to create unique finishes with your silver paint. For a brushed metal effect, use a dry brush technique by lightly brushing the surface with a partially loaded paintbrush. To achieve an aged silver look, consider layering or distressing techniques using complementary colors.
Remember, practice makes perfect. Experiment with different application techniques and surfaces to unleash your creativity and discover the full potential of your homemade silver paint.
Proper Storage and Maintenance of Silver Paint
To ensure the longevity and usability of your silver paint, proper storage and maintenance are essential. Here are some guidelines to follow:
Storing the paint in airtight containers: Transfer any unused silver paint into a clean and airtight container to prevent drying or contamination. Label the container with the paint's date and description for easy reference.
Shelf life and considerations for long-term use: Homemade silver paint typically has a shelf life similar to the expiration date of the binder or medium used. Refer to the manufacturer's guidelines or consult the product label for specific shelf life information.
Cleaning and caring for brushes or applicators: After using your brushes or applicators, clean them thoroughly with water or an appropriate cleaning agent, depending on the binder used. Remove any remaining silver paint and rinse until the water runs clear. Proper cleaning and storage will extend the life of your tools and maintain their performance.
By following these storage and maintenance practices, you can preserve the quality of your silver paint and ensure its longevity for future projects.
Safety Considerations
While making silver paint can be an enjoyable and fulfilling process, it's important to prioritize safety. Consider the following safety precautions:
Working in a well-ventilated area: Ensure proper ventilation when mixing and working with your silver paint to avoid inhaling any fumes or dust particles. If necessary, use a respirator or work in an area with good air circulation.
Using appropriate personal protective equipment: Wear gloves, protective eyewear, and a smock or apron to protect your skin and clothing from contact with the paint and any potential splatters.
Properly disposing of waste materials: Dispose of any leftover paint, containers, or waste materials according to local regulations. Follow proper disposal guidelines to minimize environmental impact.
Prioritizing safety throughout the entire process will allow you to enjoy the creative experience of making silver paint with peace of mind.
Conclusion
Congratulations! You've discovered how to make your own silver paint from scratch. By understanding the properties of silver paint, gathering the necessary materials and tools, and following the step-by-step instructions, you can create silver paint that adds a touch of brilliance to your artistic endeavors and decorative projects. Remember to experiment with different ratios, explore customization options, and test your silver paint before applying it to your final project. Embrace your creativity and enjoy the journey of making and using your homemade silver paint!