How to Paint Plaster of Paris
Welcome to the comprehensive guide on how to paint Plaster of Paris! If you're looking to add a touch of creativity and vibrancy to your plaster projects, painting is the perfect way to bring them to life. Whether you're working on sculptures, decorative molds, or wall art, mastering the art of painting Plaster of Paris will enable you to create stunning pieces that capture attention.
Painting plaster requires specific techniques and considerations to ensure a smooth and long-lasting finish. In this article, we'll take you through each step of the process, from preparing the surface to applying the base coat, adding texture or designs, and finally, applying the finishing touches.
You'll discover valuable insights on selecting the right type of paint, priming the surface, and choosing the appropriate tools and techniques to achieve your desired results. We'll also delve into optional techniques like adding texture or incorporating intricate designs, allowing you to personalize your projects and make them truly unique.
Whether you're a seasoned artist or a beginner looking to explore your artistic side, this guide will equip you with the knowledge and skills needed to paint Plaster of Paris like a pro. So, let's dive in and unlock the world of creative possibilities that await you in the realm of painted Plaster of Paris!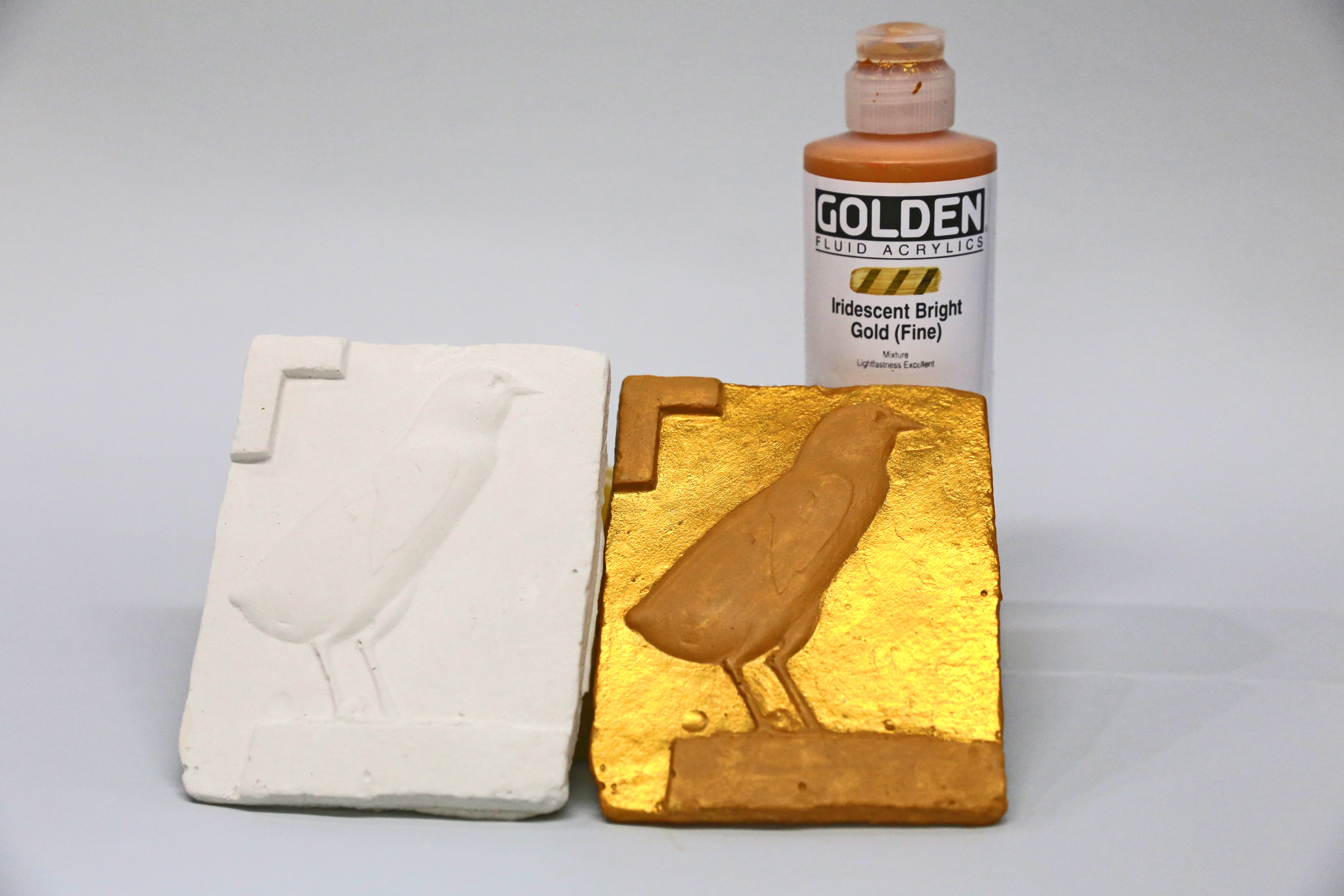 Selecting the Right Type of Paint
Before diving into the painting process, it's crucial to choose the appropriate paint for Plaster of Paris. The right type of paint will adhere well to the porous surface and provide a durable finish. Consider the following factors when selecting your paint:
Understanding the properties of Plaster of Paris: Plaster of Paris is a gypsum-based material known for its smooth texture and ability to absorb moisture. It's important to choose a paint that can withstand the slight expansion and contraction of the plaster.
Water-based or acrylic paint: Water-based and acrylic paints are popular choices for painting Plaster of Paris due to their excellent adhesion, fast drying time, and easy cleanup. These types of paint also offer a wide range of colors and finishes to suit your desired look.
Finish and color options: Consider the desired finish of your project, whether it's matte, satin, or glossy. Additionally, explore the vast array of colors available and select hues that complement your overall design scheme.
Appropriate paintbrushes and tools: Depending on the size and intricacy of your project, choose brushes that allow for precise application and control. Additionally, gather other necessary tools such as paint trays, mixing sticks, and drop cloths to protect your work area.
Preparing the Plaster of Paris Surface
Proper preparation of the Plaster of Paris surface is crucial to ensure a smooth and flawless paint application. Follow these steps to prepare the surface effectively:
Cleaning the surface: Begin by removing any dust, dirt, or debris from the plaster surface. Use a soft brush or a dry cloth to gently sweep away loose particles. For stubborn stains or residue, you may need to lightly dampen a cloth with water and carefully wipe the surface.
Sanding and smoothing out imperfections: Inspect the plaster surface for any rough spots, bumps, or imperfections. Gently sand the affected areas using fine-grit sandpaper in a circular motion. This step helps create an even surface for the paint to adhere to and ensures a professional-looking finish.
Filling in cracks or gaps with joint compound: If you encounter any cracks or gaps in the plaster, use a joint compound to fill them in. Apply the compound with a putty knife, smoothing it out to match the surrounding surface. Allow the compound to dry completely before proceeding.
Priming the Plaster of Paris
Priming is an essential step in the painting process, particularly for porous surfaces like Plaster of Paris. It prepares the surface for better paint adhesion and promotes a more uniform finish. Follow these guidelines for priming your plaster surface:
Importance of priming: Priming creates a barrier between the porous plaster and the paint, preventing the paint from being absorbed too quickly. It also helps to even out the surface texture, ensuring a smoother and more professional-looking result.
Choosing the appropriate primer: Opt for a primer specifically designed for porous surfaces like Plaster of Paris. Look for a product that promotes excellent adhesion and offers a suitable base for the type of paint you'll be using.
Applying the primer to the surface: Use a brush or a roller to apply the primer evenly over the plaster surface. Work in small sections, ensuring that you cover the entire area. Pay extra attention to any intricate details or crevices, ensuring that the primer reaches all the nooks and crannies. Smooth out any drips or excess primer for a flawless finish.
Allowing the primer to dry thoroughly: After applying the primer, allow it to dry completely according to the manufacturer's instructions. This drying time is essential as it ensures proper adhesion of the paint and prevents any potential issues with the final coat.
Applying the Base Coat
Once the primer is dry, it's time to apply the base coat of paint to your Plaster of Paris surface. Follow these steps for a smooth and even base coat:
Preparing the paint for application: Stir the paint thoroughly to ensure a consistent color and texture. If necessary, you can dilute the paint slightly with water or a paint extender to achieve the desired consistency.
Diluting the paint if necessary: Depending on the thickness of the paint and the absorbency of the plaster, you may need to dilute the paint slightly. Test a small area first to determine the ideal dilution ratio.
Applying the base coat evenly: Use a brush, roller, or spray gun to apply the base coat of paint evenly over the plaster surface. Work in small sections, applying smooth and consistent strokes to avoid streaks or visible brush marks.
Letting the base coat dry completely: Allow the base coat to dry thoroughly before proceeding to the next step. This drying time may vary depending on the type of paint used, humidity levels, and ventilation. Follow the manufacturer's instructions for the recommended drying time.
Creating Texture (Optional)
Adding texture to your painted Plaster of Paris surface can enhance its visual appeal and create a unique finish. Explore the following options for creating texture:
Exploring texture options: Consider the desired texture for your project. Whether it's a smooth and polished look or a more rugged and textured surface, there are various techniques and products available to achieve the desired effect.
Using texture additives or techniques: You can use texture additives such as sand, stone chips, or textured paint to create a three-dimensional texture on your plaster surface. Alternatively, explore techniques like stippling, sponging, or ragging to add depth and visual interest.
Applying the texture to the surface: Depending on the chosen texture method, carefully follow the instructions provided with the texture additive or technique. Apply the texture evenly and consistently across the surface, taking care not to create any noticeable variations or inconsistencies.
Allowing the texture to dry adequately: After applying the texture, allow it to dry thoroughly according to the manufacturer's instructions. This drying time ensures that the texture is fully set and ready for the next steps in the painting process.
Painting Techniques and Tips
Mastering various painting techniques can elevate the final result of your Plaster of Paris project. Here are some techniques and tips to consider:
Brush techniques for different effects: Experiment with different brush techniques to create unique effects. For example, dry brushing can add a weathered or aged look, while stippling can create a textured appearance. Play with different brush sizes and strokes to achieve your desired outcome.
Rolling or spraying methods: Depending on the size and complexity of your project, you may find it more efficient to use a roller or a spray gun for paint application. These methods can provide a smoother and more consistent finish, particularly for larger surfaces.
Blending colors and layering techniques: Explore the art of blending colors to create depth and dimension. Layering different shades of paint can add richness and complexity to your Plaster of Paris surface. Practice on a separate surface or experiment with color swatches to find the perfect color combinations.
Troubleshooting common painting issues: While painting your Plaster of Paris project, you may encounter certain issues. Here are some common problems and their solutions:
Visible brush strokes: To minimize visible brush strokes, ensure that your brush strokes are consistent and smooth. Use high-quality brushes and consider lightly sanding the surface between coats to achieve a smoother finish. Alternatively, using a foam brush or a sponge applicator can help reduce brush marks.
Uneven coverage: If you notice areas with uneven coverage, it may be necessary to apply an additional coat of paint. Make sure to allow each coat to dry completely before applying the next one. Apply the subsequent coat in a consistent manner to achieve an even and uniform look.
Paint bleeding or smudging: To prevent paint bleeding or smudging, avoid overloading the brush with paint. Use controlled and even strokes, and allow each layer to dry before applying the next one. Additionally, masking off adjacent areas with painter's tape can help create clean edges and prevent paint from spreading.
Paint peeling or flaking: Paint peeling or flaking can occur if the surface was not adequately prepared or if incompatible materials were used. Ensure that the plaster surface is clean, dry, and free from any dust or debris before painting. Use appropriate primers and compatible paint products to promote good adhesion and durability.
Adding Designs or Patterns (Optional)
If you want to take your painted Plaster of Paris project to the next level, consider adding designs or patterns. Here's how you can incorporate intricate details:
Planning and sketching the design: Start by planning and sketching your desired design on paper. Consider the placement, scale, and overall aesthetic. This step allows you to visualize the final outcome and make any necessary adjustments.
Using stencils or templates: Stencils and templates provide a convenient way to add consistent and intricate designs. You can purchase pre-made stencils or create your own using sturdy materials like cardstock or stencil film. Secure the stencil in place and use a brush or sponge to apply paint within the stencil openings.
Freehand painting techniques: For those with artistic skills or a desire for a more organic look, freehand painting techniques can be employed. Use fine brushes and take your time to carefully paint the desired patterns or designs directly onto the plaster surface. Practice on a separate surface or create guidelines using light pencil markings before painting.
Applying multiple layers for depth and detail: Consider applying multiple layers of paint to add depth and detail to your designs. Start with a base coat and gradually build up layers, allowing each layer to dry before adding the next. This layering technique can create a more dynamic and visually appealing result.
Applying the Final Coat
Once you are satisfied with the base coat and any additional designs or patterns, it's time to apply the final coat of paint. Follow these steps for a professional and polished finish:
Choosing the appropriate topcoat: Select a topcoat that is compatible with the type of paint you used for the base coat. Consider the desired sheen (matte, satin, or glossy) and the level of protection it offers.
Applying the final coat smoothly and evenly: Using a clean brush, roller, or spray gun, apply the final coat of paint smoothly and evenly over the entire surface. Be mindful of any intricate details or patterns you've added to avoid smudging or disrupting them.
Allowing the final coat to dry completely: Ensure that the final coat is given ample time to dry and cure completely. Follow the manufacturer's instructions for the recommended drying time. Avoid touching or handling the painted surface until it has fully dried to prevent any smudges or blemishes.
Finishing Touches and Sealant
After the final coat has dried, you can add some finishing touches to enhance the appearance and protect the painted surface. Consider the following steps:
Inspecting for touch-ups: Take a close look at the painted surface and identify any areas that may require touch-ups or additional detailing. Use a small brush or a fine-tip paint pen to carefully address any imperfections or add fine lines or accents.
Applying a sealant or protective finish: To protect the painted surface and ensure its longevity, consider applying a sealant or protective finish. Select a product that is compatible with the type of paint used and follow the manufacturer's instructions for application. A sealant or finish can provide added durability, moisture resistance, and UV protection.
Adding a clear coat for a glossy finish: If you desire a glossy finish, you can apply a clear coat on top of the painted surface. This will add shine and depth to the colors while providing an extra layer of protection. Ensure that the clear coat is compatible with the paint used and apply it evenly following the product instructions.
Cleaning and maintaining the painted surface: Once your painted Plaster of Paris project is complete, it's essential to maintain its beauty. Regularly dust the surface with a soft, dry cloth to remove any buildup. Avoid using harsh chemicals or abrasive cleaners, as they can damage the paint. If necessary, gently clean the surface with a mild soap solution and a soft cloth.
Displaying or installing the painted plaster: Finally, decide how you want to display or install your painted plaster project. Whether it's a sculpture, decorative mold, or wall art, ensure that it is securely mounted or placed in its intended location. Consider lighting, positioning, and complementary elements to showcase your creation effectively.
Remember, practice makes perfect when it comes to painting Plaster of Paris. Don't be afraid to experiment with different techniques, colors, and designs to achieve your desired results. With patience, creativity, and attention to detail, you can transform plain plaster surfaces into captivating works of art. Enjoy the process and let your imagination soar!
Conclusion
In conclusion, painting Plaster of Paris offers a wonderful opportunity to unleash your creativity and transform plain surfaces into stunning works of art. By following the step-by-step guide outlined in this article, you can achieve beautiful and long-lasting results.
From selecting the right type of paint to preparing the surface, priming, applying the base coat, and adding texture or designs, each stage of the painting process contributes to the overall outcome. Taking the time to properly clean, smooth, and prime the plaster surface ensures a smooth canvas for your paint. Choosing the appropriate paint and tools, as well as mastering various painting techniques, allows you to achieve the desired finish and add depth to your artwork.
Don't be afraid to experiment with different colors, patterns, and textures to make your project unique. Whether you prefer a sleek and modern look or a more textured and artistic approach, Plaster of Paris provides the versatility to bring your vision to life.
Remember to exercise patience throughout the process and allow ample drying time between coats and layers. Take care of your finished masterpiece by applying a protective finish and practicing gentle cleaning and maintenance.
So, grab your brushes, select your favorite colors, and embark on the journey of painting Plaster of Paris. Let your imagination soar and enjoy the satisfaction of turning ordinary plaster surfaces into extraordinary pieces of art. Happy painting!