A swimming pool can be a refreshing and enjoyable addition to any backyard, providing a place to cool off during hot summer days and creating a beautiful focal point for outdoor gatherings. However, over time, the paint on the pool's surface can begin to fade or peel, detracting from the pool's beauty and even causing damage to the surface. Fortunately, painting your pool is an effective and cost-efficient way to restore its appearance and protect it from future damage.
Painting a pool may seem like a daunting task, but with the right tools, techniques, and knowledge, it can be a manageable project for even the most inexperienced DIYer. In this guide, we will cover everything you need to know to paint your pool successfully, from preparing the surface and choosing the right paint to applying it correctly and maintaining the paint job over time.
Whether you're looking to give your old pool a fresh new look or simply looking to protect a newly installed pool, this guide will provide you with all the information you need to get started. With a little effort and attention to detail, you can have a beautiful, well-painted pool that will provide you and your family with years of enjoyment. So let's dive in and learn how to paint a pool like a pro!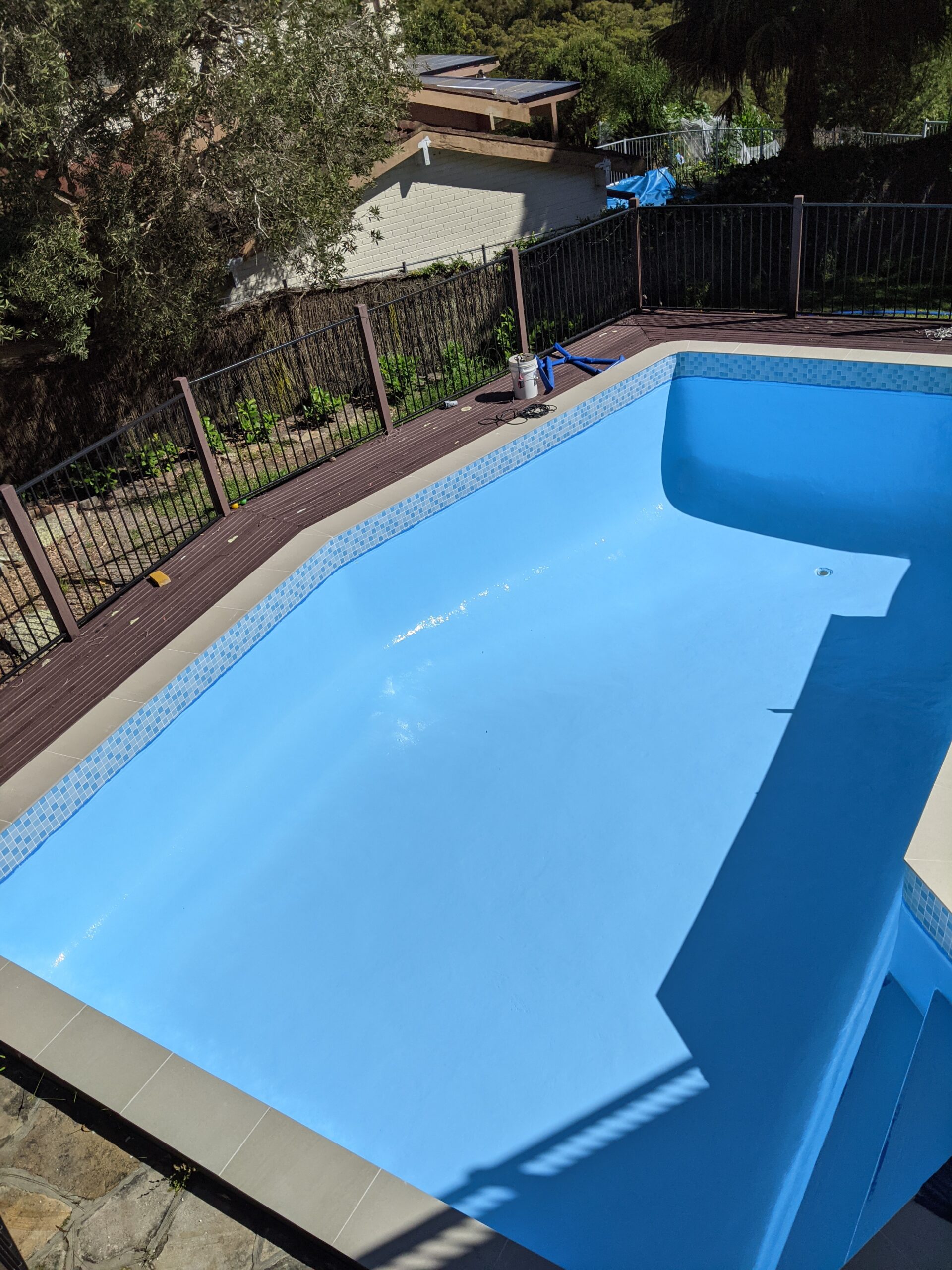 Preparing The Pool For Painting
Before painting your pool, it's essential to prepare the surface properly. Start by draining the pool and cleaning the surface with a pool brush and a degreaser. If there are any cracks or damage to the pool, it's crucial to repair them before proceeding with painting. For a smoother surface, consider sanding or acid washing the pool surface.
Choosing The Right Pool Paint
There are three types of pool paint: epoxy, acrylic, and rubber-based. Epoxy pool paint is the most durable and long-lasting but can be challenging to apply. Acrylic pool paint is the most popular choice for DIY pool painters, but it is not as durable as epoxy. Rubber-based pool paint is the least expensive option but requires more frequent repainting.
When choosing the right pool paint, consider the type of surface you're painting, the environmental conditions in your area, and your budget.
Painting The Pool
Once the pool surface is properly prepared, it's time to start painting. Begin by applying a primer to the pool surface, which helps the paint adhere better and provides a smoother finish. After the primer has dried, apply the paint using a paintbrush or roller, making sure to apply an even coat across the entire surface. Depending on the type of paint used, it may be necessary to apply additional coats to achieve the desired finish.
It's essential to use the proper equipment and techniques when painting your pool to ensure a professional-looking finish. Allow sufficient time for the paint to dry before refilling the pool.
Cost Of Painting A Pool
The cost of painting a pool can vary depending on several factors, including the size and shape of the pool, the type of paint used, and whether you choose to DIY or hire a professional. On average, the cost of painting a pool can range from $1,000 to $3,000.
DIY Vs. Professional Painting
Painting a pool is a significant project that requires careful preparation and attention to detail. While DIY painting can save you money, it can also be time-consuming and may result in a less professional-looking finish. Hiring a professional to paint your pool can ensure a more professional-looking finish, but it can also be more expensive.
When deciding between DIY and professional painting, consider your experience level, available time, and budget.
Maintaining A Painted Pool
To extend the life of your pool paint job, it's essential to maintain your pool regularly. This includes keeping the pool clean, maintaining proper water chemistry, and avoiding using abrasive cleaning tools that can damage the paint.
Conclusion
Painting a pool is an excellent way to restore its beauty and protect it from damage. By following the steps outlined in this guide, you can ensure a successful pool painting project. Remember to take the time to prepare the surface properly, choose the right paint, and use the proper equipment and techniques for the best results. With regular maintenance and upkeep, your painted pool can provide years of enjoyment and relaxation.