How to Paint Abstract Watercolor
Unleash your creativity and immerse yourself in the captivating world of abstract watercolor painting. With its vibrant hues, fluidity, and expressive possibilities, abstract watercolor offers a unique avenue for self-expression and artistic exploration. Whether you're a seasoned artist or just starting on your creative journey, this comprehensive guide will take you step-by-step through the process of painting abstract watercolor artworks.
In this article, we will delve into the essential techniques, materials, and strategies to help you unlock the secrets of abstract watercolor painting. Discover the fundamental watercolor techniques, such as wet-on-wet and wet-on-dry, that form the building blocks of creating mesmerizing abstract compositions. Explore the world of color mixing, layering, and texture manipulation to add depth and visual interest to your artwork.
But it's not just about the technical aspects. We will also delve into the conceptual side of abstract painting. Learn how to develop your vision and concept, create strong compositions, and infuse your artwork with meaning and emotion. Throughout the guide, you'll find practical tips, actionable examples, and inspiration to fuel your artistic endeavors.
Whether you're drawn to bold, expressive brushstrokes or subtle, ethereal washes, abstract watercolor painting allows you to break free from the constraints of realism and explore the depths of your imagination. So grab your brushes, prepare your palette, and let's embark on a journey of creativity and self-discovery with abstract watercolor painting.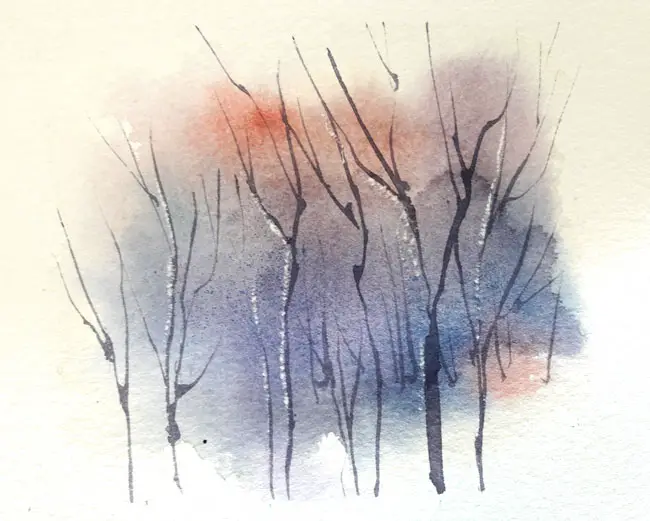 Choosing the Right Materials
Before embarking on your abstract watercolor journey, it's crucial to gather the necessary materials. Here, we'll discuss the essential supplies, explore the best watercolor pigments for abstract painting, and guide you on preparing your workspace for optimal creativity.
What are the essential watercolor supplies?
To bring your abstract watercolor visions to life, you'll need a selection of high-quality materials. Here are the key supplies to consider:
| Supplies | Description |
| --- | --- |
| Watercolor Paints | Invest in artist-grade watercolor paints with a wide range of colors to unleash your creativity. |
| Brushes | Select different brush types and sizes to achieve various effects and control in your abstract paintings. |
| Watercolor Paper | Choose heavyweight, acid-free watercolor paper or sketchbooks designed specifically for watercolor painting. |
| Palette and Mixing Tools | Use a palette to mix and blend colors, along with mixing tools like a palette knife or plastic droppers. |
Which watercolor pigments work best for abstract painting?
Abstract watercolor painting allows you to experiment with an array of vibrant pigments. Consider the following attributes when selecting watercolor pigments for your abstract artwork:
Transparency: Transparent pigments lend themselves well to layering and creating dynamic visual effects.
Staining: Staining pigments retain their color intensity even after drying, providing long-lasting vibrancy.
Granulation: Granulating pigments separate into particles, creating intriguing textures and visual interest.
Experiment with popular watercolor pigments suited for abstract painting, such as Quinacridone Magenta, Phthalo Blue, and Hansa Yellow. By exploring color mixing and layering techniques, you can expand your palette and create captivating abstract compositions.
How to prepare your workspace and materials?
To set the stage for your abstract watercolor exploration, take the time to prepare your workspace and materials:
Setting up a clean and organized workspace: Clear your work area of any clutter and ensure you have ample space to move freely. Organize your materials within easy reach for a smooth painting experience.
Properly priming and stretching watercolor paper: If you're using loose watercolor paper, consider priming and stretching it to prevent buckling and improve paint adhesion. Follow the manufacturer's instructions for the specific paper you're using.
Preparing brushes and palette for painting: Rinse your brushes with water to remove any residue or stray paint from previous sessions. Set up your palette with a selection of colors, arranging them in a logical order for easy access during painting sessions.
With a well-prepared workspace and materials, you're now ready to dive into the exciting world of abstract watercolor painting. Let's explore the techniques that will bring your imagination to life!
Understanding Abstract Watercolor Techniques
In this section, we'll delve into the fundamental techniques used in abstract watercolor painting. From wet-on-wet to controlled washes, these techniques will help you create captivating textures, blends, and visual effects in your abstract artworks.
What are the basic watercolor techniques used in abstract painting?
Abstract watercolor painting embraces a variety of techniques that allow you to manipulate the fluidity and transparency of the medium. Here are the key techniques to familiarize yourself with:
Wet-on-wet: This technique involves applying wet paint onto a wet surface, allowing colors to blend and bleed into one another naturally. It's ideal for creating soft and atmospheric backgrounds.
Wet-on-dry: In contrast to wet-on-wet, wet-on-dry involves applying wet paint onto a dry surface. This technique allows for precise control, sharp edges, and fine details in your abstract compositions.
Dry brushing: By using a relatively dry brush with minimal water and paint, you can create textured strokes and add dimension to your abstract watercolor paintings. This technique is great for achieving a rough, expressive effect.
Lifting and masking: Lifting involves removing wet or dry paint from the paper with a brush, sponge, or tissue, creating highlights or correcting mistakes. Masking involves using masking fluid or tape to preserve specific areas, allowing you to apply paint freely without affecting those areas.
These techniques serve as the building blocks for creating abstract watercolor paintings. Experiment with each technique to understand its unique properties and effects, and how they can be combined to achieve captivating results.
How to create different abstract effects with watercolor?
Abstract watercolor painting offers a vast playground for creativity and experimentation. Here are some popular techniques for creating captivating abstract effects:
Splattering and spattering: Dip a loaded brush in paint, then tap it against your finger or another brush to create controlled or random splatters. This technique adds dynamic texture and visual interest to your abstract compositions.
Pouring and dripping: Pour diluted paint onto the paper or let gravity guide the paint as it drips down the surface. These techniques create organic shapes, lines, and unexpected color interactions, resulting in expressive and spontaneous abstract artworks.
Wet-in-wet blooms: Wet the paper with clean water, then drop or brush in concentrated paint. Watch as the pigments disperse and blend naturally, creating beautiful blooms and soft transitions of color.
Controlled washes: By layering controlled washes of different colors, you can gradually build up your composition and create depth. Experiment with various brush sizes and the amount of water and pigment to achieve different effects.
Remember to embrace the unpredictable nature of watercolor and allow yourself to explore different techniques freely. Play with textures, experiment with color combinations, and let your intuition guide you in creating visually captivating abstract watercolor paintings.
Planning and Executing Your Abstract Watercolor Painting
Planning is an essential step in creating impactful abstract watercolor paintings. In this section, we'll explore how to develop your concept and vision, create a strong composition, and guide you through the process of starting and refining your abstract artwork.
How to develop your concept and vision?
Developing a concept and vision is the foundation of any successful abstract painting. Here are some steps to help you find inspiration and bring your ideas to life:
Finding inspiration: Look for inspiration in various sources, such as nature, emotions, music, or other artwork. Take walks in natural settings, keep a sketchbook handy, and jot down ideas and impressions that resonate with you.
Sketching and experimenting: Use your sketchbook to explore different compositional ideas, thumbnail sketches, and color combinations. Play with shapes, lines, and textures to develop a visual language that aligns with your concept.
Defining the mood and visual elements: Consider the mood you want to convey in your abstract watercolor painting. Do you aim for tranquility, energy, or mystery? Identify the visual elements that will contribute to your desired atmosphere, such as color schemes, brushwork, or focal points.
By taking the time to develop your concept and vision, you can infuse deeper meaning and intention into your abstract watercolor painting.
How to create a strong abstract composition?
A well-executed composition is vital to the success of an abstract watercolor painting. Here are some key considerations to create a strong composition:
Balance: Seek balance in your composition by distributing elements, colors, and values evenly throughout the artwork. Avoid overwhelming one side of the painting with too much visual weight.
Contrast: Introduce contrast to create visual interest and guide the viewer's eye. Experiment with contrasting elements, such as light and dark values, warm and cool colors, or soft and hard edges.
Movement: Utilize lines, shapes, and brushstrokes to create a sense of movement and flow in your abstract composition. Allow the viewer's eye to travel smoothly and explore the different areas of your painting.
Focal points: Consider where you want to draw the viewer's attention. Identify focal points or areas of emphasis in your composition and use techniques such as color intensity, detailed brushwork, or contrasting elements to guide the eye towards them.
By applying these principles of balance, contrast, movement, and focal points, you can create visually engaging abstract watercolor compositions that captivate viewers.
How to start your abstract watercolor painting?
Once you have a clear concept and a well-planned composition, it's time to begin your abstract watercolor painting. Follow these steps to get started:
Choosing a focal point or starting point: Select a focal point or an area to start your painting. This could be a particular shape, color, or an area you find most intriguing in your composition. Starting with a focal point can help guide your decisions as you build the rest of the artwork.
Applying initial washes or layers: Begin by applying initial washes of color to establish the overall mood and atmosphere of your abstract painting. Use wet-on-wet or wet-on-dry techniques to create background washes or foundational layers.
Embracing spontaneity and improvisation: Abstract watercolor painting thrives on spontaneity and improvisation. Allow yourself to let go of strict control and embrace the fluidity of the medium. Follow your intuition and respond to the way the paint interacts with the paper as you layer and build your composition.
Remember, the beginning stages of your abstract watercolor painting set the groundwork for the rest of the artwork. Embrace the freedom and flexibility that abstract painting offers, and let your creativity unfold.
How to develop and refine your abstract watercolor painting?
As you progress with your abstract watercolor painting, it's important to continuously refine and develop the artwork. Here are some tips for this stage:
Gradually building up layers and adding details: Layering is a fundamental technique in watercolor painting. Gradually build up layers of color, allowing each layer to dry before adding the next. Add details, textures, and additional washes as the composition evolves.
Balancing color, value, and texture: Continually assess your painting's color balance, value range, and overall texture. Adjust the intensity of colors, create tonal variation, and incorporate various textures to enhance visual interest and depth.
Evaluating and adjusting the painting: Step back periodically to evaluate your painting's progress. Analyze the composition's strengths and areas that may need refinement or adjustments. Use techniques such as lifting, masking, or glazing to correct any mistakes or enhance specific areas.
Throughout this process, trust your instincts and allow your painting to evolve naturally. Abstract watercolor painting is a journey of exploration, so enjoy the creative process and be open to surprises and happy accidents along the way.
Finishing Touches and Presentation
The final touches and presentation of your abstract watercolor painting can greatly impact its overall impact and appeal. In this section, we'll discuss how to add those final details, properly dry and store your artwork, and explore presentation options to showcase your masterpiece.
How to add final touches and details to your painting?
Adding final touches and details can elevate your abstract watercolor painting to the next level. Here are some techniques and considerations to consider:
Incorporating line work and fine brushstrokes: Use a fine brush or a liner brush to add intricate line work, fine details, or delicate patterns to your painting. These details can create visual interest, define shapes, or provide a finishing touch to your composition.
Enhancing texture and contrast: Experiment with various texturing techniques to add depth and dimension to your artwork. Dry brushing, splattering, or scraping techniques can create interesting textures and enhance contrast within your painting.
Creating focal points and adding visual interest: Identify areas within your composition that can benefit from additional emphasis. Intensify colors, enhance details, or add bold brushstrokes to create focal points and draw the viewer's attention.
Remember to exercise restraint and balance when adding final touches. Aim for a cohesive composition where the details enhance the overall impact of the artwork without overwhelming it.
How to properly dry and store your abstract watercolor painting?
Properly drying and storing your abstract watercolor painting is crucial to preserve its quality and longevity. Follow these steps to ensure your artwork remains in pristine condition:
Drying time: Allow your watercolor painting to dry completely before handling or storing it. The drying time can vary depending on the thickness of the paint and the humidity of your environment. It's recommended to wait at least 24 hours or more.
Avoiding smudging: To prevent smudging, carefully place a clean, flat surface, such as a clean piece of cardboard, on top of your dried painting before transporting or storing it. This protects the surface from accidental contact or rubbing.
Fixatives or varnishes: Consider using a fixative or varnish specifically formulated for watercolor paintings to protect your artwork from dust, UV rays, and moisture. Follow the manufacturer's instructions for application, ensuring proper ventilation.
Storing your painting: Store your watercolor painting in a cool, dry place away from direct sunlight and extreme temperature fluctuations. Ideally, use acid-free protective sleeves or store them in a portfolio or flat storage box to prevent damage.
By following these steps, you can ensure the longevity and preservation of your abstract watercolor masterpiece.
Proper framing and display options for watercolor artwork
Choosing the right framing and display options can enhance the presentation of your abstract watercolor painting. Consider the following tips:
Matting and framing: Matting your watercolor painting provides a visual border and separation between the artwork and the frame. Select acid-free mats to protect the painting from discoloration. Choose a frame that complements the style and colors of your artwork.
Glass or Plexiglas: When framing, use UV-resistant glass or Plexiglas to protect your painting from harmful UV rays. This helps prevent fading and preserves the vibrancy of the colors. Ensure the glass or Plexiglas does not come into direct contact with the surface of the painting.
Alternative display options: If you prefer a more contemporary or casual display, consider mounting your watercolor painting on a cradled wood panel or canvas. This provides a frameless, modern look and allows the artwork to be displayed without glass.
When framing or displaying your artwork, consult with a professional framer or follow industry guidelines to ensure proper preservation and presentation.
conclusion
Abstract watercolor painting offers a world of endless creativity and expression. By selecting the right materials, mastering various techniques, planning your composition, and adding those final touches, you can create captivating and meaningful abstract watercolor artworks. Remember to embrace experimentation, enjoy the process, and let your imagination flow freely as you explore the limitless possibilities of abstract watercolor painting.