How To Paint Louvered Closet Doors
Welcome to the ultimate guide on transforming your louvered closet doors into stunning focal points that add a touch of elegance to your living space. Louvered doors, with their stylish slats, not only offer functionality but also provide a beautiful visual appeal. However, as time goes by, the once-pristine appearance of these doors may fade or become outdated, prompting the need for a fresh makeover.
In this comprehensive article, we will take you through the step-by-step process of painting your louvered closet doors to achieve a professional finish. From assessing the doors' condition and selecting the perfect paint and tools to mastering various application techniques, we've got you covered.
Beyond the basics, we'll dive into the nuances of painting tricky areas and share creative ideas to elevate your project to the next level. Whether you're a seasoned DIY enthusiast or a beginner, this guide will provide you with practical tips, actionable examples, and expert advice to ensure your painting venture is a resounding success.
So, roll up your sleeves and embark on this exciting painting journey that will breathe new life into your louvered closet doors and revitalize your living space. Let's get started!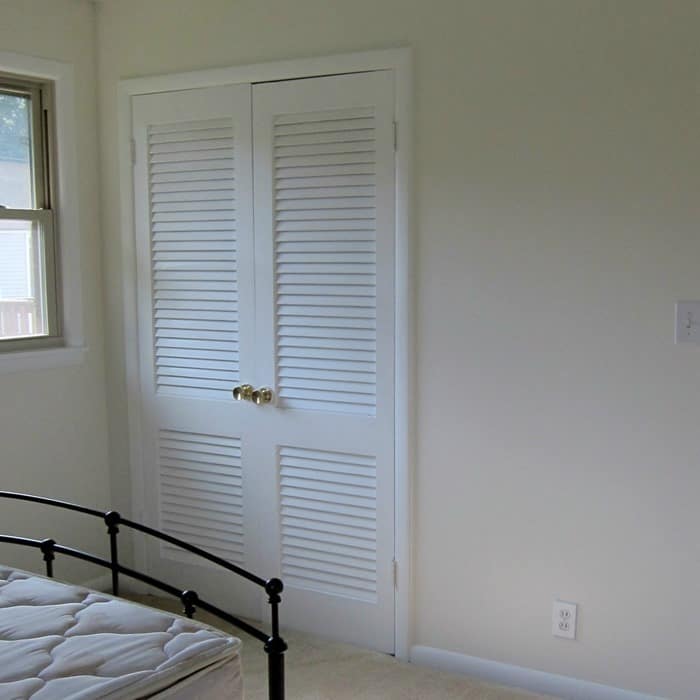 I. Preparing the Louvered Closet Doors for Painting
Before you embark on your painting journey, it's crucial to ensure that the louvers are in optimal condition. Start by carefully assessing the doors to identify any damages or imperfections that might require special attention. Inspect for cracks, chips, or loose slats that might need repair.
Once you've evaluated the state of the doors, it's time to get them ready for the paint application. Cleaning is the first step, and it involves removing any dust, grime, or residue that may have accumulated over time. Use a mild detergent and warm water to clean the doors thoroughly. After cleaning, allow them to dry completely before proceeding.
To achieve a smooth and even paint finish, removing any hardware or accessories attached to the doors is essential. Take off doorknobs, hinges, and other fittings to avoid any obstacles during the painting process.
Finally, smooth out the surface by sanding the doors. This step helps in enhancing paint adhesion and creating a polished appearance. Use a fine-grit sandpaper and work gently on the louvers, being careful not to damage the wood.
II. Selecting the Right Paint and Tools
Choosing the appropriate paint and tools is crucial to achieving a professional-looking finish. Consider the type of paint that suits your project best. Latex paint is a popular choice for louvered doors due to its quick drying time and easy cleanup. However, if you're dealing with unfinished wood, oil-based paint might provide better protection.
When it comes to colors, the options are limitless. Opt for a shade that complements your room's decor or go for a bold statement with contrasting colors. Always take the time to get samples and test them on a small section of the door before committing to a full coat.
Equally important is gathering the necessary tools for the painting process. Depending on your preference and the door's design, you can choose between using a paintbrush, spray gun, or paint roller. Each method has its advantages, so pick the one that aligns with your skills and desired results.
Using a primer before applying the paint can significantly improve the final outcome. Primer provides an extra layer of adhesion, helps cover imperfections, and enhances the paint's durability. Don't skip this step if you want a long-lasting and professional finish.
III. Setting Up a Suitable Workspace
Creating an optimal workspace is essential to ensure a smooth and hassle-free painting experience. Find a well-ventilated area with adequate lighting to work comfortably. Painting in a well-ventilated space prevents fumes from accumulating and ensures that your paint dries properly.
To protect the floor and surrounding areas from accidental spills or drips, lay down drop cloths or old newspapers. This will save you time and effort in cleaning up any mess.
IV. Applying Paint to Louvered Closet Doors
Now comes the exciting part – applying paint to your louvered closet doors. The technique you choose will largely depend on your preferences and the desired outcome.
A. Understanding the Brush Technique
Using a paintbrush provides precision and control over the application process. Dip the brush into the paint and remove excess paint on the side of the can. Apply smooth, even strokes along the grain of the wood. Start with the edges and corners, then move on to the louvers, ensuring complete coverage.
B. Employing the Spray Method
Using a paint sprayer can save time and deliver a smooth, even coat of paint. It is essential to practice using the sprayer on a test surface before applying it to the doors. Maintain a consistent distance from the doors to achieve uniform coverage.
C. Utilizing a Paint Roller
A paint roller is an excellent option for large, flat surfaces. Use a roller with a low nap to avoid excessive texture on the doors. Roll the paint on the doors in long, even strokes to create a seamless finish.
D. Ensuring Even Coverage
Regardless of the method you choose, ensure that you apply the paint evenly to avoid drips or streaks. Be patient and take your time to get the best results. Apply multiple thin coats rather than one thick coat to prevent the paint from running or sagging.
V. Handling Tricky Areas
Louvered closet doors come with their own set of challenges when it comes to painting. Addressing these tricky areas with care will help you achieve a flawless finish.
A. Painting the Louver Slats
Painting the individual slats can be time-consuming, but the effort is worth it for a professional look. Use a smaller brush or a foam brush to reach between the slats and ensure complete coverage.
B. Dealing with Hinges and Hardware
When painting around hinges and hardware, use painter's tape to protect these areas from accidental paint splatter. Take your time to work carefully around these parts, ensuring a neat and tidy appearance.
C. Addressing Hard-to-Reach Spots
Some areas may be hard to access with standard painting tools. Consider using a small paintbrush or sponge brush to reach tight spots and ensure all areas receive proper coverage.
---
Note: The following sections will provide creative ideas to add depth to your painted louvered doors. The sections are optional, but they can help elevate the overall look of your project.
VI. Tips for a Professional Finish
Achieving a professional finish requires attention to detail and some essential tips and tricks.
A. Applying Multiple Coats
Applying multiple thin coats of paint is key to a durable and long-lasting finish. Each coat should be allowed to dry completely before applying the next one. This process helps to build up the color and creates a smooth surface.
B. Allowing Sufficient Drying Time
Patience is crucial when painting louvered doors. Allow ample time for each coat to dry before handling the doors or applying the next layer of paint. Rushing can lead to smudges and imperfections in the finish.
C. Sanding Between Coats
Sanding between coats can help to achieve an ultra-smooth surface. Use a fine-grit sandpaper to lightly sand the surface before applying the next coat of paint. This process removes any imperfections and promotes better adhesion of the paint.
D. Avoiding Common Painting Mistakes
Avoiding common painting mistakes can save you time and frustration. Some of these mistakes include painting in direct sunlight, overloading your brush or roller with paint, and neglecting to stir the paint thoroughly before use.
VII. Adding Creative Touches
Customizing your louvered doors can take your project to the next level. Here are some ideas to get you started:
A. Stenciling Designs on Louvered Doors
Stenciling adds personality and uniqueness to your doors. Choose a stencil pattern that complements your room's decor and apply it to the doors using a contrasting or complementary color.
B. Creating Distressed or Vintage Look
For a rustic or vintage appearance, consider distressing the painted doors. This technique involves sanding or lightly scraping off some of the paint to reveal the wood underneath, giving it a charming, aged look.
C. Experimenting with Different Finishes
Try experimenting with different paint finishes, such as matte, satin, or gloss, to achieve various effects. Each finish brings its own character to the doors, making them a standout feature in your room.
VIII. Caring for Painted Louvered Closet Doors
Congratulations, your louvered doors have received a fresh makeover! To ensure they stay beautiful and vibrant for years to come, follow these care tips:
A. Regular Cleaning and Maintenance
Dust your painted doors regularly with a soft, dry cloth or a duster. Avoid using abrasive cleaners or harsh chemicals that might damage the paint or wood.
B. Touching Up Scratches and Chips
Accidents happen, and scratches or chips in the paint may occur over time. Keep some of the leftover paint handy to touch up any imperfections as needed.
C. Protecting Against Moisture and Humidity
If your louvered doors are installed in areas prone to high humidity, such as bathrooms or kitchens, consider adding a protective sealant to prevent moisture damage.
---
Conclusion:
In conclusion, painting louvered closet doors can be a rewarding and enjoyable project that transforms the look of your space. With proper preparation, the right tools and paint, and attention to detail, you can achieve a professional finish that complements your room's decor and style. Don't be afraid to get creative with stencils, distressed finishes, or experimenting with different paint types to add your personal touch to the doors.
Remember to take your time and allow each coat of paint to dry thoroughly for the best results. Regular maintenance and care will keep your painted doors looking fresh and vibrant for years to come, making them a standout feature in your home. So, gather your materials, put on your painting apron, and get ready to breathe new life into your louvered closet doors!