How To Paint Porcelain Sink
Is your once-pristine porcelain sink looking a little lackluster? Are you dreaming of adding a splash of color to your kitchen or bathroom? If so, painting your porcelain sink could be the creative solution you've been searching for. Transforming a tired sink into a focal point of beauty is not only satisfying but also surprisingly simple with the right approach.
In this comprehensive guide, we will take you on a journey through the art of painting a porcelain sink. From choosing the perfect paint type to mastering the application technique, we'll leave no stone unturned. With a little preparation, a touch of creativity, and a sprinkle of patience, you'll soon have a sink that stands out as a masterpiece in your home.
As we delve into the depths of this step-by-step tutorial, you'll discover the secrets to selecting the ideal paint, preparing the surface for a flawless finish, and maintaining the brilliance of your painted sink. Whether you're a seasoned DIY enthusiast or just getting started, this guide will equip you with all the knowledge you need to embark on this enchanting project. So, grab your paintbrush and let's paint a new chapter in your home decor story!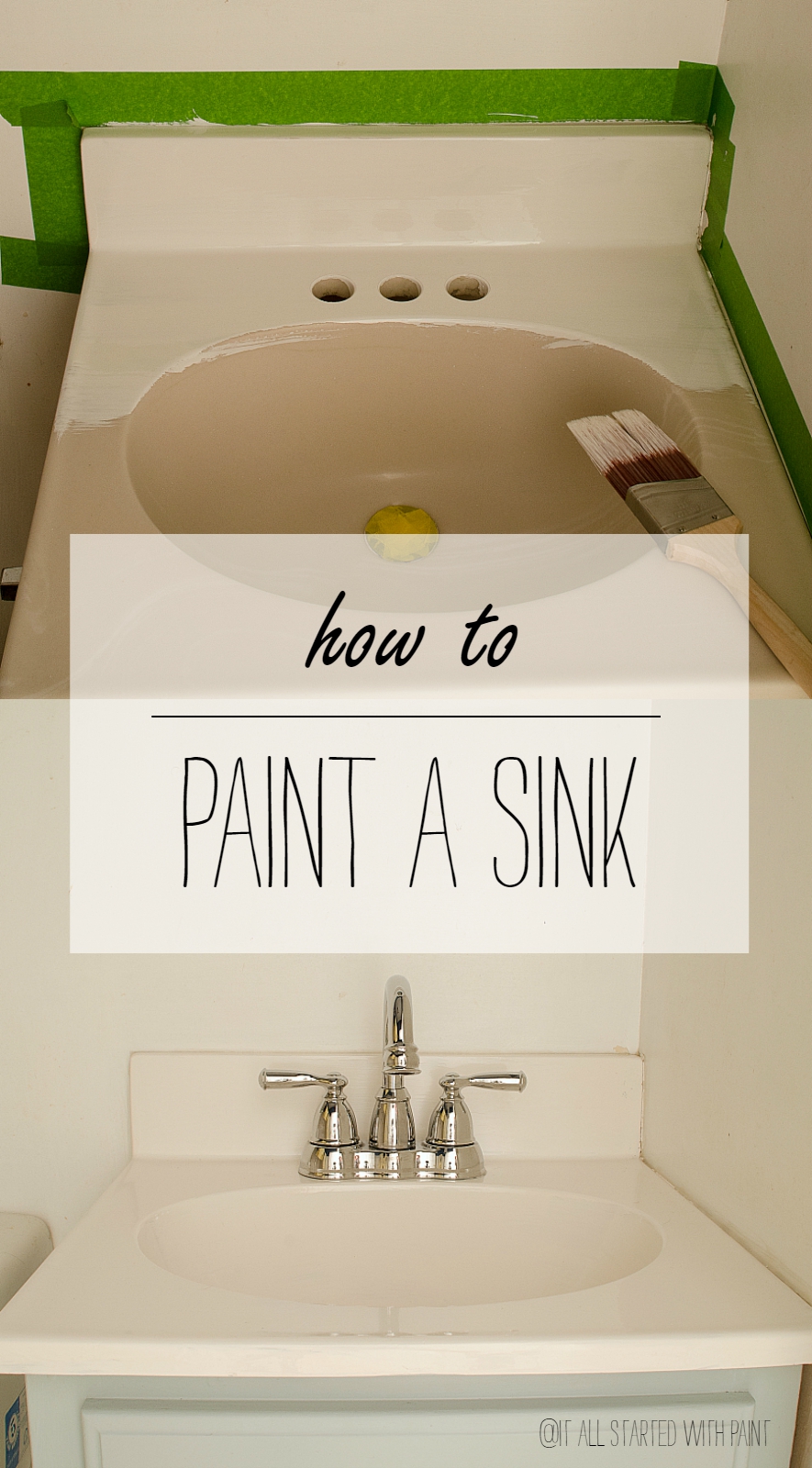 Choosing the Right Paint for a Porcelain Sink
Painting a porcelain sink requires the right type of paint to ensure longevity and durability. You'll encounter different paint types, including epoxy, acrylic, and enamel. Each type has its unique attributes, making the selection process crucial.
| Type of Paint | Heat Resistance | Waterproofing Properties |
| --- | --- | --- |
| Epoxy | High | Excellent |
| Acrylic | Moderate | Good |
| Enamel | Low | Fair |
Epoxy paint offers superior heat resistance, making it ideal for kitchen sinks exposed to hot pots and pans. Its exceptional waterproofing properties ensure your painted sink remains spotless even with regular water splashes.
Acrylic paint is a popular choice for bathroom sinks as it provides good heat resistance and adequate waterproofing properties. It's also available in a wide range of colors, giving you more options to match your decor.
Enamel paint is suitable for sinks with minimal exposure to heat and moisture. While it may not withstand the demands of a kitchen, it can work wonders for a decorative bathroom sink.
Preparing the Sink for Painting
Before diving into the world of colors, preparing your porcelain sink is essential for a successful painting venture.
1. Cleaning: Removing Stains and Residues
Begin by giving your sink a thorough cleaning to remove any dirt, soap scum, or mineral deposits that might affect the paint's adhesion. Use a gentle, non-abrasive cleaner and a soft sponge to avoid scratching the surface. Rinse the sink thoroughly and dry it completely.
2. Sanding: Smoothing the Surface
Sanding the sink surface helps create a rough texture, allowing the paint to adhere better. Choose a fine-grit sandpaper and work in circular motions. Be patient and meticulous, as this step will lay the foundation for a smooth and long-lasting finish.
3. Priming: Enhancing Adhesion
Priming is a crucial step that ensures the paint adheres firmly to the porcelain surface. Use a high-quality bonding primer specifically designed for porcelain. Apply a thin and even coat of primer, allowing it to dry completely before moving on to the next step.
Applying Paint to the Porcelain Sink
With your sink now prepped and primed, it's time to unleash your creativity and start painting!
Brushing vs. Spraying: Pros and Cons
You have two main options for applying paint to your sink – brushing and spraying.
| Method | Pros | Cons |
| --- | --- | --- |
| Brushing | Better control over application | Visible brushstrokes |
| Spraying | Smooth and even finish | Requires proper equipment |
Tip: If you opt for brushing, use a high-quality synthetic brush to minimize visible brush marks.
Number of Coats: Achieving the Perfect Coverage
The number of paint coats depends on the desired color intensity and coverage. While some paints may require only one coat, others may need two or even three for full coverage. Allow each coat to dry completely before applying the next.
Paint Application Tips: Your Masterpiece Awaits!
Achieving a smooth and flawless finish requires finesse and attention to detail. Here are some practical tips for a successful paint application:
Avoiding Drips and Runs: Apply the paint in thin, even layers to prevent drips and runs that can mar the finish.
Ensuring Even Application: Maintain a consistent pressure while brushing or spraying to ensure an even distribution of paint.
Curing and Sealing the Painted Porcelain Sink
Congratulations! You've completed the painting process. Now, it's time to let the paint cure and provide additional protection.
Curing Time: Patience Is a Virtue
Allow the paint to cure fully before using your sink. Follow the manufacturer's instructions regarding curing time, which typically ranges from a few days to a week. This patience will reward you with a durable and long-lasting painted sink.
Sealant Application: Adding the Finishing Touch
To enhance the paint's durability and resistance to water and stains, apply a clear sealant over the painted surface. Choose a sealant specifically formulated for painted porcelain and follow the application instructions carefully.
Maintaining a Painted Porcelain Sink
A beautifully painted porcelain sink deserves proper care and maintenance to preserve its stunning appearance.
Cleaning Tips: Treat Your Sink with Care
To keep your painted sink looking fresh and vibrant, follow these cleaning tips:
Use Non-Abrasive Cleaners: Opt for mild, non-abrasive cleaners to avoid damaging the painted surface.
Avoid Harsh Chemicals: Steer clear of harsh chemicals that can strip the paint and compromise its longevity.
Avoiding Scratches: Gentle Handling Is Key
Prevent scratches and chips on your painted sink by:
Using Soft Sponges and Cloths: Employ soft sponges or microfiber cloths when cleaning to minimize the risk of scratching.
Taking Precautions with Heavy Objects: Be mindful when handling heavy pots or pans to prevent accidental impact.
Troubleshooting and Fixes
Sometimes, despite all your efforts, issues may arise with your painted sink. Here's how to tackle common problems:
Chipping or Peeling Paint: Aesthetic Disasters
If you notice chipping or peeling paint, take swift action:
Identifying the Causes: Assess the underlying reasons, such as inadequate surface preparation or using the wrong type of paint.
Repairing Chipped or Peeling Areas: Sand the affected areas lightly, reapply primer, and repaint the affected spots for a seamless finish.
Discoloration or Yellowing: A Fading Glow
To address discoloration or yellowing:
Understanding the Reason: Identify the cause, which may include prolonged exposure to sunlight or the use of incompatible cleaning agents.
Remedies for Discoloration: Apply a fresh coat of paint to rejuvenate the sink or consider using sink covers or decals to conceal the blemishes.
Alternative Methods: Sink Covers and Decals
If painting isn't your cup of tea, explore alternative ways to beautify your sink:
Sink Covers: Versatile and Decorative
Sink covers offer a practical and decorative solution to upgrade your sink:
Different Types and Materials: Choose from wooden, stainless steel, or ceramic sink covers, each with its unique charm.
Installation Process: Easily install sink covers that rest atop the sink or ones that fit snugly within the basin.
Sink Decals: A Dash of Elegance
Embrace creativity with sink decals that add charm and character:
Choosing Designs and Patterns: Select from a variety of decals, from floral motifs to geometric patterns, to suit your style.
Applying Decals Properly: Ensure a smooth and bubble-free application by following the provided instructions.
Conclusion
Transforming your old and weary porcelain sink into a captivating centerpiece is an exciting project that combines creativity and practicality. With the right paint and proper preparation, you can achieve a stunning result that will elevate the overall aesthetics of your kitchen or bathroom. Remember to invest time in the preparation process, apply the paint with finesse, and seal it for lasting beauty. With proper maintenance, your painted porcelain sink will continue to impress for years to come. Happy painting!