How To Set Grease Face Paint?
Are you ready to take your face painting skills to the next level? Setting grease face paint is the secret ingredient to achieving stunning and long-lasting designs that leave a lasting impression. Whether you're preparing for a costume party, theatrical performance, or simply exploring your creative side, knowing how to properly set grease face paint is essential for a flawless and durable finish.
In this comprehensive guide, we will delve into the world of setting grease face paint, uncovering the techniques, tips, and tricks that will elevate your face painting game. From understanding the unique properties of grease face paint to mastering the art of setting it for extended wear, we've got you covered.
Discover the step-by-step process of setting grease face paint, including preparing the skin, selecting the right tools, blending colors, and choosing the ideal setting methods. Unleash your creativity, experiment with various designs, and stun your audience with mesmerizing looks that last all day or night.
Get ready to dive into the world of grease face paint and unlock the secrets to achieving professional-grade results. Let's embark on this artistic journey together and set the stage for incredible face painting creations!
Note: While grease face paint is a popular choice for face painting, please ensure that you are using high-quality and non-toxic products suitable for cosmetic use. Always follow the manufacturer's instructions and perform a patch test if you have sensitive skin.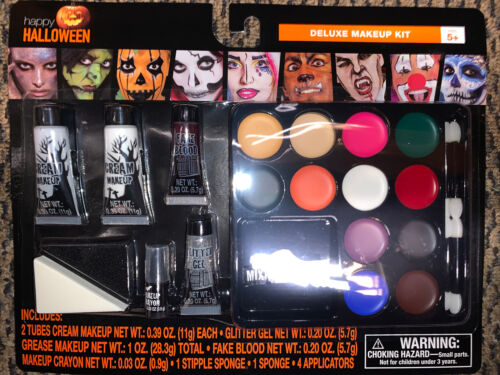 Understanding Grease Face Paint and Its Benefits
Before diving into the setting process, let's first understand what grease face paint is and why it's a popular choice among face painters and makeup enthusiasts. Grease face paint, also known as oil-based or cream-based face paint, is a type of cosmetic product that uses oils, waxes, and pigments to create vibrant and opaque colors. Unlike water-based face paints, grease face paint provides excellent coverage and is ideal for creating intricate designs and details.
What is Grease Face Paint?
Grease face paint consists of a creamy consistency that allows for smooth application and easy blending. It is highly pigmented, providing bold and vibrant colors that stand out. Grease face paint typically comes in pans or sticks, making it convenient for both professional artists and beginners alike.
Advantages of Using Grease Face Paint
There are several advantages to using grease face paint:
Long-lasting: Grease face paint has excellent staying power and is resistant to smudging and fading, making it ideal for extended wear.
Opaque Coverage: It provides opaque coverage, allowing you to achieve vibrant colors even on darker skin tones.
Versatility: Grease face paint can be used for a variety of designs, ranging from simple face painting to intricate theatrical makeup.
Blending and Layering: Due to its creamy texture, grease face paint is easy to blend and layer, enabling you to create depth and dimension in your designs.
Popular Applications of Grease Face Paint
Grease face paint is widely used for various occasions and events, including:
Halloween: It's perfect for creating spooky and elaborate Halloween makeup looks, such as zombies, vampires, or fantasy creatures.
Theatrical Performances: Grease face paint is a staple in theater and stage productions, allowing actors to transform into their characters with precision.
Cosplay: It's a favorite among cosplayers who want to accurately recreate the appearance of their beloved characters.
Now that we have a better understanding of grease face paint, let's dive into the process of setting it for long-lasting wear.
Part 2: Preparing the Skin for Grease Face Paint Application
Before applying grease face paint, it's crucial to properly prepare the skin to ensure a smooth and flawless finish. Follow these steps to create the perfect canvas for your face paint:
Cleansing and Moisturizing the Skin
Start by cleansing your face with a gentle facial cleanser to remove any dirt, oil, or makeup residue. Pat your skin dry with a clean towel. Next, apply a light moisturizer to hydrate the skin and create a smooth base for the face paint. Allow the moisturizer to fully absorb before proceeding with the application.
Creating a Smooth and Even Base
To achieve a flawless application of grease face paint, it's important to create a smooth and even base. Use a primer specifically designed for use with grease face paint. Apply a thin layer of primer to your face, focusing on areas where you'll be applying the face paint. The primer helps the face paint adhere better to the skin, prolonging its wear time.
Allergies and Skin Sensitivities: Patch Test
If you're using grease face paint for the first time or have known allergies or sensitivities, it's essential to perform a patch test before applying it to your entire face. Choose a small, inconspicuous area of your skin, such as the inner forearm or behind the ear. Apply a small amount of the face paint and wait for 24 hours to check for any adverse reactions. If you experience any redness, itching, or irritation, do not proceed with using the face paint.
Now that your skin is properly prepped, you're ready to dive into the exciting world of grease face paint application. Continue reading to learn the techniques and tips for achieving stunning designs with grease face paint.
Part 3: Applying Grease Face Paint
Now that you have prepared your skin, it's time to unleash your creativity and apply the grease face paint. Follow these techniques and tips for achieving stunning designs:
Choosing the Right Brushes and Tools
Selecting the appropriate brushes and tools is crucial for achieving precise and detailed designs with grease face paint. Consider the following options:
Flat Brushes: These brushes are ideal for covering larger areas and creating a smooth base layer of face paint.
Round Brushes: Round brushes are perfect for outlining and adding intricate details to your designs.
Sponges: Sponges can be used for blending colors, creating gradients, or applying face paint to larger areas quickly.
Experiment with different brush sizes and sponge textures to find the tools that work best for your desired designs.
Layering Techniques for Complex Designs
Grease face paint allows you to layer colors for more intricate and detailed designs. Start by applying a base color using a flat brush or sponge. Allow the base layer to dry before adding additional colors or details. Layering different shades of paint can create depth and dimension in your designs. Use smaller brushes or sponges to add fine lines, highlights, and shadows.
Blending and Smudging for Transitions and Effects
To create seamless transitions between colors or to achieve specific effects, such as shading or highlighting, you can use blending and smudging techniques. Use a clean brush or sponge to blend two or more colors together, creating a smooth transition. Additionally, you can use your fingertips or a clean sponge to smudge the edges of the face paint for a softer, more natural look.
Remember to work patiently and allow each layer to dry before applying the next. This will prevent smudging and ensure the longevity of your designs. Now, let's move on to the crucial step of setting the grease face paint for long-lasting wear.
Part 4: Setting Grease Face Paint for Long-lasting Wear
To ensure that your grease face paint stays in place and maintains its vibrant colors throughout the day or night, proper setting is essential. Follow these steps to set your grease face paint for long-lasting wear:
Powder vs. Sealer: Understanding the Options
When it comes to setting grease face paint, you have two main options: using powder or using a sealer. Let's explore each option:
Powder: Setting the face paint with a translucent powder helps absorb excess oils and prevents smudging. Use a clean, fluffy brush or a powder puff to lightly apply the powder over the face paint. Gently press the powder onto the painted areas, ensuring even coverage. Wait a few minutes for the powder to set before gently dusting off any excess.
Sealer: A face paint sealer is specifically designed to lock in the colors and provide a protective barrier. Apply the sealer over the dry face paint using a clean brush or sponge. Allow the sealer to dry completely before touching or applying additional layers. A sealer is particularly useful for designs that require added durability and waterproof properties.
Setting with Translucent Powder
Translucent powder is a popular choice for setting grease face paint. Here's how to set your face paint using this method:
Ensure that the face paint is dry and fully set before applying translucent powder.
Dip a clean, fluffy brush into the translucent powder, tapping off any excess.
Gently press the brush onto the painted areas, starting from the center and working your way outwards.
Continue applying the powder until you achieve an even and matte finish.
Allow the powder to set for a few minutes before lightly dusting off any excess using a clean brush or a powder puff.
Setting with Setting Spray or Sealer
If you prefer using a sealer to set your grease face paint, follow these steps:
Ensure that the face paint is completely dry before applying the sealer.
Shake the sealer bottle well to mix the product.
Apply a thin, even layer of sealer over the painted areas using a clean brush or sponge.
Allow the sealer to dry completely before touching or applying additional layers.
If desired, you can apply additional coats of sealer for added durability.
Setting your grease face paint not only enhances its longevity but also helps protect it from smudging, fading, or transferring onto clothing or other surfaces. Now that your face paint is set, let's move on to the final section on ensuring comfort and safety.
Part 5: Ensuring Comfort and Safety
While having fun with grease face paint, it's important to prioritize comfort and safety. Follow these guidelines to ensure a pleasant and safe experience:
Avoiding Contact with Eyes, Nose, and Mouth
When applying grease face paint, be cautious to avoid contact with sensitive areas such as the eyes, nose, and mouth. These areas are more prone to irritation or discomfort. Use precision brushes or sponges for detailed work near these areas, and if necessary, use a barrier cream or petroleum jelly to create a protective barrier.
Removing Grease Face Paint Properly
After enjoying your event or performance, it's essential to remove grease face paint properly to prevent skin irritation or clogged pores. Follow these steps for safe removal:
Use a gentle cleanser or makeup remover specifically designed for grease or oil-based makeup.
Apply the cleanser to a cotton pad or soft cloth and gently wipe away the face paint.
Rinse the face with warm water and pat dry with a clean towel.
Follow up with your regular skincare routine, including moisturizing to replenish hydration.
Hygiene and Sanitation Practices
Maintaining hygiene and sanitation is important when working with grease face paint, especially if you are using the paint on multiple people. Follow these practices to prevent cross-contamination:
Use clean brushes, sponges, and tools for each person or thoroughly clean them between uses.
Avoid double-dipping brushes or sponges into the face paint to prevent the spread of bacteria.
If using multiple colors, scoop out a small amount onto a clean palette or disposable surface to avoid contaminating the entire paint container.
By following these safety measures, you can ensure a comfortable and enjoyable experience when using grease face paint. Now that you're equipped with all the knowledge, it's time to let your creativity shine!
Conclusion
Setting grease face paint is the key to achieving long-lasting, vibrant designs that withstand the test of time. By properly preparing the skin, applying the face paint with precision, and setting it for durability, you can create stunning looks for various occasions. Remember to prioritize comfort, safety, and hygiene throughout the process.
Now, it's time to unleash your artistic skills, experiment with different colors and techniques, and have a blast with your grease face paint creations. Let your imagination soar and enjoy the incredible world of face painting!