Dive into a world where colors dance at the tip of your fingers and imagination finds its voice. Imagine wielding a pen that's not just a tool but a key to unlocking a canvas of boundless creativity. Welcome to the captivating realm of paint pens. These unassuming markers are a gateway to a universe of artistic expression, where precision meets vibrancy and every stroke tells a story.
Whether you're an aspiring artist or a seasoned creator, paint pens offer a unique blend of versatility and control. With a smooth flow of paint in place of conventional ink, these pens empower you to add depth, detail, and vividness to your creations. From delicate lines that breathe life into your sketches to bold strokes that make a statement on canvas, the possibilities are as limitless as your imagination.
In this guide, we'll unravel the secrets of using paint pens effectively. We'll explore techniques that infuse life into your strokes, surfaces that eagerly await your touch, and tips that transform novices into maestros. So, if you're ready to embark on a journey where colors come alive and stories unfold with every stroke, let's delve into the enchanting world of paint pens.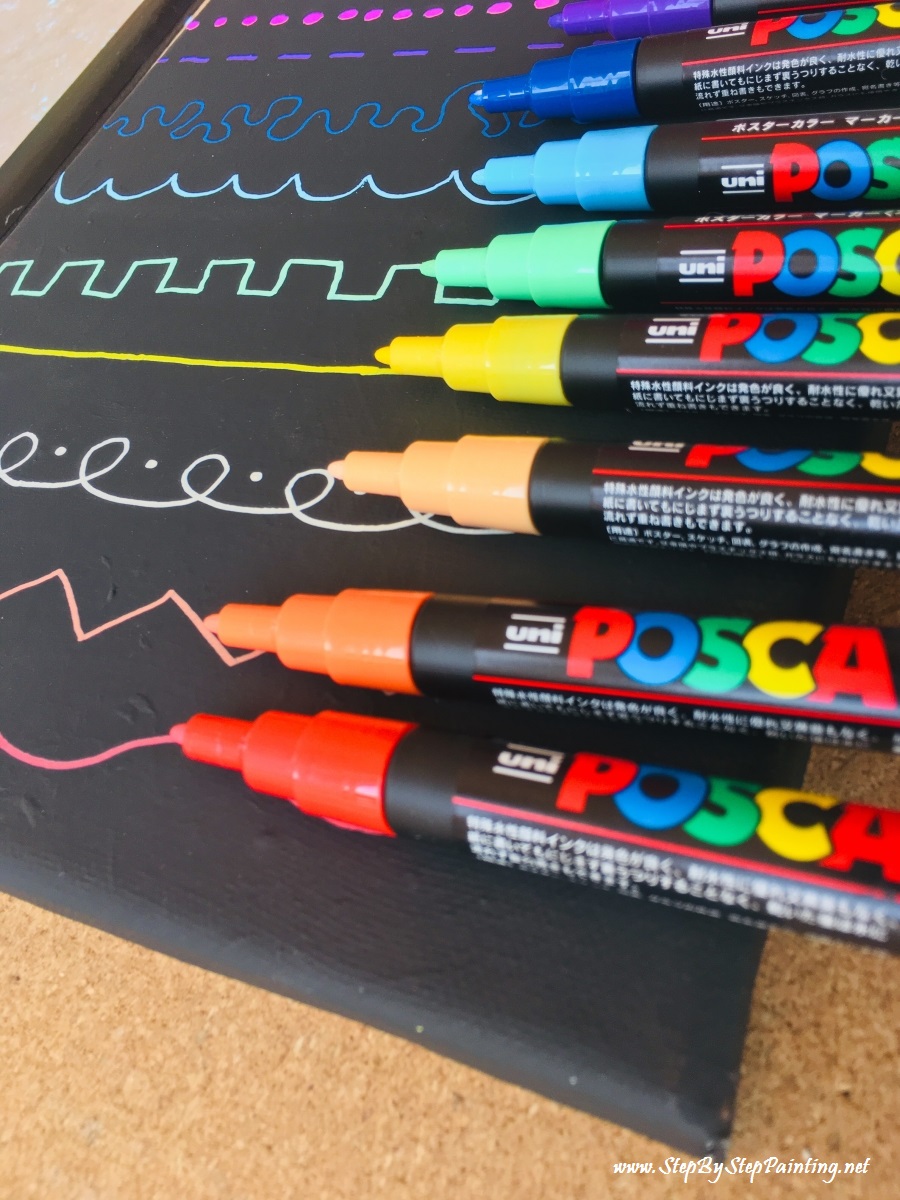 What Are Paint Pens?
Picture this: a marker that's not just ink, but a flow of colorful paint that comes alive under your command. Paint pens are precisely that, offering a seamless bridge between drawing and painting. Their versatile nature allows artists, both beginners and experts, to wield a brush with the precision of a pen, making them perfect for intricate details and bold strokes alike.
Getting Started with Paint Pens
Embarking on your paint pen journey requires a few important steps. Let's unravel the canvas of knowledge, starting with the essential question:
Choosing the Right Paint Pens
The world of paint pens sprawls across a spectrum of brands, tip sizes, and pigment densities. This choice will often define the character of your creation. High-quality pens ensure vibrant colors and smoother application, allowing your imagination to flow unhindered onto the canvas.
But wait, it's not just about colors and flow. The type of surface you're planning to adorn is another piece of the puzzle. Paper, wood, glass, and fabrics – each comes with its own set of demands. For instance, pens designed for fabric might require a different ink composition to ensure longevity after washes. So, before you dive in, consider the surface and the kind of masterpiece you're envisioning.
Gathering Necessary Materials
A true artist is always prepared. Your palette extends beyond the paint pens themselves. Depending on the surface, you might need primers or sealers to create the perfect backdrop for your artistry. For instance, wood might necessitate a primer to prevent the paint from soaking in unevenly. These preliminary steps lay the foundation for your creative symphony.
Preparing for Your Project
Before your brush meets the canvas (or glass or fabric), a few preparatory steps are in order. Let's uncover these foundational stages:
Selecting Your Design
Ah, the blank canvas, the intimidating void waiting to be transformed. It's essential to have a rough idea of your design before you begin. This doesn't mean you need to stick to a rigid plan – creativity thrives on spontaneity. However, having a loose sketch or image in mind will guide your strokes and help you visualize the final masterpiece.
Setting Up Your Workspace
The ambiance you create is just as crucial as the strokes you make. Adequate lighting ensures you can see the subtle variations in color and texture. A well-ventilated space is essential, especially if you're working with solvent-based pens. But remember, while creativity can get messy, your attire doesn't have to reflect that. Consider wearing clothes that can handle a few unexpected splatters.
With your design ready and workspace prepped, you're ready to dive into the world of paint pen artistry.
Using Paint Pens Effectively
Now that you've set the stage, it's time to pick up those paint pens and bring your imagination to life. Let's unravel the techniques that will add depth, vibrancy, and intrigue to your creations:
Basic Techniques: Lines, Dots, and Blending
Line Work:
Mastering line work is the cornerstone of paint pen artistry. Varying pressure allows you to create lines of different thicknesses. From delicate wisps to bold strokes, the pressure you apply determines the line's character.
Dots and Stippling:
Create gradients and patterns using the dot technique. By varying the spacing and concentration of dots, you can craft textures that mimic shading and depth.
Blending:
Paint pens aren't just for solid colors. Experiment with blending by layering hues. A light touch with one color over another creates beautiful transitions, adding dimension to your artwork.
Shading and Highlighting
Now that you've got the basics down, let's explore shading and highlighting techniques that will make your art pop:
Shading:
Shading adds depth and realism to your artwork. Gradually transitioning from dark to light using crosshatching or stippling techniques creates the illusion of three-dimensional forms.
Highlighting:
Highlighting accentuates the focal points of your artwork. Use lighter colors or white paint pens to simulate areas where light hits the surface. This contrast creates a captivating interplay of shadows and illumination.
Layering Colors: Beyond the Surface
The magic of paint pens lies in their ability to layer colors seamlessly. But remember, patience is key. Allow each layer to dry before adding another to prevent smudging. Experiment with layering to produce new shades and textures that elevate your artistry.
With these techniques under your belt, let's explore the diverse surfaces that serve as your canvas.
Tips for Different Surfaces
Your artistic endeavors aren't limited to a single medium. Paint pens transcend surfaces, lending their vibrancy to various materials. Let's journey through the terrain of possibilities:
Paper: Where Ideas Take Shape
Paper, the timeless canvas, welcomes paint pens with open arms. But not all paper is created equal. Opt for heavyweight or mixed-media paper to prevent bleed-through. This surface is perfect for experimenting with techniques like layering and shading. Remember, the paper's texture can influence the appearance of your strokes.
Wood and Fabric: Bringing Texture to Life
Wood and fabric introduce texture and dimension to your artwork. Prepare wood surfaces by sanding them lightly for optimal paint adhesion. As for fabric, ensure it's clean and dry before you begin. After your creation is complete, seal the wood to preserve its integrity, and if you're designing fabric, heat-set the paint for lasting vibrancy.
Glass and Ceramic: Capturing Transparency
Glass and ceramic surfaces open doors to a world of transparency and luminance. When using paint pens on glass, clean the surface thoroughly to ensure adhesion. After your masterpiece is complete, consider curing methods like baking for permanence. As for ceramics, ensure the paint you use is heat-resistant if you plan to use the piece for functional purposes.
As we delve into the world of surfaces, remember that experimentation is your ally. The interplay between paint pens and different materials offers endless opportunities for creativity.
Fixing Mistakes and Adding Finishing Touches
Every artist encounters those moments when a stroke goes awry or a color doesn't quite blend as intended. Fear not, for in this section, we'll explore the art of redemption and the crowning glory of your creation:
Handling Mistakes with Grace
In the world of art, mistakes are mere stepping stones to brilliance. If you find an unintended stroke or a color that doesn't quite fit, consider incorporating it into your design. Sometimes, imperfections add a touch of authenticity and uniqueness to your work. And if the mistake truly doesn't belong, a touch of paint matching the background can often mask it effectively.
Cleaning the Pens for Seamless Strokes
The journey to artistry is accompanied by maintenance. Paint pen tips require regular cleaning to ensure the paint flows smoothly. After each use, wipe the tips with a damp cloth or use an appropriate cleaning solution if needed. Remember to cap your pens tightly to prevent them from drying out prematurely.
Sealing Your Artwork for Longevity
Your masterpiece is almost ready for the world to behold, but before that, consider sealing it. A clear sealant protects your creation from dust, moisture, and environmental factors. Choose a sealant compatible with your chosen surface. For instance, a UV-resistant spray works well for paper, while a fabric sealant ensures your fabric-painted pieces remain vivid even after washes.
Incorporating Other Mediums: The Magic of Mixed Media
Paint pens thrive in harmony with other artistic mediums. Acrylics, markers, and even colored pencils can enrich your creation. For instance, use acrylics to add texture or metallic markers to accentuate highlights. This layering of mediums introduces new dimensions and visual interest to your art.
Caring for Your Paint Pens
Your artistic journey doesn't end when the masterpiece is complete. To ensure your paint pens stand the test of time, consider these steps:
Proper Storage: Preserving Brilliance
After a productive painting session, store your paint pens horizontally. This prevents the paint from settling and drying out in one part of the pen. Airtight containers also help maintain ink flow consistency.
Reviving Dried Pens: A Second Chance at Brilliance
In the unfortunate event that a paint pen dries out, don't lose hope. Reviving dried pens is possible. One method involves gently shaking the pen, then pressing down on the tip to encourage the paint to flow. If this doesn't work, you can try dipping the tip in water to rehydrate the paint. However, exercise caution, as excessive water can dilute the pigments.
Conclusion
From choosing the right paint pens to adding the final touch of brilliance, your journey through the realm of paint pen artistry has been nothing short of enchanting. With techniques that bring depth, surfaces that tell stories, and care that preserves your tools, you're now equipped to embark on a world of creativity.
Remember, every stroke is a step forward, and every piece is a testament to your evolving skill. Whether you're a seasoned artist or just starting, paint pens offer a gateway to a world where your imagination knows no bounds. So, gather your tools, prepare your surfaces, and let your artistic spirit flow.
Embrace the burst of creativity, revel in the perplexity of new techniques, and let your artistry shine through every stroke of your paint pens. Your masterpiece awaits its moment in the spotlight.