What Colors Make Silver Paint
Silver paint possesses a captivating allure with its shimmering and metallic appearance, adding a touch of elegance to various artistic and decorative projects. But have you ever wondered what colors are actually used to create this stunning hue? In this article, we will explore the colors that make up silver paint and delve into the fascinating world of color mixing.
Silver is often associated with shades of gray, but the process of creating silver paint involves more than just mixing black and white. By understanding the underlying color theory and experimenting with different color components, you can achieve a wide range of unique silver tones.
We will dive into the art of color mixing, exploring techniques to create various shades of gray as the foundation for silver. Additionally, we'll uncover how the incorporation of other colors, such as blue or warm hues, can enhance and customize the silver paint to suit your artistic vision.
Whether you're a professional artist, a DIY enthusiast, or simply curious about the science of color, understanding the colors that make up silver paint opens up a world of creative possibilities. So, let's embark on this colorful journey and discover the secrets of creating captivating silver paint!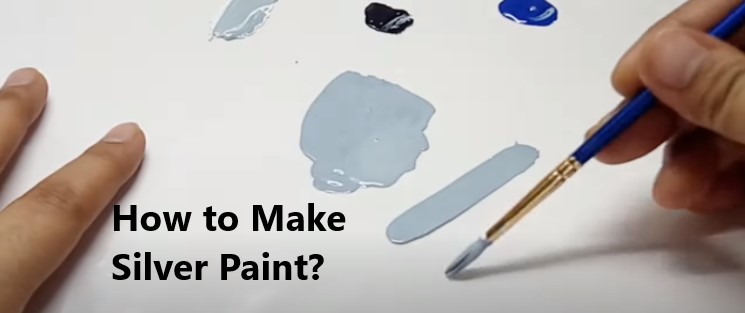 Understanding the Properties of Silver Paint
Silver paint possesses unique attributes that set it apart from other colors. Its primary characteristics include high reflectivity, a metallic appearance, and exceptional versatility. The reflectivity of silver paint gives surfaces a bright and mirror-like quality, while the metallic sheen adds depth and visual interest. These features make silver paint a popular choice for various applications, from artwork to home decor.
Exploring the Color Components of Silver
To understand the colors that make up silver paint, it's essential to delve into the underlying color theory. Silver is often associated with shades of gray, but there are other color components involved as well. By deconstructing the color, we can better comprehend how to create it.
When breaking down silver, we find that it consists of different tones of gray. Gray is an intermediate color between black and white, and by combining these two extremes, we can achieve various shades of gray. In the case of silver, the combination of dark and light grays is key.
Mixing Colors to Create Silver Paint
The process of creating silver paint involves mixing colors strategically to achieve the desired silver hue. While shades of gray are the foundation, other colors can be incorporated to enhance or modify the silver tone.
One approach is to mix black and white paint to create different shades of gray. By adjusting the ratios of black and white, you can experiment with a range of gray tones, from dark charcoal to light silver. This method provides a solid foundation for silver paint.
Another technique involves adding a touch of blue to the gray mixture to create a cool silver hue. Blue has a complementary relationship with orange-yellow on the color wheel, and incorporating it into the gray mixture introduces a cool undertone to the silver paint. Experimenting with different shades of blue can result in variations of cool silver, from a bluish-gray to a frosty metallic shade.
It's important to note that the intensity and specific shade of silver can be customized by adjusting the ratios of the colors in the mixture. This allows for endless possibilities and the ability to create unique silver tones to suit your preferences.
Enhancing Silver with Metallic Pigments
To achieve an authentic metallic shine in silver paint, the addition of metallic pigments is key. These pigments contain particles that reflect light, resulting in a dazzling metallic effect. Two common types of metallic pigments used to enhance silver paint are silver flake pigments and aluminum-based pigments.
Silver flake pigments consist of actual silver flakes suspended in a medium. When mixed into silver paint, they provide a genuine metallic shine. These pigments create a textured finish, adding depth and dimension to the silver color.
On the other hand, aluminum-based pigments consist of finely ground aluminum particles. They offer excellent reflectivity and are often used in silver paints to achieve a metallic appearance. Aluminum-based pigments can provide a smooth and reflective surface, giving the silver paint a polished and sleek look.
When using metallic pigments, it's important to follow the manufacturer's instructions regarding the proper ratio and mixing techniques. This ensures optimal results and the desired metallic effect in your silver paint.
Combining Metallic Pigments with Color Mixing Techniques
To take silver paint to the next level, you can experiment with combining metallic pigments with the color mixing techniques discussed earlier. By blending the metallic pigments with different shades of gray, you can create captivating silver variations.
For instance, adding silver flake pigments to a mid-tone gray paint mixture can produce a silver shade with a textured and sparkling finish. This combination creates an eye-catching effect that enhances the overall appearance of your silver paint.
Additionally, you can introduce other metallic additives to the silver paint mixture. For example, mica flakes or metallic glitters can be incorporated to add subtle texture and increase the visual impact of the silver paint. These additives can create a unique and personalized silver paint that stands out.
Remember to experiment with different ratios and techniques to find the perfect balance that achieves your desired silver effect. Each combination of metallic pigments and color mixing techniques will yield distinct results, allowing you to create a truly customized silver paint.
Customizing Silver Paint with Tinting Agents
While silver paint is traditionally associated with shades of gray, you can further customize it by incorporating tinting agents. Tinting agents introduce a hint of color to the silver paint, resulting in unique variations and enhancing the overall visual appeal.
For example, adding a touch of blue tint to silver paint can produce a cool silver shade with a hint of bluish undertones. This can be particularly effective when aiming for a frosty or icy silver appearance.
Moreover, warm colors like yellow, orange, or red can be introduced to the silver paint mixture to create golden or bronze tinted silver. These warm undertones can add warmth and richness to the silver color, resulting in a distinct and striking effect.
When working with tinting agents, start with small amounts and gradually increase until you achieve the desired hue. Remember that a little goes a long way, and it's easier to add more color than to dilute an overly intense tint.
Testing and Adjusting Silver Paint Colors
To ensure that your silver paint achieves the desired color, it's important to conduct tests and make adjustments as needed. This step allows you to fine-tune the mixture and observe how the silver color appears on different surfaces and under various lighting conditions.
Create color swatches by applying your mixed silver paint to a test surface, such as a canvas or a piece of paper. Observe the swatches under natural and artificial light to see how the silver color reflects and whether it aligns with your vision.
If the color needs adjustment, consider experimenting with different color ratios or adding small amounts of additional pigments. Keep track of your measurements and ratios to maintain consistency and replicate successful color combinations in the future.
Testing and adjusting your silver paint colors will ensure that you achieve the desired silver tones and allow for customization based on specific projects or preferences.
Tips and Techniques for Creating Silver Paint Colors
Here are some practical tips and techniques to consider when creating silver paint colors:
Use a limited color palette: To achieve accurate silver tones, focus on a limited palette consisting of black, white, blue, and metallic pigments. This approach allows for better control and more consistent results.
Mix colors gradually: When mixing colors to create silver, add the colorants gradually. This allows you to have better control over the shade and helps prevent overshooting the desired silver tone.
Keep track of ratios and measurements: Record the ratios and measurements of colorants used in successful silver paint mixtures. This way, you can reproduce specific shades or make adjustments easily in the future.
Remember, practice and experimentation are key when working with color mixing techniques. Don't be afraid to explore and discover new combinations that produce unique silver effects.
Practical Applications of Silver Paint Colors
Silver paint offers a wide range of applications in art, design, and crafting. Here are a few examples:
Artwork: Incorporate silver paint into your paintings or mixed media artwork to add highlights, depth, and a touch of elegance. Experiment with different techniques, such as dry brushing or layering, to achieve various effects and textures.
Home Decor: Use silver paint to transform everyday objects into stylish accents. Apply it to picture frames, vases, or furniture to create a chic and modern look. You can also use stencils to add intricate silver patterns to walls or create a metallic feature wall.
Crafts: Silver paint is perfect for adding finishing touches to craft projects. Whether you're decorating ornaments, handmade cards, or DIY jewelry, the metallic shine of silver paint will elevate your creations.
Get creative and let the versatility of silver paint inspire your imagination. Explore different projects and techniques to make the most of this dazzling color.
Conclusion
Creating silver paint involves understanding the color components, mixing techniques, and the addition of metallic pigments or tinting agents. By combining shades of gray, incorporating metallic pigments, and experimenting with different colors, you can achieve a wide range of stunning silver paint shades.
Remember to test and adjust your mixtures to achieve the desired silver effect. Embrace the versatility of silver paint and apply it in various artistic and decorative projects to add a touch of sophistication and shine.
As you embark on your silver paint journey, let your creativity guide you. Explore different combinations, techniques, and applications to discover the endless possibilities that custom-made silver paint offers. Embrace the beauty and allure of this captivating color and enjoy the process of creating your own unique silver paint.