How To Make Paint More Opaque
Unlocking the true potential of colors on canvas demands mastery over opacity—an artist's passport to depth and intensity. In the realm of painting, opacity transforms mere pigments into vibrant tales that capture the eye and soul. This guide delves into the art of making paint more opaque, offering a symphony of techniques, insights, and creative wisdom.
Imagine a canvas where colors whisper softly, their subtlety enchanting but fleeting. Now envision a canvas where colors declare their presence with bold intensity, captivating hearts with their vibrancy. This transformation from translucence to opacity adds a new dimension to your artistic arsenal. It's a journey that demands a careful balance between techniques, pigments, and intuition—a journey we're about to embark upon.
From selecting high-opacity pigments that lead the color charge to layering techniques that orchestrate a symphony of hues, we'll navigate through the intricacies of opacity enhancement. We'll explore the nuances of paint consistency, delve into the alchemy of mixing, and uncover the magic of underpainting. Brushstroke by brushstroke, layer by layer, this guide unveils the secrets to enhancing your artwork's resonance through the power of opacity. So, let's begin our journey into the captivating world of making paint more opaque.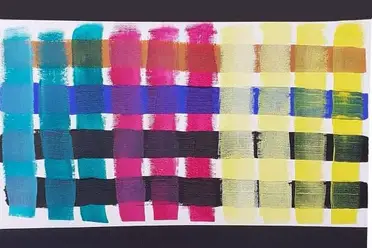 Why is Opacity Important in Painting?
Before we dive into the depths of opacity enhancement, let's unravel the significance of this elusive attribute. Imagine a canvas where colors seamlessly merge, forming translucent layers that whisper their presence. While this transparency has its allure, there's an equally mesmerizing allure in opacity. Opacity bestows a captivating depth and intensity upon colors, drawing the viewer into a world of rich expression. It's the difference between a fleeting whisper and a resounding declaration.
Pigment Selection: Opting for High Opacity Pigments
Colors, like voices in an orchestra, vary in their ability to command attention. High opacity pigments—those that possess the capacity to assert their dominance—play a pivotal role in the quest for a bold palette. Titanium white stands as the maestro of opacity, leading the way with its unparalleled covering power. Cadmium colors, vermillion, and ultramarine are also renowned for their opacity prowess. When selecting pigments, tread the delicate balance between opacity, color vibrancy, and lightfastness. Your colors should sing harmoniously not just in the moment, but for years to come.
Paint Consistency: Thicken Your Paint for Better Coverage
In the realm of opacity, consistency is key. Think of your paint as a performer on a stage—its texture influences its impact. To elevate opacity, embrace mediums and gels that bestow thickness upon your paint. Like a sculptor molding clay, you're crafting a tactile experience. A dollop of impasto gel adds intrigue to your brushstrokes, enhancing both the tactile and visual appeal. But remember, the dance between opacity and brushwork is delicate; too much thickness can mute the vibrancy you seek.
Layering Techniques: Building Opacity Through Multiple Layers
Layer upon layer, a symphony of hues crescendos into a masterpiece. Layering is an art in itself—a symphony conductor guiding each color to its crescendo. The secret lies in patience; allow each layer to dry before you apply the next. Watch as your colors harmonize, achieving a brilliance that emerges from their intricate interplay. With each layer, your artwork gains depth, building towards an intensity that commands attention.
But wait, there's more! The magic of layering isn't confined to the canvas. Think about the layers of emotions, experiences, and meanings you infuse into your creation. It's a fusion of hues and emotions, a dance that draws your audience into your narrative.
Mixing Techniques: Blending Paints for Enhanced Opacity
Enter the alchemical realm of mixing, where opacity metamorphoses like a chameleon adapting to its surroundings. Use the opaque embrace of titanium white to transform your palette. By adding opaque colors to your blend, you wield the power to create semi-opaque tones that dance between subtlety and intensity. But beware! Overmixing can blur the lines between opacity and translucence, so tread lightly. Let each stroke retain its individuality, and your painting will hum with a nuanced energy.
Working with Underpainting: Establishing a Solid Base
Imagine your canvas as a blank canvas of possibilities—this is where underpainting strides in with a solid introduction. Like a conductor tapping the baton, an underpainting sets the stage for opacity's grand entrance. Crafted with purpose, your underpainting provides the foundation upon which layers of opaque intensity will flourish. Think of it as the base coat in your artistic symphony, creating a harmonious canvas for colors to resonate.
But don't forget! Underpainting isn't confined to the canvas alone. It's a reflection of the layers of preparation and conceptualization that you pour into your artwork. It's where ideas take shape, just as colors take form.
Opacity and Brush Selection: Maximizing Paint Application
Brushes, like artists' hands, come in various shapes and sizes. Their touch upon the canvas determines the intensity of the narrative. Opt for brushes that embrace your paint and deliver it with precision. Bristle type—whether natural or synthetic—plays a vital role in dictating opacity. Hog bristle brushes, renowned for their stiff texture, excel in handling heavy-bodied paints. By mastering brushwork, you orchestrate the dance of opacity across the canvas.
Oh, and by the way! Consider this: just as your brushes impart opacity, your life experiences leave strokes on the canvas of your soul. The weave of experiences, both textured and smooth, creates the vibrant masterpiece that is your perspective.
Exploring Opacity in Different Mediums: Acrylics, Oils, Watercolors
Opacity dances to different tunes across mediums, each with its unique melody. Acrylics boast quick-drying vigor, offering an array of techniques to explore. Oils, patient and unhurried, reveal the true depth of their hues with time. Watercolors, like whispers on paper, create ethereal effects. Adapt your techniques to embrace the innate qualities of each medium. The path to opacity is diverse—travel it with an open heart.
Problem-Solving: Dealing with Transparency Challenges
Every artist faces the enigma of transparency in their journey. There are colors that, despite your yearning for opulence, remain elusive. Enter the world of complementary underpainting—a creative dance that counters transparency with strategic harmony. Infuse your palette with bursts of complementary colors, and watch as they wrestle the translucent into submission. And when needed, don't hesitate to invite mixed media to the party. Collage, texture, and unconventional materials come together to amplify opacity in areas of challenge.
Retouching and Finalizing Opacity: Perfecting Your Painting
The final curtain is drawn, and your masterpiece stands before you. But before the applause resounds, seize the opportunity to fine-tune your opus. Step back and assess the orchestra of opacity. Are there areas that yearn for more depth? Areas where the dance of light and shadow could be intensified? Strategically adjust your hues, enhancing the vibrancy that tells your story. And as the final strokes of varnish kiss the canvas, opacity stands preserved, etched in time.
Experimentation and Artistic Style: Embracing Creative Opacity
Picasso once said, "Learn the rules like a pro, so you can break them like an artist." Opacity, too, follows this rule. As you journey through these techniques, embrace the spirit of experimentation. Let opacity be your canvas for creative innovation. Dip your brush into the pool of possibilities—unleash your vision onto the canvas with calculated abandon. Whether it's a burst of vibrant opacity or a whisper of subtlety, let your artistic signature shine through.
Conclusion
The symphony of opacity is a composition of techniques, colors, and emotion. It's the interplay between light and shadow, vibrancy and subtlety, chaos and order. With every brushstroke, you breathe life into your vision, transcending the limitations of translucence. As you embark on this journey, remember: opacity isn't merely a technical endeavor; it's an exploration of expression. So, gather your pigments, wield your brushes, and let the layers of opacity paint the masterpiece of your artistic legacy.