How To Mix Olive Green Paint
In the world of art, colors aren't just pigments; they're the language through which emotions and stories are conveyed. Among this vibrant spectrum, olive green emerges as a color that speaks of balance, serenity, and the harmonious dance between nature's hues. If you've ever been captivated by the depth of a forest or the tranquility of a hidden garden, then mastering the art of mixing olive green paint is a journey you're poised to embark upon.
Olive green, nestled between the warmth of yellow and the cool embrace of blue, holds the power to evoke a multitude of emotions. It's the whisper of leaves in the breeze, the elegance of evergreen landscapes, and the essence of growth itself. But this hue, like an enigmatic muse, demands a keen understanding of color theory and technique to bring its nuances to life.
In this comprehensive guide, we'll delve into the intricacies of mixing olive green paint. From the foundational hues to advanced blending techniques, you'll discover the alchemical secrets that transform simple pigments into a symphony of color. Whether you're a seasoned artist seeking to expand your palette or a curious beginner eager to unveil the magic of olive green, prepare to immerse yourself in a journey where hues come alive and imagination knows no bounds.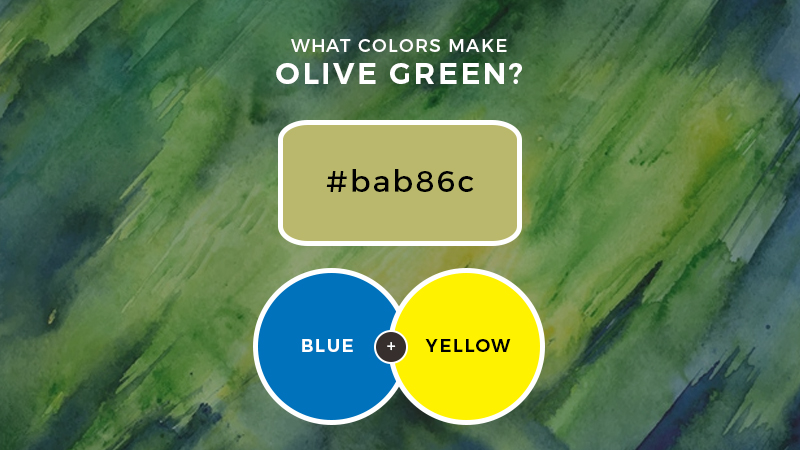 Understanding Olive Green: The Essence of Balance and Harmony
Olive green, a color nestled between the vivaciousness of green and the subtlety of brown, holds a unique place in the palette of human emotions. It's the hue of balance and harmony, reminiscent of nature's bountiful embrace. This hue has long found its place not only on canvas but in the spectrum of human emotions as well.
Imagine a dense forest in midsummer, where sunlight filters through the canopy, creating intricate patterns of light and shadow on the forest floor. Olive green captures this precise moment—the balance between the vibrant green of leaves and the earthy warmth of the soil beneath. It's no wonder that olive green is often associated with tranquility, growth, and renewal.
The Core Hue: Exploring the Main Entity of Olive Green
Let's peel back the layers of this captivating hue and discover what lies beneath its surface. The core of olive green is a symphony composed of yellows and blues. The balance between these two primary pigments defines the soul of olive green.
What Makes Up the Base Hue of Olive Green?
Olive green's foundation rests upon a harmonious blend of yellow and blue pigments. But not just any yellow or blue will suffice. The choice of pigments significantly influences the final shade. For instance, using a warm yellow like Cadmium Yellow Light in combination with a cool blue like Phthalo Blue results in an olive green that dances between earthiness and depth.
The Role of Yellow Pigments: Finding the Right Shade
Here's where the artistry truly begins. Different yellow pigments lend varied characteristics to the final mix. Lemon Yellow brings a fresh and vibrant quality, perfect for spring-themed compositions. On the other hand, Raw Sienna adds warmth and a touch of antiquity to your olive green, ideal for depicting aged landscapes.
Influence of Blue Pigments: Achieving Depth and Complexity
Blue, the tranquil partner in this duet, brings depth and complexity to olive green. While Ultramarine Blue infuses a sense of depth reminiscent of expansive skies, Viridian Green bridges the gap between the vibrancy of green and the subtlety of blue. Mixing these blues with yellows in different ratios adds layers of visual intrigue to your palette.
Table: Examples of Yellow and Blue Pigments for Olive Green
| Yellow Pigments | Blue Pigments |
| --- | --- |
| Cadmium Yellow | Phthalo Blue |
| Lemon Yellow | Ultramarine Blue |
| Raw Sienna | Viridian Green |
With these pigments at your disposal, the world of olive green awaits your artistic touch. Experimentation becomes your ally as you explore the myriad of shades within this single hue. In the next section, we'll delve into the practical process of mixing these pigments to create your perfect olive green blend.
Mixing Pigments: Achieving the Perfect Olive Green
Ah, the palette—your artist's playground where imagination and reality converge. Mixing olive green pigments isn't just about ratios; it's about orchestrating a symphony of colors that resonate with your artistic vision.
Questioning Ratios: How Much Yellow and Blue to Use?
The magic lies in the delicate dance between yellow and blue. The ratios you choose create variations of olive green that range from muted sage to bold forest tones. Begin with a cautious approach, adding a touch of blue to yellow, or vice versa. With each addition, observe the transformation. Does the green lean more towards warmth or coolness? Adjusting the balance lets you fine-tune the mood of your composition.
Pigment Selection: Which Yellow and Blue to Choose?
The choice of pigments is your palette's vocabulary. Whether you're working with acrylics, oils, or watercolors, knowing your pigments' characteristics is essential. Some pigments are more intense, demanding a lighter touch, while others are gentler, allowing for more experimentation. Understanding the personalities of your pigments helps you wield them with finesse.
Mixing Techniques: Gradual Addition vs. Pre-mixing
Now, let's unveil a couple of techniques that seasoned artists employ to master their olive green blends.
Gradual Addition Method: This technique involves adding small increments of blue to yellow or vice versa. It's akin to seasoning a dish—slowly building up the flavors until the perfect balance is achieved. This method grants you control over the gradual transformation of colors, letting you stop at the exact point where the olive green sings to your heart.
Pre-mixing Approach: Imagine preparing a palette of colors before you even touch the canvas. This method involves pre-mixing a range of olive green shades in various ratios. It's like assembling an orchestra ready to perform your composition. As you paint, you can pull from your pre-mixed shades, infusing your work with harmonious variations of olive green.
Pattern Breaker: Imagine your canvas as a garden, and your brush as a gardener. With each stroke, you sow the seeds of color, nurturing them into a vibrant tapestry of olive green.
Finding Balance: Adjusting Saturation and Value
As you immerse yourself deeper into the realm of olive green, you'll discover that the journey is as much about balance as it is about hue. Saturation and value, these two facets, hold the key to imbuing your olive green with character and dimension.
Saturation: Enhancing or Muting the Vibrancy
Saturation, the intensity of color, is your tool for sculpting mood. Want your olive green to whisper softly in the background? Gradually reduce its saturation. Seeking a bold and striking statement? Amp up the saturation to command attention. The interplay between saturation and the underlying yellow and blue pigments allows you to fine-tune the emotional resonance of your artwork.
Value Contrast: Lightening or Darkening Olive Green
Value, the lightness or darkness of a color, shapes the spatial dynamics of your composition. Imagine a serene forest landscape at dusk—the interplay between light and shadow creates a mesmerizing dance. Similarly, manipulating the value of your olive green opens up opportunities for depth and contrast. Adding a touch of white or a darker blue alters the mood and adds layers of visual intrigue.
Pattern Breaker: Think of your canvas as a storyteller. Each stroke of color whispers a fragment of the narrative, revealing emotions and tales within.
Importantly, the art of olive green isn't confined to isolated patches on the canvas. It extends to how you integrate this color with its surroundings, how you create shadow and light, and how you coax life into your composition.
In the following section, we'll explore advanced strategies that transform your olive green from a mere pigment to an expression of your artistic journey.
Beyond the Basics: Advanced Strategies for Olive Green
You've mastered the fundamentals, and now it's time to explore the edges of your artistic prowess. These advanced strategies add layers of sophistication to your olive green creations.
Incorporating Earth Tones: Adding Warmth and Texture
Nature rarely limits itself to a single color. The earth beneath our feet contributes hues of ochre, sienna, and burnt umber. Infusing these earth tones into your olive green not only enhances its warmth but also imparts a tactile quality that invites viewers to reach out and touch your creation.
Experimenting with Complementary Colors
Remember the color wheel? Complementary colors—those positioned opposite each other—ignite each other's brilliance when placed side by side. Introducing splashes of red or orange near your olive green areas creates a dynamic visual contrast that electrifies your artwork.
Tonal Variation: Creating Olive Green Shadows and Highlights
Shadow and light, the duo that breathes life into every form. As sunlight dances through leaves, olive green casts enchanting shadows. Mix a touch of blue into your olive green for shadows, and blend a hint of yellow for highlights. This technique not only adds dimension but also narrates the journey of light across your canvas.
Pattern Breaker: Imagine you're a composer conducting a symphony. Each color, each brushstroke, is a note that contributes to the grand melody of your artistic creation.
Feeling the excitement building up? You're now armed with techniques that blur the lines between painter and poet. The journey continues as we delve into practical applications of mixed olive green paint across various artistic mediums. From still life to landscapes, your palette of possibilities expands like the canvas before you. So, let's explore the diverse ways you can infuse your artwork with the magic of olive green.
Practical Applications: Utilizing Mixed Olive Green Paint
As you stand before your canvas, brimming with a palette rich in olive green possibilities, you're at the threshold of transforming ideas into tangible expressions. Let's navigate through the myriad practical applications of mixed olive green paint, exploring the diverse realms where this color shines.
Still Life Painting: Capturing Natural Elements
Imagine a vase adorned with fresh flowers, bathed in gentle sunlight. Mixed olive green paint finds its purpose in replicating the verdant leaves and delicate stems that breathe life into your still life composition. With each brushstroke, you conjure a slice of nature's beauty onto your canvas, with olive green as your artistic ally.
Landscape Art: Depicting Foliage and Flora
Landscape art thrives on the play of colors that mirror the world around us. As you create lush meadows, dense forests, or rolling hills, mixed olive green paint becomes your means of encapsulating the vitality of nature. It forms the very fabric of your landscapes, evoking the serenity of open spaces and the whispers of rustling leaves.
Abstract Expression: Olive Green as a Symbolic Choice
In the realm of abstract art, olive green transcends its literal identity. It morphs into a symbol—an embodiment of harmony, growth, and the interplay of emotions. Within abstract compositions, mixed olive green paint captures the essence of connection and balance, allowing viewers to interpret its meaning through their own lens.
Mixing Olive Green in Different Mediums: Acrylics, Oils, and Watercolors
Dive into the world of artistic versatility as we explore how to mix olive green paint in different mediums. Each medium presents a unique set of challenges and opportunities, allowing you to experiment and push your boundaries.
Medium-Specific Considerations: Pigment Density and Opacity
Acrylics: Acrylic paints boast vibrancy and versatility. When mixing olive green with acrylics, take into account the quick drying time and the importance of layering to achieve depth. Since acrylics tend to dry darker, you might need to adjust your mix to account for this transformation.
Oils: Oils offer a luxurious, slow-drying experience. They lend themselves well to blending and layering, allowing you to achieve smooth transitions within your olive green blends. However, keep in mind that oils tend to yellow over time, so choose your yellows wisely to maintain the integrity of your olive green.
Watercolors: The delicate translucence of watercolors demands a nuanced approach. Start with pale washes of yellow and blue before gradually layering them to achieve your desired olive green. Remember that watercolors dry lighter, so adjust your mixes accordingly.
Dilution and Layering: Techniques for Watercolors
Watercolors are a dance of water and pigment, a delicate balance between transparency and vibrancy. To create captivating olive green shades in watercolors, dilute your pigments with varying amounts of water. Layering is your secret weapon—start with light washes, and gradually build up layers to achieve the desired intensity.
Pattern Breaker: Picture yourself as an alchemist, transforming pigments and water into liquid poetry on your paper.
From the bold strokes of acrylics to the gradual build-up of oils and the ethereal touch of watercolors, you have a spectrum of options to bring your olive green visions to life. But what do you do when your palette muddies or your undertones shift unexpectedly? Fret not; the realm of olive green mastery includes troubleshooting techniques that rescue even the most challenging color conundrums.
Troubleshooting: Common Challenges and Solutions
Art, like life, presents challenges that can be overcome with patience and ingenuity. When it comes to olive green, a few challenges might arise along the way. Here are some solutions to keep your creative flow uninterrupted.
Avoiding Muddiness: Preventing Overmixing of Pigments
Mixing pigments excessively can lead to a muddy, undefined olive green. To preserve the vibrancy and clarity of your color, approach mixing with a light touch. Gradually build up the mix until you achieve the desired hue, remembering that less can often be more.
Correcting Undertones: Dealing with Unintended Color Shifts
Olive green's undertones can sometimes surprise you. If your olive green takes on an unexpected warm or cool cast, consider adjusting the balance by adding a complementary color. For instance, if your green leans too warm, a touch of blue can cool it down, restoring the equilibrium.
Rescuing Overly Dark Mixes: Gradual Lightening Techniques
Dark olive greens might overshadow your composition, leaving you feeling stuck. To rescue overly dark mixes, gently lighten the color by adding small increments of a lighter yellow or even white. This gradual approach ensures you regain control over the shade without overwhelming your artwork.
Pattern Breaker: Imagine yourself as a sculptor, chiseling away the excess to reveal the masterpiece hidden within.
Enhancing Your Palette: Creating Variations of Olive Green
Artists are explorers, navigating the spectrum of colors to uncover hidden gems. Olive green, in all its glory, offers a plethora of variations to enrich your palette.
Olive Green with Warm Infusions: Adding Yellow Ochre or Raw Sienna
To infuse your olive green with warmth, incorporate pigments like Yellow Ochre or Raw Sienna. These earthy tones create a cozy embrace within your green, evoking the comfort of sunlight filtering through leaves.
Cool Olive Greens: Incorporating Phthalo Blue or Cerulean Blue
For a cooler take on olive green, introduce pigments like Phthalo Blue or Cerulean Blue. These blues infuse a refreshing chill, perfect for portraying serene landscapes or capturing the essence of cool, shaded areas.
Olive Drab and Camouflage Greens: Exploring Darker Options
As you tread into deeper artistic waters, you'll encounter olive drab and camouflage greens. These darker iterations are ideal for conveying mystery, strength, and a touch of rugged elegance. Experiment with mixing browns and blacks into your olive green to achieve these captivating shades.
Pattern Breaker: Visualize yourself as a magician, conjuring shades that whisper tales of far-off lands and unseen dreams.
With this rich spectrum of olive green variations at your fingertips, your palette becomes a treasure trove of possibilities. But colors alone don't tell a complete story; they thrive when harmonized within the realms of color harmonies and contrasts.
Captivating Combinations: Olive Green and Color Harmonies
Color harmonies are the secret melodies that elevate your artwork from a mere canvas to a captivating symphony. By blending olive green with complementary and analogous colors, you orchestrate visual journeys that resonate with viewers.
Analogous Color Schemes: Creating Harmonious Blends
Analogous colors are neighbors on the color wheel, sharing similar undertones. Pairing olive green with hues like warm yellows and earthy browns crafts a harmonious composition that feels grounded and cohesive.
Triadic and Tetradic Harmonies with Olive Green
Triadic harmonies involve three colors equidistant on the color wheel. Olive green, when combined with vibrant reds and cool blues, creates a dynamic balance that sparks energy. Expand into tetradic harmonies, incorporating both complementary and analogous pairs for a symphony of color interactions.
Exploring Split-Complementary Contrasts
Split-complementary contrasts invite playfulness into your composition. Pair olive green with a color's complement and its neighboring hues. For instance, juxtaposing olive green with red-orange and red-violet adds a captivating interplay that grabs attention.
Pattern Breaker: Visualize yourself as a conductor, orchestrating a crescendo of colors that dance in harmony.
As we draw the curtain on this journey through the art of mixing olive green paint, remember that every brushstroke is an opportunity for expression, every shade a glimpse into your artistic soul. Olive green is more than a pigment—it's a realm of emotions, a conduit for stories, and a bridge between reality and imagination.
Conclusion
In the boundless realm of artistry, olive green stands as a testament to the connection between nature and creativity. Through careful mixing, meticulous layering, and daring experimentation, you've unearthed the secrets of this captivating hue. With each stroke of your brush, you weave a narrative that speaks of balance, harmony, and the profound beauty of the world around us.
The canvas before you is more than a surface—it's a realm where ideas and colors converge to create magic. Armed with the knowledge and techniques shared in this guide, you're now equipped to harness the full potential of olive green in your artistic pursuits. So, go forth and let your imagination unfurl its wings, for the world of olive green awaits your touch.