How To Hold Paint While On Ladder
Painting can be a transformative and rewarding experience, whether you're giving a room a fresh new look or revitalizing the exterior of your home. However, when it comes to tackling painting projects on a ladder, safety and efficiency become paramount. Holding paint while perched on a ladder can be challenging, but with the right techniques and tools, you can achieve excellent results without compromising your well-being.
In this comprehensive guide, we'll explore the art of securely holding paint while on a ladder, ensuring you can focus on creating beautiful surfaces without worrying about spills or accidents. We'll walk you through essential safety precautions to take before climbing the ladder and delve into the types of paint and containers that are best suited for your specific project. Discover the tools designed to make your painting process smoother and safer, along with practical techniques for maintaining balance and stability.
Whether you're a seasoned DIY enthusiast or a professional painter, this article will equip you with the knowledge and insights you need to elevate your ladder painting experience to new heights. So, let's grab our paintbrushes and embark on this journey towards safe and successful ladder painting!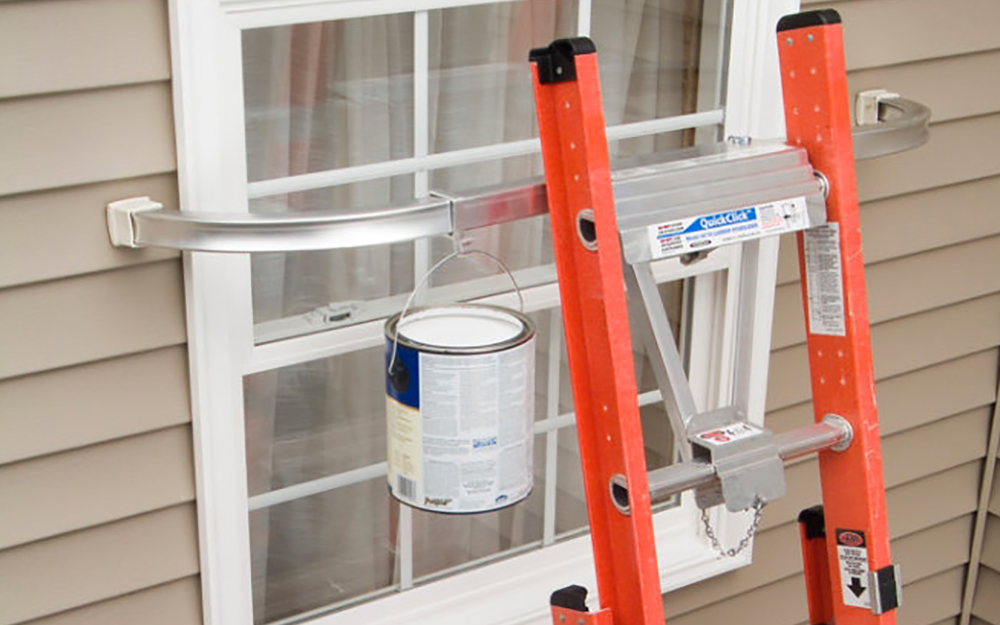 Essential Safety Precautions Before Climbing the Ladder
Before we get into the nitty-gritty of holding paint while on a ladder, let's prioritize safety. Working at height always carries some risks, but with the right precautions, you can minimize potential hazards and focus on your painting project.
Choosing a Stable and Appropriate Ladder for the Job
The first step is to select a ladder that suits the specific task at hand. Consider factors such as ladder height, weight capacity, and the surface you'll be working on. A sturdy ladder with anti-slip feet and a reliable locking mechanism is crucial for a safe painting experience.
Inspecting the Ladder for any Damage or Defects
Regularly inspect your ladder for signs of wear and tear. Check for loose screws, damaged rungs, or bent rails. If you notice any issues, repair or replace the ladder before using it for painting.
Properly Setting Up the Ladder on Level Ground
A stable ladder setup is essential for your safety. Place the ladder on level ground, preferably on a non-slip surface, and avoid uneven or soft surfaces that may cause the ladder to wobble or sink.
Securing the Ladder to Prevent Unintended Movement
If you're working outdoors or on a windy day, secure the ladder to prevent it from swaying or sliding. You can use ladder stabilizers or straps to anchor the ladder securely to a nearby structure.
Selecting the Right Type of Paint and Container
The type of paint you choose and the container you use can significantly impact your painting experience on the ladder.
Understanding Different Types of Paint
The world of paints offers various options, including water-based, oil-based, and latex paints. Each type has its unique properties and applications. For instance, water-based paints are easier to clean up, while oil-based paints offer superior durability. Choose a paint type that best suits your project and personal preferences.
Choosing the Right Container
When it comes to holding paint on a ladder, the container plays a vital role. Popular options include paint buckets, trays, and cans. Consider the convenience of each container type and opt for one that allows easy access to the paint and a comfortable grip while painting.
Using Tools to Hang the Paint on the Ladder
To keep your hands free and avoid the risk of accidental spills, consider using specially designed tools to hold paint while working on a ladder.
Ladder Hooks and Accessories for Holding Paint
Ladder hooks are fantastic additions that attach to the ladder and securely hold your paint container. These hooks come in various sizes and designs, catering to different container types. They provide a stable and easily accessible spot to place your paint while you work.
Tool Belts and Aprons for Easy Access to Paint and Supplies
Another smart option is to wear a tool belt or apron that has dedicated pockets for paint cans, brushes, and other supplies. This keeps your tools within arm's reach, reducing the need to climb up and down the ladder frequently.
Techniques for Holding Paint Safely on the Ladder
Now that you have the right tools and containers, let's explore the various techniques for securely holding paint while you're up on the ladder.
Using One-Handed Grips for Balancing and Stability
Maintaining balance on the ladder is paramount. One-handed paint-holding grips can help you achieve this while allowing you to steady yourself with the other hand. Practice holding the paint container with one hand, and use the ladder's handrails for additional support.
Employing Two-Handed Techniques for Precision and Control
For tasks that require precision and control, consider using two-handed techniques to hold the paint container. This way, you can focus on painting with a steady hand, especially when working on intricate details or edges.
Securing the Paint Container to Avoid Spills
Spills and accidents are the last things you want when painting from a ladder. Take proactive measures to secure the paint container and prevent any unexpected mishaps.
Using Lids or Covers on Paint Containers
When taking a break or moving the ladder to a new location, cover the paint container with a lid to avoid spills. Lids also prevent debris from falling into the paint and keep it fresh for your next painting session.
Applying Tape to Secure Lids and Prevent Leakage
To ensure the paint container's lid stays in place, use masking tape or painter's tape to secure it firmly. This added precaution will prevent any unwanted leakage, allowing you to focus on your painting without interruptions.
---
Table: Comparison of Paint Container Types
| Container Type | Pros | Cons |
| --- | --- | --- |
| Paint Buckets | Large capacity, easy to dip brushes | Bulkier and may be heavy to carry |
| Paint Trays | Great for rollers and smaller jobs | Limited paint holding capacity |
| Paint Cans | Portable and secure with lids | Smaller openings may be challenging |
---
Now that you're well-equipped with safety knowledge and painting techniques, let's explore some practical tips for painting at different heights and angles.
Painting at Eye Level
When painting at eye level, use a steady grip and focus on achieving even coverage. Move the ladder as needed to reach various sections without overstretching.
Painting Above Eye Level
For areas above eye level, consider using a ladder with adjustable legs or extension ladders to reach higher points. Always maintain three points of contact on the ladder while keeping the paint container stable.
Painting Below Eye Level
When painting below eye level, be cautious not to lean too far forward. Adjust the ladder position to maintain a comfortable and safe angle while you work.
Managing Brushes and Rollers While on a Ladder
The choice of paint applicators can impact the quality of your paintwork. Here's how to manage brushes and rollers while on a ladder.
Using Extension Poles for Rollers
If you're painting ceilings or high walls, extension poles are game-changers. These tools allow you to reach taller surfaces without the need to reposition the ladder constantly.
Choosing the Right Brush Size for the Task
Selecting the appropriate brush size depends on the area you're painting. Larger brushes cover broad areas quickly, while smaller brushes are ideal for detailed work.
Taking Breaks and Storing Paint Properly
As with any physically demanding task, taking breaks while on the ladder is essential to prevent fatigue and maintain focus. Here's how to handle breaks and store your paint properly:
Safely Lowering Paint Buckets to the Ground for Breaks
When it's time for a break, don't attempt to carry the paint bucket while on the ladder. Instead, use a sturdy rope or a pulley system to lower the paint container to the ground safely. This ensures you can relax without the added weight and reduces the risk of spills or accidents.
Storing Paint at the End of the Day
At the end of your painting session, it's crucial to store any leftover paint correctly. Seal the paint container tightly and store it in a cool, dry place, away from direct sunlight and extreme temperatures. This helps maintain the paint's quality for future use and reduces waste.
Conclusion
Congratulations! You've completed the comprehensive guide on how to safely hold paint while working on a ladder. Armed with essential safety precautions, painting techniques, and the right tools, you're now ready to take on any painting project with confidence.
Remember, safety should always be your top priority when working at height. Choose a stable ladder, inspect it regularly, and secure it to prevent accidents. Using the right type of paint and containers will make your painting process more efficient and enjoyable.
By employing the techniques discussed, such as one-handed and two-handed grips, you can maintain stability while achieving precision in your painting work. Additionally, securing paint containers with lids and tape will prevent unwanted spills and ensure a seamless painting experience.
As you navigate paintwork on the ladder, remember the tips for painting at different heights and angles. Utilize extension poles for rollers and choose the appropriate brush size for the task to achieve professional results.
Lastly, taking breaks and properly storing paint will help you stay refreshed and maintain the quality of your paint supplies for future projects.
Happy painting, and enjoy the satisfaction of completing your painting tasks safely and effectively!