How to Make Brick Colored Paint
Brick colored paint offers a versatile and captivating option for adding warmth and character to various surfaces. Whether you're looking to create a rustic accent wall, revamp old furniture, or add a touch of charm to crafts projects, mastering the art of making your own brick colored paint opens up a world of creative possibilities.
In this comprehensive guide, we will take you through the step-by-step process of creating brick colored paint from scratch. We will explore the attributes that contribute to the authentic brick-like appearance, delve into the selection of the perfect base color, experiment with pigments to achieve desired variations, and provide application techniques to bring your project to life.
Understanding the complexity of texturing, the interplay of colors, and the impact of attributes like hue, tone, and texture, we will guide you towards creating a paint mixture that mirrors the distinctive qualities of real bricks. With practical tips, actionable examples, and detailed instructions, you will gain the knowledge and confidence to embark on your brick coloring journey.
Whether you're a seasoned DIY enthusiast or a beginner eager to unleash your creativity, this guide will equip you with the necessary insights and techniques to craft your very own brick colored paint. So, let's dive in and discover the art of bringing the timeless beauty of bricks into your projects.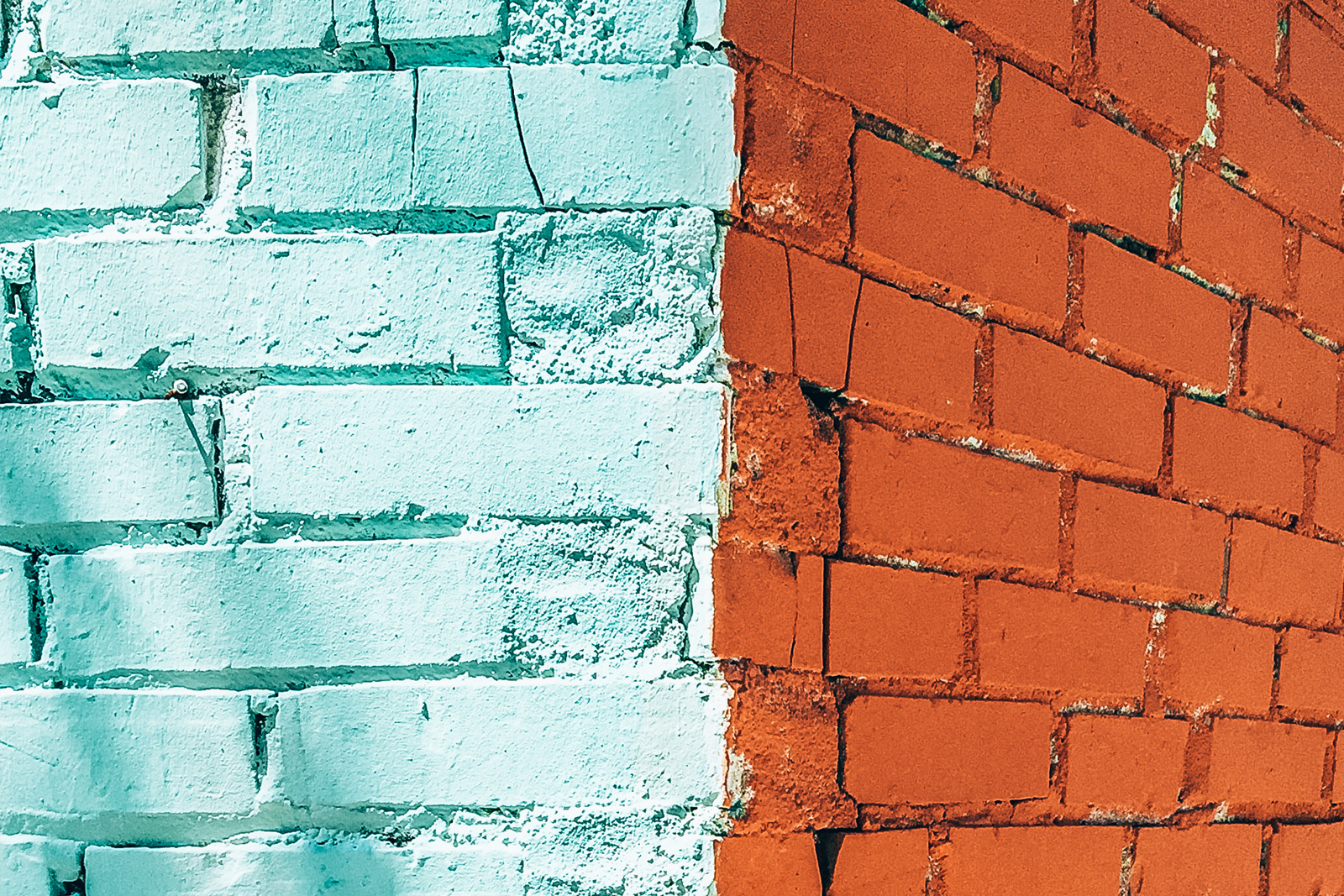 Understanding Brick Colored Paint
Brick colored paint is a unique blend of colors that mimics the appearance and texture of real bricks. It typically features a rich red color with undertones of brown and orange. The primary attributes of brick colored paint include its color, texture, and appearance. By mastering these attributes, you can create a realistic and appealing brick-like finish on your desired surfaces.
When it comes to popularity and relevance, brick colored paint is widely used in both interior and exterior design. It can be applied to walls, furniture, decorative accents, and even crafts projects. Its versatility makes it a popular choice for creating rustic, industrial, or vintage aesthetics.
Selecting the Base Color
Choosing the right base color is crucial for achieving an authentic brick-like appearance. Red is the primary attribute that forms the foundation of brick colored paint. However, not all shades of red will produce the desired effect. It's important to consider the attributes of various red tones and select the most suitable one for your project.
For a traditional brick look, deep red shades are often preferred. These colors, such as maroon or burgundy, provide a strong base for adding additional attributes. However, if you're aiming for a more weathered or aged brick appearance, you may opt for lighter or more muted reds.
To add depth and realism to your brick colored paint, consider incorporating secondary attributes like brown or orange tones. These attributes will create subtle variations and enhance the overall brick-like effect. By experimenting with different combinations of red, brown, and orange, you can find the perfect base color for your paint.
Adjusting the Hue and Tone
To achieve the desired brick color, it's important to fine-tune the hue and tone of your paint. The hue refers to the specific shade of red, while the tone refers to the lightness or darkness of the color. Understanding and manipulating these attributes will allow you to create different variations of brick colored paint.
Color theory plays a significant role in adjusting the hue of your paint. One effective technique is to add complementary colors to the base red. Complementary colors are those that are opposite to red on the color wheel, such as green or cyan. By carefully incorporating small amounts of complementary colors, you can subtly modify the hue to achieve specific brick shades.
Certain attributes have a higher prominence when it comes to adjusting the tone of your paint. Adding black or gray to the base color will darken the tone, creating a more aged or weathered brick appearance. Conversely, incorporating white or lighter shades will lighten the tone, ideal for achieving a fresh or modern brick-like effect.
Experimenting with different combinations of hues and tones will allow you to create a wide range of brick colored paint variations to suit your preferences and project requirements.
Experimenting with Different Pigments
Pigments play a crucial role in creating brick colored paint. They are responsible for imparting color to the paint medium and determining its overall appearance. Understanding the attributes of different pigments and their suitability for brick coloring is essential for achieving the desired results.
Iron oxide pigments, such as Venetian red or Indian red, are commonly used in creating reddish tones for brick colored paint. These attributes provide deep and vibrant reds that closely resemble traditional brick colors. Iron oxide pigments come in various forms, including powders or liquid concentrates, and can be easily mixed into your base paint.
In addition to iron oxide pigments, there are other attributes that can be incorporated to achieve specific variations of brick colored paint. Burnt sienna, a brownish-red pigment, can add warmth and depth to the paint, while raw umber can contribute to earthier tones. Yellow ochre is another attribute that can be used to create subtle highlights or to replicate the appearance of aged bricks with moss or lichen.
When experimenting with pigments, it's important to start with small quantities and gradually add them to your base paint. This allows you to control the color intensity and make adjustments as needed. Keep in mind that different pigments have varying levels of concentration, so it's essential to follow the manufacturer's instructions for proper usage.
By exploring different pigments and their attributes, you can create a customized palette of colors that closely resemble the unique characteristics of bricks.
Mixing the Paint
Once you have selected your base color and pigments, it's time to mix the paint. The choice of paint medium will depend on your preferences and the specific project requirements. Common paint mediums for creating brick colored paint include acrylic, latex, or oil-based paints.
Acrylic paints offer attributes such as fast drying time, ease of use, and compatibility with various surfaces. Latex paints, on the other hand, provide attributes like durability and easy clean-up. Oil-based paints have attributes of excellent adhesion and smooth application, but they may require longer drying times.
To mix the paint, start by pouring your chosen base color into a container. Gradually add the pigments, one at a time, while stirring continuously. Use a palette knife or a stir stick to ensure thorough blending of the colors. Adjust the pigment amounts as needed to achieve the desired brick color.
It's important to note that the intensity of the color may appear darker when the paint is wet. Allow the paint to dry completely before assessing its true color and making any additional adjustments.
Testing and Adjusting the Paint
Before applying the brick colored paint to your desired surface, it's crucial to test it on a sample board or a small area. This allows you to evaluate the attributes of the dried paint, including the color accuracy and texture, and make any necessary adjustments.
Apply a thin coat of the paint to the test surface using a brush or a roller, following the same techniques you would use for the actual project. Allow the paint to dry completely and assess its attributes in different lighting conditions. Consider whether the color matches your desired brick shade and if the texture replicates the look of real bricks.
If the color needs adjustments, you can make fine-tuning by adding more pigments to darken or lighten the paint. You can also modify the base color by incorporating small amounts of other attributes to achieve the desired effect. Keep in mind that it's always better to start with a lighter shade and gradually build up the color rather than trying to lighten a paint that is too dark.
By testing and adjusting the paint, you ensure that the final result will meet your expectations and deliver a realistic brick-like appearance.
Application Techniques
To achieve an authentic brick-like finish, proper application techniques are crucial. The attributes of your application method can significantly impact the texture and overall appearance of the painted surface. Here are some techniques to consider:
Brushstrokes: Use a paintbrush with attributes like stiff bristles to create visible brushstrokes, mimicking the texture of brick mortar lines. Vary the direction and pressure of your brushstrokes to add depth and dimension.
Stippling: Stippling involves using a stippling brush or a sponge to dab the paint onto the surface, creating a textured effect. This technique can replicate the rough texture of bricks. Dab the paint in a random pattern, focusing on areas where you want more texture and depth.
Sponging: Another technique for adding texture is sponge painting. Dip a natural sea sponge or a synthetic sponge into the paint and lightly press it onto the surface. This creates a mottled and irregular pattern, resembling the porous surface of bricks. Experiment with different sponge sizes and textures to achieve the desired effect.
Layering: Building up layers of paint can enhance the depth and realism of your brick colored finish. Apply multiple thin coats, allowing each layer to dry before adding the next. This technique allows you to create subtle color variations and highlights, similar to the natural variations in brick surfaces.
Shading: Adding shading attributes to your paint can create a sense of dimension and shadow, further enhancing the brick-like appearance. Use a slightly darker shade of the brick colored paint or mix in a small amount of black or gray to create shading attributes. Apply the shading in areas where shadows would naturally fall, such as the mortar lines or recessed areas.
Remember to practice these techniques on a sample board before applying them to your actual project. This will allow you to refine your skills and determine the attributes and techniques that work best for your desired outcome.
Finishing and Sealing the Painted Surface
Once you have achieved the desired brick colored finish, it's important to protect and preserve it. Applying a suitable finish will not only enhance the appearance but also provide attributes like durability and weather resistance. Here are some considerations for finishing and sealing your painted surface:
Finish options: Choose a finish that suits your aesthetic preferences and the attributes you want to highlight. Matte finishes offer a subtle and natural look, while satin finishes provide a slight sheen. Glossy finishes deliver a polished and reflective surface. Consider the attributes of each finish and how they complement the overall appearance of your brick colored paint.
Durability and weather resistance: If the painted surface will be exposed to the elements or subjected to wear and tear, select a finish that offers attributes such as durability and weather resistance. Some finishes are specifically formulated to withstand outdoor conditions and protect the paint from fading, cracking, or peeling.
Application of the finish: Follow the manufacturer's instructions for applying the chosen finish. It is typically done using a clean brush, roller, or spray applicator. Ensure the surface is clean and dry before applying the finish. Apply thin, even coats, allowing sufficient drying time between each layer. This will help achieve a smooth and consistent finish.
Maintenance: Proper maintenance is essential to preserve the appearance of your brick colored paint over time. Regular cleaning with a mild detergent and soft cloth can remove dirt and debris. Avoid using harsh chemicals or abrasive materials that could damage the finish or paint surface.
By choosing an appropriate finish and properly sealing your painted surface, you can enjoy the longevity and beauty of your brick colored paint for years to come.
Additional Tips and Ideas
To further enhance the brick-like appearance of your project, consider incorporating these additional attributes and techniques:
Texturing with a sponge: After applying the base coat of brick colored paint, use a sponge dipped in a slightly different shade of paint to create attributes like cracks, rough spots, or worn areas. Gently dab the sponge on the surface, focusing on areas where natural weathering would occur.
Adding moss or weathering effects: To achieve an aged and weathered look, consider attributes like moss or weathering effects. You can apply attributes of green or gray paint in small patches or use a sponge to create a mottled appearance. This can simulate the growth of moss or the effects of moisture and time on the bricks.
Creating a brick stencil: If you're looking to create a brick pattern on a larger surface, consider using a brick stencil. Stencils are available in various sizes and designs. Secure the stencil to the surface and use a brush or sponge to apply brick colored paint through the openings of the stencil. This technique allows for precise and consistent brick attributes, giving the illusion of a brick wall.
Layering different shades: For added depth and dimension, layer different shades of brick colored paint. Start with a base coat of the main brick color, then use a slightly lighter or darker shade to create attributes of variation. Apply the additional layers selectively, focusing on areas where shadows or highlights would naturally occur. This technique can bring your painted surface to life and make it appear more realistic.
Antiquing or distressing: If you want to achieve an antique or distressed look, consider attributes like antiquing glazes or distressing techniques. These attributes can add an aged and weathered appearance to your brick colored paint. Apply the glaze or use sandpaper or a scraper to selectively remove paint in certain areas, revealing the base color or creating attributes of worn edges and chipped paint.
Remember to always allow sufficient drying time between layers, and don't be afraid to experiment and explore different techniques to achieve the desired attributes and effects.
Conclusion
Creating your own brick colored paint allows you to customize the color, texture, and appearance to suit your specific project needs. By understanding the attributes involved, selecting the right base color, experimenting with pigments, and applying the paint with appropriate techniques, you can achieve a stunning brick-like finish on your walls, furniture, or crafts projects.
Whether you're aiming for a traditional, weathered, or aged brick appearance, the process of making brick colored paint offers endless possibilities for creativity. By incorporating various techniques, such as brushstrokes, stippling, and sponging, you can add texture and depth to your paint. Finishing and sealing the painted surface ensure its durability and longevity.
Remember to test and adjust your paint mixture, practice application techniques on sample surfaces, and choose appropriate finishes for protection. With some patience, practice, and attention to detail, you'll be able to achieve a realistic and captivating brick colored paint that adds warmth and character to your projects. So, unleash your creativity and start painting your way to a brick-inspired masterpiece!