How To Make Copper Color Paint
The world of art is a canvas where creativity knows no bounds, and exploring the realms of color is an exhilarating journey. Amid the myriad of hues that grace the artist's palette, there's one shade that holds a timeless charm – copper. A hue that dances between warmth and sophistication, copper color paint adds an exquisite touch to any artistic endeavor.
In this guide, we unravel the secrets of crafting copper color paint from scratch. It's not just about mixing pigments; it's about infusing your creations with a piece of your artistic soul. From understanding the alchemy behind copper pigments to mastering the art of application, we delve into the intricacies that transform your canvas into a tapestry of radiance.
Get ready to immerse yourself in the symphony of colors, textures, and techniques. Whether you're a seasoned artist seeking new depths or an enthusiastic beginner ready to embark on a creative odyssey, learning how to make copper color paint opens a world of possibilities. So, seize your brush and let's explore the art of crafting copper elegance stroke by stroke.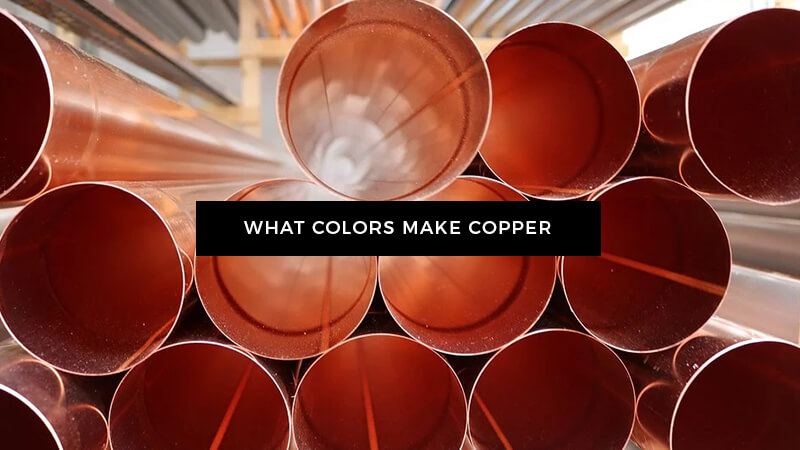 Unveiling Copper Pigment: The Heartbeat of Radiant Color
Before delving into the alchemy of paint creation, let's embrace the essence of copper pigment. Picture this: microscopic particles dancing in harmony to conjure up the distinctive copper shades that have fascinated artists for centuries. Copper pigment isn't just a color; it's a storyteller, echoing tales of antiquity and modernity alike.
Copper pigment's allure stems from its remarkable properties. Its high refractive index grants it the ability to play with light, casting a captivating radiance. Furthermore, its thermal conductivity gives copper-infused creations a unique tactile experience, eliciting fascination with every touch.
Stepping into the artistic realm, copper-infused paints have found their way into diverse applications. From canvas art to sculptures, decorative accents to jewelry, the malleability of copper color allows artists to blur the boundaries between mediums. So, as you embark on your journey, remember that copper pigment isn't just a color; it's your accomplice in sculpting stories on various canvases.
The Color Palette: Melding Hues in Harmonious Symphony
Now, let's weave an intricate tapestry of colors by exploring the palette that complements copper. Imagine a painter's palette laden with an array of shades – some whispering tales of unity, while others reverberate with contrast.
The color wheel becomes your compass in this voyage, guiding you through a spectrum of emotions. Imagine copper swathed in the embrace of analogous colors – the intimate camaraderie between rusty oranges and dusky reds. On the contrary, the vibrant thrill of contrasting shades like turquoise and deep blue magnifies copper's allure.
But don't just stop at the conventional. Experiment, let your creativity flourish, and allow color theory to be your guiding light. Blend subtle earthy tones with bursts of cerulean to lend an unexpected twist to your copper-infused canvas. Remember, your color palette is a symphony, and copper is the melody that resonates across the spectrum.
Gathering Your Materials: Ingredients for Artistic Alchemy
As any skilled alchemist would attest, the right ingredients are the bedrock of exceptional results. In your quest to create copper color paint, your shopping list gains prominence – a list that reads like a manifesto of creativity.
Start with the essentials: copper pigment, binders, and additives. But don't confine yourself to the mundane; explore eco-friendly and sustainable options that echo your commitment to the environment. Delve into the world of modern binders that not only bind colors but narratives too. With each brushstroke, you're contributing to a story of conscious creation.
Remember, your choices shape not only your art but also your impact on the planet. Sustainable choices aren't just a trend; they're a revolution weaving through the very fabric of creativity.
Preparing the Canvas: Where Dreams Take Shape
A blank canvas holds boundless potential, and its preparation is an art in itself. Imagine your canvas as a stage, and each layer you apply as the backdrop for your copper-infused masterpiece.
Choosing the right canvas or medium requires thoughtful consideration. Will it be a canvas that soaks in the copper's glow, or wood that echoes with rustic charm? Apply base layers and primers with the precision of a seasoned storyteller setting the stage for an enthralling performance. This not only enhances adhesion but also ensures the vibrancy of your copper hues.
Think of this stage as the prologue to your creative narrative. Each layer primes the canvas for the brilliance yet to come, akin to the opening lines of a mesmerizing tale.
Mixing the Magic: Concocting Your Copper Elixir
As you stand before your palette, envision yourself as an enchanter mixing a potion of emotions and artistry. The art of achieving the perfect copper hue rests in mastering the delicate dance of pigment-to-paint ratio.
Picture this: copper pigment entwining with its counterparts, each hue contributing to the grand symphony of color. Experimentation becomes your muse, as you dabble with small batches to fine-tune your copper elixir. Each swirl of your brush is a brushstroke of your personality, etching a piece of you into the very essence of your creation.
And let's not forget the dance of opacity and transparency. Adjusting pigment ratios isn't just about achieving a color; it's about curating depth. Like a master storyteller, blend the elements till they resonate with the narrative you wish to unveil.
Achieving Different Shades: Painting with Shades of Copper
The world of copper color isn't confined to a single shade; it's a spectrum of possibilities. Imagine your canvas as a playground of contrasts, where light and dark dance in harmony.
Stepping into this realm requires embracing the variations of copper – the lighter notes that evoke a sense of airiness, and the deeper shades that carry the weight of history. Adjusting pigment proportions empowers you to paint with the very essence of copper's versatility. Delve into the subtleties, recreate the allure of aged copper, and transport your audience to eras past.
Remember, your canvas isn't static; it's a living testament to your creativity. Each shade you create paints a different chapter of your artistic narrative.
Consistency and Texture: Sculpting Dimensions with Paint
Imagine texture as the sculptor's chisel, shaping your creation into dimensions that beg to be touched. Achieving the right consistency isn't just about aesthetics; it's about eliciting emotions through tactile experiences.
Embrace the art of balance; your paint's thickness should mirror the soul of your creation. Incorporate mediums that breathe life into your canvas, adding metallic sheens that play with light. The tactile ecstasy of your artwork becomes a story within a story, a symphony of sensations that awakens the observer's senses.
But remember, like any great tale, your paint's journey is rife with challenges. Address graininess and lumpiness with the precision of a wordsmith editing a manuscript. Your creation deserves perfection, and your dedication to crafting flawless texture is the hallmark of your commitment.
Application Techniques: The Eloquent Brushstrokes
Imagine yourself as a conductor, orchestrating the dance between brush and canvas. Application techniques transform your copper-infused elixir into strokes of brilliance that capture the observer's gaze.
Selecting the right tools becomes your artistic manifesto. A delicate brush for intricate details, a palette knife for bold statements, or even your fingers to infuse your creation with the intimacy of touch. Blend long, sweeping brushstrokes with controlled stippling techniques to create textural symphonies that resonate with emotions.
Each stroke holds intention; each layer adds depth. Remember, your canvas is your stage, and your techniques are the actors that breathe life into your narrative.
Drying and Finishing: Preserving Brilliance for Eternity
As the final brushstroke finds its place, the crescendo of your creative journey is nigh. But patience becomes your most valuable asset, for brilliance requires time to mature.
Allow your creation the time it deserves to dry. Think of it as an intermission, a pause before the grand finale. And when the time is right, choose sealants and varnishes that preserve your masterpiece's integrity. These final touches aren't mere formalities; they're the closure that ensures your narrative endures the tests of time.
Imagine your creation not just as a painting, but as a relic. As it adorns spaces, it weaves stories across generations, a testament to your artistry and dedication.
Beyond the Canvas: Infusing Copper Elegance Everywhere
The realm of copper color isn't confined to canvases alone; it's a universe of possibilities waiting to be explored. Imagine your home transforming into a gallery, where copper-infused accents breathe life into every corner.
Picture your furniture adorned with the elegance of copper-infused hues. A side table infused with rustic charm, a lamp base radiating warmth – each piece carries the touch of your creative brilliance. Accent walls, decorative items, and even jewelry come alive with copper's allure.
As you venture beyond the canvas, let your surroundings become your canvas. Each stroke of copper color extends the boundaries of your narrative, creating a seamless transition between artistic expression and everyday life.
Conclusion
The journey to crafting copper color paint isn't just about colors; it's about stories. Each layer, each stroke, carries with it a narrative of passion, dedication, and creativity.
From the intricate dance of copper pigment to the symphony of color blending, from texture's tactile tales to the crescendo of application techniques, your journey is one of becoming. As an artist, you are the author of this tale, with each artwork being a chapter that celebrates the allure of copper.
So, embrace the perplexity of colors, the burstiness of techniques, and the symphony of textures. Let each creation be an ode to copper's legacy, a reminder that art is the bridge between imagination and reality. Your copper-infused canvases aren't just pieces of art; they're your legacy, painted with the hues of your artistic soul.