How To Marble Acrylic Paint On Canvas
Marbling acrylic paint on canvas opens the door to a world of mesmerizing patterns, captivating textures, and limitless artistic possibilities. This enchanting technique allows artists to create stunning artworks that evoke the beauty of natural stone formations and the whimsy of swirling galaxies. With its versatility and unique effects, marbling has become a favorite among artists seeking to add depth, intrigue, and a touch of magic to their creations.
In this comprehensive guide, we will unravel the secrets of marbling acrylic paint on canvas. From understanding the techniques and gathering the necessary materials to exploring advanced applications and techniques, we will take you step-by-step through the process of achieving breathtaking marbled designs. Whether you are a beginner or an experienced artist looking to expand your repertoire, this guide will equip you with the knowledge and inspiration needed to embark on your marbling journey.
Get ready to unleash your creativity as we delve into the art of marbling. Prepare to be captivated by the fluid dance of colors, the harmony of patterns, and the joy of watching your vision come to life on the canvas. Let's embark on this magical adventure together and unlock the transformative power of marbling acrylic paint on canvas.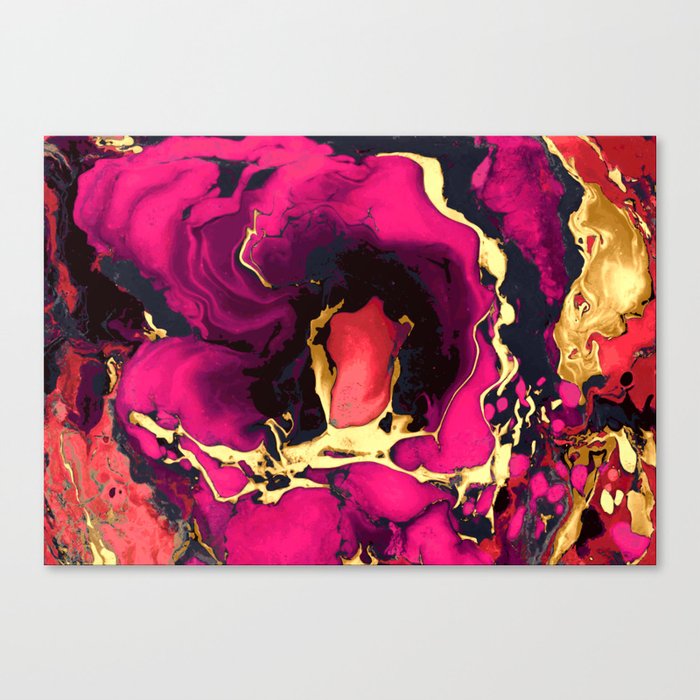 Understanding Marbling Techniques
What is marbling in acrylic painting?
Marbling in acrylic painting refers to the process of creating swirling, fluid patterns on a canvas by manipulating layers of acrylic paint. It involves using various tools and techniques to achieve a marbled effect that resembles the natural patterns found in stones or marbled paper. The beauty of marbling lies in its ability to produce intricate, organic designs that are both visually striking and unpredictable.
To gain inspiration and a deeper understanding of marbling, let's explore how this technique is utilized in different art forms. From marbled ceramics to marbled textiles, the possibilities are endless when it comes to incorporating marbling into your artistic repertoire.
Why use acrylic paint for marbling?
Acrylic paint offers several advantages when it comes to marbling techniques. Its unique properties make it an ideal medium for achieving stunning marbled effects:
Fast-drying: Acrylic paint dries quickly, allowing artists to work efficiently and build layers without long waiting times.
Versatility: Acrylic paint can be diluted with water or medium, making it easy to control the fluidity and consistency needed for marbling.
Adhesion: Acrylic paint adheres well to various surfaces, including canvas, providing a stable foundation for your marbled designs.
Vibrant colors: Acrylic paint is known for its intense pigmentation, offering a wide range of vibrant colors to bring your marbled creations to life.
Compared to other types of paint, such as oil or watercolor, acrylic paint's unique attributes make it a preferred choice for marbling techniques.
Gathering Materials and Setting up Workspace
Before diving into the marbling process, it's important to gather all the necessary materials and set up a suitable workspace. Having everything prepared and organized will help you focus on the artistic process without any interruptions. Let's take a look at the essential materials you'll need and how to create an ideal workspace for marbling.
Essential materials for marbling acrylic paint on canvas
| Materials | Description |
| --- | --- |
| High-quality acrylic paint | Choose a variety of colors that complement your artistic vision. |
| Canvas or surface for painting | Select a canvas or any surface suitable for acrylic paint. |
| Palette or paint mixing surface | Use a palette or a flat surface for mixing and blending paint. |
| Brushes, palette knives, or tools | Prepare various tools for manipulating the paint on the canvas. |
| Water and containers | Have water and containers available for cleaning brushes. |
Preparing the workspace
Creating an optimal workspace will ensure a smooth marbling experience. Consider the following steps when setting up your workspace:
Choose a well-ventilated and well-lit area: Adequate ventilation and lighting are crucial for your comfort and accuracy during the marbling process. Natural light or a combination of natural and artificial light is ideal.
Cover the work surface with protective material: Marbling can get messy, so it's essential to protect your work surface. Cover your table or workbench with plastic sheets or disposable tablecloths to prevent any paint spills or stains.
Organize materials for easy access: during the process. Arrange your materials in a logical and accessible manner. This will save you time and allow you to focus on your artistic expression without any unnecessary distractions.
Preparing the Acrylic Paint
Now that your workspace is ready, it's time to prepare the acrylic paint for marbling. This involves selecting the right colors and achieving the desired consistency for fluid and seamless marbling effects.
Choosing the right colors for marbling
Selecting the appropriate colors is crucial for creating visually stunning marbled designs. Consider the following factors when choosing your colors:
Color combinations and desired aesthetic: Think about the overall mood and aesthetic you want to convey with your marbled artwork. Experiment with different color combinations to create harmonious or contrasting effects.
Exploring different color schemes and their effects: Familiarize yourself with various color schemes, such as complementary, analogous, or monochromatic. Each scheme will evoke different emotions and visual impact.
Mixing and testing colors before starting the marbling process: Once you have chosen your colors, mix them on a palette or a separate surface to achieve the desired shades. Take the time to test the colors on a sample surface to ensure they blend well together and achieve the desired effect.
Preparing the paint consistency
The consistency of your acrylic paint plays a crucial role in the success of your marbling technique. Follow these steps to achieve the ideal paint consistency:
Diluting acrylic paint with water or medium: Start by pouring a small amount of acrylic paint into separate containers. Gradually add water or acrylic medium to each container, mixing well until you achieve a fluid consistency. Remember, different colors may require different levels of dilution, so adjust accordingly.
Achieving the desired fluidity for marbling: The paint consistency for marbling should be fluid enough to flow and mix easily on the canvas, but not overly watery. Aim for a consistency similar to heavy cream or melted ice cream.
Testing paint consistency on a sample surface: Before applying the paint to your canvas, test the consistency on a sample surface. Observe how the paint spreads and blends together. Make any necessary adjustments to achieve the desired fluidity.
Applying the Marbling Technique
With your paint prepared and your colors selected, it's time to delve into the marbling process. This section will guide you through the steps of applying the marbling technique to create stunning patterns on your canvas.
Applying a base coat on the canvas
Before you begin the marbling process, it's essential to apply a base coat on your canvas. The base coat serves as a background color and provides a foundation for the marbled design.
Choosing a suitable base color for the marbled design: Consider the colors you have chosen for your marbled design and select a base color that will complement or enhance those colors. It can be a single color or a blend of colors.
Applying an even layer of base coat on the canvas: Use a brush or a roller to apply an even layer of the base color on the entire canvas. Ensure that the base coat is smooth and free from any streaks or clumps. Let the base coat dry completely before proceeding to the next step.
Pouring and manipulating the paint
Now comes the exciting part – pouring and manipulating the paint to create the marbling effect on your canvas. Follow these steps to achieve captivating patterns and textures:
Pouring multiple colors of prepared paint onto the canvas: Begin by pouring small amounts of your prepared acrylic paint onto the canvas. Start with one color at a time, allowing them to blend and interact naturally.
Using various techniques to manipulate the paint: Once the paint is poured, use different techniques to manipulate the paint and create the desired marbling effect. Here are some popular techniques:
Swirling: Use a brush, palette knife, or other tools to gently swirl the colors together on the canvas. Experiment with different swirling motions to create unique patterns and blends.
Combing: Drag a comb or a fine-toothed tool through the wet paint to create intricate lines or textures. Vary the pressure and direction to achieve different effects.
Blow-drying: Use a hairdryer on a low setting to blow the paint across the canvas. This technique can create beautiful wisps and organic shapes.
Tilting and tilting: Tilt the canvas in different directions to allow the paint to flow and mix naturally. This technique creates interesting drips and blends.
Experimenting with different patterns and movements: Don't be afraid to explore different patterns and movements during the marbling process. Try dragging a comb in curved lines, create concentric circles, or experiment with random splatters. The possibilities are endless, and each experimentation will yield unique results.
Remember to step back and observe your marbled design as you work. Adjust the colors or the manipulation techniques if desired, to achieve the desired aesthetic.
Creating marbling effects
To add further depth and texture to your marbled design, consider incorporating additional techniques and elements. Here are some ideas to explore:
Blotting or scraping techniques: Use a sponge, paper towel, or even plastic wrap to gently blot or scrape the wet paint on the canvas. This technique adds interesting textures and variations to the marbling.
Incorporating additional elements: Experiment with incorporating alcohol, solvents, or other additives into the wet paint to create unique effects. These can create fascinating interactions and patterns within the marbled design.
Allow your creativity to guide you as you explore these advanced marbling techniques. Each experimentation will contribute to the uniqueness of your artwork.
Finishing and Post-Marbling Steps
Once you have achieved the desired marbled effect on your canvas, it's important to follow these steps to ensure the longevity and preservation of your artwork.
Allowing the marbled paint to dry
Patience is key when it comes to drying the marbled paint. Allow ample time for the paint to dry completely before proceeding with any further steps. Avoid touching or disturbing the surface during the drying process to maintain the integrity of the marbled design.
Varnishing and sealing the finished marbled painting
To protect and enhance the appearance of your marbled artwork, consider applying a varnish or sealant. Follow these steps:
Choosing an appropriate varnish for acrylic paint: Select a varnish specifically designed for use with acrylic paint. Consider the desired finish, such as matte, satin, or gloss.
Applying a protective layer: Use a clean brush to apply an even layer of varnish to the entire surface of the marbled painting. Follow the manufacturer's instructions for drying time and additional coats if necessary.
Considering long-term preservation and maintenance: Keep your marbled artwork away from direct sunlight and extreme temperature fluctuations to prevent fading or damage. Regularly dust the surface gently with a soft, lint-free cloth to maintain its appearance.
By varnishing and properly maintaining your marbled painting, you can ensure its longevity and preserve its vibrant colors for years to come.
Exploring Advanced Marbling Techniques
Once you have mastered the basics of marbling, it's time to explore advanced techniques and push the boundaries of your creativity. Here are a few ideas to take your marbling skills to the next level:
Combining marbling with other acrylic painting techniques
Marbling can be beautifully combined with other acrylic painting techniques to create unique artistic expressions. Here are some ways to integrate marbling with other techniques:
Layering marbling with other painting styles: Experiment with incorporating marbling into other painting styles, such as abstract or landscape. Use the marbled patterns as a backdrop or incorporate them as focal points within your artwork.
Incorporating different textures and materials: Explore the combination of marbling with various textures and materials. For example, you can incorporate collage elements, textured mediums, or even natural materials like sand or fibers to enhance the visual and tactile experience of your artwork.
By blending marbling with other techniques, you can create multi-dimensional artworks that showcase your artistic versatility.
Creating intricate designs and patterns
Take your marbling skills to the next level by exploring intricate designs and patterns within your marbled artwork:
Using masking techniques: Introduce masking techniques to control the application of paint and create precise shapes or areas of interest within the marbling. Use masking tape, stencils, or even custom-cut shapes to guide the paint and achieve intricate details.
Experimenting with stencils or stamps: Incorporate stencils or stamps into your marbling process to create repetitive patterns or motifs. This technique adds a structured element to the organic nature of marbling.
Exploring different color palettes: Play with a variety of color palettes to evoke different moods and aesthetics within your marbled designs. Experiment with monochromatic schemes, complementary color combinations, or even bold contrasting palettes to create visual impact.
By integrating these advanced techniques and experimenting with colors, patterns, and materials, you can unlock endless possibilities for your marbled artworks.
Conclusion
Marbling acrylic paint on canvas offers a captivating and versatile technique for artists to create visually stunning and unique artworks. By understanding the marbling techniques, gathering the necessary materials, and preparing the acrylic paint, you can embark on a creative journey that explores the mesmerizing patterns and textures achievable through marbling. With practice, experimentation, and the incorporation of advanced techniques, your marbled artworks will evolve into captivating masterpieces that reflect your artistic vision. So, gather your supplies, unleash your creativity, and immerse yourself in the magical world of marbling acrylic paint on canvas.