How to Paint Ceramics With Acrylic Paint
Welcome to the exciting world of ceramic painting with acrylics! If you're looking to infuse your ceramics with vibrant colors and unleash your artistic expression, you've come to the right place. In this comprehensive guide, we will delve into the techniques, tips, and creative possibilities of painting ceramics with acrylic paint.
Acrylic paint is a versatile and accessible medium that allows you to transform ordinary ceramic pieces into unique works of art. Whether you're a beginner exploring the art of painting or an experienced artist seeking new avenues for creativity, this guide will equip you with the knowledge and skills to embark on your ceramic painting journey.
We'll start by outlining the necessary materials and preparing your ceramics for painting, ensuring a smooth and long-lasting finish. Then, we'll delve into the fascinating world of acrylic paints, discussing the different types available and guiding you in selecting the perfect colors for your designs.
Once you're ready to paint, we'll explore various techniques and brushwork that will bring your ceramics to life. From blending colors to creating intricate details, you'll learn how to achieve stunning effects and capture your artistic vision on the ceramic canvas.
But the journey doesn't end there! We'll also cover the essential steps of curing and sealing your painted ceramics to ensure their durability and explore additional finishing touches to add that extra touch of charm to your creations.
Get ready to unleash your creativity and breathe life into your ceramics with acrylic paint. Let's dive in and discover the joy of painting ceramics together!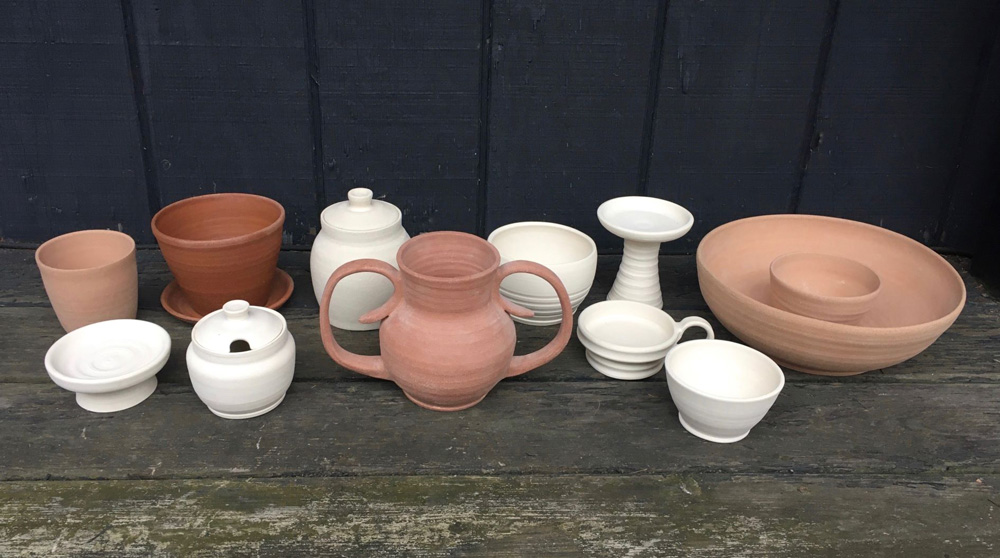 Materials and Preparation
Before diving into the exciting world of ceramic painting, it's important to gather the necessary materials and prepare the ceramic surface properly. Here's what you'll need to get started:
Gathering the necessary materials
| Materials | Description |
| --- | --- |
| Acrylic paints | Artist-grade or craft-grade paints in various colors |
| Ceramic pieces | Plain ceramics such as mugs, plates, or figurines |
| Brushes | A variety of brush shapes and sizes |
| Water container | To rinse brushes between color changes |
| Palette | A palette or mixing surface to blend and test colors |
| Primer | A suitable primer for ceramic surfaces |
| Sandpaper | Fine-grit sandpaper for smoothing the ceramic surface |
| Base coat (optional) | A base coat for better paint adhesion (if necessary) |
| Sealant or varnish (optional) | A sealant to protect the painted surface |
Preparing the ceramic surface for painting
Before you start painting, it's essential to prepare the ceramic surface properly. Follow these steps to ensure a smooth and long-lasting finish:
Cleaning the ceramics: Begin by cleaning the ceramic pieces thoroughly. Remove any dirt, dust, or grease using a mild soap and water solution. Rinse them well and allow them to dry completely.
Sanding the surface (if required): If the ceramic surface has any rough patches or imperfections, gently sand it with fine-grit sandpaper. This step helps create a smooth surface for better paint adhesion. Be sure to wipe away any dust from sanding.
Applying a base coat (if necessary): Some ceramics may benefit from a base coat before painting. A base coat helps create an even surface and enhances the vibrancy of the acrylic colors. Choose a base coat color that complements your design and apply it in thin, even layers. Allow each layer to dry completely before proceeding to the next section.
Choosing the Right Acrylic Paints
When it comes to selecting acrylic paints for your ceramic project, there are a few factors to consider, such as the type of paint and the colors that best suit your design.
Understanding the different types of acrylic paints
Acrylic paints come in two main types: artist-grade and craft-grade. Here's a brief overview of each type:
Artist-grade acrylic paints: These paints are of higher quality and are often used by professional artists. They have a higher pigment concentration, resulting in more vibrant colors and better lightfastness. Artist-grade paints offer excellent coverage and are suitable for intricate details.
Craft-grade acrylic paints: These paints are more affordable and widely available in craft stores. While they may have a lower pigment concentration, they still provide vibrant colors and good coverage. Craft-grade paints are a great option for beginners or those working on larger ceramic projects.
Selecting the appropriate colors for your ceramics
Choosing the right colors is essential to bring your ceramic piece to life. Consider the following factors when selecting acrylic paint colors:
Considering the design or pattern: Think about the overall design or pattern you want to create on the ceramics. Decide on a color scheme that complements your vision. For example, if you're painting a floral design, you might opt for a range of vibrant colors like reds, pinks, yellows, and greens. On the other hand, if you prefer a more monochromatic or minimalist approach, you could choose a single color or a limited palette of complementary hues.
Harmonizing color choices: Keep in mind the overall aesthetic you want to achieve. Consider how the colors you select will harmonize with each other and with the ceramic piece itself. You may want to create a cohesive color palette or choose contrasting colors for a bold and striking effect. Experiment with color combinations on a palette or scrap paper before applying them to your ceramics.
Remember, acrylic paints are highly versatile, allowing you to mix colors to create custom shades. Don't be afraid to experiment and explore different combinations to achieve the desired look for your ceramics.
Surface Preparation Techniques
Proper surface preparation is crucial for ensuring the longevity and adhesion of the acrylic paint on ceramics. This involves priming the ceramic surface and applying a base coat if necessary.
Priming the ceramic surface
Priming the ceramic surface creates a better foundation for the paint and improves adhesion. Follow these steps to prime your ceramics:
Applying a primer for better adhesion: Choose a primer specifically designed for ceramic surfaces. Apply a thin, even layer of primer using a brush or a sponge. Ensure that the primer covers the entire surface of the ceramic piece. Allow the primer to dry according to the manufacturer's instructions.
Letting the primer dry and cure: Once the primer is applied, give it sufficient time to dry and cure. This helps create a strong bond between the primer and the ceramic surface, ensuring better adhesion for the subsequent layers of paint.
Using a base coat
Applying a base coat is optional but can be beneficial, especially if you're working with ceramics that have a porous or uneven surface. Here's how to apply a base coat:
Applying a thin, even layer of base coat: Choose a base coat color that complements your design or helps create a desired effect. Using a brush or a sponge, apply a thin, even layer of base coat to the entire ceramic surface. Ensure that the base coat covers any imperfections or color variations on the ceramics.
Allowing the base coat to dry completely: Give the base coat sufficient drying time according to the paint manufacturer's instructions. It's crucial to ensure that the base coat is completely dry before moving on to the next steps. This helps prevent smudging or mixing of colors during the painting process.
By properly priming the ceramic surface and applying a base coat if necessary, you create an ideal canvas for the acrylic paint, allowing it to adhere better and ensuring a smoother and more durable finish.
Applying Acrylic Paint to Ceramics
With the ceramic surface prepared and ready, it's time to start applying acrylic paint. This section covers the key considerations and techniques for achieving excellent results.
Choosing the right brushes
Selecting the appropriate brushes is essential for achieving different effects and executing intricate details. Consider the following factors when choosing brushes for ceramic painting:
Different brush shapes and sizes: Acrylic brushes come in various shapes, such as flat, round, filbert, and detail brushes. Each shape serves a specific purpose, allowing you to create different brushstrokes and textures. Experiment with different brush shapes to achieve the desired effects in your ceramic painting.
Synthetic or natural bristles: Brushes are made with either synthetic or natural bristles. Synthetic brushes are often more affordable and durable, while natural bristle brushes are ideal for certain techniques and provide a softer touch. Choose the type of bristle that suits your painting style and preferences.
Consider having a variety of brush sizes and shapes on hand to accommodate different areas of your ceramic piece and the level of detail you wish to achieve. A larger brush may be suitable for covering larger surfaces, while a fine detail brush will help you paint intricate designs or small accents.
Applying acrylic paint
To achieve the best results when painting ceramics with acrylics, follow these tips and techniques:
Mixing the paint properly: Before you begin painting, it's essential to mix your acrylic paints thoroughly. Use a palette or a mixing surface to blend the colors and achieve the desired shades. Start with a small amount of paint and gradually add more as needed. Consistency is key; aim for a smooth and creamy texture that is easy to work with.
Starting with light layers and building up color: It's often best to start with light, thin layers of paint and gradually build up the color intensity. This approach allows you to have better control over the opacity and ensures a more even application. Allow each layer to dry before adding subsequent layers to prevent smudging or mixing of colors.
Techniques for different effects: Acrylic paint offers a range of techniques to explore and add visual interest to your ceramics. Consider trying techniques such as blending, dry brushing, stippling, or sponging to create unique textures and effects. Practice these techniques on a scrap piece of ceramics or paper before applying them to your main project.
Ensuring even coverage: When painting ceramics, strive for even coverage across the entire surface. Pay attention to any gaps or areas that may require additional paint. Use smooth, controlled brushstrokes, and be mindful of the direction of your brush movements to maintain consistency.
Painting intricate details
If you're working on a design that involves intricate details, such as fine lines or delicate patterns, consider the following tips:
Using fine brushes or liners: Invest in high-quality fine brushes or liners specifically designed for detailed work. These brushes typically have long, thin bristles that allow for precise control. They are excellent for adding intricate designs, outlines, or small accents to your ceramics.
Taking your time and being patient: Painting intricate details requires patience and a steady hand. Take your time to ensure accuracy and neatness. If needed, use a magnifying glass to assist you in working on minute details. Remember, practice makes perfect, so don't be discouraged if it takes a few tries to achieve the desired level of detail.
By employing these techniques and focusing on precision, you can create beautifully painted ceramics that showcase your artistic skills and attention to detail.
Curing and Sealing the Painted Ceramics
Once you have completed the painting process, it's essential to properly cure and seal the acrylic paint on your ceramics. This helps ensure the longevity and durability of your artwork.
Allowing the paint to dry
After you have finished painting, allow the acrylic paint to dry thoroughly before moving on to the curing and sealing steps. The drying time can vary depending on factors such as the paint brand, thickness of the layers, and environmental conditions. Follow the paint manufacturer's instructions for the recommended drying time.
Air drying vs. baking in an oven
There are two common methods for drying acrylic paint on ceramics: air drying and baking in an oven. The method you choose depends on the type of acrylic paint you used and its recommended drying process.
Air drying: Some acrylic paints are designed to dry naturally when exposed to air. In this case, simply place your painted ceramics in a well-ventilated area and allow the paint to air dry completely. This process can take several days or even weeks, depending on the paint and the thickness of the layers.
Baking in an oven: Certain acrylic paints are formulated to be heat-set by baking in an oven. This process helps cure the paint and creates a more durable finish.
If your acrylic paint instructions recommend oven baking, follow these steps:
Verify oven suitability: Ensure that your ceramics are oven-safe. Check the manufacturer's guidelines or look for an indication on the bottom of the ceramic piece.
Preheat the oven: Preheat your oven to the temperature specified by the acrylic paint manufacturer. It's crucial to maintain a consistent temperature throughout the baking process.
Place ceramics in the oven: Carefully place your painted ceramics on a baking sheet or in a baking dish. Avoid overcrowding to allow for even heat distribution.
Bake the ceramics: Put the baking sheet or dish with the ceramics in the preheated oven. Follow the recommended baking time provided by the paint manufacturer. Avoid opening the oven door during the baking process to maintain a steady temperature.
Cool and handle with care: Once the baking time is complete, turn off the oven and allow the ceramics to cool down inside the oven. This gradual cooling helps prevent any sudden temperature changes that could cause the ceramics to crack. Once cooled, handle the ceramics with care.
Applying a sealant or varnish
To protect the painted surface and enhance its longevity, consider applying a sealant or varnish specifically designed for use on ceramics. Here's how to proceed:
Choosing the appropriate sealant for ceramics: Look for a sealant or varnish that is formulated for use on ceramics and compatible with acrylic paints. Select a finish that suits your preference, such as glossy, matte, or satin.
Applying the sealant: Follow the instructions provided by the sealant manufacturer for proper application. Generally, you'll use a brush or sponge to apply a thin, even layer of sealant over the painted surface. Allow the sealant to dry completely before handling the ceramics.
Applying a sealant not only protects the painted surface from scratches, moisture, and fading but also gives a professional finish to your ceramics.
Adding Finishing Touches
To further enhance the visual appeal of your painted ceramics, you can incorporate additional decorative elements and refine your artwork. Consider the following ideas and tips:
Adding additional decorative elements
Glitter, gems, or decals: Consider adding a touch of sparkle to your ceramics by incorporating glitter, adhesive gems, or decorative decals. These elements can be applied using appropriate adhesive or sealant, giving your ceramics an extra touch of elegance or whimsy.
Experimenting with mixed media: Explore the possibilities of combining acrylic paint with other materials. For example, you can use stencils to create intricate patterns or incorporate textured elements like fabric or paper to add depth and interest to your ceramics.
Cleaning up any mistakes or smudges
Mistakes or smudges are a natural part of the artistic process. If you notice any errors or imperfections in your painted ceramics, here's how to address them:
Using a damp cloth or cotton swab: If you make a small mistake or need to remove excess paint, gently dab a damp cloth or cotton swab on the affected area. Be cautious not to rub too hard, as it may disturb the underlying layers of paint.
Touching up with acrylic paint if needed: For more significant mistakes or areas that require touch-ups, use the appropriate color of acrylic paint and a fine brush to carefully correct the issue. Allow the touch-up paint to dry completely before applying a sealant or varnish.
Remember, imperfections can often add character and uniqueness to your artwork. Embrace them as part of the creative process, and don't be afraid to experiment and take risks.
Caring for Painted Ceramics
To ensure the longevity and vibrancy of your painted ceramics, proper care and maintenance are essential. Follow these guidelines to keep your artwork looking its best:
Hand-washing vs. dishwasher-safe paints:
When it comes to cleaning your painted ceramics, it's important to consider whether the paints used are dishwasher-safe or require hand-washing. While some acrylic paints are labeled as dishwasher-safe, others may require more gentle cleaning methods to preserve the paint's integrity.
Hand-washing: If your painted ceramics are not labeled as dishwasher-safe, it's best to wash them by hand. Use a mild dish soap and warm water to gently clean the surface. Avoid scrubbing too vigorously or using abrasive cleaners or scrubbing tools, as they can damage the painted design.
Dishwasher-safe paints: If your ceramics are labeled as dishwasher-safe, you can choose to clean them in the dishwasher. However, keep in mind that frequent dishwasher cycles may gradually wear down the paint over time. To prolong the life of the artwork, consider hand-washing occasionally or placing the ceramics on the top rack of the dishwasher.
Gentle cleaning techniques:
Regardless of whether your painted ceramics are dishwasher-safe or not, follow these gentle cleaning techniques to maintain their beauty:
Using mild soap and water: Use a mild dish soap and lukewarm water to clean the ceramics. Avoid harsh detergents or cleaning agents that can damage the paint.
Soft cloth or sponge: Use a soft cloth or sponge to gently wipe the surface of the ceramics. Avoid abrasive materials that can scratch or dull the paint.
Pat-drying: After cleaning, pat-dry the ceramics with a soft, lint-free cloth. Avoid rubbing vigorously, as it can smudge or remove the paint.
Storing ceramics properly to prevent damage:
Proper storage is essential to prevent damage to your painted ceramics. Consider the following tips for storing them safely:
Separate with padding: If you have multiple ceramics, place a soft cloth or tissue paper between them to prevent scratching or chipping.
Avoid stacking: If possible, avoid stacking ceramics on top of each other, as the weight can cause them to crack or chip. If stacking is necessary, place a soft cloth or padding between each piece.
Display or store in a protected area: Keep your painted ceramics in a display cabinet or on a shelf away from direct sunlight, excessive heat, or high humidity. These environmental factors can cause the paint to fade or deteriorate over time.
By following proper care and storage practices, you can ensure that your painted ceramics remain vibrant and beautiful for years to come.
Inspirational Ideas and Tips
Now that you have a solid foundation of knowledge about painting ceramics with acrylics, let's explore some inspirational ideas and additional tips to enhance your creativity:
Exploring different ceramic painting techniques
Marbleizing: Create a marble-like effect on your ceramics by swirling different colors of acrylic paint together. Use a toothpick or a thin brush to gently mix the colors and create a mesmerizing marbled pattern.
Ombre effects: Experiment with gradients and ombre effects by blending different shades of the same color or transitioning between contrasting colors. Start with a base color and gradually add lighter or darker tones to achieve a smooth transition.
Abstract designs: Embrace your artistic freedom by creating abstract designs on your ceramics. Play with shapes, lines, and colors to express your unique artistic style.
Incorporating patterns or motifs into your designs
Geometric patterns: Use painter's tape or stencils to create precise geometric patterns on your ceramics. Experiment with triangles, squares, chevrons, or other geometric shapes to add a modern and contemporary touch.
Nature-inspired motifs: Take inspiration from the beauty of nature by incorporating floral, botanical, or animal motifs into your designs. Use reference images or create your interpretations of natural elements to personalize your ceramics.
Cultural influences: Draw inspiration from various cultures and incorporate their traditional patterns or motifs into your ceramic designs. Research different cultural art styles and adapt them to create unique and visually captivating compositions.
Experimenting with different finishes
Glossy finish: Apply a glossy sealant or varnish to your painted ceramics for a shiny and reflective finish. This finish enhances the vibrancy of the colors and adds a polished look to your artwork.
Matte finish: If you prefer a more subtle and understated look, opt for a matte sealant or varnish. This finish provides a velvety texture and reduces glare, giving your ceramics a sophisticated and contemporary appearance.
Textured finishes: Explore textured finishes by incorporating different mediums into your ceramic paintings. Add elements like sand, fabric, or textured gels to create tactile surfaces that add depth and interest to your artwork.
Remember, the creative process is about exploration and self-expression. Don't be afraid to try new techniques, combine different styles, or break traditional patterns to create ceramics that truly reflect your artistic vision.
Troubleshooting Common Issues
Even with careful attention, you may encounter some common issues during the ceramic painting process. Here are a few troubleshooting tips to help you overcome these challenges:
Paint not adhering properly
Ensure that the ceramic surface is clean and free from any residue or contaminants that may hinder paint adhesion.
Consider sanding the surface lightly to provide a better grip for the paint.
Use a suitable primer to enhance adhesion between the ceramic surface and the paint.
Paint cracking or peeling
Avoid applying thick layers of paint, as they can lead to cracking or peeling. Work with thin and even layers, allowing each layer to dry before applying the next.
Ensure that your ceramics are properly cured and sealed to enhance the durability of the paint.
Uneven coverage or streaks
Apply paint in thin and consistent layers, using smooth and controlled brushstrokes.
Make sure to mix your acrylic paint thoroughly to avoid any clumps or uneven pigmentation.
Consider applying an additional layer or touch-up to achieve an even and desired coverage.
If you encounter any other issues, don't get discouraged. Take them as learning opportunities and adapt your techniques accordingly.
Conclusion
Congratulations! You've learned valuable techniques, tips, and inspiration for painting ceramics with acrylic paint. Armed with this knowledge, you can embark on your ceramic painting journey with confidence and creativity.
Remember to gather the necessary materials, prepare the ceramic surface properly, and select the right acrylic paints and brushes. Take your time to apply the paint, using different techniques to achieve various effects. Cure and seal your artwork to ensure its longevity, and practice proper care and maintenance.
Through experimentation and exploration, you'll develop your unique style and create stunning painted ceramics that reflect your artistic expression. Enjoy the process, embrace imperfections, and let your creativity flourish on the canvas of ceramic.
Happy painting!