How to Paint Metal With Acrylic Paint
Painting metal surfaces with acrylic paint opens up a world of creative possibilities, allowing you to transform ordinary metal objects into stunning works of art. Whether you want to revitalize an old metal piece or add a vibrant touch to a metal surface, acrylic paint offers versatility, durability, and a wide range of colors to choose from. By understanding the proper techniques and steps involved in painting metal with acrylics, you can achieve professional-looking results that stand the test of time.
In this comprehensive guide, we will take you through the process of painting metal with acrylic paint, from preparing the metal surface to applying the paint and protecting the finished work. You will learn how to assess and prepare the metal surface, select the right acrylic paint for your project, and apply the paint using various techniques. We will delve into the importance of priming the metal, choosing the appropriate application method, and exploring different painting techniques for metal surfaces. Additionally, we will discuss layering and building colors, as well as the crucial step of finishing and protecting the painted metal.
Get ready to unleash your creativity and discover the joy of transforming metal with acrylic paint. Let's dive into the world of metal painting and unlock the potential of this exciting artistic medium.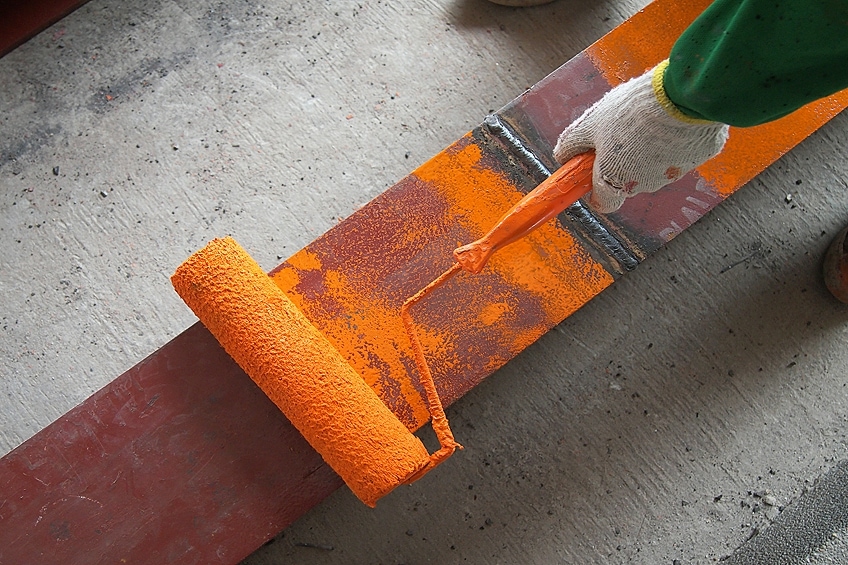 Preparing the Metal Surface
Before diving into the painting process, it's crucial to prepare the metal surface properly. This ensures proper adhesion of the acrylic paint and helps create a smooth and long-lasting finish. Let's explore the steps involved in preparing the metal surface.
Assessing the Metal
The first step is to assess the metal you'll be painting. Different types of metals may require specific treatments or primers for optimal paint adhesion. Additionally, you'll want to evaluate the condition of the metal surface, looking for any rust, flaking paint, or imperfections that need to be addressed.
Identifying the type of metal is important because some metals, such as aluminum or galvanized steel, require specialized primers to ensure proper paint adhesion. Research or consult with experts to determine the appropriate primer for the specific metal you're working with.
Cleaning the Metal
Properly cleaning the metal surface is essential for removing dirt, grease, and debris that can interfere with paint adhesion. Begin by wiping down the metal with a clean cloth or sponge dampened with water. For stubborn dirt or grease, you can use mild dish soap or a gentle household cleaner.
Avoid using harsh chemicals or abrasive cleaners that may damage the metal surface. Rinse the metal thoroughly after cleaning to remove any residue and allow it to dry completely before proceeding.
Sanding the Metal
Sanding the metal surface helps create a smooth and slightly textured surface that promotes better paint adhesion. Select the appropriate grit sandpaper based on the condition of the metal and the desired finish. Generally, a medium-grit sandpaper, such as 120 to 180 grit, works well for most metal surfaces.
Using light to moderate pressure, sand the metal in a circular or back-and-forth motion. This helps remove any remaining rust, old paint, or surface imperfections. Remember to wipe away any dust or debris resulting from sanding before moving on to the next step.
Choosing the Right Acrylic Paint
Acrylic paint offers a wide range of colors, finishes, and application options. To achieve the best results when painting metal, it's essential to choose the right type of acrylic paint and prepare it appropriately.
Understanding Acrylic Paints
Acrylic paints are made of pigments suspended in an acrylic polymer emulsion. They are known for their fast drying time, water solubility (when wet), and flexibility when dry. Acrylic paints come in various forms, including heavy body, fluid, and craft acrylics.
Heavy body acrylics have a thick consistency and are suitable for creating textured effects and impasto techniques. Fluid acrylics have a thinner consistency and work well for pouring, glazing, or airbrushing. Craft acrylics, also known as student-grade acrylics, are more economical and often come in a wider range of colors.
Selecting the Appropriate Acrylic Paint
When selecting acrylic paint for metal, consider the texture, finish, and color you want to achieve. For a smooth finish, you may prefer using fluid acrylics or diluting heavy body acrylics with water or a flow-improver medium. If you're looking for a textured effect or working on a metal sculpture, heavy body acrylics can provide more body and dimension to the paint. Consider the attributes prominence, attribute popularity, and attribute relevance.
Additionally, take into account the coverage capabilities of the paint. Some acrylic paints offer better coverage with fewer coats, which can be beneficial when working on metal surfaces. Look for paints specifically labeled as suitable for metal or multi-surface paints that adhere well to various materials, including metal.
When it comes to color, acrylic paints offer a wide array of options. Consider the color scheme you desire and whether you want a matte, satin, or glossy finish. Keep in mind that darker colors may require more coats to achieve full opacity on metal surfaces.
Preparing the Acrylic Paint
Before applying the acrylic paint to the metal surface, it's important to prepare the paint properly. This ensures the desired consistency and helps in achieving smooth and even coverage.
Start by thoroughly stirring the paint with a wooden stick or palette knife to ensure that any settled pigments or additives are properly mixed. If the paint appears too thick or pasty, you can add a small amount of water or a thinning medium, following the manufacturer's instructions. On the other hand, if the paint seems too thin, you can let it sit uncovered for a short period to allow evaporation and thickening.
Keep in mind that different brands and types of acrylic paint may have varying viscosities, so adjust the consistency according to the desired application technique and the texture of the metal surface.
Applying Acrylic Paint on Metal
With the metal surface properly prepared and the acrylic paint ready, it's time to apply the paint to achieve a beautiful and long-lasting finish. The application process involves priming the metal, choosing the application method, employing specific painting techniques, and layering colors when necessary.
Priming the Metal
Priming the metal surface before applying the acrylic paint is crucial for several reasons. A primer enhances the adhesion of the paint, prevents corrosion, and provides a smooth and uniform base for the paint to adhere to. It also helps in achieving better color accuracy and coverage.
Select a primer specifically designed for metal surfaces and follow the manufacturer's instructions for application. Apply the primer evenly using a brush or spray, ensuring that it covers the entire metal surface. Allow the primer to dry completely before moving on to the next step.
Choosing the Application Method
When it comes to applying acrylic paint on metal, you have different options for the application method. The choice depends on personal preference, the size and complexity of the object being painted, and the desired finish.
Brushing the Paint: Using a paintbrush is a traditional and versatile method for applying acrylic paint on metal. Select a brush suitable for the size of the surface and the level of detail required. Flat or angled brushes with synthetic bristles work well for larger areas, while finer brushes with pointed tips are ideal for intricate designs or small objects.Dip the brush into the paint, removing excess paint by tapping it gently on the edge of the container. Apply the paint in smooth and even strokes, following the shape of the object or the desired pattern. Avoid excessive brushstrokes or heavy pressure that can create visible lines or brush marks.
Spraying the Paint: Spraying acrylic paint on metal surfaces offers a smooth and uniform application, particularly for large or irregularly shaped objects. This method requires the use of a paint sprayer or airbrush, which can be either handheld or compressor-powered.Before spraying, ensure that the paint is properly thinned to the manufacturer's recommendations for the sprayer. Adjust the spray nozzle or air pressure for the desired coverage and pattern. Apply the paint in light, overlapping passes, maintaining a consistent distance from the surface to achieve an even coat. Practice on a scrap piece of metal before spraying the final project to get comfortable with the technique and ensure the desired result.
Painting Techniques for Metal Surfaces
To achieve a professional-looking finish when painting metal with acrylics, employing proper painting techniques is essential. Here are some techniques to consider:
Strokes and Brushwork: Experiment with different brushstrokes and techniques to create unique textures and effects. For example, you can use cross-hatching, stippling, or dry brushing to add depth and interest to your painted metal surface. Varying the direction and pressure of your brushstrokes can also create different visual effects.
Achieving Even Coverage and Smooth Finishes: When applying acrylic paint on metal, strive for even coverage and smooth finishes. Avoid leaving visible brush marks or uneven areas. Work in thin layers, allowing each coat to dry before applying the next. This approach helps prevent the paint from pooling or becoming too thick, resulting in a more consistent and professional-looking finish.
Layering and Building Colors
Depending on the desired effect and complexity of your project, layering and building colors can enhance the visual appeal of your painted metal surface. Layering involves applying multiple thin coats of paint, allowing each layer to dry before adding the next. This technique helps achieve depth, dimension, and color richness.
For example, if you want to create a metallic effect on your metal surface, you can start with a base coat of a solid color and then layer metallic or shimmering acrylic paints on top. This technique adds visual interest and can simulate the appearance of aged or patinated metal.
When layering colors, consider the opacity of the paints you're using. If a color is translucent or semi-transparent, it may require additional coats to achieve the desired vibrancy or coverage. Be patient and allow each layer to dry completely before adding subsequent layers.
Finishing and Protecting the Painted Metal
To ensure the longevity and durability of your painted metal surface, it's important to apply a protective finish or sealant. A clear coat or varnish acts as a barrier, shielding the paint from environmental factors and providing a protective layer against scratches and fading. Here's what you need to know about finishing and protecting your painted metal.
Sealing the Acrylic Paint
Sealing the acrylic paint on the metal surface helps protect it from moisture, UV rays, and general wear and tear. A clear coat or varnish specifically designed for acrylic paints can provide the necessary protection and enhance the overall appearance of your painted metal.
Select a clear coat or varnish that is suitable for metal surfaces and compatible with acrylic paints. Follow the manufacturer's instructions for proper application and drying times. Apply the sealant using a brush or sprayer, ensuring even coverage and avoiding drips or pooling.
Curing and Drying the Painted Metal
After applying the protective clear coat, it's important to allow sufficient drying and curing time for the paint to fully harden and adhere. Follow the manufacturer's instructions regarding drying times, as they can vary depending on the specific acrylic paint and sealant used.
During the curing process, avoid touching or handling the painted metal surface to prevent smudges or damage. Place the painted object in a clean and dust-free area, allowing ample time for the paint to cure. This step ensures the longevity and durability of the painted metal.
Maintaining Painted Metal Surfaces
To keep your painted metal surfaces looking their best, regular cleaning and maintenance are important. By following these tips, you can extend the life and vibrancy of your painted metal artworks or objects.
Cleaning and Care
When cleaning painted metal surfaces, use gentle methods to avoid damaging the paint. Start by dusting off any loose dirt or debris using a soft brush or cloth. If more thorough cleaning is required, dampen a cloth with water or a mild soap solution and gently wipe the surface. Avoid using abrasive materials or harsh chemicals that can scratch or strip the paint.
For stubborn stains or grime, you can try using a non-abrasive cleaner specifically formulated for painted surfaces. Test the cleaner on a small, inconspicuous area first to ensure it doesn't damage the paint. Always follow the manufacturer's instructions and rinse the surface thoroughly after cleaning.
Touch-ups and Repairs
Over time, painted metal surfaces may encounter minor damages such as scratches or chips. To maintain the integrity of the paintwork, it's important to address these issues promptly. Here's how you can perform touch-ups and repairs:
Fixing Minor Paint Damages: For small scratches or chips, you can touch up the paint using the same acrylic paint color you initially used. Take a small brush and carefully apply a thin layer of paint to the damaged area, feathering the edges to blend it with the surrounding paintwork. Allow the touch-up paint to dry completely before applying a protective clear coat.
Blending in Touch-up Paint: Blending in touch-up paint with the existing finish requires careful color matching and blending techniques. Start by selecting a paint color that closely matches the original color. Apply the touch-up paint to the damaged area, extending it slightly beyond the damaged spot. Use a clean, dry brush or sponge to feather the edges and blend the touch-up paint with the surrounding paintwork. Allow the paint to dry and apply a clear coat for seamless integration.
Remember, practicing on a small test surface or scrap metal before attempting touch-ups on your actual project can help you refine your technique and achieve better results.
Additional Tips and Considerations
To ensure a smooth and successful painting process, consider the following tips and precautions:
Working in a Well-Ventilated Area
Acrylic paints can emit fumes during the painting process, so it's important to work in a well-ventilated area. Open windows or use fans to improve air circulation. If you're working indoors, consider using a ventilation system or wearing a respiratory mask to protect yourself.
Protecting Surrounding Areas
When painting metal objects, it's crucial to protect the surrounding areas from accidental paint splatters or spills. Use drop cloths, newspapers, or masking techniques to cover surfaces that you don't want to be painted. Secure the protective materials in place to prevent movement or shifting during the painting process.
Experimenting and Exploring Techniques
While learning how to paint metal with acrylics, don't be afraid to experiment and explore different techniques. Acrylic paint offers a wide range of possibilities, from creating texture with additives or gels to employing various brushwork styles. Embrace your creativity and try new approaches to achieve unique and visually stunning results.
By pushing your creative boundaries, you may discover exciting techniques and effects that can elevate your painted metal projects to new heights.
Conclusion
Painting metal with acrylic paint opens up a world of creative possibilities. By properly preparing the metal surface, choosing the right acrylic paint, applying it skillfully, and protecting the finished work, you can achieve beautiful and long-lasting results.
Remember to assess the metal, clean and sand it, and select the appropriate acrylic paint for your project. Take your time during the application process, employing proper techniques and layering colors if desired. Finish off with a protective sealant to ensure durability.
With regular cleaning and maintenance, your painted metal surfaces will continue to shine. So, gather your materials, let your creativity flow, and enjoy the process of transforming plain metal into stunning works of art with acrylic paint.