Enhancing the aesthetic appeal of our homes often involves tending to the larger elements like walls and gardens, but there's one small detail that can make a big difference—the mailbox. Often overlooked, a well-painted mailbox can elevate the overall charm and character of your property, leaving a lasting impression on visitors and passersby.
If you've been contemplating giving your mailbox a fresh and vibrant makeover, you've come to the right place. In this comprehensive guide, we'll take you through a step-by-step journey on how to paint your mailbox like a pro. From selecting the perfect paint and preparing the surface to mastering different painting techniques and adding personalized touches, we'll cover every aspect to ensure your mailbox transformation is nothing short of extraordinary.
Whether you're an experienced DIY enthusiast or a first-time painter, our detailed instructions, practical tips, and actionable examples will empower you to create a beautifully painted mailbox that reflects your personal style and enhances the overall curb appeal of your home. So, grab your paintbrushes and get ready to embark on this exciting and rewarding home improvement project!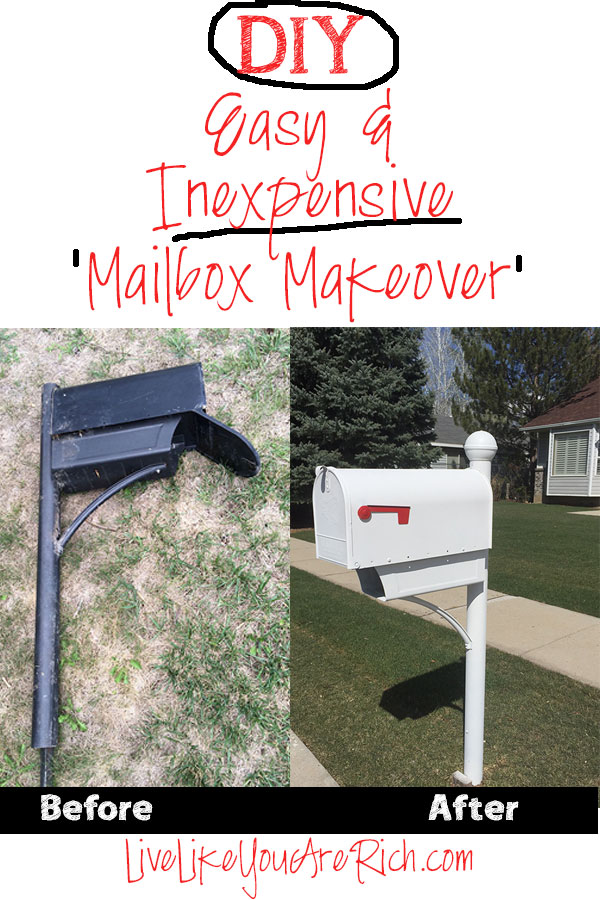 What Paint to Use for Your Mailbox
Before diving into the painting process, it's essential to choose the right paint for your mailbox. The type of paint and the finish you select will determine the overall durability and appearance of the finished product.
Types of Paint for Mailboxes
| Type of Paint | Pros | Cons |
| --- | --- | --- |
| Oil-based | – Durable and long-lasting<br>- Resistant to weather conditions | – Strong odor and fumes<br>- Longer drying time |
| Acrylic | – Quick-drying<br>- Low odor<br>- Easy cleanup with water | – Less durable than oil-based paint<br>- Susceptible to chipping |
When choosing between oil-based and acrylic paint, consider the environmental conditions in your area and your desired level of durability.
Selecting the Appropriate Finish
The finish of the paint can also affect the mailbox's appearance and durability.
Glossy Finish
| Advantages | Disadvantages |
| --- | --- |
| – High shine and vibrant color<br>- Resistant to moisture and stains | – Scratches and imperfections are more visible<br>- May not suit rustic or vintage-style mailboxes |
Satin Finish
| Advantages | Disadvantages |
| --- | --- |
| – Subtle shine and smooth texture<br>- Hides surface imperfections well | – Not as resistant to moisture as glossy finish<br>- Color may appear less vibrant |
Consider the style of your mailbox and the level of maintenance you prefer before deciding on the finish.
Necessary Materials and Tools
Now that you've chosen the perfect paint and finish, it's time to gather the necessary materials and tools for the painting process.
Paintbrushes: Understanding the Different Types
Different paintbrushes serve various purposes during the painting process.
Flat Brushes: Ideal for large, flat surfaces and even coverage.
Angled Brushes: Perfect for reaching corners and edges with precision.
Round Brushes: Great for detailed work and intricate designs.
Select the appropriate brushes based on the size and design of your mailbox.
Sandpaper: Choosing the Right Grit
| Grit Level | Usage |
| --- | --- |
| Coarse | Removing old paint and rough surfaces |
| Medium | Smoothing and preparing the surface for painting |
| Fine | Final sanding for a smooth finish |
Ensure you have a variety of sandpaper grits to tackle different tasks during the preparation process.
Painter's Tape: Importance and Proper Application
Painter's tape is a valuable tool for creating clean lines and protecting specific areas from paint splatters.
Primer: Why It's Essential for a Lasting Finish
Using a primer is a crucial step to ensure the paint adheres properly to the mailbox surface and extends the paint's lifespan.
Safety Precautions
Before diving into the painting process, take a moment to consider safety.
Protective Gear: Gloves, Safety Goggles, and Masks
| Protective Gear | Purpose |
| --- | --- |
| Gloves | Protect hands from paint and chemicals |
| Safety Goggles | Shield eyes from paint splatters and fumes |
| Masks | Prevent inhalation of harmful fumes |
Always wear the appropriate protective gear to ensure your safety during the painting process.
Proper Ventilation: Working in a Well-Ventilated Area
Ensure that you have adequate ventilation in your workspace to minimize exposure to paint fumes.
Preparing the Mailbox for Painting
Before applying paint, it's crucial to prepare the mailbox properly.
Cleaning the Mailbox
Start by thoroughly cleaning the mailbox to remove any dirt, grime, or old paint.
Removing Dirt and Grime
Use a mixture of mild soap and water to clean the mailbox. Scrub any stubborn dirt or grime with a soft brush.
Dealing with Rust and Corrosion
If your mailbox has rust or corrosion, use sandpaper or a wire brush to remove the affected areas. Apply a rust converter if necessary.
Sanding the Surface
Sanding the mailbox surface is essential to ensure a smooth and even base for the paint.
Creating a Smooth and Even Base
Begin with coarse sandpaper to remove any remaining paint or rough spots. Gradually move to finer grits for a smoother finish.
Removing Old Paint Flakes and Bumps
Sand the entire surface to eliminate any old paint flakes and bumps that could affect the paint's adhesion.
Masking and Protecting Specific Areas
To achieve clean and professional-looking results, you need to protect certain areas of the mailbox from paint.
Taping Off the Mailbox
Use painter's tape to cover the flag, numbers, and any other areas you want to keep paint-free.
Securing Mailbox Accessories from Paint Splatters
If your mailbox has accessories like decorative elements or attachments, make sure to remove or secure them to avoid accidental paint splatters.
Applying Primer to the Mailbox
Now that your mailbox is clean and prepped, it's time to apply the primer.
Importance of Using Primer
Primer provides a smooth and uniform surface for the paint, enhancing the paint's adhesion and extending its lifespan.
Applying the Primer Coats
| Technique | Tips for Success |
| --- | --- |
| Brushing | Use long, even strokes for an even application. Allow each coat to dry before adding another layer. |
| Spraying | Apply thin and even coats, holding the spray can about 12 inches away from the surface. Avoid over-spraying. |
Drying Time and Sanding Between Coats
Allow the primer to dry completely before proceeding to the next coat. Lightly sand the surface between coats for the best results.
Painting the Mailbox
Now comes the exciting part—painting your mailbox in the color and style of your choice.
Selecting the Right Painting Technique
Choose a painting technique that suits your skill level and desired outcome.
Brushing: Tips for a Smooth Finish
When using a paintbrush, ensure a smooth finish with the following tips:
Use long, even strokes for consistent coverage.
Paint in the same direction for a seamless look.
Avoid overloading the brush with paint to prevent drips.
Spraying: Pros and Cons
Using a spray paint can provide quick and even coverage but requires careful application to avoid over-spraying.
Applying the Paint Coats
| Technique | Tips for Success |
| --- | --- |
| Brushing | Use long, even strokes for an even application. Allow each coat to dry before adding another layer. |
| Spraying | Apply thin and even coats, holding the spray can about 12 inches away from the surface. Avoid over-spraying. |
Drying Time and Sanding Between Paint Coats
Allow each paint coat to dry completely before applying the next layer. Lightly sand the surface between coats to ensure a smooth and flawless finish.
Adding Details and Personalization
Now that the base color is complete, you can add unique details and personal touches to your mailbox.
Stenciling or Freehand Designs
Create eye-catching designs with stencils or freehand painting.
Choosing Appropriate Designs
Select stencils that match your style and complement your home's exterior.
Steps for Stenciling or Freehand Painting
Secure the stencil in place with painter's tape.
Use a contrasting color to paint the stencil design or carefully paint freehand.
Reflecting Personal Style
Personalize your mailbox with house numbers and decorative elements.
Adding House Numbers and Decorative Elements
| Material | Tips for Application |
| --- | --- |
| Vinyl Decals | Peel and stick for easy application. |
| Hand-Painted | Use a fine brush for precise and neat numbers. |
| Decorative | Add embellishments like flowers, birds, or patterns for a unique touch. |
Using Complementary Colors
Choose colors that complement your home's exterior to create a cohesive look.
Seal and Protect the Painted Mailbox
To ensure the longevity of your newly painted mailbox, it's crucial to apply a protective clear coat.
Importance of Clear Coat
A clear coat adds an additional layer of protection, safeguarding the paint from harsh weather conditions and UV rays.
Applying the Clear Coat
Choose between spray or brush-on application for the clear coat.
Spray vs. Brush-On Application
| Spray Application | Brush-On Application |
| --- | --- |
| – Quick and even coverage<br>- Ideal for hard-to-reach areas | – Allows for more control<br>- Reduces the risk of over-application |
Drying and Curing Time
Allow the clear coat to dry and cure according to the manufacturer's instructions.
Maintaining and Preserving the Painted Mailbox
With proper maintenance, your painted mailbox will continue to enhance your curb appeal for years to come.
Regular Inspection and Cleaning
Inspect your mailbox periodically for any signs of wear or damage. Clean the surface gently with a soft cloth and mild soap when needed.
Touch-Up Painting as Needed
If you notice any chipping or fading, perform touch-up painting to maintain the mailbox's appearance.
Conclusion
Congratulations on successfully painting your mailbox and adding a personal touch to your home's exterior! By following this comprehensive guide, you've learned the essential steps, techniques, and tips for a professional-looking mailbox transformation. Embrace your creativity and showcase your beautifully painted mailbox to your neighbors, adding a charming and unique element to your curb appeal. Happy painting!