How To Paint A Plaster Ceiling
Painting a plaster ceiling can be a transformative and rewarding project that can breathe new life into a room. Whether you're looking to refresh the existing color or completely change the look and feel of the space, knowing how to properly paint a plaster ceiling is key to achieving a professional and flawless finish.
In this comprehensive guide, we will walk you through the step-by-step process of painting a plaster ceiling, covering everything from assessing the condition of the ceiling to selecting the right tools, preparing the surface, applying the paint, and adding those final finishing touches. Whether you're a seasoned DIY enthusiast or a beginner looking to tackle your first painting project, this guide will equip you with the knowledge and techniques needed to achieve exceptional results.
Painting a plaster ceiling requires careful attention to detail, proper preparation, and the use of suitable tools and materials. We'll explore the best practices for each stage of the process, providing valuable tips and insights along the way. By following the steps outlined in this guide, you'll be able to transform your plaster ceiling into a stunning focal point that enhances the overall aesthetics of your space.
So, let's dive in and learn how to paint a plaster ceiling like a pro!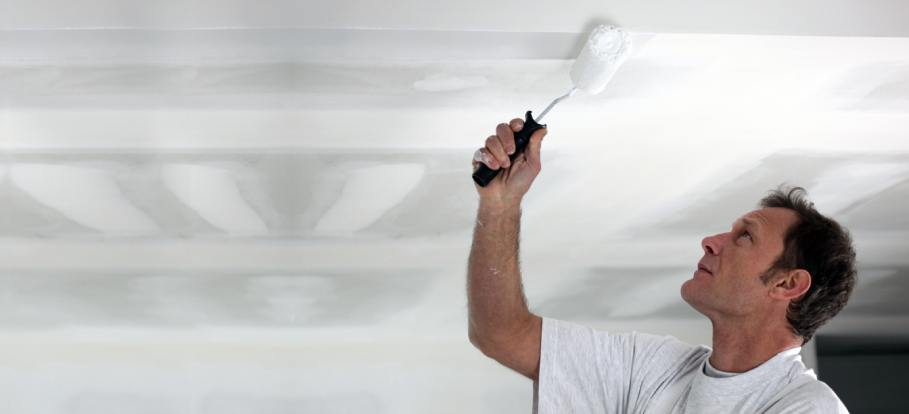 Assessing the Plaster Ceiling
Before diving into the painting process, it's important to assess the condition of your plaster ceiling. This step will help you identify any cracks, imperfections, or stains that may require special attention. By addressing these issues beforehand, you can achieve a smoother and more polished end result.
To assess the plaster ceiling, start by examining the surface for any visible cracks or signs of damage. Fill in any hairline cracks or small imperfections with spackling compound or joint compound, using a putty knife to create a smooth surface. If there are larger cracks or areas of significant damage, consult a professional plasterer for repairs.
Additionally, check for stains or discoloration on the ceiling. Water stains, smoke residue, or other marks may require special primers or stain-blocking paints to ensure that they don't bleed through the new paint. Take note of these areas and plan to address them during the preparation stage.
Preparing the Plaster Ceiling for Painting
Proper preparation is key to achieving a professional-looking finish on a plaster ceiling. The preparation process involves cleaning the surface, repairing any imperfections, and priming the ceiling. These steps create a smooth and durable base for the paint to adhere to, ensuring a long-lasting and flawless result.
Cleaning and Dusting
Before you can begin painting, it's crucial to thoroughly clean the plaster ceiling. Dust, dirt, and debris can interfere with the paint's adhesion and result in an uneven finish. Use a soft-bristle brush or a vacuum cleaner with a brush attachment to remove any loose particles from the surface.
Repairing Cracks and Imperfections
Plaster ceilings may develop cracks over time, especially in older homes. These cracks should be repaired to create a seamless surface for painting. To repair cracks, follow these steps:
Using a putty knife, widen the crack slightly to create a V-shaped groove.
Apply a thin layer of joint compound or spackling compound into the groove, using the putty knife to smooth it out.
Allow the compound to dry completely, following the manufacturer's instructions.
Sand the repaired area with fine-grit sandpaper to achieve a smooth finish.
Priming the Surface
Priming the plaster ceiling is an essential step that promotes paint adhesion and enhances the longevity of the finish. Primers create a uniform surface, seal porous areas, and prevent the plaster from absorbing too much paint.
Choose a high-quality primer suitable for plaster surfaces. Apply the primer evenly with a brush or roller, following the manufacturer's instructions regarding drying time and recoating. Pay special attention to any stained or discolored areas, using a stain-blocking primer to prevent bleed-through.
Once the primer has dried completely, you're ready to move on to the next step: selecting the right paint for your plaster ceiling.
Selecting the Right Paint for a Plaster Ceiling
Choosing the right paint for your plaster ceiling is crucial for achieving a beautiful and long-lasting finish. Consider the following factors when selecting your paint:
Type of Paint
There are various types of paint available, each with its own characteristics and advantages. The most common options for plaster ceilings include latex paint and oil-based paint.
Latex Paint
Latex paint is a popular choice for plaster ceilings due to its ease of use and fast drying time. It is water-based, easy to clean up, and offers a wide range of colors and finishes. Latex paint also tends to be more resistant to cracking and peeling.
Oil-Based Paint
Oil-based paint, on the other hand, provides a smooth and durable finish. It is known for its excellent adhesion and resistance to wear and tear. However, oil-based paint has a longer drying time and requires mineral spirits for cleanup.
Consider the specific requirements of your project, such as drying time, ease of application, and durability, when deciding between latex and oil-based paint.
Finish
The choice of paint finish can also impact the final appearance of your plaster ceiling. Common paint finishes include flat, eggshell, satin, and semi-gloss.
Flat: Flat paint has a matte finish that helps to hide surface imperfections. It provides a smooth and uniform appearance, but it may not be as easy to clean as other finishes.
Eggshell: Eggshell finish has a subtle sheen that offers a slight washability while still maintaining a relatively matte appearance. It strikes a good balance between durability and aesthetics.
Satin: Satin finish has a soft sheen that adds a touch of elegance to the ceiling. It is more durable and easier to clean than flat or eggshell finishes, making it suitable for high-traffic areas.
Semi-gloss: Semi-gloss finish provides a shiny and reflective surface. It is highly durable and resistant to moisture, making it ideal for bathrooms or kitchens. However, it can also highlight surface imperfections more prominently.
Consider the overall style of your room and the desired level of sheen when choosing the paint finish for your plaster ceiling.
Considerations for Plaster Surfaces
Plaster ceilings have unique characteristics that may influence the choice of paint. Plaster is a porous material that can absorb moisture, so it's important to select a paint that allows the surface to breathe and prevents moisture-related issues such as blistering or peeling.
Look for paints labeled as "breathable" or "vapor permeable" to ensure proper moisture management. These paints allow the plaster to release moisture without compromising the paint's adhesion or longevity.
Taking these factors into account will help you select the right paint for your plaster ceiling, ensuring a beautiful and durable finish. Once you have chosen your paint, it's time to gather the necessary tools and materials for the painting process.
Gathering the Necessary Tools and Materials
To successfully paint a plaster ceiling, you'll need the following tools and materials:
Paintbrushes and rollers: Choose high-quality brushes and rollers that are suitable for your chosen paint type and finish. Opt for brushes with synthetic bristles for latex paint and natural bristles for oil-based paint.
Drop cloths and protective sheets: Protect your floors, furniture, and fixtures by covering them with drop cloths or plastic sheets. This will prevent accidental paint splatters and spills from damaging your belongings.
Ladder or scaffolding: Depending on the height of your ceiling, you may need a ladder or scaffolding to reach the upper areas safely. Choose a sturdy and stable option that provides secure footing.
Painter's tape: Use painter's tape to mask off any areas you don't want to be painted, such as light fixtures or trim. Ensure that the tape adheres well to the plaster surface to achieve clean paint lines.
Sandpaper: Keep sandpaper handy for smoothing out any rough patches or imperfections on the plaster ceiling. Choose a fine-grit sandpaper for gentle sanding.
Paint tray and liners: A paint tray with liners will make the paint application process more convenient and efficient. Liners allow for easy cleanup and prevent cross-contamination when switching paint colors.
By gathering these tools and materials beforehand, you'll be well-prepared to tackle the painting process and achieve professional results. Now that you have everything you need, let's move on to the next step: applying paint to the plaster ceiling.
Applying Paint to the Plaster Ceiling
The process of painting a plaster ceiling requires attention to detail and proper technique. Follow these steps to ensure a smooth and even application:
Cutting In and Edging
Start by "cutting in" the edges of the ceiling using a high-quality angled brush. Dip the brush into the paint, tap off any excess, and carefully create a straight line along the perimeter of the ceiling, where it meets the walls or any trim. This process allows for precise painting in areas where a roller cannot reach.
Take your time and maintain a steady hand to achieve clean lines. If necessary, use painter's tape to mask off the walls or trim for added precision.
Applying the Base Coat
After cutting in, it's time to apply the base coat of paint to the larger areas of the plaster ceiling. Use a roller that is appropriate for the paint type and texture of your ceiling. A nap roller with a medium to long pile is typically suitable for plaster surfaces.
Dampen the roller slightly before loading it with paint. Roll it back and forth in the paint tray to evenly distribute the paint. Start from one corner of the ceiling and work your way across, applying the paint in long, overlapping strokes.
Avoid excessive pressure or rolling too quickly, as this can create streaks or uneven coverage. Maintain a consistent rhythm and reload the roller as needed to ensure an even application.
Rolling the Ceiling
Once you have applied the base coat to the entire ceiling, allow it to dry according to the manufacturer's instructions. Most paint types will require a second coat for full coverage and a more vibrant finish.
After the first coat has dried, repeat the process of cutting in and edging, followed by applying the second coat with the roller. Be mindful of any overlaps or gaps to ensure a seamless finish.
If necessary, apply additional coats until you achieve the desired depth of color and evenness of coverage. Allow each coat to dry completely before proceeding to the next.
Remember to take breaks as needed and maintain proper ventilation in the painting area. This will help prevent the accumulation of fumes and provide a more comfortable working environment.
Congratulations! You have successfully painted your plaster ceiling. Now, let's explore some tips and techniques to help you achieve a professional-looking finish.
Tips for a Professional-Looking Finish
Painting a plaster ceiling requires attention to detail and proper execution. Follow these tips to achieve a flawless and professional-looking finish:
Proper Technique and Brush Control
Maintain a steady hand and use smooth, controlled strokes when cutting in along the edges of the ceiling. This will help create clean lines and prevent the paint from bleeding onto the walls or trim.
When using a brush or roller, apply even pressure and avoid excessive force. This will help achieve an even distribution of paint and minimize streaks or lines on the plaster surface.
Consistent Application
Maintaining a consistent application is crucial for a seamless finish. Whether cutting in or rolling, strive for uniform coverage and avoid leaving gaps or heavy build-up of paint in certain areas. Consistency in application ensures an even appearance across the entire ceiling.
Avoiding Common Pitfalls and Mistakes
Here are some common pitfalls to avoid when painting a plaster ceiling:
Overloading the brush or roller: Excess paint can lead to drips, streaks, and uneven coverage. Make sure to remove any excess paint before applying it to the ceiling.
Rushing the process: Patience is key when painting a plaster ceiling. Allow each coat to dry completely before applying additional coats. Rushing the process can result in tacky or uneven finishes.
Ignoring ventilation: Proper ventilation is essential during the painting process. Open windows or use fans to ensure good airflow and help the paint dry properly.
By following these tips, you can achieve a professional-looking finish on your plaster ceiling and transform the overall appearance of your space.
Dealing with Challenges and Problematic Areas
Painting a plaster ceiling may present some challenges, especially when dealing with textured surfaces, stains, or water damage. Here are some strategies to address these specific issues:
Dealing with Textured Surfaces
If your plaster ceiling has a textured surface, such as popcorn or stucco, the painting process may require additional care. It's important to choose the right paint applicator that can navigate the textured surface effectively.
Consider using a paint sprayer or a thick-nap roller designed for textured surfaces. These tools can help ensure that the paint reaches and adheres to the crevices and bumps of the texture.
Covering Stains and Discoloration
Stains or discoloration on a plaster ceiling can be unsightly and may require extra attention. Before painting, it's crucial to address the underlying cause of the stain, such as water leaks or smoke damage.
Start by using a stain-blocking primer on the affected areas. This primer helps prevent the stain from bleeding through the new paint. Once the primer has dried, proceed with the regular painting process.
Addressing Water Damage or Mold
Water damage or mold on a plaster ceiling requires thorough remediation before painting. Identify the source of the water infiltration and fix it to prevent further damage.
For water damage, allow the affected area to dry completely before repairing any damaged plaster or applying paint. Consult with a professional if the damage is extensive.
If you're dealing with mold, it's important to address the issue before painting. Clean the affected area with a bleach solution or a mold-killing product, following the manufacturer's instructions. Allow the surface to dry completely and ensure proper ventilation to discourage mold growth.
Finishing Touches and Clean-Up
Once you have completed painting the plaster ceiling, it's time to add the finishing touches and perform clean-up tasks. Follow these steps for a polished end result:
Removing Painter's Tape and Protection
Carefully remove the painter's tape once the paint has dried to the touch. Slowly and at a 45-degree angle, peel the tape back on itself to prevent any damage to the painted surface. Dispose of the tape properly.
Remove any protective sheets or drop cloths from the floor, furniture, and fixtures. Inspect the area for any paint drips or spills and clean them up promptly using a damp cloth.
Touching Up Any Missed Spots
Inspect the painted ceiling for any missed spots or areas that require touch-ups. Use a small brush to carefully apply paint to these areas, blending them seamlessly with the rest of the ceiling.
Properly Disposing of Paint and Materials
Dispose of any leftover paint and paint cans according to local regulations. Contact your local waste management facility or recycling center for guidance on proper disposal methods. Clean your brushes and rollers thoroughly, following the instructions on the paint can.
Conclusion
Painting a plaster ceiling can be a rewarding and transformative project. By assessing the condition of the ceiling, preparing the surface, selecting the right paint, and applying it with care, you can achieve a beautiful and long-lasting finish.
Remember to take your time, follow the recommended techniques, and pay attention to detail. With proper preparation and execution, you'll be able to enjoy a freshly painted plaster ceiling that enhances the overall aesthetics of your space.
Now, it's time to gather your tools, choose your paint colors, and embark on your journey to paint a plaster ceiling with confidence!