How To Paint Ceiling After Removing Popcorn
Is your popcorn ceiling bringing down the overall aesthetic appeal of your space? Removing popcorn texture is just the first step towards achieving a modern and sleek look. To truly transform your room, it's essential to paint the ceiling after popcorn removal. Painting the ceiling not only covers up any imperfections but also adds a fresh, clean, and polished touch to your space.
In this comprehensive guide, we will walk you through the step-by-step process of painting the ceiling after popcorn removal. From preparing the ceiling surface to choosing the right paint and applying it with precision, you'll learn all the essential techniques and tips to ensure a professional-looking result.
Discover how to properly prepare the ceiling by assessing its condition, repairing any damages, and cleaning it thoroughly. Explore the importance of priming before painting and selecting the right primer for optimal results. Gain insights into choosing the appropriate paint type and color, calculating the required amount of paint, and mastering the techniques for seamless application.
Say goodbye to the outdated popcorn texture and hello to a fresh, new ceiling that enhances the overall ambiance of your room. Let's dive into the detailed process of painting the ceiling after removing popcorn and create a space that reflects your style and personality.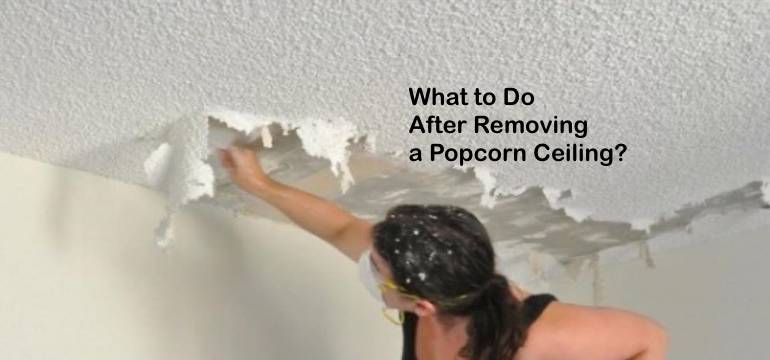 Preparing the Ceiling
Before diving into the painting process, it's crucial to prepare the ceiling surface adequately. This preparation stage ensures a smooth and flawless paint application. Let's explore the essential steps involved in preparing the ceiling.
Clearing the Room and Protecting Surfaces
The first step is to clear the room of furniture, decorations, and any items that might obstruct the painting process. This allows for easy movement and prevents accidental paint splatters. Additionally, cover the floor and any remaining furniture with drop cloths or plastic sheets to protect them from paint drips and spills.
Assessing the Condition of the Ceiling
Carefully examine the ceiling for any damages, imperfections, or residual popcorn texture. It's crucial to address these issues before painting to achieve a seamless and professional finish. Look for cracks, holes, or uneven areas that require repair. Assessing the ceiling's condition will help determine the necessary repairs and the type of materials required.
Repairing Any Damages or Imperfections
To create a flawless surface, it's essential to repair any damages or imperfections on the ceiling. Here are two common repair tasks you may need to tackle:
Filling Cracks and Holes: Use a putty knife and a high-quality patching compound or joint compound to fill in cracks and holes. Apply the compound smoothly and evenly, following the manufacturer's instructions. Allow the compound to dry completely before proceeding.
Smoothing Out Uneven Surfaces: If you notice any areas with uneven textures, such as ridges or bumps, use a sanding block or sandpaper to gently smooth them out. Sanding helps create a uniform surface and ensures optimal paint adhesion.
Cleaning the Ceiling
Before applying paint, it's crucial to clean the ceiling thoroughly. Removing dust, dirt, and any residue left from the popcorn removal process ensures a clean canvas for painting. Let's explore the steps involved in cleaning the ceiling surface.
Removing Dust and Debris
Start by removing any loose dust or debris from the ceiling surface. A vacuum cleaner with a brush attachment can effectively suck up loose particles without spreading them further. Alternatively, you can use a soft-bristle broom or a microfiber cloth to gently sweep the ceiling.
Washing the Ceiling Surface
To remove any remaining dirt or residue, washing the ceiling with a mild cleaning solution is necessary. Consider the following steps:
Choosing the Appropriate Cleaning Solution: Select a gentle cleaning solution that won't damage the ceiling or compromise the paint adhesion. A mixture of warm water and a mild dishwashing detergent is usually sufficient. Avoid using harsh chemicals or abrasive cleaners.
Using a Sponge or Cloth for Gentle Scrubbing: Dip a clean sponge or cloth into the cleaning solution, wring out the excess moisture, and gently scrub the ceiling in a circular motion. Start from one corner and work your way across the entire surface. Pay extra attention to areas with visible stains or residue.
Priming the Ceiling
Priming the ceiling is a crucial step before applying paint. A primer creates a smooth and uniform surface, enhances paint adhesion, and helps achieve the desired color intensity. Let's delve into the key considerations when priming the ceiling.
Importance of Priming Before Painting
Priming serves multiple purposes when painting a ceiling. It helps:
Seal the repaired areas and prevent them from absorbing excessive paint.
Provide an even surface for the paint to adhere to.
Enhance the paint's color accuracy and coverage.
Improve the overall durability and longevity of the paint job.
Selecting the Right Primer for the Ceiling
Choosing the appropriate primer is essential for achieving the best results. Consider the following factors when selecting a primer for your ceiling:
Stain-Blocking Properties: If your ceiling has stains from water damage, smoke, or other sources, opt for a primer with excellent stain-blocking properties. This type of primer helps prevent the stains from bleeding through the paint.
Adhesion and Bonding: Ensure the primer you choose has good adhesion and bonding capabilities, especially if you have repaired areas on the ceiling. This helps the paint adhere properly and creates a durable finish.
Compatibility with Paint Type: Consider the type of paint you plan to use for the topcoat and ensure the primer is compatible with it. Water-based primers are usually a safe choice as they work well with most paint types.
Applying the Primer Evenly
To achieve a smooth and flawless paint finish, it's crucial to apply the primer evenly across the entire ceiling surface. Here are two common methods for applying primer:
Using a Roller or Sprayer for Larger Areas: If you have a large ceiling area to cover, a paint roller or sprayer can be an efficient option. Load the roller or sprayer with the primer and apply it in a consistent and controlled manner. Work in small sections, ensuring an even distribution of the primer.
Using a Brush for Edges and Corners: For edges, corners, and areas where a roller or sprayer may be challenging to use, a high-quality brush comes in handy. Use a brush with synthetic bristles, designed for use with latex or oil-based paints, depending on the type of primer you're using. Apply the primer carefully along the edges, feathering it out to blend seamlessly with the roller-applied areas.
Choosing the Paint
Now that the ceiling is properly prepared and primed, it's time to select the right paint for the job. The choice of paint plays a significant role in achieving the desired look and durability. Let's explore the considerations when choosing ceiling paint.
Understanding Different Types of Ceiling Paints
Ceiling paints come in various formulations, each with its own characteristics and finishes. Here are two common types of ceiling paint:
Flat or Matte Finish: Flat paint is a popular choice for ceilings due to its non-reflective and smooth appearance. It helps hide imperfections and provides a subtle, elegant look to the ceiling. Flat paint is ideal for rooms with minimal moisture, such as bedrooms and living rooms.
Satin or Semi-Gloss Finish: Satin or semi-gloss paints offer a slight sheen and are more durable than flat paints. They are suitable for ceilings in high-moisture areas, such as kitchens or bathrooms, as they are more resistant to stains and easier to clean. Satin or semi-gloss finishes can also add a touch of sophistication to the ceiling.
Selecting the Appropriate Paint for the Desired Look and Durability
Consider the following factors when selecting paint for your ceiling:
Room Function: Determine the room's purpose and the level of moisture it typically experiences. This will help you decide between a flat or satin/semi-gloss finish.
Color Choice: Decide on the color palette for your space. While white or off-white shades are common for ceilings, you can also explore other options to complement the room's overall design and aesthetics.
Quality of Paint: Invest in high-quality paint that provides good coverage and durability. Cheaper paints may require multiple coats and can result in an inferior finish.
Paint Formulation: Look for paints specifically labeled as ceiling paints, as they are formulated to meet the specific needs of ceilings. These paints are typically designed to minimize spattering and offer superior coverage.
Calculating the Amount of Paint Needed for the Ceiling
To ensure you have enough paint for the project and avoid running out mid-process, it's essential to calculate the required quantity accurately. Use the following steps as a guideline:
Measure the Ceiling Area: Measure the length and width of the ceiling using a tape measure. Multiply these dimensions to calculate the total square footage of the ceiling.
Check Paint Coverage: Refer to the paint can's label to determine the coverage rate per gallon. This information will help you estimate how many gallons of paint you need based on the square footage of your ceiling.
Consider Multiple Coats: If you plan to apply multiple coats, factor that into your calculation. Multiply the number of coats by the square footage and divide it by the paint coverage rate to determine the total quantity needed.
Painting Techniques
Now that you have the right paint, it's time to dive into the actual painting process. Mastering proper painting techniques will help you achieve professional-looking results. Let's explore the essential techniques for painting the ceiling.
Gathering the Necessary Painting Tools and Materials
Before starting, ensure you have all the tools and materials ready for a seamless painting experience. Here's a list of items you'll need:
Paint roller and extension pole: Choose a roller appropriate for the ceiling's texture and size of the room. An extension pole will allow you to reach high areas without straining.
Paintbrushes: Have a high-quality brush on hand for cutting in edges and corners.
Paint tray or bucket: Use a tray or bucket to hold and distribute the paint while using the roller.
Painters' tape: Use painters' tape to mask off areas that shouldn't be painted, such as trim or walls.
Ladder or step stool: Depending on the height of your ceiling, you may need a ladder or step stool to reach the higher areas.
Preparing the Paint for Application
Before you start painting, there are a few crucial steps to prepare the paint for application:
Stirring the Paint Thoroughly: Open the paint can and use a paint stirrer or a clean stick to thoroughly mix the paint. This ensures an even distribution of pigments and consistent color throughout.
Pouring the Paint into a Tray or Bucket: If you're using a roller, pour a sufficient amount of paint into a paint tray or a bucket. This allows for easy access while using the roller and prevents excessive dipping.
Applying the Paint to the Ceiling
With the tools and paint ready, it's time to apply the paint to the ceiling surface. Follow these guidelines for a smooth and efficient painting process:
Using a Roller for Larger Areas: Start in one corner of the room and work your way across the ceiling in small sections. Dip the roller into the paint tray or bucket, ensuring the roller cover is evenly coated but not overloaded with paint.Hold the roller with the extension pole and apply even, vertical strokes on the ceiling. Maintain a consistent pressure and roll the paint in overlapping sections to achieve a uniform coverage. Work methodically to avoid drying lines or streaks.
Using a Brush for Edges and Corners: For areas that the roller cannot reach, such as edges, corners, or areas near fixtures, use a brush. Load the brush with paint and carefully cut in along the edges, feathering the paint to blend it seamlessly with the roller-applied areas.Take your time to ensure clean lines and avoid drips or smudges. Use long, smooth brush strokes for a professional finish.
Painting the Ceiling
With the proper techniques and tools in place, it's time to embark on the actual painting process. Follow these steps to ensure a successful and professional-looking paint job on your ceiling.
Starting from One Corner or Edge of the Room
Begin painting the ceiling from a corner or edge of the room. This approach allows for a systematic progression and ensures that the painted sections blend seamlessly. Work in manageable sections to maintain control and avoid drying lines or inconsistencies.
Applying Consistent Pressure While Rolling or Brushing
Whether you're using a roller or brush, applying consistent pressure is crucial for achieving an even coat of paint. Too much pressure can cause drips, while insufficient pressure may result in uneven coverage. Practice applying the right amount of pressure to create a smooth and uniform finish.
Maintaining a Wet Edge for Seamless Coverage
To prevent visible brush or roller marks, it's essential to maintain a wet edge while painting. This means working on adjacent sections before the previously painted area dries completely. This technique ensures that the paint blends seamlessly, resulting in a professional and cohesive appearance.
Going Over Any Missed Spots or Uneven Areas
After completing a section, step back and inspect the painted surface for any missed spots or uneven areas. It's common to overlook small imperfections during the initial application. Use a brush or roller to touch up these areas, ensuring consistent coverage and a flawless finish.
Drying and Curing
Once you've finished painting the entire ceiling, it's important to allow the paint to dry and cure properly. Proper drying and curing times ensure a long-lasting and durable finish. Follow these guidelines for optimal drying and curing:
Allowing the Paint to Dry Completely
Drying times vary depending on the type of paint and environmental conditions. Follow the paint manufacturer's instructions for specific drying times. In general, latex-based paints dry faster than oil-based paints. Allow the paint to dry undisturbed until it is no longer tacky to the touch.
Checking for Any Touch-up or Second Coat Requirements
Once the paint has dried, inspect the ceiling for any areas that may require touch-ups or a second coat. Look for thin spots, visible brush marks, or uneven coverage. Use a brush or roller to address these areas, ensuring a consistent and uniform appearance across the entire ceiling.
Giving the Paint Adequate Time to Cure
While the paint may be dry to the touch, it's important to give it ample time to cure before moving furniture back into the room or engaging in any activities that may cause damage. Cure times can range from a few days to a couple of weeks, depending on the paint type and environmental conditions. Refer to the paint manufacturer's guidelines for recommended curing times.
Cleaning Up
With the painting complete, it's time to tidy up and ensure everything is in order. Proper cleaning and storage of materials help maintain their longevity and prepare for future projects. Follow these steps for a thorough clean-up:
Properly Storing Leftover Paint and Supplies
If there is any paint left over, store it properly for future touch-ups or other projects. Make sure the paint can is tightly sealed to prevent air exposure, which can lead to premature drying or thickening. Store the paint in a cool, dry place away from direct sunlight.
For brushes, rollers, and other painting tools, clean them thoroughly before storing or reuse. Refer to the manufacturer's instructions for specific cleaning guidelines based on the type of material and paint used.
Cleaning Brushes, Rollers, and Other Tools
Cleaning your painting tools promptly ensures their longevity and prevents any dried paint from affecting future projects. Follow these steps to clean brushes, rollers, and other tools:
For water-based paints, rinse brushes, rollers, and other tools with warm water until the water runs clear. Use mild soap if necessary.
For oil-based paints, use a solvent recommended for cleaning oil-based paints. Follow the manufacturer's instructions for proper use and disposal.
Gently remove excess moisture from brushes and rollers using a clean cloth or paper towel.
Allow the brushes and rollers to dry completely before storing them.
Removing Protective Coverings from Furniture and Surfaces
Carefully remove the drop cloths or plastic sheets used to protect furniture and surfaces. Inspect the area for any paint drips or spills and clean them immediately if necessary. Return furniture and decorations to their original places once the painted ceiling has dried and cured completely.
Final Touches
With the ceiling now beautifully painted, it's time to give it a final inspection and make any necessary touch-ups. Take a step back and carefully examine the ceiling for any imperfections, missed spots, or uneven areas. Use a brush or roller to touch up these sections and ensure a flawless and professional finish.
Admire the transformation that a freshly painted ceiling brings to your space. Enjoy the renewed atmosphere and the sense of accomplishment that comes with completing this home improvement project.
Additional Considerations and Tips
To ensure a successful ceiling painting project, keep these additional considerations and tips in mind:
Safety Precautions: When working on a ceiling, use proper safety measures such as sturdy ladders, appropriate footwear, and eye protection. Take breaks as needed and avoid overexertion.
Seeking Professional Help: For complex or extensive ceiling projects, or if you lack the necessary time, skills, or equipment, consider hiring professional painters. They have the expertise and experience to deliver high-quality results efficiently.
Exploring Alternative Options: If you prefer not to paint your ceiling after removing popcorn, consider alternative options such as applying a new texture or installing ceiling panels. Explore these alternatives to find the best fit for your aesthetic preferences and skill level.
Conclusion
Painting the ceiling after removing popcorn texture is an essential step in revitalizing your space. With the step-by-step process outlined in this guide, you now have the knowledge and confidence to transform your room with a freshly painted ceiling. Remember to prepare the ceiling properly, choose the right paint and tools, and apply the paint using proper techniques. Take your time, pay attention to detail, and enjoy the process. Soon, you'll have a beautifully painted ceiling that enhances the overall look and feel of your space.