How To Paint Tray Ceiling
Are you looking to add a touch of sophistication and elegance to your living space? A tray ceiling might be just the architectural feature you need. With its recessed center and raised edges, this unique ceiling design creates a captivating visual effect that instantly elevates the ambiance of any room. But why stop there? By giving your tray ceiling a fresh coat of paint, you can truly make it the centerpiece of your home.
In this comprehensive guide, we'll walk you through the art of painting a tray ceiling, step by step. From assessing the condition of your ceiling to selecting the perfect color and mastering the painting techniques, we'll cover everything you need to know to achieve a flawless and professional finish.
Whether you're a seasoned DIY enthusiast or a first-time painter, fear not! Our easy-to-follow instructions, practical tips, and creative ideas will empower you to take on this home improvement project with confidence. So, grab your paintbrushes and let's transform your space together. Get ready to bask in the newfound elegance and charm of your beautifully painted tray ceiling!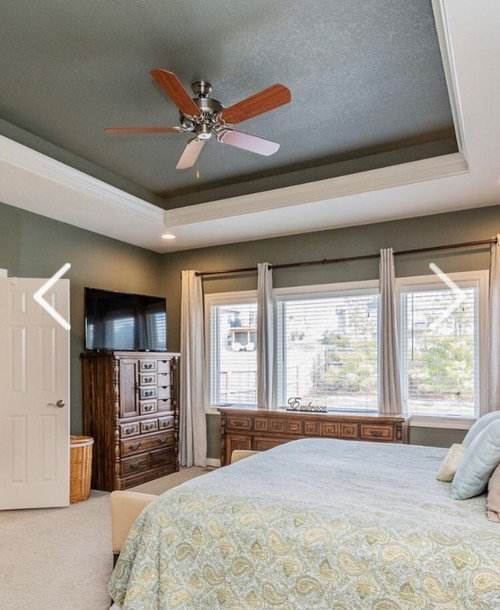 Preparing for the Project
Before you start painting, it's essential to assess the condition of your tray ceiling and gather all the necessary tools and materials. Proper preparation sets the foundation for a successful painting project.
Assessing the Tray Ceiling Condition
Inspect your tray ceiling for any damages, cracks, or imperfections. Addressing these issues before painting will ensure a smooth surface and a professional result. Use a putty knife to fill in any cracks or holes with spackling paste. Sand down uneven areas to create an even canvas for painting.
Gathering Necessary Tools and Materials
Having the right tools and materials at hand will streamline the painting process and produce better results. Here's what you'll need:
| Tools | Materials |
| --- | --- |
| Paint Brushes | Paint (Primer + Topcoat) |
| Paint Rollers | Painter's Tape |
| Drop Cloths | Sandpaper |
| Ladder | Spackling Paste |
| Angled Brush | Paint Tray |
| Paint Roller Extension | Safety Gear (Gloves, Goggles, Mask) |
Selecting the appropriate paint is crucial for a long-lasting and visually appealing finish. Opt for high-quality paints that are specifically designed for ceilings. Matte or flat finishes work best for tray ceilings as they minimize glare and hide imperfections.
Safety Precautions
Safety should always be a top priority when embarking on a home improvement project like painting a tray ceiling. Taking the necessary precautions will protect both you and your living space.
Protecting Yourself and the Area
Begin by clearing the room of furniture and other obstacles. This creates a safe and spacious environment to move around while painting. Cover floors and windows with drop cloths to prevent accidental spills and splatters. Additionally, use painter's tape to protect moldings and edges from paint.
Handling Paint and Chemicals Safely
Properly store and handle paint and chemicals according to the manufacturer's guidelines. Ensure proper ventilation in the room while painting, especially if you're using oil-based paint. Dispose of paint waste responsibly and in accordance with local regulations.
Preparing the Ceiling Surface
A well-prepared surface is essential for achieving a professional-looking paint job. Follow these steps to get your tray ceiling ready for painting.
Cleaning the Tray Ceiling
Start by removing dust and cobwebs from the tray ceiling. Use a duster or a vacuum cleaner with a brush attachment to gently clean the surface. Next, wipe down the ceiling with a damp cloth to remove any grease or stains.
Sanding the Ceiling
Sanding the tray ceiling will help smooth rough areas and improve paint adhesion. Use a fine-grit sandpaper and work in even strokes, following the direction of the tray ceiling's edges. Once you've sanded the entire surface, wipe away the dust with a damp cloth.
Priming the Tray Ceiling
Priming is a crucial step that should not be skipped. It prepares the surface for paint, enhances paint adhesion, and prevents stains or discoloration from showing through the final coat.
Importance of Priming
Priming creates a uniform surface that allows the paint to adhere better and ensures a more even finish. It also helps to cover up any existing paint color or stains, especially if you're changing the tray ceiling's color.
Choosing the Right Primer
Selecting the right primer is essential for optimal results. Consider the type of paint you'll be using – water-based or oil-based – and choose a compatible primer. If you're painting over stains, use a stain-blocking primer to prevent them from bleeding through the paint.
Painting the Tray Ceiling
Now comes the exciting part – painting the tray ceiling! Follow these steps to achieve a flawless finish.
Cutting in the Edges
Start by cutting in the edges of the tray ceiling using a high-quality angled brush. This will require a steady hand and attention to detail. Carefully paint along the edges, ensuring clean lines between the raised border and the recessed center.
Rolling the Ceiling
After cutting in, it's time to roll the ceiling using a paint roller. Work in manageable sections, and use a roller extension to reach higher points of the tray ceiling. Apply even pressure for a smooth and consistent application.
Applying Additional Coats
In most cases, a single coat of paint may not provide sufficient coverage, especially if you're transitioning to a significantly different color. Allow the first coat to dry completely before applying additional coats. Check the paint can for recommended drying times between coats.
Dealing with Challenges
Painting a tray ceiling can be a rewarding experience, but it may come with its share of challenges. Here are some common issues you might encounter and how to address them:
Avoiding Drips and Splatters
To prevent drips and splatters, avoid overloading the paintbrush or roller with paint. Use controlled, even strokes, and allow each coat to dry before applying the next.
Fixing Paint Runs or Uneven Lines
If you notice paint runs or uneven lines, don't worry; they can be fixed! Use a putty knife to gently scrape off any excess paint and sand down the area. Then, touch up the affected area with a brush.
Addressing Paint Bubbles or Blistering
Paint bubbles or blistering can occur due to moisture or a reaction with the existing paint. To address this, carefully scrape off the bubbled paint, sand the area, and apply a new coat of paint.
Correcting Lap Marks
Lap marks happen when the paint dries too quickly, causing overlapping brush strokes to become visible. To avoid lap marks, maintain a wet edge while painting and work in small sections.
Adding Decorative Elements (Optional)
If you want to take your tray ceiling to the next level, consider adding decorative elements:
Accent Colors or Patterns
Use a contrasting or complementary color to accentuate the raised edges of the tray ceiling. You can also create patterns, such as stripes or stenciled designs, for a unique look.
Faux Finishes
Experiment with faux finishes like marble or metallic effects to add a touch of sophistication to your tray ceiling. There are various DIY techniques available to achieve these stunning finishes.
Adding Crown Molding or Trim
Crown molding or trim can enhance the elegance of your tray ceiling further. Consider adding decorative molding along the edges to create a more finished and polished appearance.
Final Touches
You're almost done! Follow these steps to put the finishing touches on your freshly painted tray ceiling.
Removing Painter's Tape
Carefully remove the painter's tape once the paint has dried to avoid peeling off any paint with it. Pull the tape away at a 45-degree angle for clean lines.
Cleaning Paint Spills and Splatters
Inspect the room for any paint spills or splatters. Clean them up immediately using a damp cloth or the appropriate cleaning solution for your paint type.
Reinstalling Light Fixtures and Ceiling Fans
If you removed any light fixtures or ceiling fans before painting, now is the time to reinstall them. Follow the manufacturer's instructions for proper installation.
Cleaning Up
Painting can be messy, but a thorough clean-up is essential to keep your painting tools in good condition for future projects.
Properly Storing Leftover Paint
If you have any leftover paint, store it properly for future touch-ups. Seal the paint can tightly and store it in a cool, dry place away from direct sunlight.
Cleaning and Storing Painting Equipment
Thoroughly clean your paint brushes, rollers, and other tools immediately after use. Properly stored and maintained painting equipment will last longer and be ready for your next painting project.
Maintenance and Care
Maintaining your newly painted tray ceiling will ensure its longevity and beauty. Follow these tips for ongoing care:
Regular Inspection and Touch-Ups
Regularly inspect your tray ceiling for any signs of wear or damage. Touch up any chipped or scratched areas promptly to keep your tray ceiling looking fresh.
Cleaning the Painted Ceiling
Use a soft, damp cloth to gently clean the painted surface periodically. Avoid using abrasive cleaning agents that could damage the paint.
Addressing any Future Repairs
If any issues arise with your tray ceiling, such as cracks or peeling paint, address them as soon as possible to prevent further damage.
Conclusion
In conclusion, painting a tray ceiling can transform the look and feel of a room, adding a touch of elegance and style. With proper preparation, safety precautions, and the right techniques, you can achieve a professional-quality finish. Don't be afraid to get creative with accent colors or decorative elements to make your tray ceiling truly unique. Remember to take your time, follow the steps carefully, and enjoy the process of refreshing your living space with a beautifully painted tray ceiling. Happy painting!