How To Paint Vaulted Ceilings
Vaulted ceilings are captivating architectural features that exude elegance and create an illusion of open space in any room. However, when it comes to painting these soaring surfaces, the task can seem daunting and overwhelming. Achieving a flawless and professional finish on vaulted ceilings demands the right techniques, tools, and a dash of creativity.
In this comprehensive guide, we will unravel the secrets to mastering the art of painting vaulted ceilings. From preparing the ceiling surface to choosing the perfect paint and employing efficient painting techniques, we will walk you through each step of the process. With practical tips, actionable examples, and solutions to common challenges, this article aims to equip you with the knowledge and confidence to embark on your painting project.
Whether you're a seasoned DIY enthusiast or a beginner venturing into the world of home improvement, this guide is designed to help you tackle the complexities of painting vaulted ceilings. So, gather your tools, don your painting gear, and let's transform your space with a stroke of creativity and a splash of color on those captivating vaulted ceilings!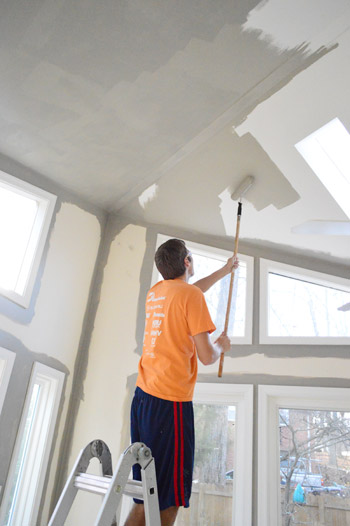 What are Vaulted Ceilings?
Vaulted ceilings are architectural designs that slope upward to form a peak, creating an open and airy atmosphere in a room. The prominent entity here is the vaulted ceilings, which come in various types, such as cathedral, arched, and domed styles. Each type brings its own distinctive charm to a space, making it essential to consider the specific attributes when planning your painting project.
Preparing for the Project
Before diving into the painting process, thorough preparation is key to ensure a successful outcome. This section will discuss how to assess the ceiling condition and gather the necessary tools and materials. Let's dive into the crucial aspects of preparing for the project.
Assessing the Ceiling Condition
The first step in any painting project is to assess the condition of the surface to be painted. For vaulted ceilings, this means carefully inspecting for any damages, imperfections, or existing paint issues. Look out for cracks, holes, or peeling paint that may require repair before painting. Taking the time to address these issues will result in a smoother and more polished final look.
Gathering the Necessary Tools and Materials
Painting vaulted ceilings requires specific tools and materials to ensure a seamless process and professional finish. Let's explore the main entities and attributes of the tools and materials required:
| Tools | Materials |
| --- | --- |
| – Drop Cloths or Tarps | – High-quality Paints |
| – Painter's Tape | – Brushes and Rollers |
| – Extension Poles | – Primer (if needed) |
| – Ladder or Scaffolding | – Safety Equipment |
| – Paint Trays | – Sandpaper (for preparation) |
Having the right tools at hand will make the job much easier and help you achieve optimal results.
Planning and Safety
Painting vaulted ceilings can be time-consuming, so setting a realistic timeline is essential to stay on track. Moreover, working at heights poses safety risks, making it crucial to prioritize safety measures throughout the project.
Setting a Realistic Timeline
Painting a vaulted ceiling demands patience and attention to detail. Rather than rushing through the process, allocate sufficient time for each step, from preparation to the final strokes. Setting a realistic timeline will allow you to work more efficiently and with greater precision.
Safety Measures for Working at Heights
Working on elevated surfaces comes with inherent risks. To ensure your safety during the project, consider the following attributes when handling the heights:
Properly Securing Ladders or Scaffolding: Make sure your ladder or scaffolding is stable and placed on an even surface. Have someone assist you in holding the ladder if possible.
Having a Spotter or Assistant: An extra set of eyes and hands can make a significant difference, especially when navigating heights and corners.
Using Sturdy and Non-Slip Footwear: Wear shoes with good traction to avoid slipping on the ladder or scaffolding.
Avoiding Overreaching: Always work within a comfortable reach to maintain balance and stability.
Preparing the Ceiling Surface
A well-prepared ceiling surface is the foundation of a flawless paint job. This section will guide you through the steps of cleaning, repairing, and priming the ceiling for the painting process.
Cleaning the Ceiling
Before applying any paint, it's essential to clean the ceiling surface thoroughly. Dust, dirt, and grease can interfere with paint adhesion, resulting in an uneven finish. Use a soft cloth or a duster to remove dust, and consider using a mild detergent solution for any stubborn stains or grime.
Repairing Any Damages or Imperfections
Vaulted ceilings can sometimes develop cracks or have uneven surfaces, especially in older homes. Addressing these imperfections is crucial to achieving a smooth and professional-looking paint job. Here are the main attributes of repairing damages:
Patching Holes and Cracks
Fill any holes or cracks in the ceiling using a spackling compound or joint compound. Allow it to dry completely, and then sand the patched areas until smooth.
Smoothing Uneven Surfaces
For ceilings with noticeable bumps or irregularities, use a joint compound or plaster to create a smooth surface. Sand the area once the compound dries to achieve a level surface.
Sanding for a Smooth Finish
Even if there are no major imperfections, sanding the entire ceiling will create a better surface for paint adhesion and ensure a professional finish.
Priming the Ceiling (if needed)
In some cases, especially when there are significant repairs or if you're changing from a dark to a light color, applying a coat of primer is essential. Priming helps create an even base and enhances the paint's durability and coverage.
By following these steps, you'll have a clean and smooth canvas to work on, setting the stage for a successful painting project. Now that we've covered the preparations, let's move on to choosing the right paint for your vaulted ceiling.
Choosing the Right Paint
Selecting the appropriate paint for your vaulted ceiling is crucial to achieving a beautiful and long-lasting result. Consider the following attributes when choosing the right paint for your project.
Selecting the Paint Type
The main entities to consider when selecting paint are the different types available in the market. Each type of paint comes with its own set of attributes, such as:
Latex Paint: Latex-based paints are water-based and offer quick drying times. They are easy to clean up with water and are low in volatile organic compounds (VOCs), making them a popular and environmentally friendly choice.
Acrylic Paint: Acrylic paints are similar to latex paints but offer superior durability and adhesion. They are an excellent option for high-traffic areas, such as kitchens and bathrooms.
Oil-Based Paint: Oil-based paints have a longer drying time and require mineral spirits for cleanup. While they offer a smooth and durable finish, they can emit more VOCs and have a stronger odor compared to water-based options.
Considering Sheen and Finish Options
Paint sheen refers to the level of glossiness or shininess of the paint after it dries. The main sheen options include:
Flat or Matte: This sheen has no shine and is ideal for hiding imperfections on ceilings. It provides a smooth and elegant finish but may not be as washable as higher sheen options.
Eggshell: This sheen offers a slight shine and is more washable than flat paint. It strikes a balance between a matte finish and some durability.
Satin: A satin sheen has a soft glow and offers good washability, making it suitable for rooms with higher moisture, such as bathrooms.
Semi-Gloss or Glossy: These sheens provide a high level of shine and are highly washable. They are often used for trim and moldings but can also be used on vaulted ceilings for a dramatic effect.
Determining the Quantity of Paint Required
When estimating how much paint you'll need for your vaulted ceiling, consider the attributes of your room's dimensions, such as:
Ceiling Height: Measure the height of the highest point of the vaulted ceiling to determine the surface area to be painted.
Ceiling Slope: Take into account the slope of the ceiling to ensure accurate coverage estimation.
Room Size: Consider the overall size of the room to determine if you'll need extra paint for other walls or projects.
Many paint manufacturers provide coverage information on their product labels, helping you calculate the right quantity of paint needed. Always get a little extra paint to account for touch-ups and unexpected usage.
Now that you've selected the right paint, let's move on to the techniques required to paint vaulted ceilings efficiently and achieve a flawless finish.
Techniques for Painting Vaulted Ceilings
Painting a vaulted ceiling requires a strategic approach to ensure even coverage and a smooth finish. Let's explore the essential techniques to master for this unique task.
Cutting-In at the Ceiling Edges
The first step in painting a vaulted ceiling is cutting-in the edges with a brush before using a roller. Cutting-in involves painting a straight line along the edges where the ceiling meets the walls. This process requires attention to detail and precision to achieve clean and crisp lines.
To cut-in effectively, use a high-quality angled brush that allows for better control. Steady your hand and maintain a consistent distance from the edge while moving along the perimeter. This technique helps create a defined boundary, preventing overlap and ensuring a professional look.
Using an Extension Pole for Higher Reach
Vaulted ceilings can be challenging to access, especially the highest points near the peak. Using an extension pole with your roller allows you to reach these difficult areas without the need for a ladder or scaffolding.
Select an extension pole that is sturdy and lightweight, and ensure it can securely hold the roller frame. When using the extension pole, start by applying light pressure to avoid splattering paint and maintain control.
Employing Roller Techniques for Efficient Coverage
When it comes to painting the bulk of the ceiling, a roller is the tool of choice. Use a roller cover with a nap that matches the texture of your ceiling for better paint distribution. Here are some tips to maximize roller efficiency:
Paint in Sections: Divide the ceiling into manageable sections, and focus on one area at a time. Working in sections helps you maintain a wet edge and ensures even coverage.
Roller Pattern: Avoid using random roller strokes, as they may result in an uneven finish. Instead, follow a consistent pattern, such as rolling in a "W" shape, to create a smooth and uniform surface.
Overlap Technique: Slightly overlap each new stroke with the previous one to blend the paint and avoid visible lines or streaks.
Maintaining a Consistent Finish
Consistency is key when painting vaulted ceilings. Pay close attention to the pressure applied while cutting-in and rolling, as inconsistent pressure can lead to variations in paint thickness and texture. Keep your strokes even and consistent throughout the entire ceiling to achieve a professional look.
Addressing Drips and Spills
Accidents happen, and drips or spills are not uncommon during a painting project. If you notice any drips or spills on the walls or floor, address them immediately. Use a clean cloth or paper towel to blot and absorb the excess paint before it dries. Promptly cleaning up any accidental spills will help you maintain a tidy work area and avoid paint smudges in unwanted places.
Now that you've mastered the essential techniques, it's time to explore the proper painting order and patterns for vaulted ceilings.
Painting Order and Patterns
When painting vaulted ceilings, the sequence in which you apply the paint and the patterns you use can significantly impact the final outcome. Follow this section to understand the attributes of the proper painting order and patterns for vaulted ceilings.
Determining the Starting Point
Choosing the right starting point for painting your vaulted ceiling is essential to maintain a consistent flow and avoid overlapping drying edges. To determine the ideal starting point, consider the following attributes:
Room Functionality: Begin at the farthest corner from the entrance or focal point of the room. This ensures that your paintwork remains undisturbed as you move around the space.
Natural Light Source: If the room has prominent natural light sources, such as windows or skylights, start painting near these areas. Natural light can help you identify potential imperfections and ensure even coverage.
Working with Sections to Avoid Overlapping Drying Edges
When painting a vaulted ceiling, it's vital to divide the area into sections to maintain a wet edge while working. A wet edge refers to the section of paint that is still wet and blendable as you apply a new stroke adjacent to it. The attributes of working with sections include:
Divide and Conquer: Divide the ceiling into smaller sections, approximately 4×4 feet, or based on the height of your ladder or scaffolding. Complete each section before moving on to the next, ensuring consistent coverage.
Blend the Edges: When starting a new section, blend the edges with the previously painted area to avoid visible lines. Use a light touch and gentle pressure on the roller to achieve a seamless transition.
Maintain a Steady Pace: Work at a steady and consistent pace to ensure the wet edge remains present throughout the painting process. Avoid rushing or taking extended breaks between sections.
Maintaining Uniformity in Brush Strokes or Roller Patterns
The key attributes of maintaining uniformity in brush strokes or roller patterns are consistency and attention to detail. For brush strokes, ensure that each stroke is of similar length and pressure. For roller patterns, maintain the same speed and motion throughout the entire ceiling. Consistent strokes and patterns will help create a uniform finish that enhances the overall aesthetics of the space.
Tips for Working Around Light Fixtures and Ceiling Fans
Vaulted ceilings often feature light fixtures and ceiling fans, which can present challenges during painting. To work around these fixtures with ease, follow these tips:
Remove Fixtures if Possible: If the fixtures are easily detachable, consider removing them before painting. This allows for more convenient access and prevents paint from accidentally splattering on the fixtures.
Use Painter's Tape: If removing the fixtures isn't an option, use painter's tape to protect them from paint splatter. Carefully wrap the fixtures with tape, ensuring a secure seal to prevent paint seepage.
Paint with Caution: When painting around fixtures, apply paint with a steady hand and avoid excessive pressure on the brush or roller to prevent accidental smudging or dripping.
Dealing with Challenges
Painting vaulted ceilings can present challenges, but with the right approach, they can be overcome. Let's explore some attributes of dealing with common challenges:
Overcoming Neck and Arm Fatigue
Working on a ceiling for extended periods can strain your neck and arms. Take regular breaks and stretch your muscles to prevent fatigue. Consider using an adjustable painting pole or extension pole to reduce the need for reaching upward.
Addressing Uneven Lighting during Painting
In rooms with limited natural light, it can be challenging to identify areas that require touch-ups. Use additional lighting, such as work lights or spotlights, to create a well-lit workspace and identify potential imperfections.
Tackling Difficult Angles and Corners
Vaulted ceilings often have angles and corners that are harder to access. Use a smaller brush or mini-roller for these areas to ensure complete coverage and a smooth finish.
Solutions for Color Bleeding or Mismatching
To avoid color bleeding or mismatching, make sure to use a high-quality primer, especially when transitioning from dark to light colors. Follow the manufacturer's instructions for drying times between coats to prevent paint mixing.
With these solutions in mind, you're well-equipped to tackle the challenges that may arise during your painting project. Next, let's discuss caring for newly painted vaulted ceilings and the steps to ensure the paint job lasts for years to come.
Caring for Newly Painted Ceilings
Congratulations on completing your painting project! Caring for your newly painted vaulted ceiling is essential to maintain its beauty and longevity. Here are the attributes to ensure your paint job stays pristine and lasts for years to come.
Allowing Sufficient Drying Time
After painting your vaulted ceiling, it's crucial to allow ample drying time before moving furniture back into the room or touching the surface. Drying times can vary based on the type of paint used and environmental conditions. Follow the manufacturer's guidelines on the paint can for recommended drying times.
Inspecting for Touch-ups
Once the paint has dried, carefully inspect the ceiling for any missed spots or areas that require touch-ups. Shine a light across the surface to identify any imperfections. Use a small brush or roller to address these areas, ensuring a seamless finish.
Cleaning Up Tools and Equipment Properly
Properly cleaning and storing your painting tools and equipment will extend their lifespan and ensure they are ready for future projects. Clean brushes and rollers with soap and water for latex paint or with mineral spirits for oil-based paint. Store them in a dry and dust-free environment.
Returning Furniture and Decor to the Room
Before moving furniture and decor back into the room, make sure the paint is completely dry and no longer emits any strong odors. Use caution when rearranging furniture to avoid scuffing or damaging the freshly painted ceiling.
Additional Considerations for Vaulted Ceilings
Beyond the basic techniques and steps, there are additional attributes to consider when painting vaulted ceilings. These can add personality and style to your space, making it uniquely yours.
Accentuating the Ceiling Architecture with Paint
Vaulted ceilings often have architectural elements like exposed beams or unique angles. You can accentuate these features by using contrasting paint colors. Consider painting the beams in a different hue or applying a darker shade to highlight the angles. This approach adds depth and character to your room.
Using Colors to Create Visual Effects and Atmosphere
Color plays a crucial role in setting the mood and ambiance of a room. For a cozy and intimate feel, opt for warm, earthy tones. Lighter and cooler colors, on the other hand, can make a space feel more open and airy. Consider the attributes of different color palettes and choose one that aligns with the desired atmosphere of the room.
Installing Crown Molding for a Finished Look
Crown molding adds a touch of elegance and sophistication to any room, particularly with vaulted ceilings. The molding helps create a smooth transition between the walls and the ceiling while providing an aesthetically pleasing finishing touch. Choose molding that complements your room's style and paint it to match the ceiling or the trim for a cohesive look.
Incorporating Decorative Elements
Vaulted ceilings offer an excellent canvas for artistic expression. You can enhance the space by incorporating decorative elements such as stencils or murals. Stencils allow you to create intricate patterns, while murals can transform your ceiling into a breathtaking work of art. Be sure to use high-quality paints and tools to achieve professional results.
Conclusion
Painting vaulted ceilings requires careful planning, proper technique, and attention to detail. By following the attributes of this comprehensive guide, you can achieve a stunning and professional finish that enhances the beauty and allure of your living space. Remember to embrace the challenges as opportunities to grow your painting skills and to personalize your vaulted ceiling with creative touches. With patience, practice, and the right tools, you'll soon be admiring your beautifully painted vaulted ceiling, a testament to your hard work and dedication. Happy painting!