What Color Should I Paint My Nails
Choosing the perfect nail color can be an exciting and creative endeavor. Your nails are like a blank canvas, ready to be adorned with a hue that reflects your personality and style. From classic reds to vibrant neons, soft pastels to deep jewel tones, the world of nail colors offers a myriad of options to suit every mood and occasion.
Nail color goes beyond mere aesthetics. It is a form of self-expression, allowing you to make a statement and showcase your unique identity. The right nail color can enhance your overall look, boost your confidence, and add that finishing touch to your outfit.
But with so many choices available, how do you determine which color is the perfect fit for you? Factors such as your skin tone, nail length and shape, occasion, and even seasonal trends can guide your decision-making process. It's about finding the shades that make you feel beautiful, empowered, and ready to conquer the world.
In this article, we will delve into the intricacies of choosing the ideal nail color. We will explore the role of skin undertones, how to match nail color with your outfit, and even the psychology behind color choices. Get ready to dive into a world of hues and discover the perfect color that will make your nails shine with confidence and style.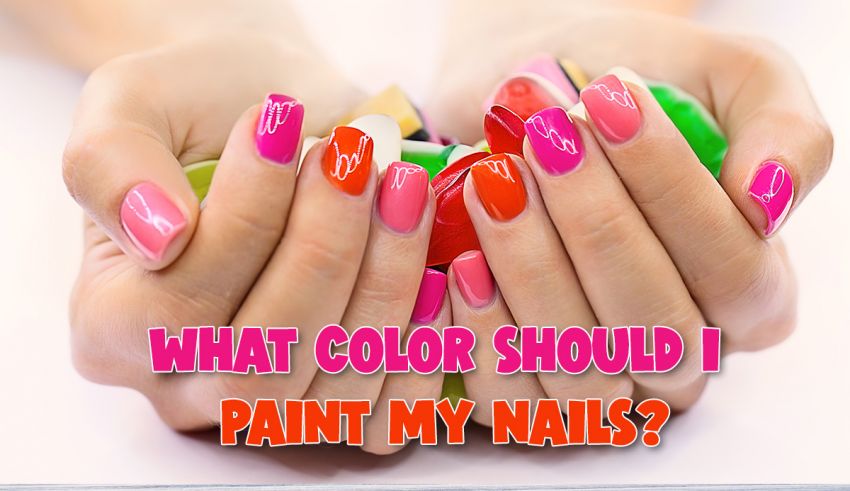 Determining Your Skin Tone
Before exploring the myriad of nail colors available, it's crucial to understand your skin undertones. Identifying whether you have warm, cool, or neutral undertones can guide you in selecting colors that complement your skin tone harmoniously.
Understanding Skin Undertones
Determining your skin undertone involves examining the subtle hues beneath the surface of your skin. The three primary undertones are:
Warm: If your skin has a yellow, peachy, or golden undertone, you likely have warm undertones.
Cool: If your skin has hints of pink, red, or bluish undertones, you likely have cool undertones.
Neutral: If your skin doesn't lean predominantly warm or cool and has a balanced undertone, you likely have neutral undertones.
Complementary Colors for Different Undertones
Once you've identified your undertone, you can select nail colors that enhance and flatter your skin tone. Consider the following:
Warm Undertones: Colors like rich reds, coral, peach, bronze, and earthy tones tend to complement warm undertones beautifully.
Cool Undertones: Shades such as blues, purples, pinks, pastels, and icy metallics can bring out the best in cool undertones.
Neutral Undertones: Lucky you! Neutral undertones often have the freedom to experiment with a wide range of colors. Try both warm and cool tones to see which ones you prefer.
Remember, these are general guidelines, and personal preferences should always come into play. Don't be afraid to step out of the traditional color palettes and explore shades that make you feel confident and beautiful.
Consider Your Nail Length and Shape
While choosing a nail color, it's essential to consider the length and shape of your nails. The right color can either enhance or balance the appearance of your nails, depending on their length and shape.
Impact of Nail Length on Color Choices
The length of your nails can significantly influence the overall look of your manicure. Let's explore how different nail lengths can guide your color choices:
Short Nails: If you prefer to keep your nails short and neat, bold and vibrant colors can add a pop of fun and personality. Reds, deep purples, and rich blues can make a statement on shorter nails.
Medium-Length Nails: Medium-length nails provide a canvas for a variety of colors. You can experiment with both vibrant and subtle shades, from classic pinks to elegant neutrals.
Long Nails: Long nails offer the opportunity for more intricate designs and eye-catching colors. Deep jewel tones, metallics, and trendy shades like holographic or chrome can create a stunning look on longer nails.
Enhancing or Balancing Nail Shape with Color
The shape of your nails can also play a role in selecting the ideal color. Consider the following tips to enhance or balance your nail shape:
Square Nails: Square nails exude sophistication and elegance. You can enhance their clean lines with colors that have a sharp contrast, such as deep burgundy or crisp white.
Oval Nails: Oval nails have a soft and feminine appearance. You can enhance their shape with colors that create an elongating effect, such as soft pinks or nudes.
Almond Nails: Almond-shaped nails are versatile and create an illusion of elongated fingers. Complement their graceful curves with shades that enhance their elegance, like dusty roses or mauves.
Stiletto Nails: Stiletto nails are bold and daring. Embrace their edginess with vibrant and attention-grabbing shades, such as electric blues or fiery oranges.
Remember to have fun with your nail shape and color choices. It's all about expressing your unique style and personality.
Assessing the Occasion or Event
The occasion or event you're attending can play a role in determining the appropriate nail color. Different events call for different levels of formality and color palettes.
Nail Color Appropriateness for Formal Events
When attending formal events like weddings, galas, or corporate gatherings, it's generally best to opt for classic and elegant nail colors. Consider timeless shades such as:
Sheer pinks or nude tones: These colors provide a polished and sophisticated look, complementing formal attire beautifully.
Deep reds or burgundies: These rich and luxurious shades add a touch of glamour and sophistication to your overall ensemble.
Soft pastels: Light pastel shades can provide a subtle and elegant touch, particularly for springtime or daytime formal events.
Nail Color Suitability for Casual Outings
For more casual outings and everyday wear, you have the freedom to experiment with a broader range of colors and finishes. Let your personal style shine through with these suggestions:
Bright and vibrant shades: Express your individuality and add a playful touch to your look with bold hues like electric blues, sunny yellows, or tropical oranges.
Soft and muted tones: Subtle shades like light greys, muted lavenders, or dusty roses can create an understated yet chic look for casual occasions.
Natural and earthy colors: Embrace nature-inspired tones such as soft greens, earthy browns, or muted taupes for a relaxed and bohemian vibe.
Nail Color Options for Specific Occasions
Certain occasions call for specific nail color choices to align with the theme or atmosphere of the event. Let's explore some popular choices for different types of occasions:
Weddings: Classic shades like soft pinks, ivory, champagne, or even metallic gold or silver can complement bridal attire and the overall romantic ambiance.
Parties: Parties allow for more creativity and experimentation. Consider bold glittery shades, neon colors, or even nail art designs to make a statement and join in the festive atmosphere.
Holidays: Festive holidays like Christmas or Halloween offer an opportunity to embrace themed nail colors. Reds, greens, golds, and silvers work well for Christmas, while blacks, oranges, and purples can add a spooky touch for Halloween.
Remember to consider the dress code and theme of the specific occasion when choosing your nail color. It's a great way to show your attention to detail and elevate your overall look.
Analyzing Your Wardrobe
Your wardrobe can provide excellent inspiration when choosing a nail color. Coordinating your nails with your outfit creates a cohesive and put-together appearance. Let's explore how to complement your wardrobe with your nail color choices:
Complementing Nail Color with Clothing Choices
To create a harmonious and coordinated look, consider these tips for pairing nail colors with your outfits:
Monochromatic Pairings: Choose a nail color within the same color family as your outfit. For example, if you're wearing a navy dress, opt for a deep blue or navy nail polish to create a monochromatic ensemble.
Complementary Contrasts: Experiment with colors that sit opposite each other on the color wheel. For instance, if you're wearing a green blouse, a nail color in a shade of red or pink can create a striking contrast.
Neutral Neutrals: Neutral nail colors like soft beige, taupe, or light grey can be incredibly versatile, as they pair well with virtually any outfit and allow your clothing to take center stage.
Coordinating your nails with your wardrobe is an excellent way to create a polished and well-thought-out look.
Experimenting with Contrasting or Complementary Shades
While coordinating your nail color with your outfit is a safe option, don't be afraid to experiment with contrasting or complementary shades to make a statement. Consider these ideas:
Contrasting Colors: Choose a nail color that stands out boldly against your outfit. For instance, if you're wearing a black dress, a vibrant red or electric blue can create a captivating contrast.
Complementary Colors: Select nail colors that harmonize with the dominant hues in your outfit. For example, if you're wearing a purple top, a nail color in a shade of lavender or lilac can create a complementary and pleasing combination.
Experimenting with contrasting or complementary shades can add an extra level of interest and creativity to your overall look.
Considering Seasonal Trends
Nail color trends evolve with each season, offering exciting opportunities to experiment with new shades and finishes. Let's explore the popular nail color trends for each season:
Popular Nail Color Trends for Spring
Spring is a season of renewal and vibrancy. Embrace the following nail color trends to celebrate the blooming of nature and the freshness of spring:
Pastel Perfection: Light and airy pastel shades like baby pink, mint green, and soft lavender are timeless favorites during the spring season. They evoke a sense of freshness and femininity.
Floral Inspired: Take inspiration from blossoming flowers by opting for delicate floral nail art or soft petal-inspired shades. Floral designs and accents can add a touch of whimsy and elegance to your manicure.
Earthy Tones: Connect with nature by choosing nail colors that reflect earthy elements. Think muted greens, sandy beiges, or pale yellows to create a serene and natural look.
Trendy Nail Colors for Summer
Summer is all about fun, sun, and embracing vibrant colors. Get ready to make a statement with these trendy nail colors for the summer season:
Bright and Bold: Embrace the energy of summer with vivid and electrifying shades like hot pinks, sunflower yellows, and vibrant corals. These colors capture the essence of the sunny season.
Tropical Teals: Dive into the refreshing vibes of summer with shades of turquoise, aqua, or teal. These colors bring to mind clear blue waters and tropical destinations.
Playful Neons: Neon colors make a bold and eye-catching statement during the summer months. From neon oranges and lime greens to electric blues, these shades add a playful touch to your manicure.
Cozy and Warm Shades for Fall and Winter
As the weather cools down, it's time to embrace rich and cozy nail colors that reflect the warmth of fall and winter. Consider the following trends:
Deep Jewel Tones: Indulge in the luxurious shades of fall and winter with deep jewel tones like emerald greens, sapphire blues, or ruby reds. These colors create a sense of opulence and elegance.
Warm Earthy Hues: Embrace the rustic charm of autumn by opting for warm earthy shades like burnt oranges, deep browns, and terracotta reds. These colors evoke a cozy and comforting feeling.
Shimmering Metallics: As the holiday season approaches, shimmering metallic shades become popular choices. From golden bronzes and silver chromes to glittery whites, metallic finishes add a touch of glamour to your nails.
Stay on-trend with these seasonal color palettes or mix and match to create your unique combinations that reflect your personal style.
Exploring Nail Polish Finishes
Beyond the choice of color, the finish of your nail polish can also have a significant impact on your overall manicure. Let's explore different nail polish finishes and their effects:
Matte vs. Glossy Finishes and Their Effects
The finish of your nail polish can drastically alter the look and feel of your manicure. Consider the following finishes and their effects:
Glossy Finish: Traditional and universally loved, glossy nail polish offers a shiny and reflective appearance. It enhances the color intensity and provides a classic and polished look.
Matte Finish: Matte nail polish lacks shine and creates a velvety texture on your nails. It offers a contemporary and edgy look, perfect for those who prefer a non-reflective finish.
Metallic and Shimmer Finishes for Added Flair
If you're looking to add some extra flair to your nails, consider metallic and shimmer finishes. These finishes introduce dimension and sparkle to your manicure:
Metallic Finishes: Metallic nail polishes contain fine particles that create a reflective and metallic effect on your nails. Shades like gold, silver, and bronze can add a touch of luxury and elegance to your look.
Shimmer Finishes: Shimmer nail polishes contain small glitter particles that catch the light and create a dazzling effect. They add a touch of glamor and can be found in various colors and shades.
Exploring Textured or Special Effects Nail Polishes
For those who love to push the boundaries of nail art, textured or special effects nail polishes offer a unique and eye-catching appeal:
Textured Finishes: Textured nail polishes have a gritty or sandy appearance on the nails. They can range from matte textures to more pronounced textures like caviar or sugar.
Special Effects Finishes: Special effects nail polishes include options like holographic, magnetic, or color-changing polishes. These finishes create mesmerizing and distinctive looks that are sure to turn heads.
Experiment with different finishes to add depth and creativity to your manicures. It's a fantastic way to elevate your nail game and express your artistic side.
Taking Nail Length into Account
As we mentioned earlier, nail length plays a role in choosing suitable colors. Let's delve deeper into specific nail color options for different nail lengths:
Tips for Choosing Colors for Short Nails
Short nails are trendy and practical, and you can make a bold statement with the right nail color choices. Consider the following tips for short nails:
Bright and Bold Shades: Vibrant colors like fiery reds, sunny yellows, or electric blues can draw attention to your nails and make them stand out.
Light and Pastel Tones: Lighter shades such as soft pinks, baby blues, or pale lilacs can create an illusion of longer nails, making them appear more delicate and feminine.
Classic Nudes: Nudes in a range of shades that match your skin tone can create an elegant and polished look for short nails. They provide a clean and understated appearance.
Nail Color Ideas for Medium-Length Nails
Medium-length nails offer versatility and allow you to explore a broad range of colors and finishes. Consider these nail color ideas for medium-length nails:
Gradient or Ombré: Create a stunning gradient effect by choosing a color family and transitioning from light to dark shades across your nails. This effect adds depth and visual interest.
Multicolored Manicures: Experiment with different shades on each nail or alternate colors for a playful and dynamic look. It's an excellent opportunity to showcase your creativity.
French Tip Variations: Give the classic French manicure a twist by using colors other than white for the tips. Try soft pastels, metallics, or even bold contrasting colors for a modern and trendy twist.
Nail Color Options for Long Nails
Long nails provide ample space for intricate designs and eye-catching colors. Consider these nail color options for long nails:
Jewel Tones: Deep and rich jewel tones like emerald green, amethyst purple, or sapphire blue can create a luxurious and regal look on long nails.
Nail Art Extravaganza: Let your creativity run wild with intricate nail art designs. From floral patterns and geometric shapes to abstract art and 3D embellishments, the options are endless.
Nude with Accents: Create an elegant and elongating effect by opting for a nude or neutral base color on your long nails and adding a touch of glamour with subtle accents like glitter, foil, or metallic detailing.
Long nails provide a captivating canvas for unique and intricate designs. Embrace your creativity and experiment with different colors, finishes, and nail art techniques.
Exploring Color Psychology
Colors have the power to evoke emotions and set moods. Understanding color psychology can help you choose nail colors that align with the emotions or vibes you wish to express. Let's explore the influence of colors and their traditional associations:
Understanding the Influence of Colors on Mood
Different colors can evoke various emotions and moods. Consider these general associations:
Red: Red is often associated with passion, energy, and confidence. It can make a bold statement and exude a sense of power and excitement.
Blue: Blue is known for its calming and soothing properties. It can evoke feelings of tranquility, serenity, and stability.
Yellow: Yellow is associated with happiness, optimism, and warmth. It can bring a sense of joy and brightness to your manicure.
Green: Green represents nature, growth, and harmony. It can create a sense of balance and rejuvenation.
Pink: Pink is often associated with femininity, love, and sweetness. It can create a soft and romantic look.
Purple: Purple symbolizes creativity, spirituality, and luxury. It can add a touch of mystique and sophistication to your nails.
Choosing Nail Colors Based on Desired Emotions or Vibes
Consider the emotions or vibes you wish to express through your nail color choices. Are you seeking confidence, relaxation, or playfulness? Choose colors that align with your desired mood or atmosphere. Remember that personal preferences and individual interpretations of colors play a significant role, so don't be afraid to trust your instincts and experiment with different shades.
Exploring Traditional Associations with Different Colors
Colors have traditional associations that can influence our perception. Here are some traditional color associations to consider:
Red: Traditionally associated with passion, love, and power.
Blue: Traditionally associated with calmness, trust, and loyalty.
Yellow: Traditionally associated with happiness, positivity, and energy.
Green: Traditionally associated with nature, fertility, and growth.
Pink: Traditionally associated with femininity, love, and tenderness.
Purple: Traditionally associated with royalty, luxury, and spirituality.
While these associations can provide a starting point, remember that color meanings can vary across different cultures and personal experiences. Choose colors that resonate with you and reflect your unique style and personality.
Trying Nail Art and Designs
Nail art allows you to unleash your creativity and create unique and eye-catching designs. Whether you prefer intricate patterns, minimalist accents, or bold and daring styles, nail art offers endless possibilities. Let's explore how you can incorporate nail art with various color combinations:
Incorporating Nail Art with Various Color Combinations
Nail art provides the perfect opportunity to experiment with different color combinations. Consider these ideas:
Gradient or Ombré: Blend multiple colors seamlessly across your nails, creating a stunning gradient effect. Start with a light shade at the base and transition to a darker hue towards the tip.
Geometric Patterns: Use tape or nail stencils to create precise and geometric designs. Experiment with different colors to achieve a contemporary and eye-catching look.
Floral Designs: Embrace nature-inspired patterns by incorporating flowers or leaves into your nail art. Use a combination of colors to bring your floral designs to life.
Negative Space: Play with negative space by leaving parts of your nails unpainted. Combine contrasting colors to create striking and modern designs.
French Manicure Twists: Give the classic French manicure a creative twist by using colors other than the traditional white for the tips. Experiment with bold or pastel shades to create a unique look.
Nail art is an excellent way to express your creativity and showcase your unique style. Don't be afraid to try new techniques and explore different color combinations.
Exploring Nail Art Techniques and Patterns
Nail art encompasses a wide range of techniques and patterns. From simple designs to intricate masterpieces, you can find inspiration in various styles:
Stamping: Nail stamping allows you to transfer detailed designs onto your nails using stamping plates and special stamping polish. It's an easy way to achieve intricate patterns without freehand painting.
Water Marble: Water marble nail art involves creating mesmerizing patterns by swirling different colors of nail polish on the surface of water and transferring the design onto your nails.
Abstract Designs: Let your creativity flow with abstract nail art. Use a combination of colors and brush strokes to create unique and unconventional designs that are open to interpretation.
Foil Accents: Foil accents add a touch of metallic shine to your nails. Apply foil adhesive and press metallic foil onto your nails for a dazzling and glamorous effect.
3D Embellishments: Take your nail art to the next level by adding three-dimensional embellishments like gems, pearls, or studs. They can create a textured and luxurious look.
Explore different nail art techniques and patterns to find the ones that resonate with you. Nail art is all about experimentation and self-expression, so let your creativity shine.
Seeking Inspiration from Social Media and Nail Artists
When it comes to nail art, inspiration is just a click away. Social media platforms like Instagram, Pinterest, and TikTok are treasure troves of nail art ideas and designs. Follow nail artists, browse through hashtags, and save your favorite designs to gather inspiration for your own manicures. Don't forget to give credit to the talented artists who inspire you by tagging or mentioning them when sharing your nail art on social media.
Considering Personal Preferences
While it's essential to consider various factors when choosing a nail color, ultimately, personal preference should guide your decision. Nail color is an excellent opportunity to express your individuality and showcase your personal style. Here are some tips to consider:
Embracing Your Favorite Colors
Your favorite colors often reflect your personality and resonate with you on a deeper level. Don't hesitate to incorporate your favorite colors into your nail color choices. Whether it's a vibrant shade, a calming pastel, or a sophisticated neutral, your favorite colors can make you feel more connected to your manicure.
Experimenting with Different Shades and Tones
Don't limit yourself to a specific color family or shade range. Experiment with different colors and tones to discover new favorites and unexpected combinations. Allow yourself to step outside of your comfort zone and try colors you haven't considered before. You may be pleasantly surprised by the results.
Trusting Your Instincts and Embracing Uniqueness
At the end of the day, your nail color should make you feel confident and empowered. Trust your instincts and choose colors that resonate with you. Embrace your uniqueness and let your manicure be a reflection of your individual style and personality.
Maintenance and Longevity
Once you've selected the perfect nail color, it's important to maintain your manicure for maximum longevity and enjoyment. Here are some tips to help you extend the lifespan of your polish:
Factors Affecting Nail Polish Durability
Several factors can affect the durability of your nail polish. Pay attention to the following considerations to ensure long-lasting results:
Base Coat: Applying a quality base coat before your nail polish creates a smooth surface and helps prevent staining and chipping.
Application Technique: Take your time when applying nail polish to ensure even and thin coats. Thick layers are more prone to chipping and peeling.
Top Coat: Applying a top coat over your nail polish adds an extra layer of protection and enhances shine. It also helps prevent chipping and extends the life of your manicure.
Nail Care: Keep your nails well-moisturized and avoid harsh chemicals that can weaken the polish. Wear gloves when engaging in activities that may cause your manicure to chip or peel, such as cleaning or gardening.
Tips for Extending the Lifespan of Your Manicure
To enjoy your manicure for as long as possible, consider these tips for maintenance:
Avoid Harsh Chemicals: When engaging in household chores or using cleaning products, wear gloves to protect your manicure from harsh chemicals that can cause polish to fade or chip.
Moisturize Cuticles: Keeping your cuticles moisturized helps maintain the health and appearance of your manicure. Use cuticle oil or hand cream regularly to prevent dryness and promote nail health.
Protect Your Nails: If you frequently use your hands for tasks that may compromise your manicure, such as typing or crafting, consider applying a layer of clear polish or a gel top coat to add extra durability and protection.
Quick Touch-Ups: In the event of minor chips or wear, a quick touch-up can extend the life of your manicure. Keep your nail polish and a small brush handy for on-the-go fixes.
By taking proper care of your nails and following these maintenance tips, you can enjoy your manicure for an extended period.
Conclusion
Choosing the perfect nail color is an opportunity to express your personal style, creativity, and individuality. Consider factors such as your skin tone, nail length, occasion, wardrobe, and seasonal trends to guide your color choices. Explore different finishes, experiment with nail art, and trust your instincts when making decisions. Remember, the most important aspect is that your nail color makes you feel confident and empowered. Embrace the world of nail color and have fun with your manicures. Let your nails be a canvas for self-expression and a reflection of your unique style.