What Paint Colors Make Burgundy
In the realm of colors, where artistry and imagination converge, few shades hold the captivating allure of burgundy. A hue that resonates with depth, sophistication, and a touch of mystery, burgundy has etched its mark on both interior design palettes and haute couture runways. But beneath its captivating surface lies a world of color blending and alchemy that brings this exquisite shade to life.
Imagine the sensation of sipping a fine red wine, its complex layers of flavor dancing on your palate. Burgundy paint is akin to that wine, a blend of art and science, where hues of red and blue intertwine to create a symphony of visual delight. This journey through the process of crafting burgundy is an exploration of how seemingly disparate colors unite to form a harmonious masterpiece.
From the nuanced selection of red hues to the dance of blue undertones, and the interplay of tints and shades, each element adds a stroke of intrigue to the canvas. As we delve into the science and sensibility behind crafting burgundy, prepare to uncover the secrets that transform a mere mixture of colors into a captivating expression of elegance and allure. Join us as we unveil the enigmatic elegance that is burgundy—a color that transcends the ordinary and invites us to paint our world with sophistication and creativity.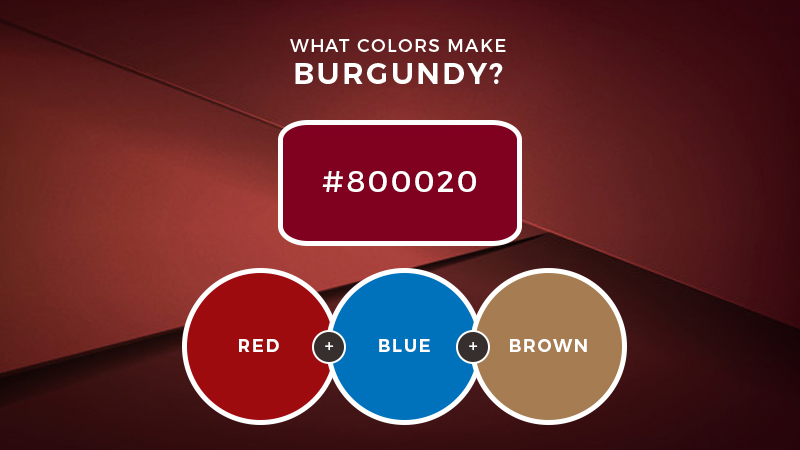 Achieving Burgundy: Exploring the Primary Components
Diving right into the heart of the matter, let's talk about burgundy. This sophisticated shade doesn't emerge from thin air; it's a product of careful color mixing. At its core, burgundy is a harmonious marriage of red and blue. These two primary components dance together to create a color that exudes elegance and charm.
Red, often associated with passion and intensity, plays a significant role in shaping the burgundy spectrum. But here's the twist—burgundy isn't just one static color. It's a spectrum in itself, ranging from deeper crimson-like hues to softer, more playful maroon shades.
On the other side of the color wheel, we find blue. While red brings warmth, blue brings depth. The choice of blue, whether it's a velvety navy or a vivacious cobalt, determines whether your burgundy leans towards a warmer or cooler tone.
But wait, there's more! Achieving burgundy isn't just about mixing any red and blue together. It's about finding that sweet spot where the attributes of depth and warmth are perfectly balanced, creating a color that's as enticing as a fine wine.
The Role of Red: Finding the Perfect Hue
Ah, red—the color of roses, fire, and passion. But within the realm of red, there exists a fascinating array of shades, each with its own personality. The journey to the ideal burgundy begins with selecting the right shade of red as your base.
Imagine a painter's palette adorned with a spectrum of reds—crimson, scarlet, maroon, cherry. Each of these shades lends its unique character to the burgundy blend. A deeper crimson might give you a burgundy with a more regal, intense demeanor, while a lighter cherry could lead to a livelier, playful shade.
Tip: Experiment with different red shades to discover the one that resonates with your vision of burgundy. Remember, the foundation matters, and here, the foundation is red.
Incorporating Blue: Balancing and Enhancing the Blend
Blue—cool, calming, and oh-so-mysterious. Now, how does this cool cat fit into the warm world of burgundy? The secret lies in the balance. Blue doesn't just introduce its own attributes; it also has a transformative effect on the red it meets.
Picture this: navy blue, cobalt, indigo. These are the players that come to the table when blue joins the burgundy party. Depending on the shade of blue you choose, your burgundy can take on varying degrees of depth and richness.
If you're aiming for a burgundy that wraps you in warmth, consider opting for a navy blue. On the flip side, if you're in the mood for a cooler burgundy that's reminiscent of an evening sky, indigo might be your go-to blue.
Understanding Color Ratios: Finding the Right Proportions
Welcome back! By now, you're well-acquainted with the dynamic duo of red and blue that creates the mesmerizing burgundy. But here's the twist: achieving the perfect burgundy isn't just about throwing red and blue together. It's a delicate dance of proportions.
Think of it like a culinary masterpiece. You wouldn't throw ingredients into a pot without considering the right ratios, would you? The same applies to color mixing. The magic of burgundy lies in finding the sweet spot of color ratios.
For instance, if you're aiming for a burgundy that leans more towards red, you'll adjust the ratio accordingly. On the other hand, if you're craving a bluer burgundy, a subtle tweak in the ratio can work wonders.
Remember, the beauty of color ratios is that they're your playground. It's where you, the artist, get to define the rules and set the tone for your masterpiece.
Experimenting with Tints and Shades: Lightening or Darkening Burgundy
Ah, the world of tints and shades—the yin and yang of color manipulation. Let's take a moment to step into this captivating realm. Tints are like a breath of fresh air, infusing your burgundy with a light, airy quality. Shades, on the other hand, add depth and mystery, taking your burgundy to new, alluring depths.
Here's where things get interesting: you can craft an entire symphony of burgundy variations using just one extra ingredient—white or black.
Imagine starting with your base burgundy—a rich, balanced blend of red and blue. Now, add a touch of white, and voilà! You've just created a tint, a delightful pale cousin of burgundy.
But what if you're in the mood for drama? Enter black. A dash of black into your burgundy concoction yields a shade—an intensified, darker sibling of burgundy. And just like that, you've transformed a single hue into a spectrum of possibilities.
Enhancing Depth and Warmth: Incorporating Earthy Tones
Let's embark on a journey through nature-inspired color alchemy. Ever thought about enriching your burgundy with a touch of earthiness? Picture this: adding hints of brown, orange, or terracotta to your burgundy mix.
These earthy tones introduce a layer of complexity to your burgundy, like the intricate notes in a well-aged wine. Just a hint of brown can infuse warmth and depth, while a touch of orange might evoke the hues of autumn leaves.
Imagine a cozy living room adorned with burgundy walls, accented by terracotta cushions—a harmony of colors that brings comfort and elegance together. Incorporating earthy tones is like inviting the outdoors in, infusing your space with a natural and inviting ambiance.
Playing with Undertones: Achieving Complexity and Variation
Ah, the subtle symphony of undertones—the secret ingredient that adds a touch of magic to your burgundy creation. Think of undertones as the whispers beneath the surface, adding depth and complexity to your color palette.
When it comes to burgundy, you can play with both warm and cool undertones to achieve an array of captivating variations.
Imagine a burgundy with warm undertones—a shade that exudes coziness and comfort. This version of burgundy might be perfect for creating an inviting atmosphere in your living space. On the other hand, a burgundy with cool undertones brings a sense of sophistication and serenity—a choice fit for a modern and elegant setting.
Consider this: adding a hint of gold or yellow to your burgundy mixture can infuse it with warmth, while a touch of silver or blue can introduce a cool, contemporary vibe. The beauty lies in the balance of these undertones, creating a burgundy that's uniquely yours.
Contextual Applications: Using Burgundy in Design and Décor
Now that you've delved deep into the art of crafting burgundy, let's talk about its practical applications. Burgundy isn't just a color; it's a statement, a mood, a story waiting to be told. In the realm of design and décor, burgundy holds a special place.
Consider the world of interior design. Picture a grand dining room with deep burgundy walls, exuding a sense of opulence and luxury. Or imagine a bedroom adorned in burgundy accents, creating an intimate and cozy retreat.
In the realm of fashion, burgundy finds its way into elegant dresses, stylish accessories, and even footwear. It's a color that can seamlessly transition from daytime chic to evening glamour.
Tip: When incorporating burgundy into your design, remember that the shade you choose sets the tone. A warmer burgundy might bring comfort, while a cooler one exudes sophistication.
Mixing Beyond the Basics: Exploring Advanced Techniques
You've mastered the basics, but what if you're craving a deeper dive into the world of color mixing? Get ready to explore advanced techniques that can take your burgundy to new heights.
One such technique involves the concept of complementary colors. These are the colors that sit opposite each other on the color wheel—like red and green or blue and orange. Incorporating small touches of complementary colors can create fascinating contrasts and amplify the impact of your burgundy.
Additionally, understanding the realm of color harmony can elevate your burgundy creation to an art form. Imagine a burgundy that harmonizes with its surroundings, creating a visual masterpiece that resonates with every element in the room.
Troubleshooting and Refining: Perfecting Your Burgundy Mix
As with any artistic endeavor, the path to perfection is paved with practice. If your burgundy mix isn't quite hitting the mark, fear not—troubleshooting is part of the journey.
If your burgundy feels too intense, consider lightening it with tints or incorporating slightly cooler undertones. On the flip side, if your burgundy lacks the desired depth, experiment with adding small amounts of earthy tones like brown or terracotta.
Remember, the key to refining your burgundy is experimentation. Keep a journal of your color mix ratios and the results you achieve. Over time, you'll develop an intuitive sense of color blending, and your burgundy endeavors will flourish.
Conclusion
And there you have it—a comprehensive journey through the enchanting world of burgundy paint mixing. From the primary components of red and blue to the nuances of undertones and advanced techniques, you now possess the tools to craft your own symphony of burgundy hues.
As you venture forth on your color mixing adventures, let your creativity flow freely. Remember, the beauty of burgundy lies not just in its visual appeal, but in the stories it tells and the emotions it evokes. So go ahead, paint your world with the richness and warmth of burgundy, and let your artistic spirit soar.