How to Paint Shutters Without Removing
Are your shutters in need of a fresh coat of paint, but the thought of removing them seems daunting and time-consuming? Look no further! In this comprehensive guide, we will show you how to paint shutters without the hassle of removal. By following these step-by-step instructions, you can achieve professional-looking results while saving valuable time and effort.
Shutters play a vital role in enhancing the curb appeal of your home, adding character and charm to its exterior. However, over time, exposure to the elements can cause the paint on your shutters to fade, peel, or become worn. Repainting them not only restores their beauty but also protects them from further damage.
Traditionally, painting shutters involved the laborious task of removing them, which required extra tools and effort. But now, there's an alternative method that allows you to revitalize your shutters without the need for removal. By learning how to paint shutters in place, you can transform the appearance of your home exterior with less hassle and a more efficient process.
Whether you have wooden, vinyl, or metal shutters, this guide will provide you with the necessary techniques, tips, and materials to achieve a professional finish. Get ready to give your shutters a fresh, vibrant look that will impress your neighbors and enhance the overall beauty of your home.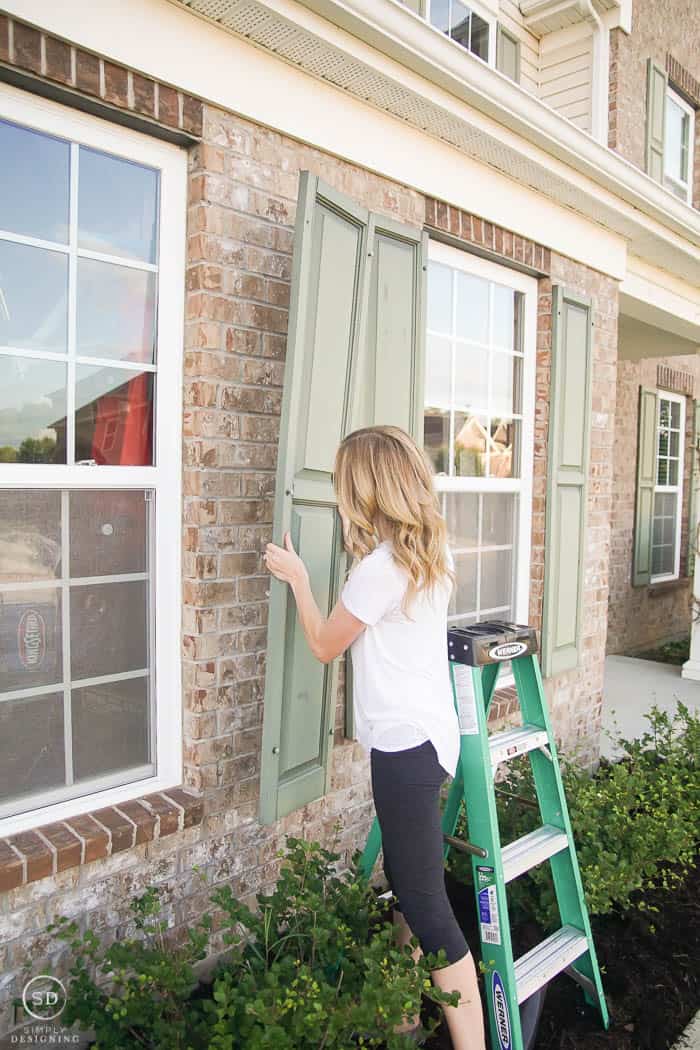 Assessing the Condition of the Shutters
Before diving into the painting process, it's essential to assess the condition of your shutters. Take a close look at each shutter individually to identify any damages, cracks, or areas with peeling paint. This evaluation will help you determine if any repairs are needed before proceeding with the painting process. Additionally, consider the material of your shutters as it may influence the preparation and painting techniques you'll employ.
Preparing the Area Surrounding the Shutters
Proper preparation is key to ensure a smooth painting process without any unwanted splatters or spills. Begin by cleaning the area surrounding the shutters. Remove any dirt, debris, or cobwebs that may have accumulated. This step is crucial to prevent any foreign particles from adhering to the wet paint.
Next, protect the adjacent surfaces by covering them with drop cloths or plastic sheets. Pay special attention to windows, trim, and any other areas you want to keep paint-free. Secure the coverings in place with painter's tape, ensuring a clean and defined boundary between the painted shutters and other surfaces.
Cleaning and Preparing the Shutters
To achieve a long-lasting and flawless paint finish, it's essential to properly clean and prepare the shutters before painting. Begin by washing the shutters with a mild detergent solution and a sponge. Gently scrub away any dirt, grime, or grease that may have accumulated over time. Rinse off the soap residue thoroughly and allow the shutters to dry completely.
Once the shutters are dry, it's advisable to lightly sand the surface. This step helps create a smooth texture, allowing the paint to adhere better. Use fine-grit sandpaper and sand in the direction of the wood grain or shutter texture. After sanding, wipe away any residual dust using a clean cloth.
Choosing the Right Paint and Supplies
Selecting the right paint and supplies is crucial for achieving a professional and durable finish on your shutters. Consider the material of your shutters and choose a paint that is specifically formulated for that type of surface. For example, if you have wooden shutters, opt for an exterior-grade paint suitable for wood.
In addition to the paint, gather all the necessary supplies. Brushes and rollers are the most commonly used tools for painting shutters. Choose high-quality brushes with bristles that are suitable for your paint type and desired finish. If your shutters have intricate details or patterns, consider using a small artist brush for precision work.
Applying Primer (if necessary)
In some cases, applying a primer to the shutters before painting is beneficial. A primer creates a smooth and even surface, enhances paint adhesion, and improves the longevity of the paint job. Assess your shutters' condition and the type of paint you're using to determine if a primer is necessary.
If a primer is required, select one that is compatible with both the shutter material and the paint you've chosen. Apply the primer evenly, following the manufacturer's instructions regarding drying times and recommended number of coats. Once the primer has dried completely, you're ready to move on to the actual painting process.
Painting the Shutters
Now comes the exciting part – painting your shutters! Start by painting the edges and corners of each shutter using a brush. This allows for better coverage and ensures that no areas are left unpainted. Take your time and apply the paint evenly, following the natural flow of the shutter's design.
Once you have painted the edges and corners, you can move on to the larger surfaces using a brush or roller, depending on your preference and the texture of the shutters. Apply thin, even coats of paint, avoiding excessive buildup or drips. It's better to apply multiple thin coats rather than a single heavy coat, as this promotes better adhesion and reduces the risk of paint running or sagging.
If your shutters have intricate details or patterns, consider using a small artist brush to carefully paint those areas. Take your time and work patiently, ensuring that every nook and cranny receives a fresh coat of paint. This attention to detail will greatly enhance the overall appearance of your shutters.
Allow the first coat of paint to dry completely before deciding if additional coats are needed. Assess the coverage and make touch-ups as necessary. Remember to follow the drying time recommendations provided by the paint manufacturer to achieve the best results.
Finishing Touches and Clean Up
Once you're satisfied with the paint coverage on your shutters, it's time to add the finishing touches and clean up the surrounding area. Inspect the painted shutters for any missed spots or uneven coverage. Use a small brush to touch up these areas, ensuring a consistent and flawless finish.
Carefully remove any painter's tape and drop cloths, taking care not to smudge the paint. Dispose of any used materials properly, such as the drop cloths and any leftover paint or empty containers. Clean your brushes, rollers, and paint trays thoroughly, following the instructions provided by the paint manufacturer.
Caring for Painted Shutters
After completing the painting process, it's important to properly care for your newly painted shutters to ensure their longevity and continued beauty. Here are some tips for maintaining and cleaning painted shutters:
Allow the paint to cure fully before handling or cleaning the shutters. This typically takes several days, so avoid touching or placing objects against the shutters during this time.
Regularly inspect the shutters for any signs of damage, such as chipping or peeling paint. Address these issues promptly to prevent further deterioration.
Clean the shutters periodically using a mild detergent solution and a soft cloth or sponge. Gently scrub away any dirt or grime that may have accumulated. Avoid using abrasive cleaners or scrubbing brushes that could damage the paint.
If your shutters are exposed to harsh weather conditions, consider applying a protective clear coat to enhance their durability and resistance to fading or chipping. Consult with a paint professional for appropriate product recommendations.
By following these care guidelines, you can enjoy the freshly painted look of your shutters for years to come.
Conclusion
Painting shutters without removing them can be a time-saving and efficient alternative to the traditional method. By assessing the condition of the shutters, properly preparing the area, choosing the right paint and supplies, and following the correct painting techniques, you can achieve a professional finish without the hassle of removing and reinstalling the shutters.
Remember to take your time, pay attention to detail, and follow the manufacturer's instructions for the paint and materials you use. With proper care and maintenance, your painted shutters will enhance the curb appeal of your home and provide a fresh and updated look.
Now that you have the knowledge and steps to paint your shutters without removing them, it's time to embark on your painting project and transform the appearance of your home exterior. Happy painting!