How To Mix Hot Pink Paint
Unleash your inner artist and dive into a world of color that knows no bounds. Imagine the captivating allure of a vibrant sunset, the playful spirit of blooming flowers, and the undeniable energy of a beating heart. This is the essence of hot pink paint – a hue that transcends mere pigment and transforms into an emotion on canvas. In this guide, we unravel the secrets behind the mesmerizing art of mixing hot pink paint, giving you the power to infuse your creations with the same vivacity that ignites the world around you.
From the chemistry of pigments to the finesse of ratios, every step of the journey is a symphony of creativity and technique. We'll delve into the depths of color theory, explore the dance between red and white pigments, and uncover the nuances that define different shades of hot pink. As you embark on this artistic expedition, prepare to be both scientist and artist, weaving hues together with precision and passion.
Get ready to paint your imagination with the hues of hot pink, a color that whispers dreams and shouts vitality in every brushstroke. Let's blend, let's create, and let's make your artistic vision burst forth in the resplendent brilliance of hot pink.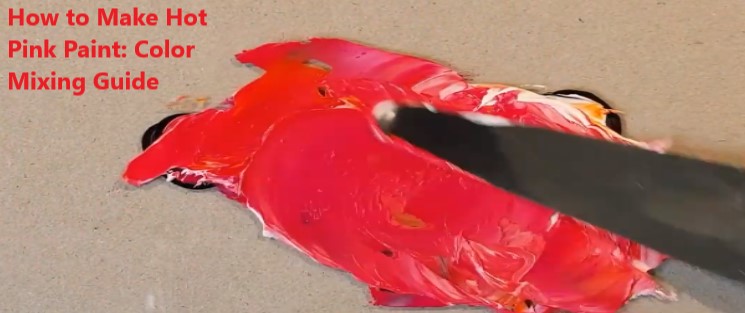 What is Hot Pink Paint?
Hot pink paint isn't just a color; it's an expression. Imagine the zest of red and the purity of white intertwining to create a shade that's unapologetically vibrant. This hue, often associated with energy and playfulness, has the power to transform any canvas, surface, or project into a bold statement. Before we dip our brushes into this vivid concoction, let's understand its essence and what makes it so captivating.
Gathering Your Materials
Picture this: you're standing before a canvas, ready to bring your creative vision to life. But before the magic happens, you need your toolkit. Think of it as a painter's version of assembling ingredients for a gourmet meal. The right pigments, a suitable paint base, and precise measuring tools are your companions in this artistic journey. Here's a closer look at each element that lays the foundation for your hot pink masterpiece.
Choosing the Right Pigments
Colors are the heartbeats of art. And in the world of hot pink, red and white pigments reign supreme. The marriage of these pigments is where the enchantment begins. Red, bold and dominant, meets white, gentle and soft, to birth the mesmerizing hot pink. The ratio of these pigments is your secret recipe to achieving the intensity and warmth that hot pink embodies.
Understanding Pigment Ratios
In the realm of color mixing, ratios are the architects of perception. A dash more red and a sprinkle less white can alter the temperament of your hot pink from lively to elegant. The science of ratios isn't just about calculations; it's about orchestrating a symphony of shades. By mastering pigment ratios, you wield the power to craft various shades within the hot pink spectrum, from a delicate blush to a fervent fuchsia.
Preparing the Paint Base
Just as a sculptor needs the right stone, a painter needs the right canvas. Your paint base serves as the canvas for your pigments to dance upon. Acrylic or oil – the choice of base is your artistic prerogative. Acrylic offers versatility and quick drying, while oil provides richness and depth. The base sets the stage for your pigments to shine, dictating the texture, finish, and overall personality of your hot pink creation.
Measuring and Mixing Pigments
Now comes the alchemical process of blending pigments. It's a dance of precision and intuition, where measurements and techniques intertwine. Picture this: measuring spoons in hand, you carefully scoop the red and white pigments. The palette becomes your dance floor, and as you swirl, mix, and coax the pigments into harmony, the transformation unfolds before your eyes. This tactile process bridges the gap between imagination and reality, reminding you that art is as much about touch as it is about sight.
Achieving the Desired Shade
Like a gardener tending to delicate blooms, you nurture your mixture towards perfection. But how do you know when the shade is right? This stage is where the artist's intuition truly shines. It's about more than just color; it's about emotion. You dip your brush, apply a stroke to a test surface, and pause. Is it the vivid intensity you envisioned, or does it need a touch more red? Testing, adjusting, and testing again – this iterative process captures the essence of artistic expression.
Tips for Customization
Art is a reflection of the artist's soul, and hot pink is your canvas. Much like a chef who spices a dish to perfection, you can add your own flair to the mix. Here are a few strokes of wisdom for customizing your hot pink:
Adding Warmth: If your hot pink feels a tad chilly, infuse it with a touch of red. This injects warmth and energy, making your shade feel inviting and lively.
Toning Down: Should your pink be a bit too bold, temper it with a hint of white. This softens the intensity while preserving the charm.
Embrace Experimentation: Remember, there are no mistakes in art, only discoveries. Don't shy away from experimenting with different pigment ratios or even introducing a complementary hue to create a unique twist on hot pink.
Application and Best Practices
With your hot pink potion perfected, it's time to bring it to life. The canvas awaits your artistic touch, whether it's a blank sheet or a furniture piece yearning for revival. Here's where technique meets inspiration, and the possibilities are as boundless as your imagination.
Choosing Surfaces and Techniques
Hot pink isn't confined to a single canvas. It's as versatile as your ideas. Think about the surface you're working with – canvas, paper, wood, fabric – and choose techniques that complement its texture. Brushstrokes for depth, splatters for spontaneity, and gradients for transitions – each stroke adds to the narrative your hot pink masterpiece weaves.
The Finishing Touch: Sealants
Just as an author signs their name at the end of a book, your hot pink creation deserves a signature finish. Enter sealants, the guardians of longevity and vibrancy. These protective coats not only shield your work from the wear of time but also enhance its visual allure. Matte, glossy, or satin – the choice of finish is your artistic signature, sealing your vision for generations to come.
Storing and Preserving Your Hot Pink Paint
Creativity ebbs and flows, and your hot pink paint might take a hiatus between projects. Proper storage ensures that your paint remains as vibrant as your imagination. Consider these pointers to extend the lifespan of your masterpiece in a bottle:
Choose the Right Containers: Opt for airtight containers to prevent air exposure, which can lead to pigment degradation. Clear containers allow you to see the shade without opening the lid.
Mind the Shelf Life: Paint, like all art supplies, has a shelf life. While acrylic-based paints have a longer shelf life, oil-based paints require more vigilant storage. Keep a watchful eye on expiration dates to ensure the best quality for future projects.
Inspiring Projects and Ideas
As your hot pink journey draws to a close, let's explore the myriad ways you can infuse this captivating hue into your creative endeavors. Here are a few ideas that showcase the versatility of hot pink:
Artistic Splendor: Create eye-catching canvases that celebrate the vibrancy of life. Experiment with different pigments, textures, and techniques to craft hot pink artworks that resonate with your spirit.
Statement Furniture: Revamp a tired piece of furniture with a coat of hot pink paint. From chairs to cabinets, the transformation is nothing short of astonishing. The juxtaposition of old and new, classic and bold, creates an intriguing visual narrative.
Chic Home Accents: Scatter hot pink accents throughout your living space – throw pillows, vases, and frames. These pops of color breathe life into neutral palettes and make a stylish statement.
Conclusion
In the world of art, color is the language that transcends boundaries. Mixing hot pink paint is your voyage into the heart of this language, where pigments blend with passion to create a symphony of hues. Armed with the knowledge of pigments, ratios, and techniques, you're equipped to wield your brush with confidence, adding bursts of hot pink magic to your artistic repertoire. As you explore the shades, nuances, and applications of this vibrant color, remember that every stroke is an expression, every hue a story, and every creation a masterpiece.