How To Paint A Bed Headboard
Welcome to the ultimate guide on how to paint a bed headboard! Your bed headboard is more than just a functional element; it is a statement piece that sets the tone for your entire bedroom decor. Whether you want to revamp your existing headboard or unleash your creative flair on a new one, painting it offers endless possibilities for personalization and style.
In this comprehensive article, we will take you through every step of the painting process, ensuring that your headboard transformation is a seamless and rewarding experience. From evaluating the current condition of your headboard to selecting the perfect paint and mastering the art of application, we've got you covered.
We understand that achieving a flawless finish requires more than just basic know-how. That's why we'll delve into essential tips, pattern breakers, and troubleshooting common painting issues to ensure your project is a burst of creativity. Whether you're a seasoned DIY enthusiast or a novice with a paintbrush, this guide will empower you to create a headboard masterpiece that complements your bedroom's ambiance and reflects your unique style.
Get ready to immerse yourself in the world of color, texture, and self-expression as we embark on this exciting journey of painting your bed headboard!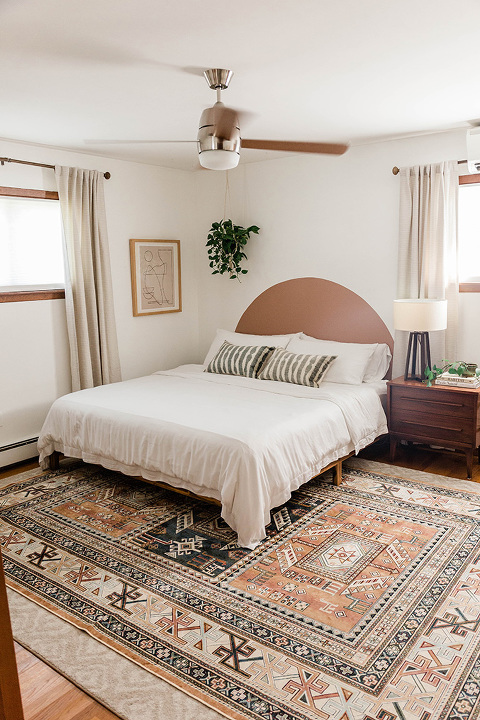 Understanding the Importance of Painting Your Bed Headboard
Before we dive into the nitty-gritty of the painting process, let's first explore why painting your bed headboard is a great idea. Your bed headboard is not only a functional element but also a focal point in your bedroom decor. By giving it a fresh coat of paint, you can revitalize the entire room without a major overhaul.
Benefits of Repainting Your Bed Headboard
Cost-Effectiveness: Painting your bed headboard is a cost-effective alternative to buying a new one. It allows you to achieve a brand-new look without breaking the bank.
Personalization: By choosing the right paint color and finish, you can customize your headboard to match your bedroom's theme and your personal style.
Sustainability: Repainting your bed headboard reduces waste and supports sustainability by extending the life of your furniture.
Preparing the Bed Headboard for Painting
Now that we understand the importance of painting your bed headboard, it's time to start the preparation process. Before you pick up that paintbrush, follow these essential steps to ensure a smooth and long-lasting finish.
Evaluating the Current Condition of the Bed Headboard
Start by thoroughly examining your bed headboard for any damages, scratches, or imperfections. If you spot any issues, address them before proceeding with painting. Depending on the severity of the damage, you might need to fill in cracks, repair broken parts, or sand down rough areas.
Choosing the Right Paint for Your Bed Headboard
Selecting the appropriate paint is crucial for achieving the desired results. Consider the following attributes when choosing your paint:
| Attribute | Description |
| --- | --- |
| Paint Types | Choose between latex, acrylic, or oil-based paint based on the material and finish desired. |
| Color Options | Select a color that complements your bedroom's decor and creates the desired ambiance. |
| Durability | Opt for paint with excellent adhesion and durability to ensure the finish lasts longer. |
Preparing the Bed Headboard for Painting
Before you begin painting, prepare the surface to ensure the paint adheres well and provides a smooth finish.
Cleaning the Surface: Use a mild soap and water solution to clean the headboard's surface, removing dust, dirt, and grease. Wipe it down with a clean, damp cloth and let it dry completely.
Sanding the Headboard: Use fine-grit sandpaper to sand the headboard lightly. Sanding helps create a smooth surface by removing imperfections and old finishes.
Masking and Protecting the Surrounding Areas
Before you start applying paint, take precautions to protect the surrounding areas from accidental spills or splatters.
Using Painter's Tape: Apply painter's tape along the edges of the headboard to protect adjacent walls and other surfaces from paint.
Laying Down Drop Cloths: Cover the floor and nearby furniture with drop cloths to prevent paint from staining them.
Painting the Bed Headboard
Now that your bed headboard is prepped and protected, it's time to start painting! This section will guide you through the step-by-step process of achieving a flawless finish.
Priming the Bed Headboard
Priming is a crucial step that promotes paint adhesion and enhances the durability of your painted headboard.
Choosing the Right Primer: Select a primer that matches the type of paint you're using. For example, if you're using latex paint, choose a latex-based primer.
Applying the Primer: Use a high-quality brush or roller to apply the primer evenly on the headboard's surface. Let it dry according to the manufacturer's instructions.
Applying the First Coat of Paint
Now comes the exciting part – applying the first coat of paint to your bed headboard.
Choosing the Right Painting Tools: The type of tools you use will depend on your headboard's material. Use a brush for intricate details and a roller for large, flat surfaces.
Applying the Paint: Dip your brush or roller into the paint and apply it in smooth, even strokes. Start from the top and work your way down, ensuring uniform coverage.
Pattern Breaker: Here's a pro-tip to add some burstiness to your painting process: Consider using different brush sizes or techniques to create unique textures or patterns on your headboard. This adds visual interest and personalizes your piece.
Evaluating and Sanding between Coats
After the first coat has dried, take a close look at your headboard for any imperfections or unevenness.
Inspecting the First Coat: Examine the headboard in good lighting to spot any drips, streaks, or areas that need improvement.
Lightly Sanding the Surface: Use fine-grit sandpaper to smooth out any rough spots or imperfections. This step helps create a smoother surface for subsequent coats.
Applying Additional Coats as Needed
Depending on your chosen paint color and type, you might need to apply multiple coats to achieve the desired finish.
Determining the Required Coats: Some paint colors may require more coats to achieve full coverage, especially if you're transitioning from a dark to a lighter color.
Ensuring a Consistent Finish: When applying additional coats, aim for consistent coverage and color distribution. Avoid heavy application to prevent drips or paint buildup.
Pattern Breaker: Here's another opportunity to add some burstiness to your painting project: Experiment with blending colors or layering different shades to create an ombre effect or a unique color gradient on your headboard.
Allowing Sufficient Drying Time
Patience is key when it comes to painting your bed headboard. Allow ample time for each coat of paint to dry thoroughly before proceeding.
Drying Time Considerations: The drying time varies based on the type of paint and environmental conditions. Follow the paint manufacturer's instructions for accurate drying times.
Practice Restraint: While it may be tempting to rush the process, avoid touching or using the headboard until the paint has fully cured. This ensures a durable and long-lasting finish.
Adding Finishing Touches
Your painted bed headboard is now almost complete! This section covers some optional finishing touches to elevate the overall look of your headboard.
Adding Decorative Accents (Optional)
Using Stencils or Decals: Stencils and decals are a fantastic way to add patterns or intricate designs to your headboard. You can find a variety of stencils or create your own custom designs.
Hand-Painted Designs: If you have artistic skills, consider hand-painting a design or motif on your headboard. This will truly make it a one-of-a-kind masterpiece.
Applying a Protective Finish (Optional)
A protective finish can add an extra layer of durability to your painted headboard, safeguarding it from wear and tear.
Clear Coat or Varnish: Choose a clear coat or varnish that matches the sheen of your paint. Apply it evenly over the painted surface to protect the paint and make cleaning easier.
Pattern Breaker: For a unique twist, try using a matte finish clear coat on a glossy paint color or vice versa. This contrasting effect will add a burst of visual interest to your headboard.
Troubleshooting and Tips
Sometimes, painting projects might encounter some challenges. Let's address common issues and provide helpful tips for a successful outcome.
Troubleshooting Common Painting Issues
Dealing with Paint Drips: If you notice paint drips on your headboard, sand them gently after the paint dries. Then, touch up the affected area with a small brush.
Fixing Uneven Paint Coverage: Apply additional coats to even out the paint coverage. Make sure each coat is fully dry before applying the next.
Cleaning and Maintaining Your Painted Bed Headboard
To keep your freshly painted headboard looking its best, follow these maintenance tips:
Regular Dusting: Dust your headboard regularly to prevent dirt and debris from settling on the painted surface.
Stain Removal: For stubborn stains, use a mild cleaning solution and a soft cloth to spot-clean the affected area.
Conclusion
Congratulations! You've successfully transformed your bed headboard into a beautiful centerpiece for your bedroom. Painting your bed headboard not only breathes new life into your space but also allows you to express your creativity and style. We hope this step-by-step guide and helpful tips have been valuable in your painting journey. Enjoy your newly painted headboard and the refreshing atmosphere it brings to your bedroom! Happy painting!