Welcome to the enchanting world of mushroom painting, where creativity and nature converge to inspire captivating artworks. Delving into the intricate beauty of mushrooms offers artists a fascinating challenge, inviting them to explore a wide array of colors, textures, and forms.
Painting mushrooms is a unique and rewarding experience, as these fungi come in an astonishing variety of shapes and sizes, from the iconic Fly Agaric with its vibrant red cap to the delicate Morel with its honeycomb appearance. The interplay of light and shadow on their surfaces creates a mesmerizing visual dance, calling artists to capture the essence of these fascinating organisms.
In this comprehensive guide, we'll take you through the step-by-step process of painting mushrooms, from selecting the right materials and understanding the nuances of different mushroom species to adding depth, texture, and context to your artwork. Whether you're an experienced artist or a novice exploring the world of art, this guide will equip you with the knowledge and techniques to bring the magic of mushrooms to life on your canvas. So, let's embark on this creative journey and unlock the secrets of mushroom painting!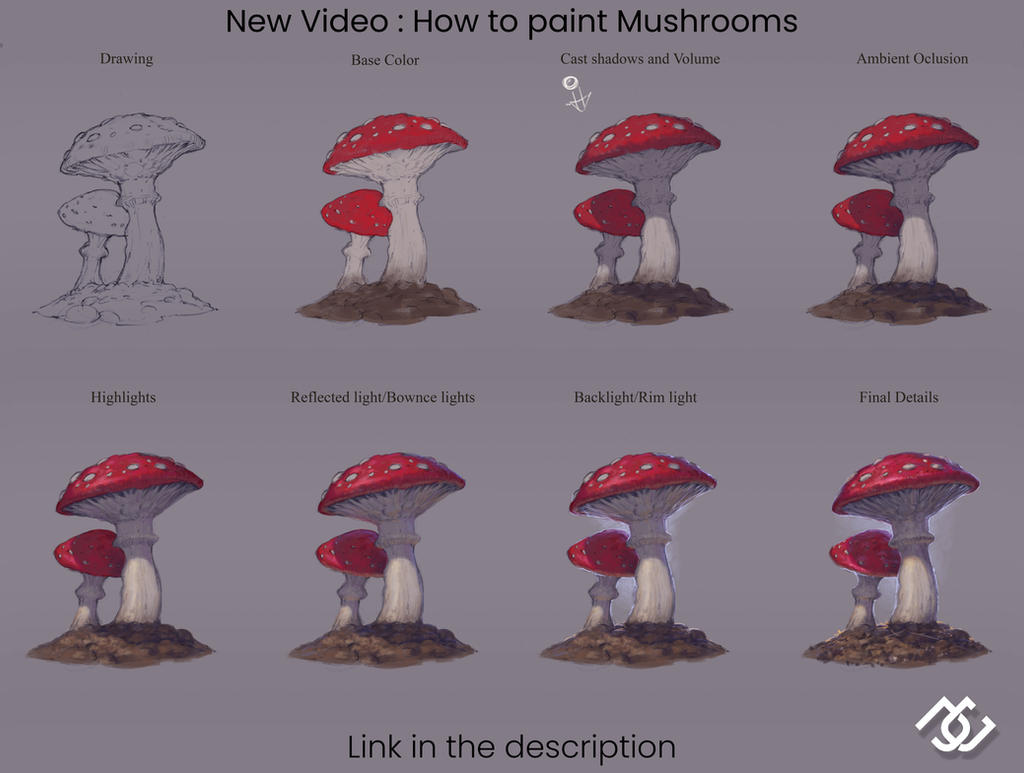 Preparing Your Materials
Before you start your mushroom painting adventure, it's essential to gather the right materials. Let's explore the different types of paint and brushes that work best for mushroom art.
| Types of Paint | Attributes |
| --- | --- |
| Watercolors | Ideal for creating transparent and delicate mushroom illustrations. They allow for layering and achieving subtle color variations. |
| Acrylics | Versatile and quick-drying, perfect for adding bold colors and textures to your mushrooms. They work well on various surfaces. |
| Oils | Excellent for producing rich, vibrant colors and smooth blends. Oils are great for creating highly detailed and realistic mushroom paintings. |
Choosing the right paintbrushes is equally important to bring out the intricate details of mushrooms. Synthetic brushes are better for acrylics, while natural-hair brushes are suitable for watercolors and oils.
Regarding painting surfaces, canvases, watercolor papers, and wood panels all offer unique textures for your artwork. Consider experimenting with different surfaces to find the one that best suits your artistic vision.
Getting Familiar with Mushrooms
To paint mushrooms convincingly, it's crucial to understand the different species and their distinct attributes. This knowledge will help you bring authenticity and realism to your artwork.
You can start by exploring various mushroom species, such as the enchanting Fly Agaric, the delicate Morel, or the delectable Shiitake. Each mushroom possesses its own charm and appeal, providing ample inspiration for your paintings.
Obtaining good mushroom references is essential. Spend time observing real mushrooms in their natural habitat or use photographs to study their unique shapes, colors, and textures up close. Immersing yourself in the world of mushrooms will enable you to better translate their beauty onto your canvas.
Setting Up Your Workspace
A well-organized workspace can greatly enhance your painting experience. Consider the following tips for creating an ideal mushroom painting environment:
Ensure your workspace is well-lit to accurately see colors and details.
Use an adjustable easel to position your canvas at a comfortable angle.
Surround yourself with mushroom references, photographs, and sketches to spark your creativity.
By setting up an inspiring and efficient workspace, you'll be better equipped to embark on your mushroom painting journey.
Sketching Your Mushroom Composition
Before applying paint to your canvas, take the time to sketch your mushroom composition. Sketching allows you to plan the layout, proportions, and perspective of your artwork.
Begin with basic mushroom shapes and add details such as gills, caps, and stems. Experiment with different compositions until you find one that speaks to you. Remember, the sketching phase is where you can explore different ideas without committing to a final result.
Choosing Colors and Palettes
The right color palette can make or break your mushroom painting. Understanding color theory will help you select harmonious and visually appealing colors for your artwork.
Consider the following tips for creating captivating mushroom color schemes:
Natural Realism: For realistic mushroom art, use colors found in nature. Observe the subtle variations in mushroom caps and stems to create authentic hues.
Imaginative Fantasy: If you're exploring fantastical mushroom worlds, let your imagination run wild with vibrant and otherworldly color combinations.
Limited Palette: Experiment with limited color palettes to create unity and cohesiveness in your artwork. This can be particularly effective in minimalist or abstract pieces.
Adding Depth and Texture
Mushrooms have unique textures, and capturing them effectively is essential to make your paintings come alive. Here are some techniques to add depth and texture to your mushroom art:
Shadows and Highlights: Use dark and light tones to create depth and contrast in your mushroom compositions. Shadows add dimension, while highlights bring attention to focal points.
Brushstrokes and Layering: Experiment with different brushstrokes and layering techniques to create interesting textures. Impasto techniques work well for portraying the roughness of mushroom surfaces.
Detailed Gills and Pores: Pay close attention to the fine details of gills, pores, and other distinctive features. These elements contribute to the realism and authenticity of your artwork.
Painting Different Mushroom Species
Now that you're familiar with various painting techniques, it's time to explore specific mushroom species to paint. Let's delve into some popular choices:
The Fly Agaric (Amanita muscaria)
The Fly Agaric, with its iconic red cap adorned with white spots, is a classic subject for mushroom artists. To paint this captivating species:
Capture the bright red and white colors of the cap with vibrant acrylics or oils.
Use small brush strokes to recreate the delicate white spots.
Pay attention to the mushroom's unique shape and stem.
The Morel (Morchella)
The Morel's honeycomb appearance makes it a delightful challenge for artists. To paint this delicate mushroom:
Utilize watercolors to create transparent layers for a lifelike effect.
Focus on the intricate pattern of the mushroom cap.
Add shadows to create depth and dimension.
The Shiitake (Lentinula edodes)
As an edible mushroom, the Shiitake is both a culinary delight and a compelling subject for painters. To paint this gourmet mushroom:
Experiment with earthy color palettes to convey its culinary appeal.
Use a mix of dry brushing and layering to highlight the mushroom's texture.
Consider painting the Shiitake in a culinary setting for added context.
Remember, each mushroom species offers its own unique charm, so have fun exploring and experimenting with various painting techniques for different mushrooms.
Highlighting Details and Highlights
Adding highlights to your mushroom painting is essential to draw the viewer's eye and add interest to the artwork. Here's how you can emphasize the details:
Light Source: Determine the direction of light in your painting and add highlights accordingly. Consistency in the light source creates a more realistic effect.
Creating Contrast: Contrasting dark shadows with bright highlights adds depth and drama to your artwork.
Glazing Technique: Use transparent layers to add subtle highlights on the mushroom cap's surface, giving it a soft and glowing effect.
Incorporating Backgrounds and Context
Mushroom paintings don't exist in isolation. Adding suitable backgrounds and context can elevate your artwork to new heights. Consider the following ideas:
Natural Habitats: Paint the mushrooms in their natural habitats, such as forest floors, mossy logs, or fallen leaves.
Fantastical Settings: For more imaginative pieces, create fantastical backgrounds that complement your mushroom subjects.
Balance and Composition: Ensure that the background doesn't overpower the mushrooms. Strike a balance to maintain the focus on the main subject.
Finalizing Your Mushroom Painting
Congratulations on nearing the completion of your mushroom masterpiece! Before you add your signature, consider the following final touches:
Review and Revise: Step back and review your artwork with a fresh eye. Make any necessary adjustments to enhance the overall composition.
Signing and Framing: Once you're satisfied with your artwork, sign it with pride. Consider framing your painting to protect and showcase your work.
Sharing Your Artwork: Don't be shy to share your beautiful mushroom paintings with the world. Display them at art galleries, online platforms, or share them with fellow artists for feedback.
Conclusion
Painting mushrooms is a delightful and rewarding journey. Embrace the uniqueness of each species, experiment with different techniques, and let your creativity flow. With this step-by-step guide, you're well-equipped to paint stunning mushroom art that captivates and inspires. So, grab your brushes, immerse yourself in the world of mushrooms, and let your artistic vision flourish! Happy painting!