How To Paint A Rose For Beginners
Painting a rose, with its delicate petals and captivating beauty, is an art form that has intrigued artists for centuries. As a beginner stepping into the world of art, you might find yourself in awe of the exquisite rose paintings you come across. Fear not! This comprehensive guide is here to take you by the hand and lead you through the enchanting journey of painting a rose from scratch.
While roses may seem complex and intimidating to recreate on canvas, they also offer a canvas of inspiration, allowing you to unleash your creativity. In this guide, we will unravel the secrets of capturing the essence of a rose, from understanding the symbolic significance of these timeless flowers to selecting the perfect reference image that sparks your imagination.
With a palette of colors at your fingertips and brushes as your magic wands, you'll learn how to mix hues to create realistic petals and breathe life into your rose. Along the way, we'll delve into the interplay of light and shadow, the art of detailing, and the graceful strokes that bring the stem and leaves to life.
So, whether you're a budding artist or someone seeking a creative outlet, prepare to immerse yourself in the enchanting world of rose painting. Let's unfurl the canvas and let the colors flow as we embark on this artistic adventure together!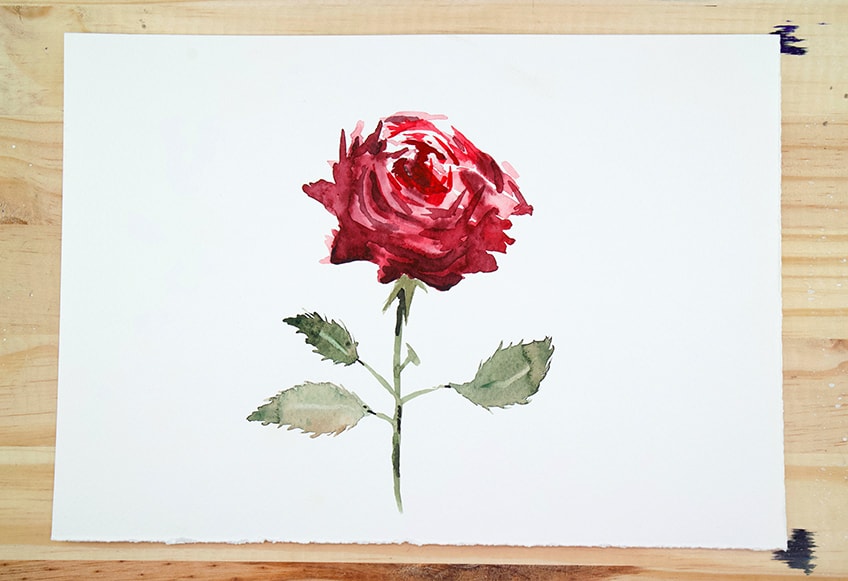 Understanding the Essence of a Rose
Roses have been revered for centuries, and their symbolism in art is profound. Before you put your brush to the canvas, take a moment to ponder what makes roses such captivating subjects in paintings. They often represent love, passion, beauty, and even fleeting moments. Embracing the essence of a rose will infuse your painting with emotion and depth.
Now, let's delve into the symbolic significance of roses in art. Different colors and arrangements carry various meanings, and understanding these nuances will add layers of storytelling to your masterpiece. Explore the language of flowers to ensure your rose conveys the right message.
As you embark on your artistic journey, it's essential to acquaint yourself with the diverse types of roses. From classic tea roses to vibrant wild roses, each variety has its unique characteristics. Observing and sketching these variations will help you appreciate the intricate details that make each rose special.
Gathering Your Painting Supplies
Before we paint our first stroke, let's ensure you have all the necessary tools. As a beginner, you don't need a vast array of materials; a few essentials will suffice. Here's what you'll need:
| Painting Supplies | Description |
| --- | --- |
| High-Quality Brushes | A selection of brushes in different sizes to achieve various strokes and details. |
| Acrylic Paints | Beginner-friendly and versatile, acrylic paints offer vibrant colors and a quick drying time. |
| Canvas or Paper | Choose a canvas or paper suitable for acrylic painting. Pre-stretched canvases are convenient for beginners. |
| Palette | A flat surface for mixing and blending your paint colors. A simple disposable palette will do. |
| Easel | An easel provides a comfortable and adjustable setup for your painting. Alternatively, you can work on a flat surface. |
| Water and Rag | Keep a container of water for cleaning brushes and a rag for wiping off excess water and paint. |
With your painting supplies ready, you're one step closer to creating your first rose painting! Let's move on to preparing your workspace.
Preparing Your Workspace
Creating a comfortable and organized workspace will enhance your painting experience. Adequate lighting is crucial for accurate color perception and avoiding eye strain. Natural light is ideal, but if that's not possible, ensure you have a good-quality artificial light source that casts a neutral tone.
Next, arrange your materials in an ergonomic manner to minimize distractions during your creative process. A clutter-free and organized workspace fosters focus and productivity. Keep your paints, brushes, and water container within arm's reach, allowing you to move fluidly between strokes.
Remember, your workspace is your sanctuary for creativity. Personalize it with elements that inspire you, such as a favorite quote, artwork, or a vase of fresh roses.
Selecting the Perfect Reference Image
Choosing the right reference image is essential for creating an accurate and visually appealing rose painting. As a beginner, opt for a simple yet striking image that captures the essence of a rose. There are several sources for finding reference images:
Online Image Banks: Websites like Unsplash, Pixabay, and Pexels offer a wide selection of high-quality, royalty-free images suitable for artistic use. Be sure to check the usage rights and give proper attribution if required.
Photographing Real Roses: If you have access to roses, try photographing them yourself. This allows you to capture unique angles and lighting that inspire you personally.
Art Books and Magazines: Look for art books or magazines featuring stunning rose paintings. Use these images as references to learn from the techniques of experienced artists.
Once you have your reference image, print it or keep it handy on a digital device while you paint. Now, let's move on to the exciting part – sketching the rose!
Sketching the Rose
Sketching lays the foundation for your rose painting, guiding you through the composition and ensuring accurate proportions. As a beginner, don't be afraid to start with basic shapes and lines. Let's break down the process of sketching a rose:
Outline the Basic Shape: Begin by lightly sketching a circular shape to represent the outer boundary of the rose. This circular shape will act as a guide for the flower's size and overall placement on the canvas.
Add the Petals: Roses have distinct petals that create their signature beauty. Start sketching individual petals around the circular shape. Observe your reference image closely to capture the varying shapes and sizes of the petals.
Define the Center: The center of the rose is called the "bud." Sketch a smaller circular shape or oval in the middle of the flower to represent the bud. This is where the petals emerge.
Create the Stem: Extend a simple line downwards from the base of the flower to form the stem. You can add leaves later in the painting process.
Remember, sketching is a flexible and forgiving process. Don't worry about perfection at this stage; focus on capturing the general form of the rose. Once you're satisfied with the sketch, it's time to bring your rose to life by adding colors and details!
Understanding Light and Shadow
Mastering light and shadow is crucial for creating depth and dimension in your rose painting. Properly executed light and shadow give your artwork a three-dimensional appearance, making the rose pop off the canvas. Let's delve into the concepts of light and shadow in painting:
Identifying the Light Source: Determine the direction of light in your reference image. This will dictate where the lightest and darkest areas of the rose will be. Keep in mind that light creates highlights on the petals facing the light source.
Highlighting the Petals: With the light source in mind, use a lighter shade of your base color to highlight the areas of the petals that catch the light. These highlights add a realistic shine to the rose.
Shading the Petals: The opposite side of the rose, away from the light source, will be in shadow. Use a darker shade of your base color to add shadow to these areas. This creates a sense of volume and depth.
Blending and Gradation: To achieve a smooth transition between light and shadow, blend the colors on the petals carefully. Gradation adds realism to your rose and makes it more visually appealing.
Remember, light and shadow are essential in all aspects of art. Observing real roses and studying how light interacts with their surfaces will enhance your understanding of this crucial concept.
Mixing Colors for Realistic Petals
One of the joys of painting is mixing colors to achieve the exact shades you need. Roses come in various hues, and replicating these colors will give your painting authenticity. Let's explore how to mix colors for realistic rose petals:
Start with Primary Colors: Begin with the primary colors – red, blue, and yellow. These colors are the building blocks of all other colors.
Create Base Colors: Mix the primary colors to create base colors for your rose petals. For instance, mixing red and yellow will yield a vibrant orange, while blue and red will result in a deep purple.
Tweak and Adjust: Roses exhibit a wide range of colors, from soft pinks to deep burgundy. Experiment with different ratios and add white or black to adjust the intensity and shade of your colors.
Add Undertones and Highlights: To add depth to your petals, mix a touch of complementary colors into your base color. This creates subtle undertones that make the petals more dynamic. Additionally, use a lighter shade of your base color to paint highlights on the edges of the petals facing the light source.
Keep in mind that painting petals with a single flat color can look unnatural. Embrace the variations and imperfections found in real roses, and your painting will be all the more captivating.
Adding Details to the Rose
Detailing is where your rose truly comes to life. Small touches make a big difference, adding realism and enhancing the overall beauty of your painting. Here are some techniques to add intricate details to your rose:
Texture and Veining: Roses often have delicate textures and veining on their petals. Use a fine brush to carefully paint these intricate details, creating depth and realism.
Petal Edges: Soften the edges of the petals to give your rose a more natural and organic look. Avoid hard, rigid lines, as these can make the rose appear flat.
Focus on the Center: The center of the rose, the bud, has a distinct texture and shape. Pay attention to the details in the center, as it is the focal point of your painting.
Adding Dewdrops: If you want to add a touch of magic to your painting, consider adding dewdrops to the petals. Dewdrops give the rose a fresh and dewy appearance.
Detailing requires patience and a steady hand, but the effort is worth it when you see your rose come alive with intricate features.
Working on the Rose Stem and Leaves
The stem and leaves play a vital role in your rose painting, providing support and balance to the delicate beauty of the flower. Let's explore how to create a sturdy and graceful stem, along with lush and vibrant green leaves:
The Stem: Start by painting the stem using a mix of green and brown. Make the stem thicker at the base and gradually taper it as it extends upward. Add subtle highlights and shadows to give the stem dimension.
Leaf Structure: Rose leaves typically have a jagged edge and a distinct veining pattern. Use a flat brush to create the basic shape of the leaves, and then add the details with a fine brush.
Color Variation: Mix different shades of green to paint the leaves, as not all leaves will have the same color. Add hints of yellow or blue to create depth and make the leaves look more natural.
Leaf Placement: Arrange the leaves around the rose, making sure they complement the overall composition. Some leaves may overlap the petals, while others can peek out from behind.
Don't underestimate the importance of the stem and leaves; they provide context and a sense of realism to your rose painting.
Background and Complementary Elements
The background of your painting sets the stage for the rose and influences the overall mood of the artwork. Additionally, incorporating complementary elements can enhance the visual appeal of your rose painting. Let's explore these aspects:
Background Choices: There are various options for the background, depending on your artistic vision. You can choose a soft, blurred background that puts the focus solely on the rose, or you can paint a more detailed and textured backdrop that adds context to the flower.
Color Harmony: Consider the color harmony between the rose and the background. Complementary colors, such as green or blue, can make the rose pop, while a monochromatic background can create a serene and elegant atmosphere.
Additional Elements: To further enrich your painting, add complementary elements that complement the rose. This could include other flowers, foliage, or even a butterfly resting on the petals.
The background and additional elements should enhance, not distract from, the beauty of your rose. Take your time to choose the right elements and colors to create a harmonious and visually striking painting.
Fine-Tuning and Refining Your Painting
As you near the completion of your rose painting, it's essential to step back and critically assess your work. Fine-tuning and refining your painting can take it from good to exceptional. Here are some tips to help you perfect your artwork:
Evaluate Proportions: Ensure that the proportions of the rose and its elements are accurate and visually pleasing. Adjust any areas that appear disproportionate.
Enhance Contrast: Check the contrast between light and shadow in your painting. Enhancing contrast will make your rose stand out and add drama to the artwork.
Unify Colors: Ensure that the colors used in the rose, stem, leaves, and background complement each other harmoniously. Unifying the colors creates a cohesive and balanced composition.
Smooth Transitions: Blend any areas where colors meet to create smooth transitions and avoid harsh lines between different elements.
Final Touches: Add any final details or highlights that you feel will enhance the painting. These subtle touches can make a significant difference in the overall appeal of your artwork.
Don't rush the final touches; take your time to perfect your rose painting. Your dedication and attention to detail will be evident in the final result.
Framing and Displaying Your Rose Painting
Congratulations, you've completed your rose painting! Now, it's time to present it in the best possible light. Choosing the right frame and displaying your artwork thoughtfully can elevate its impact and ensure it shines. Here's how:
Selecting a Frame: Pick a frame that complements your painting and enhances its beauty. Consider the style and color of the frame, ensuring it doesn't overpower the artwork.
Matting Options: If you choose to add a mat, consider its color and size. Matting can add an elegant touch and create a visual buffer between the painting and the frame.
Placement and Lighting: Hang your rose painting in a location where it will receive adequate lighting and attention. Avoid placing it in direct sunlight or areas with excessive humidity.
Grouping Artworks: If you have multiple paintings, consider creating a cohesive display by grouping them together. This can enhance the visual impact of your rose painting.
Take pride in your completed artwork and display it with care. Sharing your rose painting with others will allow them to appreciate the beauty and effort you've put into your creation.
Exploring Different Styles of Rose Painting
As you've mastered the art of painting roses for beginners, it's time to expand your horizons and explore different styles and techniques. The world of art offers a vast array of possibilities, and experimenting with various styles can help you find your unique artistic voice. Here are some styles to consider:
Realism: Continue honing your skills in realistic rose painting, focusing on capturing minute details and achieving a lifelike appearance.
Impressionism: Embrace the beauty of loose brushstrokes and the play of light in impressionistic rose painting. This style conveys emotion and atmosphere through vibrant colors.
Abstract: Step outside the boundaries of reality and explore abstract rose painting. Use bold shapes, colors, and textures to express the essence of a rose in a more conceptual manner.
Watercolor: Experiment with the translucent and fluid nature of watercolors to create delicate and ethereal rose paintings.
Mixed Media: Combine different art mediums like acrylics, watercolors, and pastels to add depth and complexity to your rose paintings.
Remember that every style offers its unique challenges and rewards. Take the time to explore different techniques and discover what resonates with you most as an artist.
Conclusion
Congratulations on completing this comprehensive guide on how to paint a rose for beginners! You've journeyed from understanding the essence of roses in art to mastering various painting techniques. Painting roses is not just about replicating their beauty; it's about expressing emotions and capturing fleeting moments on canvas.
As you continue your artistic journey, remember that practice and experimentation are key to growth as an artist. Embrace the burstiness of your creativity, combining longer and complex sentences with shorter ones to give your writing a natural flow. Let perplexity lead you to explore new and exciting ideas, and don't be afraid to break patterns and introduce surprise elements.
The world of art is boundless, and painting roses is just the beginning. Continue to expand your skills, explore new subjects, and infuse your art with your unique perspective. Remember, the most beautiful roses are those that bloom from the heart of an artist.
Now, go forth and paint your roses with passion, and may your artistic journey be as beautiful as the roses you create!