Painting a skyline is a captivating artistic journey that allows you to immerse yourself in the awe-inspiring beauty of cityscapes. With every stroke of the brush, you have the power to capture the towering structures, intricate architectural details, and the mesmerizing interplay of light and shadows that define a skyline. Whether it's the iconic silhouette of New York City's skyline or the charming charm of a lesser-known cityscape, painting a skyline offers a unique opportunity to express your creativity and create a visual narrative of urban landscapes.
In this guide, we will delve into the step-by-step process of painting a skyline, from selecting the perfect viewpoint to adding intricate details and atmospheric effects. You'll discover the essential materials needed, learn how to plan the composition, choose the right colors, and master various techniques to bring your skyline painting to life. Whether you're a seasoned artist or a beginner exploring the world of painting, this guide will provide you with practical tips, techniques, and inspiration to create stunning skyline artworks that captivate the viewer and evoke the spirit of bustling cities.
Get ready to embark on a journey where art meets architecture, where imagination takes flight, and where skylines become vivid works of art on canvas. Let's explore the art of painting a skyline together.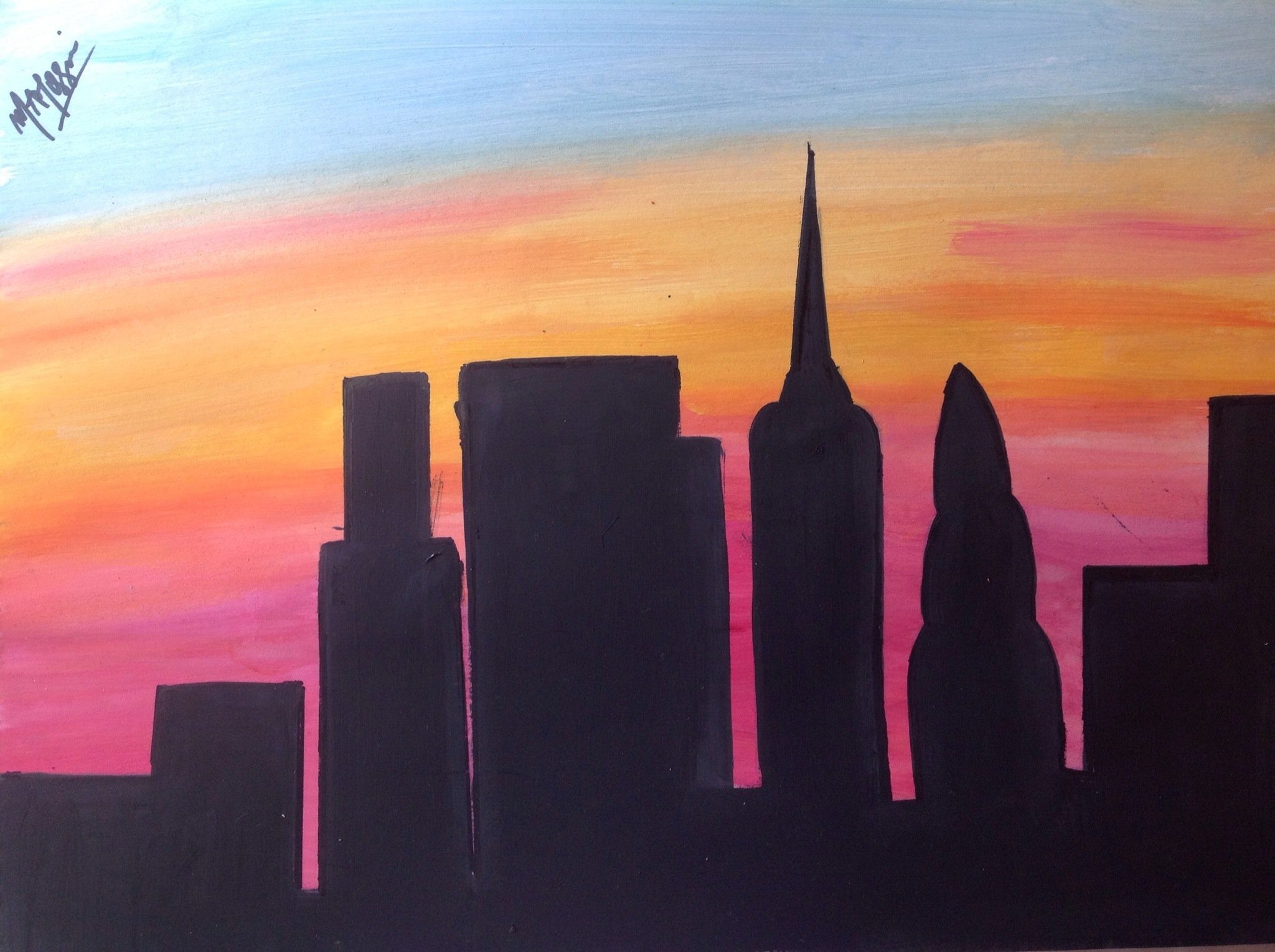 Materials Needed for Painting a Skyline
Before diving into the painting process, it's essential to gather the necessary materials to bring your artistic vision to life. Here's a list of essential supplies and additional materials that will assist you in painting a skyline:
Essential Paint Supplies
| Paint Supplies | Description |
| --- | --- |
| Acrylic or Oil Paints | Choose acrylics for a quick-drying, versatile medium or oils for their smooth blending capabilities. |
| Brushes of Different Sizes and Shapes | Collect a variety of brushes to cater to different strokes and details. Flat, round, and filbert brushes are commonly used. |
| Palette or Mixing Surface | Use a palette or a dedicated mixing surface to blend colors and create custom hues. |
| Canvas or Painting Surface | Select a canvas or painting surface that suits your preferred size and material. Stretched canvas or canvas boards are commonly used. |
| Palette Knife (Optional) | A palette knife can be handy for creating texture and adding depth to buildings or structures. |
Additional Materials
| Additional Materials | Description |
| --- | --- |
| Water or Solvent for Cleaning Brushes | Keep a container of water for acrylic paints or an appropriate solvent for oil paints to clean your brushes. |
| Easel or Painting Surface Support | An easel or painting surface support provides a stable and comfortable platform for your painting process. |
| Sketching Materials | Pencil, eraser, and paper are useful for sketching the basic outline of the skyline before starting to paint. |
Selecting the Skyline to Paint
Choosing the skyline you want to paint is an important decision that sets the tone for your artwork. Here are some considerations and research steps to help you select the perfect skyline:
Local or International Skylines: Decide whether you want to paint a familiar local skyline or explore skylines from around the world. Each option offers unique characteristics and sentimental value.
Iconic or Lesser-Known Skylines: Consider whether you want to paint a skyline recognized worldwide, such as New York City or Paris, or if you prefer the charm of lesser-known cities. The choice depends on your personal preferences and artistic goals.
Considering Personal Preferences and Interests: Explore skylines that resonate with you on a personal level. If you have a fondness for a particular city or architecture style, it can greatly enhance your enjoyment and motivation throughout the painting process.
Planning the Composition
Before diving into the painting itself, it's crucial to plan the composition of your skyline artwork. This involves deciding on the viewpoint, balancing the composition, and sketching the basic outline.
Deciding on the Viewpoint
The viewpoint you choose determines the perspective and overall impact of your painting. Experimenting with different viewpoints can help you find the most engaging and visually appealing composition. Consider the following tips:
Experiment with Different Perspectives: Explore various vantage points by observing the skyline from different angles. Try looking up from street level, from a rooftop, or across a river.
Optimal Placement of Horizon Line: Determine the position of the horizon line in your painting to create balance and guide the viewer's eye. Placing it strategically can add depth and visual interest to your composition. Experiment with different horizon line placements to find the most compelling result.
Balancing the Composition
Achieving a balanced composition is essential for creating a visually pleasing and harmonious painting. Consider the following techniques to achieve balance in your skyline artwork:
Rule of Thirds: Divide your canvas into a 3×3 grid by mentally drawing two horizontal and two vertical lines. Place key elements, such as buildings or focal points, along these lines or at their intersections to create a sense of balance and visual interest.
Creating Depth and Visual Interest: Incorporate foreground, midground, and background elements in your painting to create depth. Use larger, more detailed elements in the foreground and gradually decrease the level of detail and size as you move towards the background.
Sketching the Basic Outline
Before applying paint, it's helpful to sketch the basic outline of your skyline on the canvas. Sketching allows you to plan the placement of major landmarks or buildings, ensuring accurate proportions and overall composition. Follow these steps:
Using Simple Shapes and Lines: Begin by using simple shapes and lines to outline the major structures and landmarks in your skyline. Focus on capturing the overall shape and form rather than intricate details at this stage.
Capturing Major Landmarks or Buildings: Identify the key landmarks or buildings that define the skyline you're painting. Pay attention to their proportions and unique characteristics, as they will be the focal points of your artwork.
By carefully planning the composition and sketching the basic outline, you lay a solid foundation for the subsequent painting process. This preparation stage helps you visualize the final artwork and ensures a more cohesive and well-balanced outcome.
Choosing Colors and Mixing Paints
Selecting the right colors and mastering the art of mixing paints are crucial steps in capturing the essence of a skyline. The color palette you choose sets the mood and atmosphere of your artwork. Consider the following factors when selecting and mixing colors:
Observing the Skyline's Color Palette
Observe the colors present in the skyline you're painting, as they will serve as the foundation for your color palette. Consider the following aspects:
Natural Lighting and Atmospheric Conditions: Take note of the lighting conditions present during your preferred time of day for the painting. Whether it's a vibrant sunset, a serene twilight, or a bustling cityscape at night, understanding the lighting and atmospheric conditions will guide your color choices.
Time of Day and Weather Effects: Different times of day and weather conditions influence the colors in a skyline. The warm hues of a sunrise or the cool tones of a rainy afternoon can greatly impact the overall color palette of your painting. Observe and analyze these effects to create a realistic representation.
Mixing Primary Colors to Create Desired Hues
To achieve the specific colors you envision for your skyline, mastering the art of mixing primary colors is essential. Here are some tips to help you mix paints effectively:
Understanding Color Theory and Complementary Colors: Familiarize yourself with color theory and the relationships between primary, secondary, and complementary colors. This knowledge will enable you to create a wide range of hues by mixing different combinations of paints.
Experimenting with Different Color Combinations: Take the time to experiment with various color combinations and ratios to achieve the desired hues for your skyline. Keep a record of successful mixtures for future reference.
Remember, color selection and mixing are highly subjective and depend on your artistic vision. Don't hesitate to experiment and explore different color palettes to capture the mood and atmosphere you wish to convey.
Blocking in the Skyline
Once you have planned the composition, sketched the outline, and selected your color palette, it's time to start painting the skyline. This stage involves blocking in the basic elements of the skyline to establish its foundation. By blocking in the major shapes and colors, you create a solid starting point for adding detail and refinement later on. Here's how to proceed:
Painting the Sky
Begin by focusing on the sky portion of your painting. The sky serves as the backdrop against which the skyline will be showcased. Follow these steps:
Choosing the Appropriate Sky Color: Select the base color for the sky based on the time of day and atmospheric conditions you wish to depict. For a clear day, you may opt for a vibrant blue. For a sunset or sunrise scene, consider using warm hues such as oranges, pinks, and purples. For a moody sky, choose darker tones or shades of gray.
Applying Paint with Broad Strokes or Washes: Using a large brush, apply the sky color to the upper portion of the canvas. Work with broad strokes or a wash technique to establish the overall color and mood of the sky. Blend the colors smoothly to create a seamless transition.
Adding the Background Buildings
Once the sky is blocked in, shift your focus to the background buildings. These structures provide the framework for the skyline and help establish depth and perspective. Follow these steps:
Using Lighter or Cooler Colors to Create Depth: Select a lighter or cooler color for the background buildings. This helps create a sense of distance and depth. Light grays, blues, or pale greens are commonly used for this purpose.
Keeping Buildings Simplified and Less Detailed: At this stage, aim for a more simplified representation of the buildings in the background. Focus on capturing their basic shapes and silhouettes rather than intricate details. Use larger brushes or broad strokes to block in the buildings and establish their position in the composition.
By blocking in the sky and background buildings, you establish the foundation of your skyline painting. This initial stage allows you to set the overall atmosphere and lay the groundwork for the more detailed elements that will be added in subsequent steps.
Adding Detail to the Skyline
With the foundation of the skyline established, it's time to add detail and bring the composition to life. This stage involves painting the foreground buildings and enhancing the skyline with landmarks. Paying attention to architectural details and texture will elevate the realism and visual impact of your artwork. Follow these steps:
Painting Foreground Buildings
Foreground buildings are the focal point of the skyline and demand more attention to detail. Consider the following tips when painting foreground buildings:
Capturing Architectural Details: Observe the architectural features of the buildings in your reference skyline. Pay attention to the shapes, windows, doors, and other distinctive elements. Use smaller brushes and take your time to recreate these details accurately.
Using Smaller Brushes for Precision: Switch to smaller brushes to add precise lines, textures, and highlights to the foreground buildings. This allows for greater control and precision in capturing the intricate aspects of the structures.
Enhancing the Skyline with Landmarks
Landmarks play a significant role in defining a skyline and adding character to your painting. Highlighting prominent structures or landmarks can create focal points and add interest to your artwork. Consider the following techniques:
Highlighting Prominent Structures or Landmarks: Identify the key landmarks or iconic structures within the skyline you are painting. These could be famous buildings, monuments, or architectural features unique to that location. Focus on capturing their distinct characteristics and make them visually stand out.
Adding Texture and Intricate Details: Use various techniques to add texture and depth to the landmarks. Employ the palette knife to create a sense of brickwork or stone surfaces. Use small brushes for fine details such as windows, doors, or intricate patterns.
By focusing on the foreground buildings and landmarks, you infuse your skyline painting with intricate details and visual interest. This stage requires patience and attention to capture the essence of the skyline accurately.
Creating Atmospheric Effects
To make your skyline painting more immersive and realistic, consider incorporating atmospheric effects that evoke the mood and ambiance of the scene. These effects add depth, dimension, and a sense of atmosphere to your artwork. Here are some techniques to help you achieve atmospheric effects:
Incorporating Perspective and Depth
To create a convincing sense of depth and perspective in your skyline painting, consider the following techniques:
Using Vanishing Points and Converging Lines: Use the principles of linear perspective to guide the viewer's eye and create the illusion of depth. Establish vanishing points and draw converging lines towards them to depict the receding buildings and streets.
Adding Atmospheric Perspective: Depict the natural haze or fading colors that occur in the distance due to atmospheric conditions. Lighten the colors and reduce the level of detail as objects recede into the background. This technique enhances the perception of depth and distance in your painting.
Depicting Weather Conditions
Weather conditions greatly influence the appearance and atmosphere of a skyline. Consider these techniques to depict different weather effects:
Painting Clouds, Rain, or Fog: Experiment with different brush strokes and techniques to depict various weather conditions. Soft, wispy brushstrokes for clouds, vertical streaks for rain, or layers of translucent paint for fog can add a realistic touch to your skyline painting.
Emphasizing Lighting and Shadows: Pay attention to the lighting conditions associated with specific weather situations. Highlight the interplay of light and shadows on the buildings, capturing the dramatic effect that weather can have on the skyline.
By incorporating these atmospheric effects, you infuse your skyline painting with a sense of realism and create an immersive experience for the viewer.
Blending and Texturing Techniques
To add depth, texture, and visual interest to your skyline painting, explore various blending and texturing techniques. These techniques allow you to create unique effects and capture the intricacies of architectural structures. Consider the following approaches:
Blending Colors Smoothly
Smooth color blending techniques help create seamless transitions and realistic gradations in your painting. Experiment with the following techniques:
Wet-on-Wet Technique: Apply wet paint onto a wet surface to create soft and blended edges. This technique allows colors to mix and merge naturally, resulting in smooth transitions between hues.
Gradual Layering for Seamless Transitions: Build up layers of paint gradually, allowing each layer to dry before applying the next. This technique allows for more controlled blending and smooth color transitions.
Adding Texture to Buildings and Surfaces
Texture adds dimension and tactile quality to your skyline painting. Explore these techniques to add texture to buildings and surfaces:
Impasto Technique with Palette Knife: Use a palette knife to apply thick layers of paint, creating texture and three-dimensionality to buildings or structures. Experiment with different angles and pressures to achieve desired effects.
Dry Brushing or Stippling for Architectural Details: Use a dry brush or stippling technique to create texture for specific architectural details such as brickwork, stone, or rough surfaces. This technique involves applying paint with a relatively dry brush to create the illusion of texture and depth.
By incorporating blending and texturing techniques, you bring a tactile quality and visual interest to your skyline painting, elevating its overall impact.
Final Touches and Refinements
As you near completion of your skyline painting, it's time to add final touches and refinements to enhance its visual appeal and cohesiveness. This stage involves adjusting colors, values, and fine-tuning details and edges. Consider the following steps:
Adjusting Colors and Values
Take a step back and assess the overall color scheme and values of your painting. Making subtle adjustments can significantly impact the final result. Consider the following tips:
Enhancing Highlights and Shadows: Evaluate the lighting conditions of your painting and ensure that highlights and shadows are appropriately emphasized. Add brighter highlights to areas directly hit by light and deepen shadows in areas of contrast.
Balancing the Overall Color Scheme: Harmonize the colors throughout your painting by adjusting the intensity or temperature of certain hues. This ensures a cohesive and unified color palette.
Fine-tuning Details and Edges
Refining the details and edges of your skyline painting adds a polished and professional touch. Pay attention to the following aspects:
Sharpening Lines and Edges: Use a thin brush or fine liner to define the edges of buildings, windows, and other architectural features. This adds clarity and crispness to your artwork.
Adding Final Highlights and Accents: Apply final touches of highlights to create a sense of sparkle and dimension. Consider adding small details such as reflections on windows or gleaming lights in the skyline.
By giving attention to these final touches and refinements, you elevate the overall quality and impact of your skyline painting.
Finishing and Displaying the Painting
Once you are satisfied with the final result of your skyline painting, it's essential to take the necessary steps to finish and display your artwork appropriately. Consider the following:
Allowing the Painting to Dry Thoroughly: Ensure that your painting is completely dry before handling or framing it. This prevents smudging or damage to the artwork.
Applying Varnish or Protective Coating (Optional): Consider applying a varnish or protective coating to protect your painting from dust, moisture, and UV rays. Follow the manufacturer's instructions for the specific medium you used.
Choosing a Suitable Frame or Display Method: Select a frame that complements your artwork and enhances its visual impact. Alternatively, consider displaying your painting on a gallery-wrapped canvas or using a floating frame to showcase the artwork without distraction.
Taking the time to finish and display your skyline painting properly ensures its longevity and allows others to appreciate your artistic accomplishment.
Conclusion
Painting a skyline is a captivating artistic endeavor that allows you to capture the beauty and grandeur of cities through art. By carefully planning the composition, selecting colors, and incorporating texture and atmospheric effects, you can create a stunning portrayal of a skyline on canvas. Remember to enjoy the process, experiment with different techniques, and let your creativity soar as you bring skylines to life through the strokes of your paintbrush.