In the realm of artistry, capturing the essence of animals with their exquisite fur textures has long been a hallmark of skilled artists. From the velvety softness of a feline's coat to the rugged grandeur of a wild wolf, painting fur in oil is a mesmerizing endeavor that brings animal portraits to life with breathtaking realism.
To embark on this artistic journey, one must master the art of coaxing oil paints into a tapestry of lifelike fur, where light and shadow dance upon each delicate strand. Yet, this task demands more than just a brush and palette. It requires a deep understanding of the complexities of fur textures, the nuances of color, and the meticulous techniques that yield an art piece worthy of awe.
In this comprehensive guide, we venture into the heart of fur painting, exploring the selection of brushes that give birth to the most intricate details, the captivating dance of light on different fur types, and the magical layering techniques that conjure the illusion of fur's luxurious depth. Discover how to breathe life into your canvas, rendering eyes that sparkle with emotion, noses that exude character, and fur that beckons the viewer to reach out and touch.
Join us as we unlock the secrets of oil fur painting, a journey that leads to an artistic mastery that mesmerizes and captures the hearts of those who behold it. Let your creativity soar as you immerse yourself in this captivating world of realism, where every stroke becomes a symphony, and every canvas tells a tale of the untamed wilderness.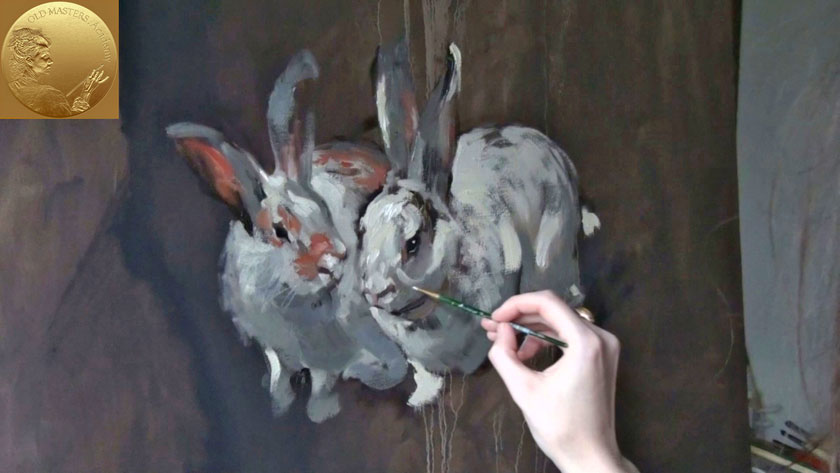 Mastering the Basics of Fur Painting
Choosing the Right Brushes for Different Fur Textures
One of the first steps in achieving realistic fur is selecting the appropriate brushes. Different fur textures require different brush types to capture their unique qualities. For short fur, opt for fine-haired brushes that can create delicate, short strokes. On the other hand, medium to long fur demands bristle brushes that can handle thicker strokes, mimicking the flow and volume of the fur.
Selecting the Appropriate Oil Paint Colors for Fur
Understanding the color palette is crucial when painting fur realistically. Start by analyzing the base fur color, which serves as the foundation for the entire artwork. Identifying undertones and highlights is equally important in creating depth and dimension in the fur. Utilize a diverse range of colors to bring out the richness and complexity of the animal's coat.
Preparing the Canvas and Setting Up Your Workspace
Before diving into your fur painting endeavor, ensure that your canvas is properly primed and sized to provide the best surface for oil painting. Additionally, arranging proper lighting is crucial for observing fur details and accurately replicating them in your artwork.
Observing and Studying Fur Textures
Studying Reference Photos and Real-Life Fur
To achieve accuracy in fur painting, referencing real-life fur textures is vital. High-quality reference photos can be found online, providing you with a wealth of inspiration and insight into various fur types. However, don't underestimate the value of observing real-life animals in zoos, wildlife reserves, or even pet stores. The opportunity to see fur textures in person and understand how light interacts with them will greatly improve your painting skills.
Analyzing Different Fur Types and Their Characteristics
Every animal's fur is unique, with distinct characteristics that define their species. Understanding the differences between short fur and long fur, as well as various fur patterns and markings, will allow you to paint each subject with precision and authenticity.
Creating a Fur Painting Sketch
Outlining the Subject and Understanding Fur Direction
Begin your fur painting by sketching the subject, paying close attention to the direction of the fur growth. This initial sketch will serve as the foundation for your painting, guiding you as you add layers of detail and texture.
Defining Key Features and Highlights in the Initial Sketch
Identify the prominent features of the animal, such as its eyes, nose, and ears, and include them in your sketch. Additionally, mark the areas where highlights will be most pronounced to maintain a sense of realism and three-dimensionality in your artwork.
Capturing the Texture and Flow of Fur in the Composition
While sketching, focus on capturing the flow and texture of the fur. Use varying stroke lengths and directions to replicate the unique characteristics of the animal's coat. Remember that the texture of the fur can change depending on the body part, so adapt your strokes accordingly.
Understanding Light and Shadow on Fur
Grasping the Play of Light on Different Fur Types
Light plays a significant role in accentuating fur textures. Different fur types interact with light in distinct ways, affecting the highlights and shadows they cast. Understanding how light behaves on short fur versus long fur will enable you to create stunning visual effects in your artwork.
Recognizing How Fur Casts Shadows on Itself and Surroundings
Fur casts shadows not only on the animal's body but also on itself and its surroundings. Mastering the interplay of shadows within the fur is essential for achieving a realistic and convincing painting.
Incorporating Subtle Variations in Shadow Tones for Realism
Avoid uniformity in shadow tones, as this can make your artwork appear flat and two-dimensional. Instead, incorporate subtle variations in shadow tones to add depth and dimension to your fur painting.
Layering Techniques for Realistic Fur
Building the Base Layer and Underpainting
Creating a solid foundation is crucial for realistic fur painting. Start by building the base layer and underpainting, carefully blending colors to achieve the desired base tones. Transparency in this stage is essential for allowing subsequent layers to shine through.
Adding Subsequent Layers for Fur Depth and Volume
Layering is a fundamental technique in fur painting, as it allows you to build depth and volume in the fur. Gradually add darker hairs over lighter areas, creating the illusion of individual strands and adding complexity to your painting.
Layering Dark Hairs Over Light Areas
For the most realistic results, layer dark hairs over light areas, ensuring that each layer adds depth and texture to the fur. The strategic placement of shadows and highlights will enhance the overall realism of your artwork.
Building Up Highlights and Reflections
Incorporate highlights and reflections into your fur painting to bring it to life. These bright spots indicate where light directly hits the fur, making it appear more vibrant and dynamic.
Blending and Texturing Fur
Softening Harsh Edges to Mimic Fur Softness
Fur is soft and often features blurred edges, particularly when it comes to animals with dense coats. Use blending techniques to soften harsh edges and create a more natural look.
Utilizing Dry Brush Techniques for Adding Texture
Dry brush techniques are ideal for adding texture to fur, simulating the individual hairs that make up the animal's coat. Experiment with dry brushing to achieve different effects and create a captivating sense of realism.
Incorporating Impasto for a Three-Dimensional Effect
Impasto is a technique where thick layers of paint are applied to the canvas, creating a three-dimensional effect. Utilize impasto strategically to enhance the depth and texture of the fur, making it stand out from the canvas.
Detailing and Refining the Fur Painting
Adding Fine Hairs and Whiskers
Fine hairs and whiskers are defining features in many animals, contributing significantly to their appearance and character. Pay careful attention to these details, using precise brush strokes to add them to your painting.
Enhancing Fur Patterns and Markings
For animals with unique fur patterns and markings, such as tabby cats or zebras, be sure to emphasize these features in your painting. They serve as recognizable traits that distinguish the subject.
Emphasizing Depth and Dimensionality
As you near completion of your fur painting, focus on emphasizing depth and dimensionality. Adding final touches to the fur, such as subtle highlights and lowlights, will make it appear more realistic and lifelike.
Creating Realistic Eyes and Noses in Animal Portraits
Painting Expressive Animal Eyes
Eyes are the windows to the soul, even in the animal kingdom. Capture the expressiveness of animal eyes by paying attention to their intricate details, reflections, and the emotions they convey.
Detailing the Iris and Pupil
The iris and pupil play a significant role in defining the character of animal eyes. Refine the details of these components to create captivating and soulful eyes in your paintings.
Capturing Lifelike Noses and Muzzles
Noses and muzzles are essential features that add character to an animal portrait. Understanding the structures and textures of different animal noses will enable you to capture them with precision and realism.
Blending Noses Seamlessly with Fur
To achieve a cohesive and harmonious painting, ensure that the nose blends seamlessly with the fur. Avoid sharp edges and abrupt transitions, allowing the features to flow naturally within the composition.
Final Touches and Finishing the Fur Painting
Evaluating the Overall Composition and Balance
Step back and assess your fur painting in its entirety. Check for any imbalances or areas that may require additional attention or refinement.
Adjusting Colors and Tones for Harmony
Fine-tune the colors and tones in your artwork to create a harmonious and visually appealing composition. Small adjustments can make a significant difference in the overall impact of your fur painting.
Varnishing and Protecting the Finished Painting
Once your fur painting is complete, consider applying a protective varnish to safeguard the artwork from dust, dirt, and potential damage. This step will help preserve your masterpiece for years to come.
Conclusion
Congratulations! You've embarked on a journey to master the art of painting realistic fur in oil. By understanding the interplay of light and shadow, studying various fur textures, and employing layering and blending techniques, you're well on your way to creating breathtaking animal portraits. Remember that practice and patience are key to honing your skills, so keep experimenting, learning, and pushing your artistic boundaries. Happy painting!