How To Spray Paint Your House Exterior
The exterior of your home is the first thing that greets guests and passersby, leaving a lasting impression. Over time, weather, wear, and tear can diminish the beauty of your house's exterior, making it appear dull and lackluster. Fortunately, spray painting offers an efficient and effective way to revitalize your home's appearance, giving it a fresh and vibrant look.
In this comprehensive guide, we will take you through the step-by-step process of spray painting your house exterior. From assessing the surfaces and selecting the right paint to mastering the spraying technique and addressing common challenges, you'll learn the techniques and tips to achieve a flawless and professional finish.
Spray painting allows for even coverage, quick application, and a smooth finish that brushes and rollers often struggle to achieve. Whether you're a seasoned DIY enthusiast or a novice looking to embark on your first painting project, this guide will provide you with the knowledge and confidence to transform your home with a stunning exterior paint job.
So, prepare to unleash your creativity and elevate your home's curb appeal as we dive into the world of spray painting your house exterior. Get ready to breathe new life into your home and make a statement that will leave your neighbors in awe.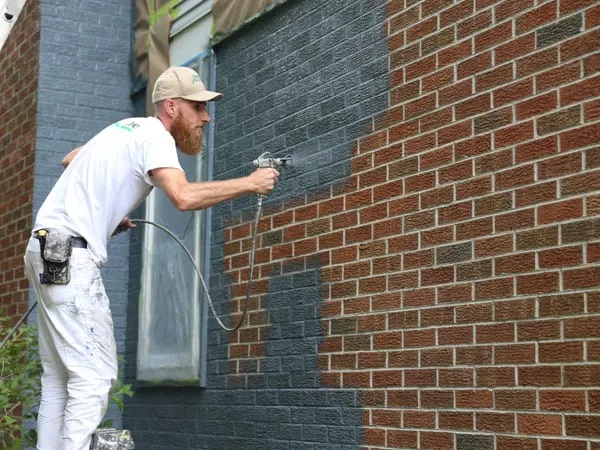 Assessing Your House Exterior
Before diving into the spray painting process, it's essential to assess the condition of your house exterior and choose the right time for the project. By evaluating the existing paint and considering weather conditions, you can ensure optimal results.
Inspecting the Condition of the Existing Paint
Start by thoroughly inspecting the current state of the paint on your house exterior. Look for signs of peeling, cracking, or fading, as these issues need to be addressed before applying new paint. Additionally, check for any structural issues or damage that may require repairs.
If you come across areas with peeling or cracked paint, use a scraper or wire brush to remove the loose paint. Sand the surface to create a smooth base for the new paint. For larger structural issues, it's advisable to consult a professional.
Determining the Suitable Time and Weather Conditions
The success of your spray painting project greatly depends on selecting the right time and weather conditions. Choose a time when the weather is mild, preferably in spring or fall, to avoid extreme temperatures and humidity. This ensures that the paint adheres properly and dries evenly.
Avoid painting on windy or rainy days as these conditions can lead to overspray, poor adhesion, or water damage to the fresh paint. Aim for a day with low wind speeds and clear skies for the best outcome.
Choosing the Right Paint and Equipment
Selecting the appropriate paint and equipment is crucial for achieving a professional finish. Consider factors such as paint type, color choices, and the right spray painting equipment.
Selecting the Appropriate Exterior Paint
When it comes to choosing the paint for your house exterior, there are several options to consider. The most popular types of exterior paint include latex, oil-based, and acrylic. Each type has its own characteristics and advantages.
Latex Paint: Latex paint is water-based and offers easy cleanup, quick drying times, and low levels of volatile organic compounds (VOCs). It's suitable for most exterior surfaces and is available in a wide range of colors and finishes.
Oil-Based Paint: Oil-based paint provides excellent durability and adhesion. It is resistant to wear and can withstand harsh weather conditions. However, it has a longer drying time and requires solvents for cleanup.
Acrylic Paint: Acrylic paint is a water-based paint that offers good durability, UV resistance, and flexibility. It dries quickly and is easy to clean up. It's ideal for surfaces that expand and contract due to temperature changes.
Consider the specific needs of your house exterior and consult with paint professionals or knowledgeable staff at your local paint store to determine the best paint type for your project. Don't forget to select a paint color that complements your home's architectural style and surroundings.
Acquiring the Necessary Spray Painting Equipment
To achieve a smooth and even finish, you'll need the right spray painting equipment. Two common options are airless paint sprayers and HVLP (High Volume Low Pressure) spray guns. Here's an overview of each:
Airless Paint Sprayer: Airless sprayers are efficient and suitable for large exterior surfaces. They provide high-pressure spraying, atomizing the paint into tiny droplets for uniform coverage. Airless sprayers are ideal for painting siding, stucco, and other textured surfaces.
HVLP Spray Gun: HVLP spray guns use lower pressure, resulting in less overspray and a more controlled application. They are ideal for smaller areas or projects that require precision, such as doors, trim, or detailed surfaces.
When choosing between an airless sprayer and an HVLP spray gun, consider the size of your project, the type of surfaces you'll be painting, and your level of experience with spray painting. Renting or purchasing the equipment from a reputable supplier is recommended for optimal results.
In addition to the main spray painting equipment, gather the following essential tools and materials:
Drop cloths or plastic sheeting to protect surrounding areas from overspray.
Painter's tape for masking off windows, doors, and other areas you don't want to be painted.
Safety goggles, gloves, and a respirator to protect yourself from paint fumes and overspray.
Paint filters to strain the paint and prevent clogs in the sprayer.
Proper equipment selection and preparation will set the stage for a successful spray painting project.
Preparing the Exterior Surfaces
Achieving a flawless finish begins with thorough surface preparation. By cleaning and repairing the exterior surfaces, you'll create a smooth and long-lasting base for the paint.
Cleaning the Surfaces
Before applying new paint, it's crucial to clean the exterior surfaces to remove dirt, debris, mold, and mildew. Start by using a pressure washer on a low setting or a garden hose with a high-pressure nozzle to rinse off loose dirt and grime.
For stubborn stains or mildew, mix a solution of water and mild detergent or a dedicated house cleaner. Scrub the surface using a soft-bristle brush or a long-handled scrub brush. Rinse thoroughly to ensure all cleaning residue is removed.
Repairing and Priming Damaged Areas
Inspect the exterior surfaces for any cracks, holes, or damaged areas. Repairing these issues before painting will result in a more uniform and professional-looking finish.
For small cracks and holes, use a suitable exterior filler or caulk to fill in the gaps. Smooth the filler with a putty knife and let it dry completely. Sand the repaired areas to ensure a seamless transition with the surrounding surface.
Priming the surfaces is essential for promoting adhesion and enhancing the durability of the paint. Apply a high-quality primer specifically formulated for exterior surfaces, following the manufacturer's instructions. Use a brush or roller to prime smaller areas and a sprayer for larger surfaces. Allow the primer to dry thoroughly before moving on to the painting stage.
By thoroughly cleaning and repairing the exterior surfaces, you'll create a solid foundation for the spray paint, ensuring a professional and long-lasting result.
Setting Up the Work Area
Properly setting up the work area is crucial to protect surrounding surfaces, ensure safety, and promote a smooth painting process.
Protecting Surrounding Areas
Cover windows, doors, and any other areas you don't want to be painted with drop cloths or plastic sheeting. Secure them in place using painter's tape, ensuring a tight seal to prevent overspray.
If you have any delicate plants or landscaping near the house, consider covering them as well to protect them from paint particles or overspray.
Ensuring Proper Ventilation and Safety Measures
Painting outdoors provides natural ventilation, but it's still important to ensure proper airflow during the painting process. If possible, open windows or doors to allow fresh air to circulate. If ventilation is limited, consider using fans to create a breeze and exhaust fumes.
Wear safety goggles to protect your eyes from paint particles and debris. Gloves will shield your hands from paint and potential chemicals. A respirator or mask is essential to protect yourself from fumes and overspray. Choose a respirator specifically designed for painting projects, capable of filtering out paint particles and VOCs (volatile organic compounds). Ensure that the respirator fits snugly and is comfortable to wear for extended periods.
Taking the necessary precautions and setting up the work area properly will contribute to a safe and controlled painting environment.
Applying the Spray Paint
With the surfaces prepared and the work area set up, it's time to start spray painting your house exterior. Follow these steps to ensure a smooth and professional finish.
Practicing Proper Spraying Techniques
Before diving into the main painting, it's a good idea to practice your spraying technique on a spare piece of cardboard or a test surface. This will help you become familiar with the equipment, adjust the spray pattern, and get a feel for the proper distance and speed required for optimal coverage.
Hold the sprayer at a consistent distance from the surface, usually around 8 to 12 inches, depending on the manufacturer's recommendations. Maintain a steady motion, moving the sprayer horizontally or vertically, with overlapping strokes to ensure even coverage.
Starting with the Corners and Trim Work
Begin the spray painting process by focusing on the corners, edges, and trim work of your house exterior. These areas often require more precision and attention to detail. Use a smaller spray pattern or adjust the nozzle to a narrower setting for more control.
Pay close attention to achieving clean lines and edges. Use painter's tape to mask off areas where different colors or sections meet. Take your time and be patient during this stage, as it sets the foundation for a neat and professional finish.
Moving on to the Larger Surfaces
Once you've successfully painted the corners and trim work, move on to the larger surfaces of your house exterior. Start from the top and work your way down, applying the paint in overlapping strokes.
Maintain a consistent distance from the surface and maintain a steady speed to ensure uniform coverage. Keep an eye out for any areas that require touch-ups or additional coats, and apply the paint accordingly.
Remember to allow sufficient drying time between coats as specified by the paint manufacturer. This will ensure proper adhesion and prevent any issues with the final finish.
Dealing with Common Challenges
While spray painting your house exterior, you may encounter a few common challenges. Here are some tips to help you overcome them and achieve the best possible results.
Addressing Overspray and Uneven Coverage
Overspray occurs when paint particles travel beyond the intended area, leading to wasted paint and potential damage to surrounding surfaces. To minimize overspray, adjust the spray pattern and pressure settings on your sprayer according to the specific conditions and the type of surface you're painting.
In case you experience uneven coverage, it's important to troubleshoot the issue. Check that the sprayer nozzle is clean and not clogged. Adjust the distance and speed of your strokes to ensure consistent paint distribution. If needed, apply additional coats to achieve the desired coverage and finish.
Managing Paint Clogs or Blockages
During the spray painting process, you may encounter occasional clogs or blockages in the sprayer nozzle or paint hose. These issues can disrupt the paint flow and affect the quality of your finish.
To address paint clogs, stop spraying and follow the manufacturer's instructions for clearing the clog. This typically involves disconnecting the paint container, flushing the system with an appropriate cleaning solution, and removing any debris from the nozzle or hose.
Regularly inspect and clean the sprayer nozzle, filter, and hose to prevent paint buildup and ensure smooth paint flow throughout the project.
Finishing Touches and Clean-Up
Congratulations! You've successfully spray painted your house exterior. Now it's time to add the finishing touches and complete the clean-up process.
Allowing Sufficient Drying Time
After applying the final coat of paint, allow sufficient drying time for the paint to cure and harden. Refer to the paint manufacturer's instructions for the recommended drying time, which can vary depending on the type of paint and environmental conditions.
Avoid touching or disturbing the painted surfaces until they are completely dry to prevent smudges or damage to the finish. Keep in mind that certain weather conditions, such as high humidity or cool temperatures, may extend the drying time.
Inspecting the Painted Surfaces
Once the paint has dried, inspect the painted surfaces for any imperfections, such as missed spots or areas that require touch-ups. Take a step back and assess the overall finish, ensuring that the color is consistent and the coverage is uniform.
If you notice any areas that require attention, touch them up using a brush or small roller. Blend the touch-up paint seamlessly with the surrounding areas to achieve a cohesive appearance.
Properly Cleaning and Storing the Spray Equipment
After completing the painting process, it's crucial to clean and store the spray painting equipment properly to ensure its longevity and optimal performance for future projects.
Start by thoroughly cleaning the sprayer nozzle, paint container, and paint hose. Follow the manufacturer's instructions for disassembly and cleaning, using the appropriate cleaning solution. Rinse all components with water to remove any remaining paint residue.
Inspect the equipment for any signs of wear or damage. Replace worn or damaged parts as necessary to maintain the sprayer's efficiency and prevent any issues in future paint projects.
Once the equipment is clean and dry, store it in a cool, dry place away from extreme temperatures and direct sunlight. Properly coiling and securing the paint hose will help prevent tangling and kinks.
Long-Term Maintenance and Care
To ensure the longevity and beauty of your freshly spray-painted house exterior, it's important to establish a regular maintenance routine.
Regular Inspections and Touch-Ups
Schedule periodic inspections of your house exterior to identify any signs of wear, peeling, or damage to the paint. Catching these issues early allows you to address them promptly and prevent further deterioration.
Perform touch-ups as needed to maintain the paint's integrity. Repair minor scratches or chips using the same paint color and application method as the original project. Remember to clean and prepare the area before touching up to ensure proper adhesion and seamless blending.
Cleaning the Exterior Surfaces
Regular cleaning of your house exterior will help preserve the paint's appearance and protect it from dirt, dust, and pollutants. Use a mild detergent or specialized exterior cleaner and a soft brush or sponge to remove any buildup or stains.
Avoid using harsh abrasives or pressure washers, as they can damage the paint surface. Rinse thoroughly with water after cleaning to remove any residue.
Conclusion
Spray painting your house exterior can transform the appearance of your home, giving it a fresh and vibrant look. By following the proper steps, from assessing the surfaces to choosing the right paint and equipment, and applying the paint with precision, you can achieve a professional finish that will enhance your home's curb appeal and protect it for years to come.
Remember to take the necessary safety precautions, set up the work area properly, and address any challenges that may arise during the process. With regular maintenance and care, your newly spray-painted house exterior will continue to impress and withstand the test of time. Enjoy your beautifully refreshed home!