How To Stir 5 Gallon Paint
In the world of creative expression, where strokes of color breathe life into blank canvases and transform ordinary spaces into visual marvels, one often overlooked ritual stands as a bridge between imagination and reality – stirring a 5-gallon paint can. Imagine this: a vessel brimming with the potential to cloak surfaces in hues that mirror your thoughts, feelings, and aspirations. But before the magic unfolds, before the pigments harmonize and dance upon your canvas, lies a crucial act that demands both artistry and technique.
Stirring, seemingly simple yet profoundly impactful, is the alchemical process that fuses disparate elements into a cohesive masterpiece. It's the transformative act that melds color, texture, and consistency, rendering your paint a vessel of boundless creative potential. Beyond the act of stirring lies a journey of understanding – the why's and how's, the tools and techniques that breathe life into pigmented liquids.
Join us on this immersive exploration, as we dive deep into the heart of paint stirring, uncovering the nuances that elevate mere paint cans to vessels of artistic promise. From the science of pigment dispersion to the artistry of proper technique, prepare to embark on a journey that bridges the gap between inspiration and realization.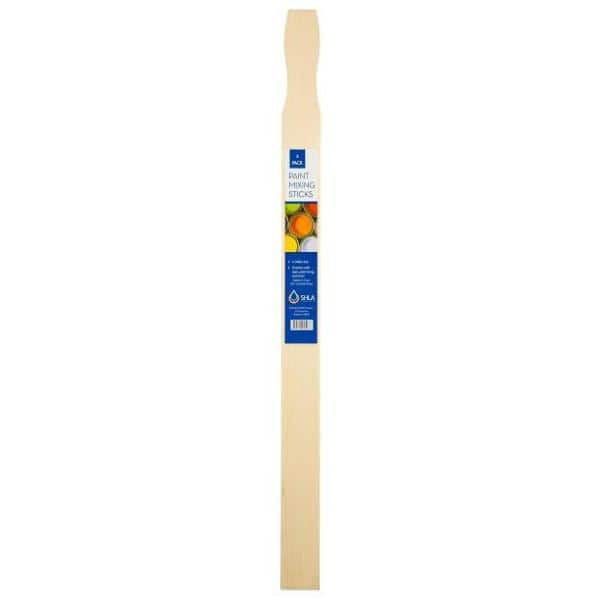 Why is Properly Stirring a 5-Gallon Paint Can Important?
Picture this: you're ready to unleash your artistic prowess, armed with a 5-gallon can of paint. But hold on, there's more than meets the eye. Proper stirring isn't just an aesthetic endeavor; it's the cornerstone of paint perfection. Let's delve into why this ritual is paramount:
Maintaining Uniform Color Distribution
Think of your paint as a symphony of hues. Stirring ensures that each pigment note harmonizes seamlessly, creating a mesmerizing, even tone. Without proper mixing, your masterpiece could morph into an unintentional color medley – not exactly the artistic statement you envisioned, right?
Preventing Settling of Pigments
Gravity has a knack for causing trouble, even in the artistic realm. Over time, pigments settle at the bottom of the paint can, causing uneven distribution. Stirring interrupts this gravity-induced slumber, coaxing the pigments to waltz through the liquid, infusing life into every drop.
Ensuring Proper Adhesion and Coverage
Ever witnessed a paint job that looked like a patchwork quilt? Inadequate stirring can lead to inconsistent thickness, resulting in a streaky, uneven finish. Stirring isn't just about aesthetics; it's about ensuring your paint adheres flawlessly and embraces surfaces like a long-lost friend.
Gathering the Necessary Materials and Safety Precautions
Before we plunge our stirring sticks into this colorful journey, let's gather our tools and don our painterly armor. Picture yourself in a vibrant workshop, surrounded by potential masterpieces:
| Materials | Safety Precautions |
| --- | --- |
| 5-Gallon Paint Can with Lid | Proper Ventilation |
| Stirring Sticks (Wooden or Mechanical) | Gloves and Eye Protection |
| Personal Protective Equipment (PPE) | |
Safety is paramount, and donning gloves and protective eyewear transforms you into a paint-savvy knight, ready to conquer your canvas kingdom.
How to Prepare the Paint Can for Stirring
Imagine this: you've got your 5-gallon paint can on a sturdy surface, its lid glistening with creative potential. But, hold your horses! Let's ensure everything is set for a swirling symphony of colors:
Securing the Paint Can Properly
Stability is the key, dear painters. Place your paint can on a steadfast surface, ensuring it won't topple over mid-stir. And oh, that lid! Make sure it's tightly sealed; we don't want accidental paint rain, do we?
Inspecting the Paint
Patience, my friend, patience. Before the stirring spectacle begins, check for signs of separation or skin formation. This is the calm before the artistic storm, where you assess the condition of your liquid inspiration.
Ah, the canvas of knowledge is now prepped, the first brushstrokes of wisdom gently applied. We've got the basics down, but are you ready to wield the mighty stirring stick? In the next section, we unveil the art of manual mixing.
Using Manual Stirring Sticks
Welcome to the realm of manual mixing, where wooden wands become instruments of artistry. Are you ready to embark on a journey that marries patience with precision? Let's delve into the technique that transforms paint can contents into a mesmerizing masterpiece:
Technique for Manual Stirring
Behold the stirring stick – your artistic wand in this grand symphony of pigments. As you insert it into the can, feel the connection between creator and creation. Now, let's unravel the steps:
Inserting the Stirring Stick Correctly: Gently plunge the stirring stick into the depths of the paint, making contact with the bottom. This isn't a race; take it slow and let the connection brew.
Mixing from the Bottom Upward: Think of your paint can as a story waiting to be told. Begin from the bottom, where pigments might be napping, and work your way upward. With each stir, you're awakening colors and textures, infusing life into your liquid canvas.
Gradually Incorporating the Contents: Patience, dear painter, patience. Avoid the frantic urge to stir like a whirlwind. Slow and steady is the mantra here. Gradually incorporate the settled pigments, ensuring each color joins the artistic dance harmoniously.
Ensuring Adequate Stirring Time
Think of stirring time as a brewing potion. Just as wizards allow mixtures to simmer, you, too, must allow your pigments to meld. But how long is long enough? It varies based on factors like paint type and thickness. A general rule of thumb: aim for a minimum of 3-5 minutes of rhythmic stirring. This time investment ensures that every shade swirls in symphonic unison.
Pro Tip: Embrace the rhythm of your strokes. Think of each stir as a brushstroke, imprinting your creative energy onto the paint.
Using Mechanical Paint Mixers
Ah, the allure of technology! The realm of mechanical paint mixers beckons, promising efficiency and uniformity. Don't worry, our manual stirring sticks won't feel left out; they've laid the foundation for this mechanical marvel:
Advantages of Mechanical Mixers
Picture this: a mechanical mixer whirring to life, transforming the mundane into the extraordinary. Here's why embracing the whirring wonders of technology can be a game-changer:
Faster and More Efficient Mixing: A mechanical mixer's swift rotations cover more ground in less time, ensuring thorough mixing without testing your patience.
Consistent Results: The mechanized dance ensures uniform distribution, bidding farewell to the worries of uneven pigments.
Operating the Mixer
As you step into the world of mechanical mixing, remember, you're not just pushing buttons; you're conducting an artistic symphony. Let's break down the steps:
Choosing the Right Mixing Attachment: Just as artists choose brushes, you must select the appropriate mixing attachment. Different viscosities demand different attachments, so choose wisely.
Setting the Appropriate Speed: Speed, the rhythm of modern art. Set your mixer to a moderate speed – too fast, and you might create a colorful tornado!
Safety Considerations while Using Mechanical Mixers
Safety, an unwavering companion in your artistic endeavors. While mechanical mixers promise efficiency, they also demand respect. Ensure your workspace is free from clutter, and your fingers steer clear of moving parts.
Addressing Common Issues During Stirring
In the grand tapestry of artistry, challenges are but stepping stones to mastery. As we venture deeper into the stirring process, let's unravel the mysteries that arise when pigments play hard to get:
Dealing with Thickened Paint
Ah, the viscous embrace of thickened paint – a challenge many artists face. But fret not, for we hold the secret to taming this artistic beast:
Adding Thinner Gradually: Like a master chef adjusting seasonings, add paint thinner incrementally. This gentle coaxing thins the paint without compromising its essence.
Avoiding Over-Thinning: Remember, moderation is key. Over-thinning can dilute the pigments, leading to pale, lackluster shades. Exercise caution as you walk this artistic tightrope.
Handling Settled Pigments
Imagine a dance floor where some dancers sit out. Settled pigments are the wallflowers of your paint can party. Here's how to invite them back onto the stage:
Breaking up Clumps Effectively: A stirring stick is your partner here. Gently break up clumps, coaxing pigments into joining the vibrant choreography.
Verifying Consistency and Readiness
Like a conductor before the grand performance, it's time to assess the orchestra of pigments. How, you ask? Through meticulous examination:
Checking for Homogeneous Color: Dip a clean stirring stick into the paint and hold it against a white surface. If the color appears consistent across the stick, your symphony is harmonious.
Examining Texture and Thickness: Apply a sample on a test surface. If the texture is even, and thickness matches your desired outcome, your masterpiece is poised for creation.
Best Practices for Storing Leftover Paint
Art, like life, often leaves remnants. But fret not, for even leftover paint can be preserved for future masterpieces. Behold, the best practices:
Transferring Paint to Smaller Containers: Decant leftover paint into smaller containers, reducing air exposure and preventing drying.
Properly Sealing Containers to Prevent Drying: Airtight seals are your allies. Ensure lids are secure, locking in the essence of your pigmented symphony.
Storing Paint in a Cool, Dry Place: Like a fine wine, paint matures best in a controlled environment. Store it away from extreme temperatures and humidity, extending its artistic lifespan.
Cleaning Up After Stirring
As the final curtain falls on our stirring saga, it's time to bid adieu – but not without leaving the canvas of your workspace clean:
Cleaning Stirring Tools: Show your stirring sticks some love. Rinse them thoroughly, ensuring no stray pigments linger.
Resealing the Paint Can: The finale is nigh; make sure the paint can's lid is secured tightly. Protect your masterpiece-to-be from drying out.
Disposing of Disposable Materials Properly: If you used disposable mixing sticks, dispose of them responsibly. Mother Nature, too, deserves a harmonious symphony.
Conclusion
As our journey draws to a close, remember, you're not just stirring paint; you're crafting stories, expressing emotions, and leaving your indelible mark on surfaces. With each rhythmic swirl, you're contributing to a legacy of artistry that spans centuries.
Now, armed with the knowledge of stirring's significance, the technique's finesse, and the mastery of troubleshooting, you're poised to wield your brushes and rollers with newfound confidence. Embrace the symphony of pigments, dance with your canvas, and let your artistic soul soar.
Art, after all, isn't just about creating; it's about breathing life into the mundane and painting your reality in vibrant hues. So, go forth, stir the magic, and let your artistic journey be a testament to the power of paint, passion, and the pursuit of perfection.