How To Paint A Ceramic Sink
Are you tired of staring at that outdated, lackluster ceramic sink every time you step into your bathroom? Don't fret! With a little creativity and a dash of DIY magic, you can easily breathe new life into your old sink and turn it into a dazzling centerpiece that complements your bathroom's aesthetic. Painting a ceramic sink is a fantastic way to give it a fresh and vibrant makeover without breaking the bank.
In this comprehensive guide, we will take you through the step-by-step process of transforming your ceramic sink into a true work of art. From assessing the sink's condition and selecting the perfect paint to adding unique designs and sealing for longevity, we've got you covered. Whether you're a seasoned DIY enthusiast or a complete novice, our detailed instructions and practical tips will help you achieve a flawless finish that will leave you feeling proud of your handiwork every time you enter the bathroom.
So, put on your creative hat, grab your paintbrush, and let's dive into the wonderful world of ceramic sink painting! Get ready to unleash your inner artist and witness the astonishing transformation of your once ordinary sink into a stunning, customized masterpiece that reflects your style and personality. Let's get started!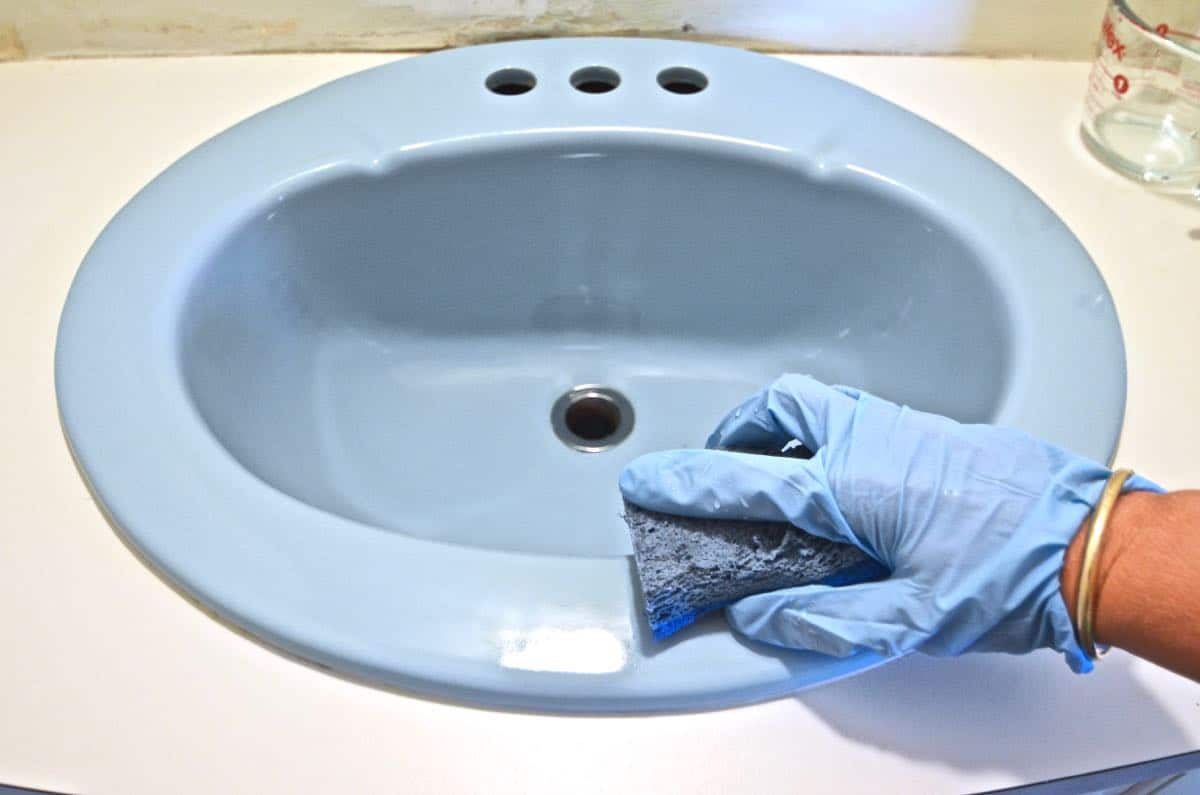 Assessing Your Ceramic Sink's Condition
Before you embark on your ceramic sink painting journey, it's crucial to assess the condition of your sink. Look for any signs of damage such as cracks or chips. If you find any, it's essential to address them before proceeding with the painting process.
Checking for Damage and Repairs:
Examine the sink thoroughly for any visible cracks, chips, or other damages.
If you spot any issues, consider repairing them using a suitable ceramic repair kit.
Ensure that the surface is smooth and even to achieve a flawless paint finish.
Cleaning and Degreasing the Surface:
A clean surface is essential for proper paint adhesion. Clean the sink thoroughly with a gentle ceramic-safe cleaner to remove dirt, grease, and soap scum.
Rinse the sink with water and let it dry completely before moving on to the next step.
Choosing the Right Paint for Your Ceramic Sink
Selecting the appropriate paint for your ceramic sink is critical for a long-lasting and durable finish. Several paint types are suitable for ceramic surfaces, each with its own unique attributes and advantages.
Understanding Ceramic-Safe Paints:
Not all paints are suitable for ceramic surfaces. Choose paints specifically labeled as "ceramic-safe" or "bathroom-safe" to ensure they adhere well and withstand water exposure.
Popular Paint Types for Ceramic Sinks:
| Paint Type | Attributes | Popularity |
| --- | --- | --- |
| Epoxy Paints | Extremely durable and water-resistant. Provides a glossy finish. | Widely used for ceramic sink painting due to their durability. |
| Acrylic Paints | Quick-drying, easy to work with, and available in various colors. | Popular choice among DIY enthusiasts for their versatility. |
| Enamel Paints | Heat and water-resistant, delivering a smooth, glossy finish. | Ideal for high-temperature areas, such as around the sink. |
When choosing the right paint, consider the attributes that matter the most to you, such as durability, finish, and ease of application.
Selecting the Best Color for Your Ceramic Sink
Choosing the perfect color for your ceramic sink is an exciting part of the process. The color you pick should not only complement your bathroom decor but also reflect your personal style.
Harmonizing with Your Bathroom Decor:
Look at the existing colors in your bathroom, including the walls, tiles, and accessories. Choose a color that harmonizes with the overall theme to create a cohesive and visually appealing space.
Considering Trendy Color Options:
If you want to stay updated with the latest trends, consider popular color options such as soft pastels, bold blues, or elegant neutrals.
Remember that trends come and go, so it's essential to pick a color that you genuinely love and won't tire of quickly.
Factors to Keep in Mind when Choosing Colors:
The size of your bathroom: Dark colors can make a small bathroom feel even more cramped, while light colors can create a sense of openness.
Your preferred ambiance: Colors can evoke specific moods, such as calmness (soft blues or greens) or vibrancy (bright yellows or oranges).
Practicality: Consider how easy it will be to maintain and clean the sink with your chosen color.
Preparing Your Workspace for the Project
Before diving into the painting process, set up a proper workspace and gather all the necessary tools and materials. Having an organized and dedicated area will ensure a smoother and more enjoyable painting experience.
Setting Up a Proper Work Area:
Find a well-ventilated area with good lighting to ensure you can see every detail during the painting process.
Cover the surrounding surfaces and floor with drop cloths or old newspapers to protect them from accidental paint splatters.
Gathering Essential Safety Equipment:
Safety should always be a priority during any DIY project. Wear appropriate safety gear, including gloves, eye protection, and a mask, to protect yourself from fumes and potential splashes.
Removing Hardware and Accessories from the Sink
To achieve a professional finish, it's crucial to remove all hardware and accessories from the sink before painting. This will allow you to paint every nook and cranny without any obstructions.
Properly Detaching Faucets and Handles:
Turn off the water supply to the sink and follow the manufacturer's instructions to remove the faucet and handles carefully.
Place all the screws and small parts in a container, so you don't lose them during the process.
Dealing with Drains and Stoppers:
Remove the drain and stopper carefully to ensure they don't get painted accidentally.
Clean the drain area thoroughly to ensure proper paint adhesion.
Sanding and Priming the Ceramic Sink
Before applying paint to your ceramic sink, you'll need to prepare the surface by sanding it and applying a suitable primer. Proper sanding creates a slightly rough texture, which helps the paint adhere better, while the primer ensures a smooth and even base.
Understanding the Importance of Sanding:
Sanding is a crucial step to ensure the paint adheres properly to the ceramic surface.
It also helps remove any remaining debris and smoothens out imperfections.
Choosing the Right Sandpaper Grit:
Use medium-grit sandpaper (around 180-220 grit) for the initial sanding, and then switch to fine-grit sandpaper (320 grit) for a smoother finish.
Applying Primer for Better Adhesion:
Apply a thin, even coat of ceramic primer to the sink surface, following the manufacturer's instructions.
Allow the primer to dry completely before moving on to the next step.
Applying the First Coat of Paint
Now comes the exciting part – applying the first coat of paint to your ceramic sink. A well-executed first coat sets the foundation for a beautiful finish.
Techniques for a Smooth Finish:
Use a high-quality brush or a paint sprayer for even application.
Work in small sections, starting from the edges and corners, and gradually move to the center of the sink.
Avoiding Common Painting Mistakes:
Be mindful of drips and uneven coverage, as they can affect the final appearance.
Don't rush the process; allow the first coat to dry thoroughly before applying additional coats.
Dealing with Brush Strokes:
If you're using a brush, try to minimize visible brush strokes by using smooth, steady strokes in the same direction.
If you prefer a textured look, embrace the brush strokes as part of the design.
Drying and Evaluating the First Coat
After applying the first coat of paint, it's crucial to allow sufficient drying time before moving forward. Rushing this step can lead to smudging, uneven surfaces, and ultimately, unsatisfactory results.
Allowing Sufficient Drying Time:
Follow the manufacturer's instructions for the paint's drying time. It's best to be patient and wait for the paint to dry completely before proceeding.
Checking for Uneven Coverage:
Once the first coat is dry, inspect the sink's surface for any areas with uneven paint coverage.
If you spot any such areas, don't worry; additional coats will help fix them.
Assessing the Need for Additional Coats:
Depending on the paint type and color, you may need multiple coats to achieve the desired opacity and depth.
Evaluate the first coat to determine how many additional coats you'll need to apply.
Applying Additional Coats of Paint
Now that you've assessed the first coat, it's time to build up the color and ensure a smooth and consistent finish.
Proper Timing for Each Coat:
Allow each coat to dry completely before applying the next one. Refer to the paint manufacturer's recommendations for drying time.
Keep in mind that darker colors might require more coats than lighter ones to achieve full coverage.
Building up Color and Thickness:
Apply each additional coat with care, ensuring even coverage and smooth strokes.
Be patient and take your time, as rushing can lead to mistakes that are difficult to correct.
Ensuring Consistency in Application:
Maintain a consistent painting technique throughout the process to create a uniform appearance.
Step back occasionally to assess the overall progress and make adjustments as needed.
Next, we'll discuss the possibility of adding patterns or designs to your newly painted ceramic sink, giving it a unique touch.
Adding Patterns or Designs (Optional)
If you want to take your ceramic sink painting to the next level, consider adding patterns or designs to create a custom look that reflects your personality.
Using Stencils or Tape for Designs:
Stencils and painter's tape are excellent tools for creating intricate patterns and designs.
Choose a design that complements your bathroom's theme and carefully tape or stencil it onto the sink surface.
Creating Unique Patterns and Accents:
Feel free to experiment with different patterns, geometric shapes, or floral motifs to add a touch of elegance to your sink.
Be creative and let your imagination guide you in transforming your sink into a true work of art.
Sealing and Protecting the Painted Surface
Once you're satisfied with the paint coverage and any added designs, it's essential to protect your hard work with a sealant.
Understanding the Importance of Sealant:
A sealant provides a protective layer that shields the paint from water, scratches, and daily wear and tear.
It also enhances the sink's appearance, making the colors appear more vibrant and polished.
Applying a Clear Protective Coat:
Select a high-quality clear sealant suitable for ceramic surfaces and follow the manufacturer's instructions for application.
Apply the sealant evenly over the painted surface, covering all areas thoroughly.
Maintaining the Sink's Finish:
With proper care and maintenance, your painted ceramic sink can maintain its beauty for a long time.
Avoid using harsh cleaning agents that could damage the paint. Instead, use a gentle cleaner and a soft cloth for regular cleaning.
Now that your newly painted sink is ready to shine, it's time to reassemble the hardware and accessories.
Reassembling Hardware and Accessories
Bring your sink back to life by reattaching all the hardware and accessories you removed earlier.
Properly Reattaching Faucets and Handles:
Follow the manufacturer's instructions to reinstall the faucet and handles securely.
Double-check that everything is tightened and aligned properly to prevent any leaks or misalignment.
Installing Drains and Stoppers:
Place the drain and stopper back into their positions and ensure they fit snugly.
Test the drain to ensure it opens and closes smoothly.
Curing and Caring for Your Painted Sink
Congratulations! You've successfully transformed your ceramic sink into a stunning focal point for your bathroom. To ensure your hard work lasts for years to come, it's essential to follow proper curing and maintenance practices.
Allowing Sufficient Curing Time:
Curing is the process of letting the paint fully harden and adhere to the surface.
Follow the paint manufacturer's recommendations for curing time. Typically, it may take a few days to a week for the paint to fully cure.
Regular Cleaning and Maintenance Tips:
Clean your painted sink regularly using a mild, non-abrasive cleaner and a soft cloth.
Avoid using harsh chemicals or abrasive sponges that could damage the paint.
If you notice any chips or scratches over time, touch them up with the same paint used for the initial application.
Being Mindful of Heavy Objects:
While ceramic paint is durable, it's best to avoid placing heavy objects or sharp items directly on the painted surface.
Use sink mats or protective trays to minimize the risk of accidental damage.
Avoiding High Water Temperatures:
Although ceramic-safe paints are designed to withstand water exposure, excessively hot water may impact the paint's longevity.
Try to avoid using extremely hot water regularly to preserve the sink's appearance.
Reapplying Sealant (Optional):
Over time, the protective sealant may wear off due to daily use and cleaning.
If you notice the surface becoming less glossy or water starts to penetrate the paint, consider reapplying a fresh layer of sealant.
Conclusion
Painting a ceramic sink can be a rewarding and creative project that transforms your bathroom's look and feel. By following the step-by-step guide in this article, you've learned how to prepare the sink, choose the right paint and color, and apply it with finesse. Remember to take your time, be patient, and embrace your creativity during the process.
With the right tools, techniques, and a splash of artistic flair, you can turn an ordinary ceramic sink into a remarkable centerpiece that adds personality and charm to your bathroom. Enjoy your newly painted sink and revel in the compliments it brings from friends and family.
Now, you have the knowledge and skills to refresh not only your sink but also other ceramic surfaces around your home. So, roll up your sleeves, grab your paintbrush, and let your imagination run wild as you embark on your next exciting DIY adventure! Happy painting!