How To Paint A Clawfoot Tub Exterior
Welcome to the world of timeless elegance and vintage allure! Clawfoot tubs have stood the test of time, adorning bathrooms with their classic charm for centuries. However, as with any cherished antique, the wear and tear of years may begin to dim its luster. If your clawfoot tub's exterior is showing signs of age and you're eager to restore its former glory, fear not! In this comprehensive guide, we will take you on a journey through the art of painting a clawfoot tub exterior, breathing new life into this iconic fixture.
Painting a clawfoot tub exterior requires more than just a steady hand; it demands a keen eye for detail, a flair for creativity, and an understanding of the proper techniques. As we venture into the heart of this restoration project, we'll equip you with essential knowledge on assessing your tub's condition, selecting the right materials, and executing each step with precision. From removing old paint to choosing the perfect color palette, we'll guide you through the process, ensuring your clawfoot tub emerges as a stunning statement piece that complements your bathroom decor.
So, roll up your sleeves and prepare to immerse yourself in the world of clawfoot tub restoration. Let's embark on this delightful endeavor together and witness the transformation of your cherished tub into a work of art!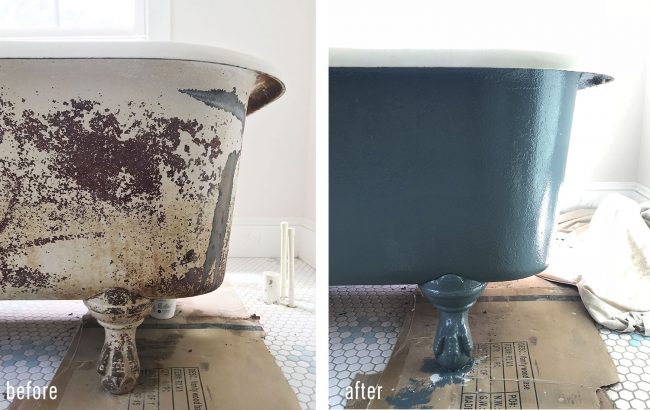 I. Preparing for the Painting Process
Before you embark on your painting journey, it's essential to assess the condition of your clawfoot tub thoroughly. Look out for any signs of rust, dents, or imperfections that might need attention before painting. Addressing these issues beforehand will ensure a smoother painting process and a more polished result.
Once you've assessed the tub's condition, it's time to gather all the materials and tools you'll need for the job. Let's dive into what you should include in your painting arsenal:
| Materials | Tools |
| --- | --- |
| High-quality paint | Brushes (small and large) |
| Primer | Roller and tray |
| Painter's tape | Sandpaper (various grits) |
| Plastic sheeting | Cleaning supplies |
| Safety goggles and gloves | Drop cloths |
II. Removing Existing Paint (if applicable)
If your clawfoot tub already has old paint that needs to be removed, fret not! We've got you covered with a step-by-step guide on how to strip the existing paint:
1. Stripping Old Paint from the Clawfoot Tub Exterior
There are two primary methods for stripping old paint: chemical paint strippers and mechanical methods like sanding or blasting. Chemical paint strippers are effective but require caution due to their potentially harmful fumes. Mechanical methods, such as sanding, might take more time but are safer and equally efficient.
III. Preparing the Clawfoot Tub for Painting
A well-prepared surface is crucial for achieving a long-lasting and flawless paint job. Before diving into the actual painting process, follow these steps to prepare your clawfoot tub properly:
1. Cleaning and Sanding the Surface
Thoroughly clean the tub's exterior to remove any grime and residue. Once it's clean and dry, use sandpaper to create a smooth surface for the paint to adhere to. Sanding also helps remove any remaining traces of old paint, providing a fresh canvas for your new paint job.
2. Masking and Protecting
You don't want paint splatters on the tub's interior or surrounding areas. Use painter's tape and plastic sheeting to carefully cover the interior of the tub and shield the floor and walls from any accidental spills.
IV. Priming the Clawfoot Tub Exterior
Now that your tub is clean and well-protected, it's time to apply a coat of primer. Priming is essential as it ensures better adhesion of the paint and enhances the paint's durability. Let's explore the steps to prime your clawfoot tub:
1. Choosing the Right Primer
Selecting the appropriate primer is crucial for achieving the best results. Consider factors such as the material of your tub (porcelain or metal) and the type of paint you'll be using (water-based or oil-based). Specialty primers are available for both porcelain and metal surfaces.
2. Applying the Primer to the Clawfoot Tub
Whether you choose to brush or spray the primer, ensure even coverage and follow the manufacturer's recommended drying time before moving on to the next step.
V. Painting the Clawfoot Tub Exterior
With the preparation complete, it's time for the most exciting part – painting! Let your creativity shine as you pick the perfect paint color and finish for your clawfoot tub:
1. Picking the Perfect Paint
The classic white color is a timeless choice, but don't be afraid to explore bold colors that complement your bathroom's decor. Additionally, choose between glossy, satin, or matte finishes based on your preferences and the desired look.
2. Techniques for Painting the Clawfoot Tub Exterior
When painting, apply thin coats to achieve a smooth and professional finish. Consider using a combination of brushes and rollers to achieve the best results. Be mindful of blending brush strokes and roller patterns to avoid any visible lines.
VI. Sealing and Protecting the Painted Surface
Congratulations! You've successfully painted your clawfoot tub, and now it's time to protect your hard work. Applying a clear coat will not only safeguard the paint but also add an extra layer of shine to your tub's exterior:
1. Applying a Clear Coat
For added protection, consider using a clear coat such as polyurethane or acrylic sealants. These sealants form a protective barrier against moisture and scratches, ensuring your tub remains beautiful for years to come. Follow the manufacturer's instructions for the proper application of the clear coat.
VII. Caring for Your Newly Painted Clawfoot Tub
Your freshly painted clawfoot tub is now a stunning centerpiece in your bathroom. To keep it looking its best, follow these essential maintenance tips:
1. Understanding Proper Maintenance
Regular cleaning is vital to preserve the beauty of your clawfoot tub. Use mild soap and warm water to clean the exterior gently. Avoid using harsh chemicals or abrasive cleaners, as they can damage the painted surface.
VIII. Troubleshooting and Repairs
Sometimes, even with the best intentions and efforts, paint issues can arise. Don't worry; we've got some troubleshooting tips to help you address common paint problems:
1. Dealing with Common Paint Issues
Blistering: If you notice bubbles forming under the paint, it could be due to moisture or poor adhesion. Sand the affected area and apply a new coat of paint.
Peeling: This could be a result of inadequate surface preparation or poor-quality paint. Scrape off the peeling paint, sand the area, and repaint it.
Chipping: Chips might occur due to accidental impacts. To fix chipped areas, sand the edges gently, and carefully touch up the paint.
IX. Alternative Design Ideas for Clawfoot Tub Exteriors
If you're feeling adventurous, consider exploring unique design ideas to add a personal touch to your clawfoot tub:
1. Beyond Solid Colors
Move beyond the ordinary and consider adding patterns or artistic designs to your tub's exterior. You can use stencils or decals to create intricate designs or opt for a more lavish touch with gold or metallic paint accents.
Step-by-Step: Painting Your Clawfoot Tub Exterior
Let's break down the painting process into easy-to-follow steps to help you achieve stunning results:
Step 1: Prep and Clean
Begin by cleaning the tub thoroughly to remove any dirt, soap scum, or residue. Use a mild detergent and warm water to ensure a clean surface for the paint to adhere to. Rinse the tub thoroughly and let it dry completely.
Step 2: Sand the Surface
Using sandpaper, gently sand the tub's exterior to create a smooth surface. This step helps the paint adhere better and ensures a more even finish. Pay extra attention to any rough or bumpy areas.
Step 3: Mask and Protect
Carefully cover the tub's interior with plastic sheeting, securing it in place with painter's tape. Protect the surrounding floor and walls with additional drop cloths to prevent any accidental spills.
Step 4: Apply Primer
Apply a thin and even coat of primer to the tub's exterior. Make sure to use a primer suitable for the material of your clawfoot tub. Follow the manufacturer's instructions for drying time.
Step 5: Choose Your Paint and Finish
Select the paint color and finish that aligns with your design vision. Whether you opt for a classic white or a bold hue, ensure that the paint is designed for use on metal or porcelain surfaces.
Step 6: Start Painting
Using a brush or roller, begin painting the exterior of the tub with smooth and even strokes. Work in small sections to ensure a consistent application. For detailed areas, such as the feet, use a smaller brush to reach tight spaces.
Step 7: Let It Dry
Allow the first coat of paint to dry completely before applying additional coats. Depending on the paint type, this may take several hours or longer. Follow the manufacturer's guidelines for the recommended drying time.
Step 8: Apply Additional Coats
For a more vibrant and durable finish, apply two to three coats of paint. Allow each coat to dry thoroughly before proceeding to the next one. Take your time to achieve the desired depth of color.
Step 9: Seal the Paint
Once the final coat of paint has dried, protect the painted surface by applying a clear coat or sealant. This step will help preserve the paint and make it easier to clean and maintain.
Step 10: Remove Protective Coverings
Carefully remove the plastic sheeting and painter's tape from the tub's interior and surrounding areas. Dispose of the drop cloths responsibly, and clean up any paint splatters or debris.
Step 11: Enjoy Your Revitalized Clawfoot Tub
With the painting process complete, step back and admire your beautifully painted clawfoot tub. Your hard work and attention to detail have transformed an old fixture into a stunning centerpiece for your bathroom.
Conclusion
Painting the exterior of your clawfoot tub is a rewarding and creative endeavor that breathes new life into an antique fixture. With proper preparation, high-quality materials, and a touch of patience, you can achieve professional-looking results. Embrace the burstiness and complexity of this project, adding your unique flair to the process.
Remember to take your time, enjoy the creative journey, and revel in the satisfaction of transforming your clawfoot tub into a statement piece that captures the essence of vintage charm and timeless elegance.
So, put on your painting apron and embark on this delightful adventure of reviving your clawfoot tub. Happy painting!