Subway tiles have long been cherished for their classic and timeless appeal in home decor. They bring a touch of elegance and simplicity to any space, be it a kitchen backsplash, bathroom wall, or even a stylish accent in living areas. However, if you're looking to refresh the look of your subway tiles without the hassle and expense of replacing them, painting can be a fantastic solution.
In this comprehensive guide, we will walk you through the process of painting subway tiles, unlocking the potential for a stunning transformation. Whether you want to update the color, experiment with a bold statement, or simply rejuvenate worn-out tiles, painting offers endless possibilities for customization.
But before you dive into the world of subway tile painting, it's important to understand the materials, assess the condition of the tiles, and gather the right tools. With the right techniques and proper preparation, you can achieve a professional-looking finish that breathes new life into your tiles.
Get ready to embark on a creative journey as we explore the step-by-step process, share valuable tips and considerations, and discover alternative options to transform your subway tiles into works of art. Let's unlock your inner artist and revitalize your space with the beauty of painted subway tiles!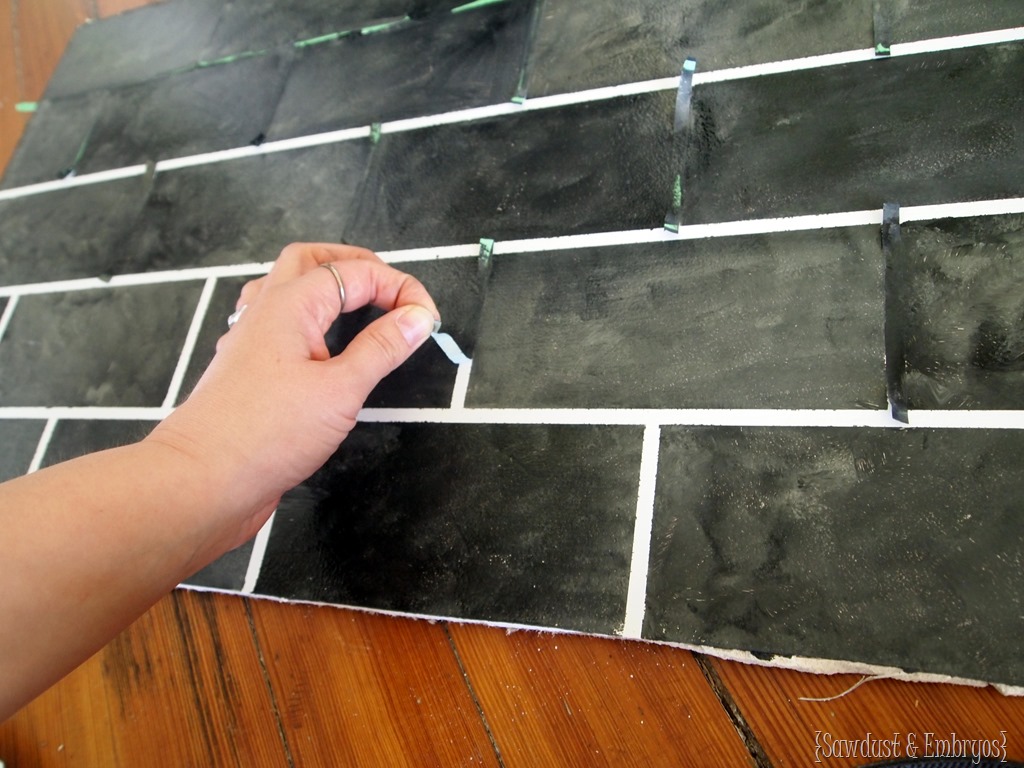 Understanding Subway Tiles
Subway tiles have been a staple in interior design for decades, known for their timeless appeal and versatility. Before diving into the process of painting them, let's take a closer look at the definition and characteristics of subway tiles.
Definition and Characteristics of Subway Tiles
Subway tiles are rectangular tiles typically measuring 3 inches by 6 inches, although other sizes are also available. They originated in the early 20th century and were first used in the New York City subway system, hence the name. These tiles are commonly made of ceramic, porcelain, or even glass, each material offering its unique qualities and visual appeal.
When choosing to paint subway tiles, it's important to consider their characteristics, such as the surface texture, material type, and overall condition. Let's explore the factors that will help you assess the suitability of your tiles for painting.
Assessing the Suitability for Painting
Before embarking on a painting project, it's crucial to assess whether your subway tiles are suitable for the process. Evaluating the condition of the tiles and considering their material will help you determine if painting is the right choice.
Evaluating the Condition of the Tiles
Take a close look at the surface of your subway tiles to identify any damages, imperfections, or obstacles that might affect the painting process. Look out for cracks, chipped edges, or loose tiles. Addressing these issues beforehand will ensure a smoother painting experience and better end results.
If you encounter any damaged tiles, consider replacing them before proceeding with the painting project. Additionally, inspect the grout lines between the tiles and make any necessary repairs or touch-ups to ensure a clean and even surface.
Considering the Material of the Subway Tiles
The material of your subway tiles plays a significant role in determining their paintability. Different materials require different approaches, so let's explore the considerations for each type:
| Tile Material | Pros | Cons |
| --- | --- | --- |
| Ceramic | Widely available, affordable, and easy to paint. | Can be prone to chipping or cracking if not handled with care. |
| Porcelain | Durable and resistant to moisture, making it suitable for high-moisture areas like bathrooms and kitchens. | Requires proper surface preparation to ensure paint adhesion. |
| Glass | Offers a sleek and modern look, allows light to pass through, creating a visually stunning effect. | Requires specialized paint and careful application to avoid streaks or bubbles. |
Understanding the pros and cons of each material will help you make an informed decision regarding the painting process. Once you have assessed the condition and material of your subway tiles, it's time to prepare the surface for painting.
Preparing the Surface
Proper preparation is crucial for achieving a successful and long-lasting paint job. This section will guide you through the necessary steps to ensure your subway tile surface is ready for paint.
Cleaning the Subway Tiles
Before painting, it's essential to thoroughly clean the subway tiles to remove any dirt, grease, or grime that could hinder paint adhesion. Follow these steps to achieve a clean surface:
Start by removing any loose debris from the tiles using a soft brush or vacuum cleaner.
Prepare a cleaning solution by mixing warm water with a mild detergent or tile cleaner.
Dip a sponge or cloth into the cleaning solution and gently scrub the tiles in a circular motion.
Rinse the tiles thoroughly with clean water to remove any residue.
Allow the tiles to dry completely before proceeding to the next step.
By ensuring your tiles are clean, you provide a suitable surface for paint adhesion, which is essential for a long-lasting finish.
Sanding and Priming
To create a surface that promotes optimal paint adhesion, it's recommended to sand the subway tiles lightly. This step is especially crucial for glossy or smooth surfaces. Follow these guidelines:
Use fine-grit sandpaper (around 220-grit) and sand the tiles in a circular motion. The goal is to create a slightly rough texture to help the paint adhere better.
Once the sanding is complete, clean the tiles again to remove any dust or debris.
Apply a high-quality primer suitable for your tile material. Choose a primer specifically designed for the surface you're working with, such as a primer formulated for glass, ceramic, or porcelain tiles.
Use a paintbrush or roller to apply an even coat of primer on the tiles. Follow the manufacturer's instructions regarding drying time.
Priming the tiles ensures that the paint adheres well and provides a more even and durable finish. Allow the primer to dry completely before moving on to the next steps.
Choosing the Right Paint and Tools
Selecting the appropriate paint and gathering the necessary tools are essential for achieving the desired results. In this section, we'll discuss the factors to consider when choosing paint and the tools you'll need for the painting process.
Selecting the Paint
When it comes to choosing the right paint for your subway tiles, consider the following factors:
Type of Paint: Opt for a paint specifically formulated for use on tile surfaces. Depending on the material of your subway tiles, you may choose between latex, epoxy, or oil-based paints. Each type has its own advantages and application techniques, so be sure to read the manufacturer's recommendations.
Color and Finish: Select a color that suits your desired aesthetic and complements the overall theme of the space. Consider whether you want a glossy or matte finish, as this can significantly impact the final look.
Take your time to explore different color options and consider obtaining small paint samples to test on a spare tile or inconspicuous area before committing to a specific color.
Gathering the Necessary Tools
To ensure a smooth and efficient painting process, gather the following tools:
Paintbrushes: Use high-quality synthetic brushes suitable for your chosen paint type. Opt for brushes with varying sizes to accommodate different areas of the tiles.
Rollers: Select a roller appropriate for tile painting and the size of your subway tiles. A foam or microfiber roller is often recommended for a smoother finish.
Painter's Tape: Use painter's tape to mask off areas you want to protect from paint, such as edges, fixtures, or adjacent surfaces.
Drop Cloths or Plastic Sheets: Protect your surrounding surfaces and floor by laying down drop cloths or plastic sheets to catch any paint drips or spills.
Having the right tools at hand will make the painting process more efficient and help you achieve professional-looking results. With your paint and tools ready, let's move on to the next section where we'll delve into the process of applying the paint.
Applying the Paint
Now that you have prepared the surface and gathered the necessary tools, it's time to dive into the exciting part – applying the paint to your subway tiles. This section will guide you through the process and provide helpful tips for achieving a smooth and even paint job.
Painting Techniques
There are several painting techniques you can use to achieve different effects on your subway tiles. Here are a few common techniques:
Brushing: Using a high-quality synthetic paintbrush, apply the paint in smooth and even strokes, following the natural lines of the tiles. This technique is ideal for smaller areas, edges, and corners that are difficult to reach with a roller.
Rolling: A foam or microfiber roller is well-suited for larger, flat areas of your subway tiles. Load the roller with an appropriate amount of paint and apply it in overlapping strokes, working from one end to the other. This technique helps achieve a more consistent finish.
Spraying: For larger tile surfaces or when aiming for a more professional and even application, consider using a paint sprayer. Sprayers offer excellent coverage and can save you time; however, they require careful masking and adequate ventilation.
When applying the paint, ensure that each stroke overlaps the previous one slightly to achieve a seamless finish. Take your time and maintain a steady pace to avoid drips or inconsistencies in the paint.
Dealing with Multiple Coats
In most cases, applying multiple coats of paint is necessary to achieve an opaque and long-lasting finish on your subway tiles. Follow these guidelines when working with multiple coats:
Allow the first coat of paint to dry completely according to the manufacturer's instructions. This typically ranges from a few hours to overnight.
Gently sand the dried first coat with fine-grit sandpaper to create a smooth surface for the subsequent coats.
Remove any dust or debris resulting from sanding before applying the next coat.
Repeat the application process for subsequent coats, ensuring proper drying time between each coat.
Applying multiple coats helps build up the color intensity and durability of the paint. Be patient and allow each coat to dry fully before moving on to the next to achieve the best results.
Finishing Touches and Maintenance
Congratulations! You've successfully painted your subway tiles and transformed the look of your space. However, a few finishing touches and regular maintenance will ensure that your newly painted tiles remain beautiful for years to come.
Sealing the Painted Surface
While sealing is not always necessary for painted subway tiles, it can provide an additional layer of protection and enhance the longevity of the paint. If you choose to seal your tiles, follow these steps:
Ensure that the painted surface is completely dry before applying the sealer.
Select a suitable tile sealer based on the type of paint used and the manufacturer's recommendations.
Apply the sealer evenly using a brush or roller, following the instructions provided on the sealer packaging.
Allow the sealer to dry and cure according to the manufacturer's instructions before exposing the tiles to moisture or cleaning.
Sealing your painted subway tiles can help protect the surface from stains, scratches, and moisture damage, ensuring their longevity and maintaining their appearance.
Cleaning and Maintaining Painted Subway Tiles
To keep your painted subway tiles looking their best, regular cleaning and maintenance are essential. Follow these tips to ensure their longevity:
Clean the painted tiles regularly using a mild, non-abrasive cleaner and a soft cloth or sponge. Avoid harsh chemicals or abrasive scrubbers that can damage the painted surface.
Wipe up spills or stains immediately to prevent them from penetrating the paint layer.
Avoid using sharp or abrasive objects that can scratch the painted surface.
Periodically inspect the painted tiles for any signs of wear, chipping, or peeling. If you notice any issues, touch up the affected areas promptly to maintain the appearance.
By following these maintenance practices, you can enjoy your beautifully painted subway tiles for years to come.
Alternative Options for Transforming Subway Tiles
Painting subway tiles is a fantastic way to refresh their appearance, but it's not the only option available. Here are a couple of alternatives you might consider:
Tile Stickers or Decals
If you're looking for a temporary or non-permanent solution, tile stickers or decals offer a versatile and affordable option. These adhesive-backed stickers come in various designs, patterns, and colors, allowing you to quickly change the look of your subway tiles without the need for paint. Simply peel and stick the decals onto the tiles for an instant transformation. This option is particularly suitable for renters or those who like to switch up their decor frequently.
Tile Refinishing Kits
Tile refinishing kits provide a comprehensive solution for transforming not only the appearance but also the texture of your subway tiles. These kits typically include primers, paints, and sealants designed specifically for tile refinishing. By following the provided instructions, you can achieve a professional-looking finish that mimics the appearance of new tiles. Tile refinishing kits are ideal for those seeking a more extensive makeover or for tiles that are heavily worn or damaged.
Conclusion
Painting your subway tiles opens up a world of possibilities for transforming your space. With the right preparation, paint selection, and application techniques, you can achieve stunning results that breathe new life into your tiles. Remember to assess the condition and material of your tiles, thoroughly prepare the surface, choose the appropriate paint and tools, and follow proper techniques for applying multiple coats. Don't forget the finishing touches and regular maintenance to ensure the longevity of your painted subway tiles. And if painting is not the right fit for you, consider exploring alternative options like tile stickers or refinishing kits. Embrace your creativity and enjoy the process of transforming your subway tiles into a work of art!
Note: Before starting any DIY project, it's advisable to consult product labels, manufacturer guidelines, and seek professional advice if needed. Safety precautions, proper ventilation, and personal protective equipment should always be prioritized when working with paints and chemicals.