How to Paint Glazed Ceramic Pots
Are you ready to unleash your creativity and add a personal touch to your home decor or garden? Painting glazed ceramic pots is a fantastic way to transform plain pottery into stunning pieces of art. Whether you're a seasoned artist or just starting out, this guide will take you through the step-by-step process of painting glazed ceramic pots, from preparation to finishing touches.
But before we dive into the world of colors and brushes, let's understand what makes glazed ceramic pots so special. These pots are crafted from clay and coated with a glossy glaze, providing not only a beautiful finish but also durability and water resistance. This makes them ideal for both indoor and outdoor use, allowing you to showcase your artistic talent anywhere you desire.
To ensure a successful painting project, we'll cover everything you need to know, from preparing the ceramic pot's surface to selecting the right paint and brushes. You'll discover various techniques for layering colors, creating texture, and adding unique embellishments. We'll also discuss the essential steps of curing and sealing the paint to ensure its longevity.
So, let your imagination soar as we embark on this creative journey of painting glazed ceramic pots. Get ready to bring your vision to life and make a stunning statement with your own hand-painted pottery.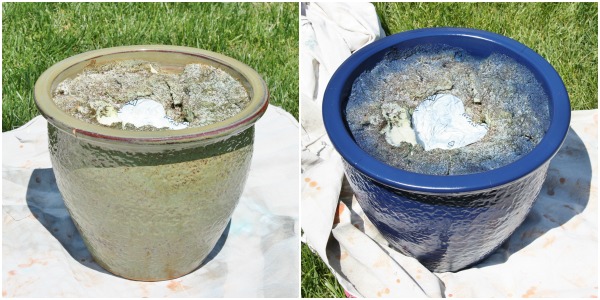 Understanding Glazed Ceramic Pots
Before we embark on our painting journey, it's important to have a good understanding of glazed ceramic pots. These pots are made from clay and have a layer of glaze applied to their surface. The glaze not only gives them a glossy finish but also provides durability and water resistance. These attributes make glazed ceramic pots ideal for both indoor and outdoor use.
Preparing the Ceramic Pot for Painting
Proper preparation is essential to ensure that the paint adheres well to the glazed surface of the ceramic pot. Follow these steps to prepare your pot for painting:
Cleaning the Pot
Start by cleaning the ceramic pot to remove any dust, dirt, or oils that may be present on the surface. Use a soft cloth or sponge with mild soap and water to gently scrub the pot. Rinse it thoroughly and allow it to dry completely before moving on to the next step.
Sanding the Surface
To create a rough texture on the glazed surface, lightly sand the pot using fine-grit sandpaper. This helps the paint adhere better to the pot. Be careful not to sand too vigorously, as it may damage the glaze. After sanding, wipe away any dust with a clean cloth.
Choosing the Right Paint for Glazed Ceramic Pots
Selecting the appropriate paint is crucial for achieving the desired results on glazed ceramic pots. Consider the following options:
Acrylic Paint
Acrylic paint is a versatile option for painting ceramic pots. It offers a wide range of colors to choose from and dries quickly. Acrylic paints are also known for their durability and ability to adhere well to various surfaces. Plus, they are easy to clean up with water. Make sure to use paints specifically formulated for ceramics or porcelain to ensure better adhesion and longevity.
Porcelain Paint
If you're looking for specialized paint made specifically for ceramic surfaces, consider using porcelain paint. These paints are designed to withstand high temperatures and adhere well to glazed surfaces. Once the porcelain paint is applied, it needs to be heat-set to ensure its durability. Follow the manufacturer's instructions for proper curing and heat-setting techniques.
Spray Paint
Another option for painting glazed ceramic pots is using spray paint. Spray paint provides quick and even coverage, which can be especially useful when working with pots that have intricate details or textures. However, it's important to choose spray paint specifically designed for use on ceramics. Follow the instructions on the can for best results, and consider using multiple thin coats for a smooth and even finish.
Selecting the Appropriate Brushes and Tools
Having the right brushes and tools will greatly enhance your painting experience. Here are some recommendations:
Types of Brushes
The type of brush you use depends on the type of paint you've chosen:
Synthetic brushes: These brushes are ideal for acrylic paint. They have bristles that are designed to hold and distribute the paint evenly. Synthetic brushes are durable and easy to clean.
Soft natural hair brushes: When using porcelain paint, opt for soft natural hair brushes. These brushes provide a smooth application and help prevent streaks or brush marks on the glazed surface.
Additional Tools
In addition to brushes, you may need the following tools:
Palette or paint tray: Use a palette or paint tray to mix and hold your paints. This allows you to blend colors and create custom shades for your design.
Masking tape: To achieve clean edges or create precise patterns, use masking tape. It helps create sharp lines and prevents paint from bleeding onto unwanted areas.
Planning the Design and Applying the Base Coat
Before you start painting, it's helpful to plan your design and apply a base coat to establish a solid foundation. Follow these steps:
Sketching the Design
Take some time to sketch out your desired design on the ceramic pot. Consider the theme, patterns, or motifs you want to incorporate. You can use pencils or markers to outline the design directly on the pot. This step allows you to have a clear vision of how the final painted pot will look.
Applying the Base Coat
Applying a base coat is essential to create an even surface and enhance the vibrancy of the colors. Choose a base color that complements your design. Use a brush or sponge to apply the base coat evenly across the pot's surface. Allow the base coat to dry completely before moving on to the next stage of painting.
Painting Techniques for Glazed Ceramic Pots
Now that you have your design sketched and the base coat applied, it's time to dive into the painting process. Here are some painting techniques to explore:
Layering Colors
Layering colors adds depth and dimension to your painted ceramic pot. Start by applying the lightest colors as the base layer. Allow each layer to dry before adding the next color. Gradually build up the colors, moving from light to dark shades. Use a brush or sponge to blend the colors smoothly for a seamless transition.
Creating Texture
Texture can bring visual interest and tactile appeal to your painted ceramic pots. There are several techniques you can experiment with:
Dry brushing: Dip your brush into paint and then remove most of it by wiping it on a paper towel. Apply the remaining paint in a light, feathery stroke. This technique adds a textured and uneven appearance to the surface.
Stippling: Use a stippling brush or a sponge to dab paint onto the pot's surface. This creates a textured effect reminiscent of small dots or specks. Stippling can be used to simulate the look of natural elements like stones or leaves.
Feel free to combine different techniques or explore your own unique approaches to create the desired texture for your ceramic pot.
Curing and Sealing the Painted Ceramic Pot
To ensure the longevity and durability of your painted design, it's important to properly cure and seal the paint. Follow these steps:
Curing the Paint
Curing the paint helps it adhere firmly to the glazed surface. The curing process varies depending on the type of paint you've used:
Air-drying: Some paints may require air-drying for a specific period to cure fully. Place the pot in a well-ventilated area and allow the paint to dry completely according to the manufacturer's instructions.
Heat-setting: For paints that require heat-setting, follow the specific instructions provided by the manufacturer. Typically, this involves placing the pot in a preheated oven for a certain period at a specific temperature. Allow the pot to cool completely before handling.
Ensure that the pot is cured thoroughly to avoid any potential damage or premature wear of the painted design.
Applying a Clear Coat
Applying a clear coat sealer adds an extra layer of protection to your painted ceramic pot. It helps to protect the paint from scratches, fading, and moisture. Select a clear sealant that is suitable for ceramic surfaces. Brush or spray on a thin and even layer of the sealant, ensuring complete coverage. Allow the clear coat to dry according to the manufacturer's instructions before handling the pot.
Additional Tips and Ideas for Painting Glazed Ceramic Pots
Here are some additional tips and ideas to enhance your painted ceramic pots and make them truly unique:
Experimenting with Different Techniques
Don't be afraid to explore various painting techniques to achieve different effects and styles. Here are a few ideas to inspire your creativity:
Sponging or stenciling: Use a natural sea sponge or a stencil to create textured patterns or intricate designs on the ceramic pot. This adds visual interest and can mimic the look of natural elements like waves or foliage.
Decoupage or image transfer: Incorporate images or decorative papers onto the pot's surface using decoupage techniques. You can also try image transfer methods to transfer printed designs onto the ceramic pot for a personalized touch.
Adding Embellishments
To elevate the visual appeal of your painted ceramic pots, consider adding embellishments. Here are some options to consider:
Glass beads or rhinestones: Glue small glass beads or rhinestones onto the painted surface to add a touch of sparkle and glamour. Arrange them in patterns or create accents that complement your design.
Metallic accents: Use metallic paints or leafing to add metallic accents to your painted ceramic pot. This can create an elegant and luxurious look, especially when combined with vibrant colors.
Remember to secure any added embellishments properly and ensure they are compatible with the clear coat sealer to prevent them from coming off over time.
Caring for Painted Ceramic Pots
To maintain the beauty and longevity of your painted ceramic pots, follow these care guidelines:
Hand-washing vs. Dishwasher-Safe
Consider the type of paint and sealant used when determining the best cleaning method for your painted ceramic pots. Some pots may be hand-wash only, while others may be dishwasher-safe. Refer to the paint and sealant manufacturer's recommendations to determine the most suitable cleaning approach.
If hand-washing, use a mild soap and a soft cloth or sponge to gently clean the painted surface. Avoid abrasive cleaners or scrub brushes that may damage the design. Rinse thoroughly and allow the pot to dry completely before displaying or storing.
Displaying and Storing the Painted Pots
When displaying your painted ceramic pots, consider their exposure to sunlight and extreme temperatures. Prolonged exposure to direct sunlight can cause the paint to fade over time. Similarly, extreme temperature fluctuations may lead to cracking or peeling of the paint. Choose display areas away from direct sunlight and avoid placing them near heat sources like radiators or fireplaces.
If you need to store your painted pots, take precautions to protect them. Wrap each pot individually in soft cloth or bubble wrap to prevent scratches or chipping. Place them in a sturdy box or container and store them in a cool, dry place.
Conclusion
Painting glazed ceramic pots allows you to unleash your creativity and transform ordinary pots into works of art. By understanding the properties of glazed ceramic pots, preparing the surface, selecting the right paint and tools, and exploring various techniques, you can create beautiful and personalized pieces. Remember to properly cure and seal the paint, and take care of your painted pots to ensure their longevity. So, gather your supplies, let your imagination run wild, and enjoy the process of painting glazed ceramic pots to add a touch of artistry to your living space or garden. Happy painting!